BIG TEN
Hickey: A Valentine's Day love letter to all 14 Big Ten schools
The Big Ten isn't inherently lovable. Especially not after it fooled around over the summer.
After forming a love triangle with the ACC and Pac-12 in 2021, the B1G turned around and robbed the Pac-12 of its 2 most valuable commodities. It's a scene straight out of Jerry Springer — whom, it should be noted, is a Northwestern Law graduate.
Beyond that, it can be difficult to love whatever the Big Ten West is best described as. Or a brand of basketball that has seen 4 teams score 20 points or fewer in the first half of games over the past 5 weekends.
But my tastes are … unconventional. Not only is there something to love about the Big Ten; there's something to love about every single school.
This is our ode to something we love from each school's football or men's basketball programs.
Illinois: The Brown twins
Technically, this will be a love lost in 2023 as Chase and Sydney Brown head to the NFL Draft. But neither should be forgotten for their roles in lifting Illinois football to its best season since 2007.
Chase finished 3rd in the nation with 136.9 rushing yards per game in 2022, and Sydney finished 3rd in the nation with 6 interceptions. To calculate the odds of a pair of Canadian twins finishing No. 3 in the United States in a pair of unrelated statistical categories — well, the calculator would break.
But that's why we love it. The Browns provided Illini football with a unique experience and will likely continue to do the program proud in the NFL.
Indiana: Mike Woodson
The most obvious reason to love Mike Woodson is that he has the Hoosiers back in the Big Ten and national spotlights. And he's doing it by slaying various Indiana boogeymen. Woodson has snapped a 9-game losing streak to Purdue, a 6-game losing streak to Rutgers, and a 6-game losing streak at Michigan.
But the bigger reason is that he never stops being Mike Woodson. In a profession where many are slick in front of the cameras, Woodson is completely unvarnished.
For example:
Another bit of gold from Mike Woodson's Zoom this morning, on Trayce Jackson-Davis:

"Everybody talk about he doesn't shoot jump shots. Well, shit, he does everything else. I mean, he's playing at a high level, man." #iubb

— Zach Osterman (@ZachOsterman) February 13, 2023
Iowa: Family values
Family values aren't just a talking point for politicians looking to win the Iowa caucuses. They're a very real thing for the Hawkeyes.
Fran McCaffery may have a lot of sideline bluster, but it's nothing but love for his sons Patrick and Connor. Patrick was provided the grace to walk away for 5 games to conquer anxiety issues. Another coach may or may not have granted that request, but a father did it for his son.
Hawkeyes football is another example of family values, where Kirk Ferentz and son Brian are — oh.
OK, so maybe that's not always a good thing.
Here's Caitlin Clark hitting a 3 from the Quad Cities as a palate cleanser.
CAITLIN CLARK FROM THE LOGO 🤯 (via @IowaWBB)pic.twitter.com/WfEoSDQ3Uu

— Overtime (@overtime) December 2, 2022
Maryland: Script 'Terps' helmets
On one hand, you have the Maryland state flag helmets, which are among the gravest monstrosities in college football.
But like the angel over the other shoulder, you have Maryland's script "Terps" helmets. A true testament to beauty that Helen of Troy couldn't match.
.@TerpsFootball past inspires the future. Terps script is back. Reply a 🐢 if you're loving the look. pic.twitter.com/nA34Qs82vq

— Under Armour FTBL (@UAFootball) August 27, 2021
Michigan: The Victors
You want to know when you've got an absolute banger on your hands?
When you have lyrics referring to Michigan — a team in the Eastern time zone — as "Champions of the West," because that type of talk actually made sense when written in 1898. California or even Texas may as well been Jupiter. (And some would maintain that's still the case today for either or both, depending on how they vote.)
Despite being outdated by a good century or so, no one has bothered altering the lyrics. Because the song rules. No changes needed.
Michigan State: Tom Izzo
Tom Izzo is not everyone's cup of tea. He can get a bit intense, even with his own players. But I will always be inherently amused by the sight of a 5-9 man coaching a basketball team. And it doesn't hurt that no coach has won more games in Big Ten history. Or that he's the most recent Big Ten coach to win a national title.
Izzo is the face of Michigan State and Big Ten basketball.
Minnesota: Goldy Gopher
There are plenty of great mascots in the Big Ten, but only 1 has an overbite and can spin his head 360 degrees — just like a real gopher.
(Correction: I'm being told gophers cannot spin their heads. Do not attempt this with your pet gopher.)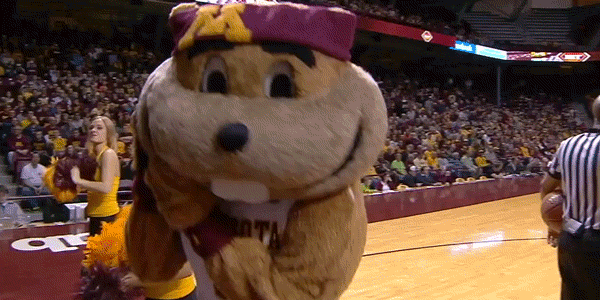 Nebraska: Keisei Tominaga
Keisei Tominaga won't be the Big Ten player of the year. He probably won't even make first or second team all-B1G this season.
But if there was a Big Ten All-Fun Team, Tominaga would be the captain. When the Japanese shooting sensation gets going, he can make a shot from anywhere in the gym. I'd take Tominaga over anyone in the B1G in a game of H-O-R-S-E.
Keisei Tominaga is putting on a clinic. 30 points and counting pic.twitter.com/WdDpi7gCGp

— RoundBall Podcast (@roundballpod) February 5, 2023
Northwestern: Boo Buie, Chris Collins and the basketball 'Cats
The Wildcats are the feel-good story of the Big Ten basketball season, and it's thanks to their formerly embattled coach and the senior point guard who stuck together when Northwestern lost last season's best 2 players to the transfer portal.
Chris Collins reinvented his team's approach this offseason, and it's paying dividends as the Cats look poised to make their second NCAA Tournament appearance. Buie is a steady hand, ranking 4th in the Big Ten in assist rate and third in free-throw shooting percentage.
Ohio State: Wide receivers galore
If Brian Hartline wants to coach him, I want to watch him.
For the past several seasons, Ohio State wide receivers have been appointment television. It's pretty telling that Jameson Williams, relegated to WR4 in Ohio State's receiver room, transferred to Alabama and became an All-American in 2021.
Even after losing future Rookie of the Year Garrett Wilson and Chris Olave to the 2022 NFL Draft and Jaxon Smith-Njigba to injury, the Buckeyes kept things going with Marvin Harrison Jr. and Emeka Egbuka last season. That train will keep chugging as long as Hartline is coaching Ohio State's receivers.
Penn State: Micah Shrewsberry
One of the toughest assignments in the Big Ten is making Penn State basketball a compelling product. There's very little tradition. Bryce Jordan Center is a mausoleum. Creating an atmosphere is a challenge.
Shrewsberry is doing it.
The Nittany Lions have a pair of impressive home wins, blowing both Indiana and Michigan out of the water by 19 points or more. Penn State can do it on the road, too, beating Illinois by 15 at State Farm Center.
Plus, Shrewsberry isn't afraid to speak his mind, whether about drumming up support in the stands or with the way Big Ten games are officiated.
Shrewsberry is the best young basketball coach in the Big Ten — though to be fair, this isn't exactly a league stocked with young coaches.
Purdue: Zach Edey
Edey is having the greatest season by a Boilermaker since 1994, and that's why he's going to follow in Glenn Robinson's footsteps as national player of the year. Edey's odds to win the Wooden Award are now -1400, which means you would have to put a bet of $1,400 down just to win $100.
People who don't actually watch Purdue games say, "Oh, it's just because he's tall."
And yes, he's 7-4. But very few guys Edey's size have had his array of moves. He's the rare mix: All-American, All-Big Ten, and All-Fun team.
A 7'4 individual shouldn't be able to move like this.

Zach Edey has made huge strides in his game this year. pic.twitter.com/lMkfNwO7SH

— Ben Stevens (@BenScottStevens) January 29, 2023
Rutgers: Isiah Pacheco
Rutgers fans likely spent Pacheco's entire 4-year career longing for an offensive line and quarterback who would allow him to prove he's a star. Alas, he was never blessed with that. But the flashes of greatness were always there, including a pair of 100-yard rushing performances against Michigan.
Now that Pacheco has a great offensive line and the NFL MVP at quarterback, the entire country has seen what the Rutgers rookie is all about.
Namely, running people over.
You saw Isiah Pacheco run hard in the @Chiefs' #SBLVII win.

The RB ran the same way for @RFootball.

It's the only style he knows, not wanting to take anything for granted after the deaths of his brother and sister.

Full @BTNJourney feature: https://t.co/0ZF5LEc23t pic.twitter.com/CYgDUkOGWg

— Big Ten Network (@BigTenNetwork) February 13, 2023
Wisconsin: Jump Around
My love may be cliche, but it's still love. Few atmospheres in college football can match Camp Randall Stadium between the third and fourth quarters.
If you're looking for the perfect first date, this is it.
When you see it in person on the field you really appreciate this fabulous college football tradition- so for all who can't join me on the field of Camp Randall – JUMP AROUND! pic.twitter.com/uHuOBnY4Of

— Ian Fitzsimmons (@Ianfitzespn) October 31, 2021