BIG TEN
B1G stock report: The Buckeyes are back and so is Bret Bielema
It may be Sunday, but the stock market is open at Saturday Tradition.
This is your weekly recap of the Big Ten's biggest movers in either direction each given week.
And since we want you to become informed investors, we won't just recap the obvious — we'll tell you whether this movement will be permanent, or just a temporary illusion.
Stock up
1. Ohio State, Playoff contender
Reports of Ohio State's demise following its Week 2 loss to Oregon turned out to be a tad premature.
The Buckeyes are back, and if they run the table it's pretty difficult to see them sitting at home when the College Football Playoff field is announced. Since CJ Stroud's return from sitting out the Akron game for a shoulder injury (or was it a mental reset?), the Buckeyes have outscored 3 B1G opponents by a cumulative score of 172-37.
Buy or sell: Sell.
Probably not the answer you were expecting. But get back to me when Ohio State has beaten anyone worth a hoot.
The Buckeyes have been world-beaters in October, but that's what Ohio State is supposed to look like when they are playing Rutgers, Maryland and an Indiana team forced to trot out its fourth-string quarterback in a downpour.
Even beating Penn State next week won't provide much of a measuring stick given the precipitous fall of the Nittany Lions offense against Iowa and Illinois.
That said, Ohio State has the best receiving corps in the country. And there's not a more electric player in college football than running back TreVeyon Henderson.
Ohio State is capable of reaching the CFP. But we have yet to see how this defense will respond against a capable opponent, which the Bucks haven't faced since losing to the Ducks.
2. Bret Bielema, motivational speaker
#Illini Bret Bielema not holding back about his roster today, especially OL:

"I don't believe we have a player in the 2-deep that they've recruited here over the last 3 years that is really significantly doing anything for us in the playing department, that's a major concern" pic.twitter.com/CSvWn0MmJD

— Bret Beherns (@WCIA3Bret) October 18, 2021
Bielema told his team these statements were taken out of context, though it sure seems straightforward. He's saying his offensive line stinks and they need to recruit new players. Not much room for subtlety there.
Buy or sell: Buy!
If the offensive line had its feelings hurt, perhaps Illinois will go bowling if Bielema grows more insulting each week. A full Don Rickles routine by the end of the season. Maybe bring in Jeff Ross to motivate the team for the finale against Northwestern.
The Fighting Illini were full of fight, mauling Penn State's defensive front for 357 rushing yards on 67 carries. It was straight-up bullyball.
3. Minnesota, B1G West favorite
What if I told you the team that lost to Bowling Green — the same Bowling Green team that lost 55-24 to Eastern Michigan this week — could end up winning the Big Ten West?
That's the position Minnesota finds itself in after its 34-16 trouncing of Maryland. The Golden Gophers are tied with Iowa atop the West standings, setting up their Nov. 13 date in Iowa City as a potential showdown for the division crown.
Buy or sell: Buy?
Most gave up on the Gophers when running back Mo Ibrahim was lost for the year after he was hurt against Ohio State in the season opener.
But with freshmen Ky Thomas and Mar'Keise Irving both crossing the century mark against Maryland, Minnesota has 5 different backs who have rushed for at least 100 yards this season.
Like fellow West contenders Iowa and Wisconsin, Minnesota doesn't get much production out of its quarterback. So at this point you'd have to call them tri-favorites.
4. George Karlaftis
Let the record show that I would like to trademark the following idea to any enterprising T-shirt company, with NIL proceeds going to Mr. Karlaftis himself. Because it would not end well if you tried to rip off George Karlaftis.
George Karlaftis: The Other Greek Freak

— Alex Hickey (@bigahickey) October 23, 2021
The latest feat for this surefire first-round pick? Providing Purdue with its only touchdown against Wisconsin.
We just mentioned the defense.

George Karlaftis (@TheGK3) picks up the fumble, and takes it all the way to the 🏡. pic.twitter.com/qbTN2hQlaU

— Big Ten Network (@BigTenNetwork) October 23, 2021
Buy or sell: Buy.
Karlaftis is the best defensive player in the Big Ten. Purdue isn't always an exciting team to watch, but Karlaftis makes the task worthwhile every single week.
With a motor like his, Pro Bowls are in his future.
5. Leo Chenal
A week after finishing with the most tackles by a Wisconsin player since 2018, the Wisconsin linebacker was once again all over the place this week.
That was just absurd @chenal_leo

(But in the best way 👏) pic.twitter.com/9WYTWMQYUS

— Wisconsin Football (@BadgerFootball) October 23, 2021
Buy or sell: Buy.
Chenal is the 12th-oldest among 16(!) siblings. This dude probably had to do unimaginable things just to get to the dinner table. Or the bathroom. Or to call shotgun.
Would you want to block him?
Hell no.
6. Brandon Peters
Pressed into unexpected duty when Art Sitkowski was injured in the sixth overtime, the Illinois quarterback delivered the play of the game in the bottom of the ninth.
Buy or sell: Sell.
There's a reason Peters lost his starting job to Sitkowski in the first place — he has only completed 48.8% of his passes and averages 5 yards per attempt.
But the man had a magical moment to end the longest game of all-time, so let him shine. Nobody's going to remember Peters' completion percentage 10 years from now. But they might remember he beat Penn State.
Stock down
7. Ranked Purdue
Purdue's first foray into the Top 25 since 2007 will be a short stint indeed following a 30-13 home loss to Wisconsin.
To sum it up in one picture: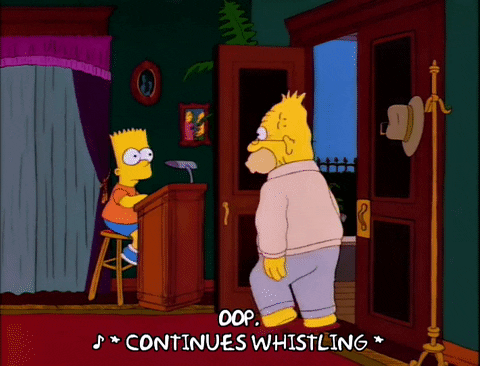 Buy or sell: Sell.
Ranking the Boilers was an overreaction to their win over an Iowa team that was very clearly overrated.
I have faith that Jeff Brohm will have Purdue back in the Top 25 before 2035, but he certainly needs to find a quarterback capable of matching NFL talents he already has such as Karlaftis and David Bell.
8. Indiana fans experiencing happiness
Any schadenfreude from watching Purdue fall on its face was short-lived for Indiana fans.
The Hoosiers painted in shades of the Cam Cameron/Gerry DiNardo/Bill Lynch eras in a demoralizing 54-7 loss to Ohio State — the 26th straight in the series. It's been so long that an Indiana-Ohio State game finished in a tie more recently than the Hoosiers beat the Buckeyes.
The latest loss happened in the most Indiana fashion possible, with quarterback Jack Tuttle getting knocked out of the game after getting clocked on an impressive game-tying first-quarter touchdown pass. From there, Ohio State closed it out on a 47-0 run.
Jack Tuttle 7 yard TD to Peyton Hendershot! Unfortunately for Indiana, Tuttle stayed down after the play. He took a shot. pic.twitter.com/A9O5wDrItD

— ✯✯✯✯✯ (@FTBVids_YT) October 24, 2021
Buy or sell: Sell.
Indiana football fans are not meant to feel joy.
9. James Franklin, LSU/USC coaching candidate
You know what looks lousy on a resume? A 3-game losing streak.
That's what James Franklin figures to have on his curriculum vitae after Penn State visits Ohio State next week after his offense vanished against both Iowa and Illinois.
Buy or sell: Sell.
Combined with the 5-game losing streak to open last season, Franklin's stock is falling. He's still the right guy for Penn State, but at some point the Nittany Lions need to make the jump from contending for an East Division title to actually winning one.
10. New overtime rules
The idea when the NCAA changed its overtime rules was to avoid outcomes like the 74-72, 7-overtime marathon between LSU and Texas A&M. Turning the thing into a 2-point conversion contest starting with the third overtime would shorten the proceedings.
Or so they told us.
With both Illinois and Penn State repeatedly unable to punch it in from 3 yards, Saturday's game dragged to a record 9 overtimes before the Illini finally pulled off the 20-18 upset.
Buy or sell: Sell.
Much like soccer tournaments being settled on penalty kicks, this stinks.
Give me 10 minutes of real football.
Not sudden death, just extra time, so the coin toss isn't the end-all, be-all. If the game is still tied, guess what? It's a tie. Ties were good enough for college football for 125 years, and they're good enough now. In the postseason, you could still decide games with the traditional college overtime if it's still tied after 10 minutes.
The thought of a national championship being decided on 2-point tries should be distressing to any fan.