BIG TEN
Betting Stuff: Targeting the next big upset and a Kyle Trask-Gators prop swap
Betting Stuff is a regular sports gambling column here at Saturday Down South with a focus on college football wagering (though don't be surprised to see some non-college football insights from time to time). Did you know that sports betting is now legal in Tennessee? You can view the best Tennessee sportsbook apps here.
Calm before the storm
Collectively, the College Football Playoff's top 7 teams have lost exactly 1 game in the past 7 weeks. History tells us that widespread stability at the top of the polls is as reliable as a walk-on kicker in crunch time. I would say that the college football world is long overdue for a shocking upset, which means it's time to go shopping for really juicy moneyline underdogs. Here's what's on the menu in Week 14:
Alabama @ LSU+1700
Syracuse+3000 @ Notre Dame
Clemson @ Virginia Tech+1100
Ohio State @ Michigan State+1500
Texas A&M @ Auburn+230
Florida @ Tennessee+500
Vandy+3000 @ Georgia
West Virginia+225 @ Iowa State
Miami @ Duke+450
Let's trim this slate down, real quick. Syracuse is absolutely awful and got shellacked by Liberty at home. They won't hold Notre Dame under 40 points, so you can scratch the Orange off this list. Vandy got more feel-good publicity than any team in the history of the sport coming off a game in which it was shut out. Vandy has no pulse offensively and Georgia is starting to feel itself with a new quarterback under center. Goodbye, Commodores. Tennessee and Duke will struggle to score, which makes it difficult to envision a scenario in which they're even alive in the second half against the Gators and Canes, respectively. Hard pass on the Blue Devils and Volunteers. That leaves us with LSU, VT, Michigan State, Auburn and West Virginia.
The Spartans have been a thorn in Ohio State's side before, but they'd need a blizzard to keep the Buckeyes under 28 points. Clear skies are forecasted in East Lansing on Saturday, sorry Sparty. LSU would have been intriguing as a Hail Mary long shot a month ago when its offense was cooking, but the Tigers have scored a grand total of 42 points in their last 3 games. You can't limp into a game with Alabama and expect to create some magic. Coach O, this isn't your time to shine.
Now we're down to Virginia Tech, Auburn and West Virginia. To be honest, I really feel like there's a winner in this trio. Va. Tech is averaging over 33 points per game, and if they are able to hop out to an early lead, they have the running game (251 ypg, 9th) to impose their will. Notre Dame ran for over 200 yards on Clemson in their upset, a blueprint that is workable for a Va. Tech team that has lost to 3 ranked opponents by a grand total of 15 points this season.
Fading Iowa State feels right in this spot. Brock Purdy is a streaky player and has more than a few games on his resume in which he's been a turnover liability. Defensively, Iowa State can be beaten through the air, which is exactly how Neal Brown's team likes to beat you. The Mountaineers are averaging 285 passing yards per game and Jarret Doege has been borderline special in his last 5 games. Neal Brown also has the upset formula down pat with 3 upsets of ranked opponents and a near miss against No. 2 Clemson (30-24) to his credit.
Last but not least, we have Auburn. This team has long mystified oddsmakers, overachieving when counted out and disappearing in big moments when considered to be a sure thing. Texas A&M's current ranking seems to be more of a product of this strange season than anything else. As pointed out by our very own Chris Marler, A&M is decent statistically across the board but not elite in anything other than run defense.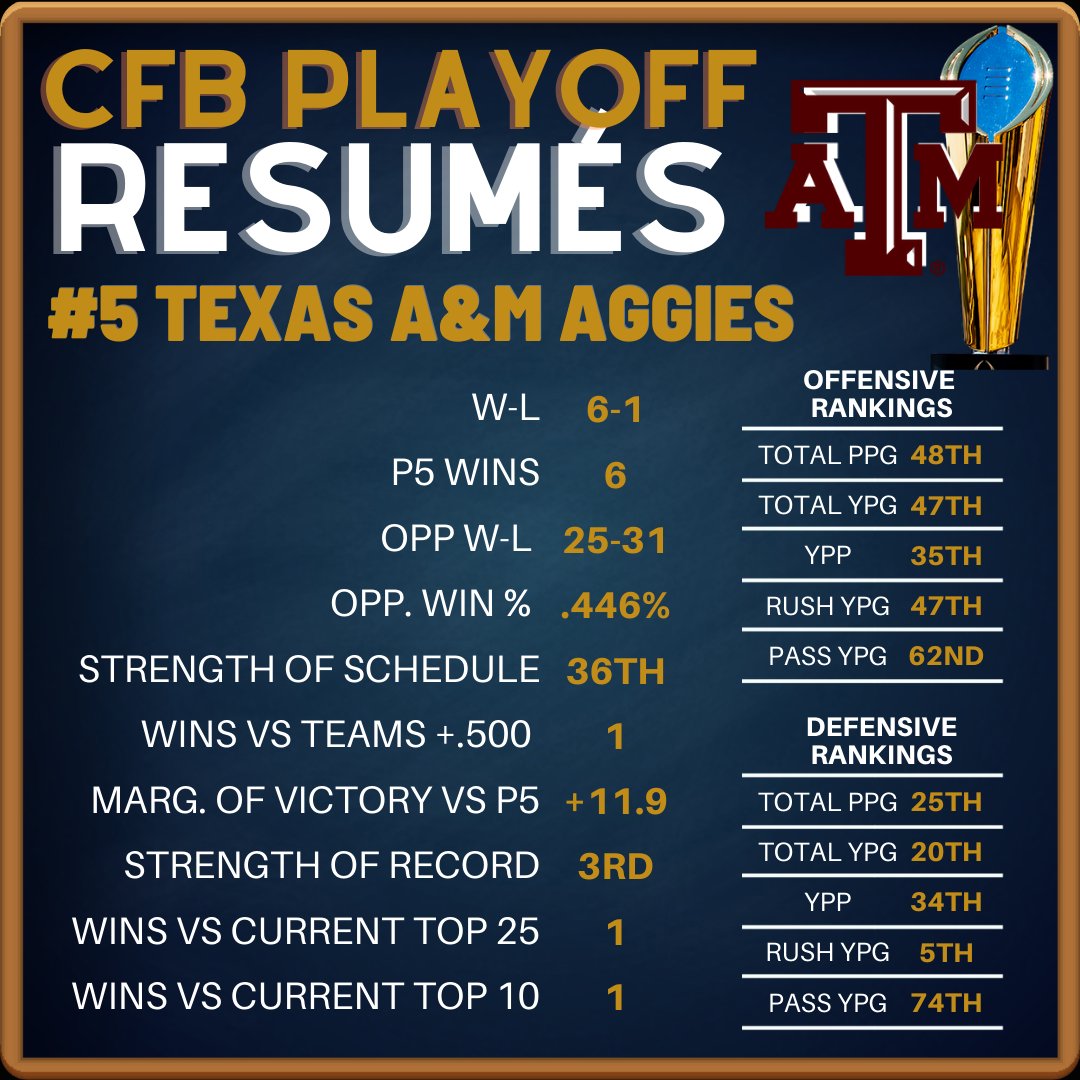 They've also benefited from an easy schedule, by SEC standards. This just opens the door to the possibility that A&M is slightly overrated. I'll be on the fence about this one until we get word on Tank Bigsby. If he's a go, Auburn has a puncher's chance to ruin the Aggies' season.
So to recap, I'll take flyers on the Hokies, Mountaineers and Tigers to throw a hand grenade or 2 into the CFP race.
My record
Last Week: 2-4 (33%, -.2.4 Units)
Overall: 42-30-1 (58.3%, +11.75 Units)
Top Play the Week 14
College basketball: No. 1 Gonzaga-3 vs. No. 2 Baylor (160)
If Gonzaga's roster and coaching staff were awash in the school colors and logos of Kansas, Duke or Kentucky, the public would be paying a steep price to bet on them. Instead, Gonzaga is somehow underrated from a gambling perspective despite being the nation's top-ranked team. This is easily Mark Few's most talented roster top-to-bottom and they already have an impressive 12-point victory over a top-10 team on their résumé. So when I first saw this look-ahead line, I was pleasantly surprised to see Gonzaga installed as just a slight favorite.
Baylor is well-deserving of a top-5 ranking, but I have my doubts that Scott Drew's team can rise to the occasion in Indianapolis. The Bears have been strong against the spread when facing ranked opponents (9-4-2 since 2018), but when they've faced off against top-5 teams Baylor is 1-5 straight up in its last 6 opportunities.
Stylistically, Baylor is playing at a faster pace and scoring more points than they usually do under Drew. That isn't a winning recipe against Gonzaga. The Bulldogs have only lost 7 games dating to the spring of 2018 and 4 of those losses came when they were forced to play in lower scoring (145 or less) affairs. If you willingly choose to get into a track meet with the Zags, it's usually bad news.
Rewatching the Gonzaga-Kansas game, it was clear to see that the Bulldogs are virtually unstoppable offensively. The Jayhawks have the nation's best perimeter defenders, yet GU's starting backcourt of Jalen Suggs and Joel Ayayi pumped in 39 points on 66.6% shooting from the floor. I've already seen enough from Gonzaga to consider them a must play in any spot when they're laying 6 points or fewer.
Pick: Gonzaga-3 (Would Play Up To Gonzaga-5.5)
Under video review
My NCAA '14/Best Bets hybrid model got off to a scorching start, but has since hit a skid. Last week, Maryland laid an egg against Indiana, Northwestern hit a wall in East Lansing and the Egg Bowl proved to be more of a defensive battle than the experts thought. Luckily it wasn't a complete stinker, with Alabama handling their business in the Iron Bowl.
But just like the virtual players in the video game with fatigue turned off, a few losses in a row won't take the wind out of our sails here in Week 14 of the college football season. So I've combed through the results and matched the top three against my favorite plays of the weekend. Here are the results:

The Pokes are a short favorite in Fort Worth, but that spread is predicated on the availability of Chuba Hubbard. The Canadian Cowboy was held out of State's game last week against Texas Tech and the Red Raiders ended up covering the 12-point number. It wasn't Hubbard's absence, however, that made the difference against Texas Tech. The Pokes surrendered 639 total yards and 44 points to the Red Raiders. Whether Hubbard suits up or not, the Pokes' offense has shifted into high gear and I believe we'll see a much better performance from Jim Knowles' defense. The simulation agreed, OSU 35-24.
Indiana's dream season hit a major speed bump last week when its starting quarterback went down. Michael Penix Jr. is now lost for the season and he was the proverbial straw that stirred the drink. Without Penix at the controls, Indiana struggled to keep pace with the Badgers. Graham Mertz, suiting up for the first time since his humbling 3-pick performance against Northwestern, picked apart the IU defense. In the end, Mertz connected on 4 touchdown passes and UW cruised to a 41-17 victory at Camp Randall.
Mizzou has won 6 of 7 in the Battle Line Rivalry, but this time around Arkansas got the better of them. Feleipe Franks entered the game on a 9:1 TD-INT run and only added to his impressive résumé, connecting on 22-of-27 for 322 yards and 3 scores. The Arkansas defense returned to its turnover-happy ways, forcing Mizzou into 3 second-half turnovers. The final interception came in the end zone, ending Mizzou's comeback hopes. Arkansas 33, Mizzou 27.
And finally, Stanford put together 4 quarters of high-quality football and secured the biggest upset of the simulation series this week. Davis Mills played flawlessly, and the Stanford defense turned the game on a scoop and score by Curtis Robinson. Washington's 54-yard field goal attempt late in the 4th quarter was blocked by Thomas Booker, securing a 24-21 win for the Trees.
The Trask-Gators futures swap
As I explained a few weeks ago, if you're interested in betting on Kyle Trask to win the Heisman Trophy, there's a better way to go about it than by placing a bet at his current odds (-135). As the trophy's current favorite, Trask still needs to beat Alabama to secure the Gators a spot in the CFP and, by extension, his place among the Heisman greats.
#Heisman Trophy Odds 🏆:

Kyle Trask (@ktrask9) -135

Mac Jones (@MacJones_10) +150

Trevor Lawrence (@Trevorlawrencee) +900

Justin Fields (@justnfields) +1,400

Zach WIlson (@zachkapono) +2,500

Odds via @DKSportsbook#SportsBetting pic.twitter.com/2ATx005J19

— Covers (@Covers) December 1, 2020
Instead of tying your money up for a month at negative odds, I would recommend placing a bet on the Gators in the SEC title game. Lookahead lines generally peg an Alabama-Florida SEC title game in the Bama-4.5 to -6.5-point range. That means that you could potentially take the Gators to win outright at 2:1 or better. Swinging Trask's odds from -135 to +225 would be a significant move given the correlated nature of both bets.
MACtion
I've been beating the drum that MAC football is a must-watch this season and Jaret Patterson rewarded viewers with a 409-yard, 8-touchdown performance. But this is a gambling column, and in the words of Mike Singletary, "I want winners!" So here's my 3-leg MAC parlay for the weekend.
Buffalo @ Ohio+11.5
Ball State @ Central Michigan-1.5
Kent State @ Miami (OH) Over 68.5
Buffalo has been running roughshod over the MAC, literally and figuratively. The only way to slow them down is to corral Jaret Patterson. Ohio isn't equipped to do that defensively, but they are skilled enough offensively and play at the second-slowest pace in all of college football. They'll shrink this game down and keep the backdoor cover alive.
Central Michigan possesses a high-end Group of Five offense. For that reason, I had them pegged as a 6.5-point favorite in this spot. I'll happily take the value side of this bet.
And to complete the MACtion parlay, we're turning to Kent State and Miami (OH) for a shootout. Here's a fun watercooler stat about Kent State: The Golden Flashes' games are exceeding the closing total by an average of 25 points per game. If that trend continues, they'll be the best "over-bet" in the history of college football and the first team to race past their total by 20+ points since La Tech in 2012. Slam the over here.