BIG TEN
Hickey: For B1G teams, 'survive and advance' the theme of NCAA Tournament First Round
Like the rest of the world, the NCAA Tournament took a hiatus in 2020 at the depths of the COVID pandemic. In some regards, it feels crazy that we're already on our 3rd Tourney since that break.
And though the world at large has moved on, in a figurative sense the Big Ten has yet to return from hiatus. The past 2 Tournaments have produced miserable results for the league.
No conference has produced more Tournament bids than the B1G in those fields, which only serves to heighten the failure.
In 2021, 9 Big Ten teams got in. The whole tournament was held in the state of Indiana. Yet only 1 of those teams, Michigan, made it as far as the Sweet 16. The Big Ten finished 8-9 overall — 14th among all conferences in winning percentage.
Last season, 9 B1G teams were again invited. This time Purdue joined Michigan in reaching the Sweet 16, but neither advanced to the Elite Eight as the Wolverines had the year before. Purdue's loss to 15th-seeded Saint Peter's was especially a black eye.
Overall, Big Ten teams went 9-9, which ranked 7th among all conferences in winning percentage.
This year, the Big Ten tied with the SEC for a Tournament-high 8 teams.
But the first of those SEC teams, Mississippi State, is already done after losing to Pitt in Tuesday night's First Four game. So once again, as the First Round gets under way, no conference in the country has more teams in the pool.
Can any of those teams finally bring an end to the Big Ten's recent disappointments?
As coaches are fond of saying, they'll have to take it 1 game at a time.
That's especially true of this year's First Round, which finds the majority of this year's Big Ten participants truly in "survive-and-advance" mode.
A whopping 6 Big Ten teams are playing in either No. 8-vs.-9 or No. 7-vs.-10 matchups. These are the ultimate toss-up games. Historically, 8-seeds are 72-76 overall against the 9. The track record is quite a bit better for 7-seeds, who are 89-58 against the 10.
But given the nature of the matchups, no outcome would be surprising in this year's First Round.
It's possible the Big Ten will have a clean sweep. Vegas could be on the money in naming 4 B1G teams as favorites and 4 as underdogs. Or total disaster could strike.
13th-seeded Kent State is a trendy upset pick over Indiana, which creates the possibility that No. 1 seed Purdue would be the lone Big Ten team left standing in Round 2.
The nightmare scenario seems unlikely, at least.
Big Ten teams have gotten off to strong starts the past 2 years, going 6-2 in the First Round each time. It isn't until the Second Round that the wheels have fallen off.
Given that Big Ten teams are likely to be underdogs in all but 2 of their potential Second Round matchups, that's a scenario that feels likely to repeat itself this week.
Here's a look at what each Big Ten team faces in its First Round pairing.
Thursday's games
South Region
No. 8 Maryland vs. No. 9 West Virginia
Where: Birmingham, Ala.
When: 12:15 p.m. ET, CBS
The skinny: The Mountaineers do a great job crashing the glass offensively (32nd nationally) but struggle with defensive rebounding (223rd). Both nuggets indicate that Julian Reese could be the most important player on the floor for the Terrapins.
And that means Maryland needs its foul-prone big man to stay on the floor as much as possible. Reese is called for 4.8 fouls per 40 minutes, which is about as close to the limit as humanly possible.
Maryland also needs to figure out how to travel well. Louisville and Minnesota are the only teams the Terps have beaten away from home since Thanksgiving.
West Region
No. 8 Arkansas vs. No. 9 Illinois
Where: Des Moines, Iowa
When: 4:30 p.m. ET, TBS
The skinny: Brad Underwood has yet to lose a First Round game at Illinois — or win a Second Round game.
It's impossible to predict a game will be settled in overtime, but this matchup gives off strong vibes favoring the possibility. When these teams are at their best, they're capable of a run to the Sweet 16 or beyond. And when they aren't sharp, it's exceptionally ugly.
If the Illini are to win, they'll need to minimize turnovers. That won't be easy. The Razorbacks are 26th nationally in steal percentage, while the Illini rank 231st in steal prevention.
Offensive rebounding is the 1 advantage Illinois should definitely have here. The Illini may need a Dain Daijna double-double to advance.
No. 7 Northwestern vs. No. 10 Boise State
Where: Sacramento, Calif.
When: 7:35 p.m. ET, TruTV
The Skinny: Something, though I'm not sure what, feels right about Northwestern basketball on TruTV.
This is Northwestern's 2nd-ever trip to the NCAA Tournament. In 2017, the Wildcats beat Vanderbilt in the First Round before a narrow loss to Gonzaga launched a viral moment.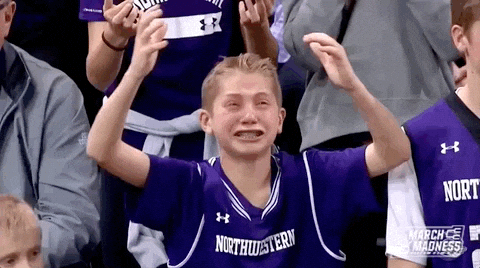 Chris Collins engineered a miraculous turnaround this season, turning the Wildcats into a turnover-creating machine after losing his 2 best frontcourt players in the transfer portal. Northwestern ranks 6th nationally in steals.
The Cats are limited offensively, however, needing 3-pointers and free throws to fall in order to score. Unfortunately, Boise State is pretty good at taking away those strengths, ranking 29th in 3-point defense and 70th in opposing free-throw rate. The Broncos are also 31st nationally at avoiding steals.
Northwestern probably needs to get the Broncos in foul trouble in order to win. Boise State ranks 350th nationally in bench minutes.
Midwest Region
No. 8 Iowa vs. No. 9 Auburn
Where: Birmingham, Ala.
When: 6:50 p.m. ET, TNT
The Skinny: So to get this straight — Auburn, the No. 9 seed in this region, gets to play in Birmingham for the first 2 rounds of the Tournament.
There's no way of making that level of favoritism make sense. Bruce Pearl, a former Iowa assistant who has been blackballed on a couple of different occasions, isn't exactly held in high regard by the NCAA.
There are games in Des Moines, but you don't see the 8th-seeded Hawkeyes or even No. 6 seed Iowa State playing in them.
But even though it's practically a home game for Auburn, Iowa won't be completely outnumbered — Alabama fans at the game will surely be rooting for the Hawkeyes on a temporary basis.
At any rate, this is a matter of opposites attracting. Iowa is 3rd nationally in offensive efficiency. Auburn is 28th in defensive efficiency. Auburn's offense is only 228th in effective field goal percentage, but Iowa's defense ranks 308th.
This game could get pretty goofy in either direction — Iowa defending more than usual, or Auburn scoring more than usual.
No. 7 Texas A&M vs. No. 10 Penn State
Where: Des Moines, Iowa
When: 9:55 p.m. ET, TBS
The Skinny: The last game of the day, which feels like a time when Tournament hijinks often abound.
The Nittany Lions are rolling in the right direction at the moment. Penn State probably needed a win in the opening round of the Big Ten Tournament to assure itself of a place in the Big Dance, and made it all the way to the Big Ten title game for good measure.
Texas A&M also reached the SEC championship game before getting blown out by Alabama.
Something that bodes well for Penn State: the Nittany Lions score 43.1% of their points from behind the 3-point line, which ranks 2nd nationally. The Aggies allow 36.9% of opposing points to be scored from long range, which is the 22nd-highest amount in the country.
If Penn State's shooters are dialed in, the Nittany Lions will win.
Check Saturday Tradition on Friday morning for a recap of Thursday's games and a preview of Friday's action.