BIG TEN
FSU coach Mike Norvell's self-induced disaster shows why players have more power than ever
Leave it to Florida State to show us how times have changed.
That's not a dig at the fact that the Seminoles are a shell of their former dominant selves, though I could see how one would infer that.
No, that's in reference to the events that unfolded late Wednesday night and into Thursday morning.
In case you missed it, Florida State found a new way to stick its foot in its mouth. And this time, it was worse than photoshopping Martin Luther King Jr. doing the tomahawk chop.
According to The Athletic's Tashan Reed, first-year Florida State coach Mike Norvell explained how he addressed his team in the wake of George Floyd's death.
"We've had a lot of open communication with our team, our players and our coaches. I went back and forth individually with every player this weekend," Norvell's statement read. "And that was something that was important to me because this is a heartbreaking time in our country…"
That caught the eye of Florida State captain Marvin Wilson, who claimed that no such individual communication happened: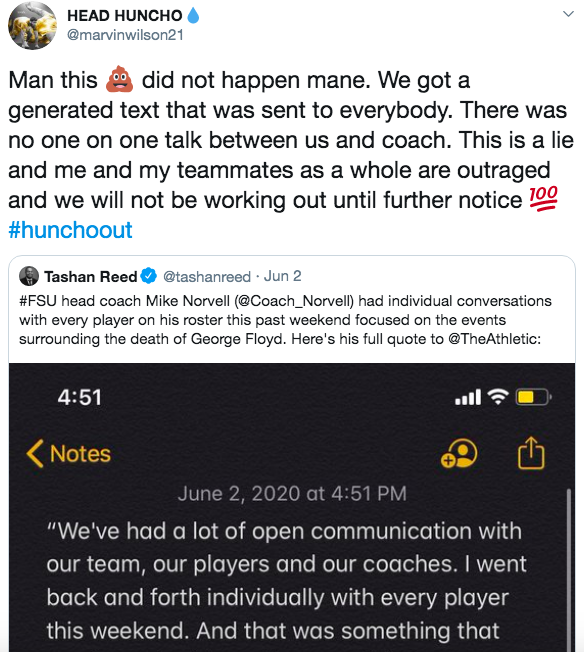 (And in case you were wondering, Reed had team clearance to record those comments by Norvell. He explained where and how he records his interviews, too.)
After Wilson's comment, which many Florida State players echoed, the program faced a self-induced PR nightmare. But FSU's disaster should shed some light on something that's become more and more evident than ever — players have never had more power than they do right now.
What Wilson said at the end of that tweet was more powerful than any poop emoji. "We will not be working out until further notice."
That's coming from someone who's in the first round of way-too-early 2021 mock drafts. He's a former 5-star recruit who decided to stay at FSU his senior year instead of leaving school early for the NFL. In other words, Wilson has a whole lot riding on the 2020 season.
And even he was willing to stand up for what he felt was right. Or rather, what he felt was wrong.
Take note, college football programs. Players are recognizing their rights and the system that depends on them to function.
I mean, even the NCAA is finally recognizing the power that players have. The NCAA! We're a year away from players being allowed to profit off their name, image and likeness. If that's not a sign that the times have changed, I don't know what is. That's happening despite the fact that TV rights contracts continue to soar, which squashes the belief that players are powerless in this current revenue model.
Now you might still read that and think "nobody is forcing those guys to play. They're getting a free ride to play big-time college football. Surely FSU can find plenty of people who would take scholarships and they'll be just fine."
Um, if even half of FSU's scholarship players had walked out and refuse to play for a head coach who lied about communicating with players about racial injustice, I promise you the Seminoles would've hurt. Badly.
It'll be interesting to see how players respond in the days and weeks that followed their meeting with Norvell on Thursday morning. Redshirt freshman linebacker Kevon Glenn accepted the apology while fourth-year defensive tackle Cory Durden tweeted support for Wilson after the meeting. Wilson himself actually took to social media to say this:
Took A stand we got what we wanted & we are moving forward 🗣!!! I appreciate @Coach_Norvell for encouraging me to use my platform and speak for what me and my teammates believe In. Be the change that you needed when you was growing up ✊🏾🙏🏾 pic.twitter.com/IEaG5qXUIk

— HEAD HUNCHO💧 (@marvinwilson21) June 4, 2020
See those words? "Use my platform." "Be the change." That's spoken like someone who knew he had an obligation to do that when he smelled something fishy with Norvell's "individual communication" comment (I cannot recommend that video enough).
Being fake in this world we're living in is not for the 2020 athlete. Nope. We're living in a time where at places like Mizzou, players are holding peaceful protests in front of courthouses and registering to vote by the dozens.
— Eliah Drinkwitz (@CoachDrinkwitz) June 3, 2020
It's a little late now, but if Norvell is looking for any tips on how a new coach should support his players, he should probably shoot a line to coaches like Drinkwitz … and not some generated mass text.
At a time when our country is fighting for unity, it seems that college football players are already on board with that. Remember last year when "half" of Ole Miss players talked about quitting the team after the Sunday night announcement that Matt Luke was fired? Offensive lineman Chandler Tuitt said that "there's no program without the players." Thankfully for Ole Miss, it made the splashy hire of Lane Kiffin and that daunting possibility in Oxford went on the back burner. But who knows what could have happened if they brought in someone who players didn't approve of.
Now, who knows if everyone in the FSU locker room will fully approve of Norvell. There are certain things that a big-time college football coach cannot afford to do anymore. One is deceive players. Deceiving them for the sake of looking like a better person publicly? Nope. Players will reject that with a Dikembe Mutombo finger wag 10 times out of 10.
I suppose at the root of this is the fact that Norvell is in Year 1 in Tallahassee. He didn't recruit the vast majority of FSU players, and even if they spent time around him before COVID-19 restrictions, those relationships are still being established.
Whether Norvell misspoke or not, now is the time for coaches to recognize ways to empower their players. Players are going to respond to coaches who do that.
I have no idea whether Sam Pittman will turn Arkansas around. What I do know is that a coach like him who is genuine about his support is going to win over that locker room much easier than the coach who misleads for the sake of his self-image.
"You can tweet about stuff, take a picture or do whatever you want, but actions are strong. I felt like the best way for me to address the situation was to go be a part of what could be a solution."

– @CoachSamPittman pic.twitter.com/5q9sUMsuCf

— Tye Richardson (Bartleby Gaines 🐐) (@TyeSportsRadio) June 3, 2020
You'll notice that Pittman said that after he took action by joining his players in a peaceful protest.
Speaking of peaceful protests, you can bet you'll see a whole bunch of players kneeling during the national anthem this fall. That'll be in college, not just the NFL. You're naive if you think college coaches are going to enforce some sort of "no-kneeling" policy. Whether coaches, athletic directors and fans like it or not, don't be surprised when players exercise their right to kneel in order to peacefully protest racial injustice.
Call this "the protest generation" if you will. The way today's college athlete sees the world is different from 10, 20 or 30 years ago. Some might call them "the spoiled generation" for not staying quiet and appreciating the value of a scholarship like 20th-century athletes did. Those people would be ignoring the fact that 20th-century athletes didn't watch their schools bring in tens of millions of dollars of TV revenue with skyrocketing coach salaries … which couldn't have happened without the players.
No matter how we talk about FSU's self-induced mess weeks and months from now, let it serve as a reminder entering the first season of this new decade.
Players have more power than ever, and they're showing that they're not afraid to use it.