BIG TEN
Hickey: 1 thing I learned about every Big Ten team in Week 3
The Big Ten East is the beast of college football in 2022.
Three weeks into the season, the division is a collective 20-1. Michigan State is the lone team to take a loss, tumbling 39-28 at Washington on Saturday night.
That means the likes of Indiana, Maryland and Rutgers are all 3-0. Considering that the Hoosiers won 2 games all of last season, that's a heck of a feat.
And then there's the Big Ten West. Which is a division that also has football teams. A few of which are actually good enough to live up to the Power 5 label.
Here's what I learned from every team on both sides of the B1G coin on Saturday. Illinois, which did not play, had one of the best showings in the West.
Indiana: The Hoosiers are bad, but gutsy
The Hoosiers should probably be 1-2. Maybe even 0-3. Instead, they are unbeaten and halfway to bowl eligibility after coming from behind for a 33-30 overtime win over Western Kentucky. Indiana has trailed in the second half of all 3 games but come out ahead every time. The 2022 Hoosiers may be the funhouse mirror version of 2021 Nebraska, which found a way to lose every 1-score game.
It's all credit to Tom Allen. This team is messy and occasionally you question its preparation. But the Hoosiers never stop fighting.
Iowa: Every game eventually ends
Most Hawkeyes fans probably went to bed assuming that Iowa still might be playing when they woke up Sunday morning. But after 3 separate lightning delays totaling 4 hours, the Hawks finally closed out a 27-0 win over Nevada at 1:39 a.m. Central Time.
Those who went to bed missed Iowa's offense actually scoring points! The Hawkeyes gained more yards than their first 2 games combined, finishing with 337 against the Wolf Pack. Freshman running back Kaleb Johnson turned 7 carries into 103 yards and 2 touchdowns, which was impressive. Spencer Petras also threw his first regular-season touchdown pass since last Oct. 9, which had to feel nice.
Maryland: A total team win
Can a defense get credit for winning a game in which it allowed 520 yards? Because I promise you that Maryland's defense played a huge role in this 34-27 win.
The Terps came up with two big stops in the final 2:31, halting a SMU drive inside the 10 and then holding the Mustangs a yard shy of picking up a first down near midfield with 46 seconds to go.
Maryland's offense was almost perfectly balanced, rushing for 225 yards and passing for 214. This was a quality win for the Terps, who are certainly capable of scaring Michigan next week.
Michigan: What could we possibly know about this team?
Thank goodness Michigan's pillow-soft nonconference schedule is behind us. The only thing revealed in Saturday's 59-0 slaughter of UConn is that the Huskies belong in the FCS.
Blake Corum tied Michigan's single-game record with 5 touchdowns, though it's not quite as impressive as when Hassan Haskins did it at Ohio State last November. And we already knew Corum is good.
The Wolverines might be the best team in the Big Ten. But we desperately need to see them play an opponent worth a hoot.
Michigan State: The pass defense is still a problem
The Spartans infamously finished dead last nationally in pass defense last season, giving up 324.8 yards per game through the air.
After showing improvement against lightweights Western Michigan and Akron to start the season, Michigan State fell off the wagon at Washington. Hard.
Former Indiana quarterback Michael Penix Jr. improved to 2-1 lifetime against the Spartans, passing for 397 yards and 4 touchdowns.
The Spartans compensated for their weakness well enough to go 11-2 last year, but repeating that will be a challenge.
Minnesota: Best in the West?
The Minnesota Dilemma is identical to the Michigan Dilemma. I think this team is really good, but there's no quantifiable way of proving that because the nonconference schedule is so weak that it couldn't bench press the bar.
Next week's trip to Michigan State will be a major litmus test for how real the Gophers are.
Nebraska: Scott Frost's good-bye kiss
In retrospect, Trev Alberts should have forced Scott Frost to stand through this monstrosity before punting him out of Nebraska for eternity. Frost's firing gave a false sense of hope that the Huskers could compete with Oklahoma, but make no mistake about it. His fingerprints are all over the 49-14 defeat. Wimpiness is in this team's DNA.
Nebraska is disgracefully bad in the trenches on both sides of the ball. In the first half, when the game's stats still mattered, Oklahoma averaged 7.1 yards per carry to Nebraska's 1.6.
It's likely strength and conditioning will be the next coaching change in Lincoln.
Northwestern: Ireland was an illusion
The Wildcats may win more games in Dublin than Evanston this season. As it turns out, Northwestern isn't that good. Nebraska is just that bad.
Southern Illinois, which allowed 10.2 yards per play in a 64-29 loss to fellow FCS program Incarnate Word, limited Northwestern to 4.4 yards per play in a 31-24 win.
Ryan Hilinski, who looked so great leading the comeback against Nebraska, accounted for 2 interceptions and a lost fumble as he crashed to earth against the Salukis.
Northwestern's path to a bowl game is now straight uphill with a 50-pound backpack.
Ohio State: The offense will be fine, folks
My initial reaction to reading Ohio State's box score after a 77-21 win over Toledo: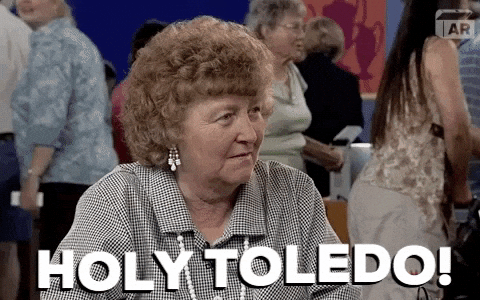 The Buckeyes gained 763 yards, which is the second-highest total in program history. Three receivers — Marvin Harrison Jr., Emeka Egbuka and Jayden Ballard — all surpassed 100 receiving yards. Ohio State had 36 first downs and averaged 9.8 yards per play. The Bucks were also a perfect 9-for-9 scoring touchdowns in the red zone.
Any concerns fans may have had about this offense after it struggled to get going against Notre Dame in Week 1 should be assuaged. This group will be just as explosive as last year's Buckeyes.
Penn State: Nicholas Singleton is the real deal
In back-to-back weeks, the freshman 5-star running back has gone over 100 yards on exactly 10 carries.
Singleton rushed for 124 yards and 2 touchdowns on 10 carries at Auburn a week after torching Ohio for 179 yards and 3 touchdowns on 10 carries.
The Nittany Lions have struggled to run the ball consistently since Saquon Barkley left for the NFL, but those troubles appear to be over. Penn State is one of the most well-rounded teams in the Big Ten this season. Trouble is the Lions are in a division with a pair of teams currently ranked in the top 4 nationally.
Purdue: What a dumb team
For a school that you have to be pretty smart to get into, Purdue's football team is almost incomprehensibly dumb.
In the 51 seconds after Aidan O'Connell hit Payne Durham for a dramatic, go-ahead touchdown, the Boilermakers committed 4 unsportsmanlike conduct penalties for 60 yards. This resulted in Purdue kicking off from its own 10-yard-line after what should have been the game-winning score, then Syracuse kicking off from the Purdue 35 after taking the lead with 7 seconds left.
Purdue is probably more deserving of 3-0 than rival Indiana. But because of poor choices by Jeff Brohm and his players, the Boilers blew late leads against Penn State and now Syracuse.
Rutgers: Get well soon, Noah Vedral
The Scarlet Knights are 3-0 with 426 passing yards this season. Not 426 passing yards per game. 426 passing yards all season.
Rutgers has been without starting quarterback Noah Vedral all season, so credit to Greg Schiano's fellas for scratching and clawing their way to this spot. But they certainly need Vedral back with Big Ten play opening against Iowa next week.
Wisconsin: Good game plan, Bobby
There's only 1 thing the Badgers could gain from playing an opponent as bad as New Mexico State: needed confidence for quarterback Graham Mertz.
Offensive coordinator Bobby Engram hit it out of the park with his game plan. Mertz was 12 of 15 for 251 yards with 3 touchdowns. Now, 1 of Mertz's 3 incompletions was an interception. So we shouldn't declare him cured. But he'll be feeling better about his play heading into the Big Ten schedule, and that is what will make or break Wisconsin this season.