BIG TEN
Judging the 10 best Big Ten alternate football helmets
Purdue didn't necessarily break the internet on Sunday when it unveiled the alternate helmet it will be wearing for this year's Homecoming game against Florida Atlantic, but the Boilermakers at least dented a side panel.
The matte black helmets feature a gold, 1940s version of Purdue Pete — he was much less scary back then — affixed to a matte black helmet.
The tweet introducing the helmet also includes a rhetorical question: Best throwback helmet ever?
...
ESPN BET is now live in 17 states
Use promo code SATURDAY to get your $250 bonus
...
Best throwback helmet ever?

Coming 🔜 pic.twitter.com/9VJAX4Y4zQ

— Purdue Football (@BoilerFootball) July 17, 2022
Since Purdue's got questions, I've got answers. Kind of.
The parameters of Purdue's query are too narrow. So rather than limiting ourselves to throwback helmets, I've judged each of the alternate helmets worn by Big Ten teams in the past decade. And I've deemed the following the 10 best.
But before we get there, it's important to note that alternate or throwback lids aren't everyone's cup of tea. Michigan and Penn State have put numbers on the side of their helmets on occasion, but otherwise don't trifle with their established looks.
Ohio State has been much more daring when trying alternate lids, but I find it to be a case of messing with perfection. To this juncture, none of the Buckeyes' alternates have been better than the Real McCoys.
In general, programs with less traditional on-field success have stronger alternate helmet games. Losing permits creativity. Indiana, Minnesota and Purdue make multiple appearances. Maryland might have, too, if its state flag wasn't such a locally beloved monstrosity central to so many of its helmet designs.
Top 10 Big Ten alternate helmets
10. Indiana bicentennial trident
Indiana will wear this new alternate uni — part of the university's bicentennial celebration — on Oct. 12 vs. Rutgers. Helmet logo is inspired by one of the team's earliest logos. pic.twitter.com/Zjq9lIiU2k

— Paul Lukas (@UniWatch) August 20, 2019
These 1-off helmets were worn in 2019 as a nod to Indiana University's 200th year in existence. The "IU" trident used on these helmets copy the version seen on the oldest structures on campus. Maybe it's a touch you can only appreciate if you went to IU and noticed these things, but I thought it was exceptionally well done.
Bonus points for a tasteful application of Indiana's state emblem in the back corner of the helmet.
Sports Betting in Big Ten Country
There is big news coming to the upcoming 2022-23 Big Ten football season (and NFL season). Ohio online sports betting and Maryland sports betting are on the way.
21+ and present in OH. Gambling Problem? Call 1-800-GAMBLER.
9. Maryland script Terps
Interesting note: Former Maryland S Antoine Brooks Jr. (@TwanDoee) is using the throwback "Terps" script helmet, which was used just once this season, in the 2020 Senior Bowl.

Brooks helped model the uniforms for their unveiling and fans seem to want these to stay. @UniWatch pic.twitter.com/C5Jwzh25bo

— Wesley Brown (@W_Brown21) January 22, 2020
That says it all, doesn't it?
Given a choice in the matter, Terps safety Antoine Brooks decided to wear Maryland's alternate helmet — red with "Terps" written in white script — at the 2020 Senior Bowl.
This proves A) that Brooks is a man with impeccable fashion sense and B) these are Maryland's best lids.
And if you don't believe either of us, ask Mr. Maryland himself.
All you have to do is give people what they want. Terps script on helmets for football.

For hoops, there are a bunch of superior options: the old school turtle on the M, or the flag on top of the M from the title team.

Lots of M schools. One Terps school. This isn't tricky.

— Scott Van Pelt (@notthefakeSVP) July 9, 2022
8. Purdue railroad helmets
Upon further review: The #Purdue-Tennessee Music City Bowl has been re-watched. Here is what caught our eye from a pulsating night in Nashville.https://t.co/u7mg5fPIAS pic.twitter.com/O2RjzL46Kn

— GoldandBlack.com (@GoldandBlackcom) January 1, 2022
An all-time great appropriation of the middle stripe.
Somebody said, "Simply being the Boilermakers is not enough. Put train tracks on the helmets."
So they did. And it works.
7. Indiana chrome candy stripes
Indiana going with the candy-striped chrome helmet today (via @Ragan_Ingram @Clintau24) pic.twitter.com/OEC1BbTRQk

— Phil Hecken (@PhilHecken) October 18, 2014
These are obviously polarizing or they wouldn't have been retired after the 2017 season. Clearly Tom Allen doesn't have the same fondness for the look as I do, because they haven't been worn since he took over the program. The price of (modest) success, it seems.
Personally, I like everything about it. The candy stripes harken to Indiana's signature basketball warmup pants, and I dig the way everything reflects off the chrome.
Would these be awful primary helmets? Yes. But a couple times a year, especially for a noon kickoff? They hit the spot.
6. Minnesota chrome
A @KoKieft TD 📸 pic.twitter.com/qaMBe1HISZ

— Minnesota Football (@GopherFootball) November 13, 2021
Goldmember, the villain of "Austin Powers in: Goldmember," frequently expresses his fondness for gold.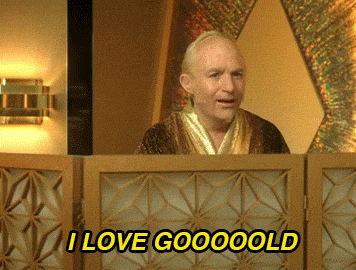 That's pretty much me, but with chrome swapped in for gold.
This helmet takes a classic design — the Minnesota M — and inverts the colors with a shiny twist. The Gophers have also attempted a version of this with a white M, but the maroon works much, much better.
5. Rutgers State of New Jersey
— Rutgers Football (@RFootball) October 6, 2018
These things pop off the screen, which makes them the rare must-see item in the Rutgers football multiverse.
It's a pretty simple but lovely design — a shiny scarlet outline of New Jersey on a matte black helmet. The State of New Jersey has never looked better.
Unfortunately, they've only been worn once because the Scarlet Knights did not play nearly as well as they dressed for their 2018 blackout game against Illinois. The Illini won 38-17 and these beauties haven't been seen since.
4. Indiana 1995 throwbacks
Lock your jaw. pic.twitter.com/5jNDGUkOSA

— Indiana Football (@IndianaFootball) September 18, 2021
The 1995 Hoosiers were nothing special. In fact, they must be just about the worst team to ever get commemorated with a throwback helmet. The '95 Hoosiers went 2-9 and 0-8 in the Big Ten.
But they looked damn good doing it.
So when Indiana played Cincinnati in a marquee matchup last season, it broke out the Old '95s.
Maybe it wasn't such a good idea. Like their ancestors, the 2021 Hoosiers won only 2 games and went winless in Big Ten play. It might be time to give the candy stripes another spin before returning to this look, even if it is superior.
3. Purdue Pete
As seen above, the new Purdue Pete helmets are tentatively penciled in to the No. 3 spot until we see them on the field. There's a chance they don't translate and move down the list. Or they might look even better in a game setting and leap to the top of the charts.
Mark your calendars for Sept. 24.
2. Michigan State script 'State'
— Michigan State Football (@MSU_Football) September 3, 2021
Sometimes simplicity produces beauty.
Michigan State took the same concept as Indiana's chrome candy stripes — a nod to the basketball program — and made it a whole lot better.
These mimic the uniforms worn by Magic Johnson and the Spartans' 1979 men's basketball national championship team, and look magnificent atop Michigan State's road whites with green pants.
Michigan State wore 2 versions of this last season — green facemasks against Northwestern, and white facemasks against Indiana. Green facemask gets the edge from me.
1. Running Goldy Gopher
Minnesota Powers Through WVU In Guaranteed Rate Bowl https://t.co/AYEARmt2IB #WVU #BGN pic.twitter.com/u8sfKINBem

— Blue Gold News (@BlueGoldNews) December 29, 2021
#GOPHERS WIN!!! #Minnesota dominates West Virginia to win the Guaranteed Rate Bowl!! pic.twitter.com/1IYEELYnRI

— Golden Gophers on SR (@SRGophers) December 29, 2021
Clearly, I'm a sucker for cartoon mascots appearing on helmets.
Minnesota has tried a variety of looks with Goldy Gopher on 1 side of the helmet, but none of them worked as well as what the Gophers wore against West Virginia in last year's Guaranteed Rate Bowl.
Most of these versions have Goldy's giant face taking up the entire side of a helmet. I prefer the full running Goldy logo with his vintage Minnesota letter sweater. Minnesota has also used the running Goldy before, but on yellow helmets, which don't look nearly as good.
Minnesota clearly knew it had something magical to work with by saving this helmet for a bowl game. Hopefully we see it again. And for the sake of Gophers fans, ideally it will be in a higher-caliber postseason game.