BIG TEN
Justin Fields leads fight to save the 2020 college football season ... and change the sport forever
In 45 minutes, college football's top players did something that we'll be talking about 45 years from now.
With their season reportedly on the ropes after multiple Power 5 officials expressed that the postponement of fall sports was "inevitable," a historic moment unfolded thanks to a handful of inevitable future millionaires.
A Power 5 players-only  Zoom call included likes of Trevor Lawrence, Justin Fields, Najee Harris, Chuba Hubbard, Penei Sewell, Nick Ford, Kayvon Thibodeaux, Johnny Johnson III, Hunter Reynolds, Jevon Holland and Dallas Hobbs resulted in a 6-point plan to ensure player safety, ultimately establish a players union and have a 2020 college football season:
#WeWantToPlay pic.twitter.com/jvQhE7noGB

— Trevor Lawrence (@Trevorlawrencee) August 10, 2020
(That's Hobbs' graphic, by the way. Seriously, go read about how all of this came together. If you want to restore your faith in the next generation, look at how a bunch of 20-year old college athletes got organized and mapped out a reasonable list of requests. The fact that it got so much momentum in such a small period of time was a testament to how clear and concise it was.)
That hashtag, #WeWantToPlay, had over 91,000 tweets as of 9 a.m. ET on Monday morning. But more than just social media clout, what Lawrence and Co. spearheaded was something that was bigger than any touchdown they'll ever score, and it'll be remembered differently than any award they'll ever win. That, by the way, is true whether they play college football or not in 2020.
As of right now, we don't know what's in the cards. If there is college football, it's hard to imagine seeing the sport's top players get on the same page in historic fashion not at least making some sort of an impact on the decision-makers.
Even with the voice of the players finally being heard in Power 5 uniformity — and not just players from specific conferences speaking out in their Players' Tribune statements — there's still the liability issue that college administrators are facing. They fear the long-term health effects of COVID-19 and the ramifications that come with that. For example, how do universities handle that when they admitted they can't guarantee complete immunity? What if a player needs long-term health care or if the absolute worst-case scenario unfolds and a player dies?
Again, this is a hold-up. This is why administrators didn't just have players fill out a survey asking if they wanted to play and let the results of that determine the fate of the 2020 season. That's why this isn't a black and white issue.
And obviously, the whole "they're amateur athletes" thing is why a union hasn't existed in the first place, despite the 2014 push from Northwestern quarterback Kain Colter. That was squashed in part because it was Colter and a group of Northwestern players, and partially because it was unfairly treated by decision-makers as a pay-for-play message. Though similar in message, its urgency was completely different from having All-Americans from across the Power 5 share something in an attempt to save a season. There are still major hurdles that would need to be cleared to form a true union based on what constitutes being a state employee at a public university.
Still, players recognized that they needed to get on the same page to try and save a 2020 season. Was that a result of Power 5 administrators like Big Ten commissioner Kevin Warren and Pac-12 commissioner Larry Scott playing a little hard ball? Possibly. After a week of separate Power 5 player demands to increase spending on testing with individual superstars like Micah Parsons and Rondale Moore opting out of the 2020 season, a united front for all players at the 11th hour was the smartest possible move.
No separate demands. Six points. Here's what we want. Let's make this work.
What's lost in the shuffle of that, however, was the point that Lawrence brought up. That is, if they do cancel the season, how is that ensuring the health and safety of players by preventing them from getting regular testing?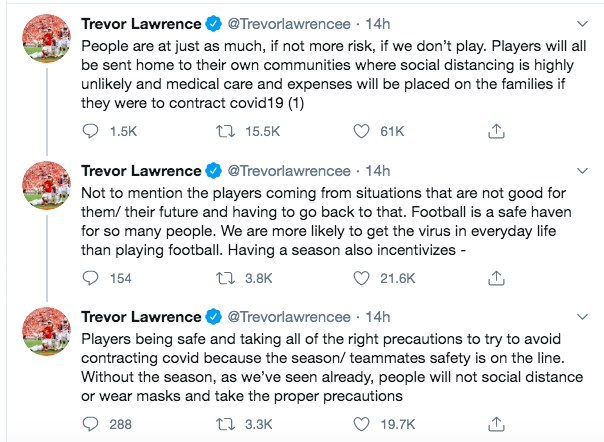 That alone should give decision-makers pause on assuming canceling the season is the only way to ensure player safety.
Amazing it is to think that a week ago, we were legitimately wondering if the likes of Lawrence and Fields would simply opt out and collect their NFL millions in a few months. Not only did they publicly say that they wanted to play, but they used their platforms to try and get thousands of Power 5 football players on the same page.
That's like being told you've got an 8-figure trust fund waiting for you in a year and deciding instead that you want to work 80-hour weeks while leading the workers union … for lack of a better phrase. That's commendable. If Lawrence, Fields and their fellow All-Americans never play another down of college football, they deserve to hold a special place in the sport's history.
What now feels more inevitable is that the 2020 season is forever going to change college sports. Dozens of college sports programs have already been casualties of this pandemic. Others won't be able to financially recover from a season without college football. That extends into college towns, where businesses built on thousands of people filling their doors on fall Saturdays could be no more even if we do get a season.
If this attempt to form a union in college football fails — remember that the word used in the #WeWantToPlay statement was "ultimately" — we're at least seeing the blue print. This is how it's done. It's using platforms. It's staying focused. It's being unselfish. It's taking collective action so if, God forbid, we find ourselves dealing with any future hurdles of preventing a season, the players have a voice well before the season is reportedly on the brink of ending.
That's progress.
Open communication was needed long ago. Open communication wasn't forcing players to sign liability contracts. Open communication was allowing players, administrators and medical experts to work together instead of having 3 separate voices.
In hindsight, this could have been handled differently on all accounts. Power 5 administrators could have worked together to come out with their official testing and enforcement protocol instead of separately releasing their own guidelines days before the start of fall camps. Power 5 players could have had a sense of urgency to work together — and not just within each of their respective conferences — when voluntary workouts began back in June.
It's easy to say those things now, but perhaps the next generation of college football players can use 2020 example of what to do and what not to do so that it never reaches this point. If the college football season is canceled, take solace in knowing that its top players took important action to possibly prevent future measures from taking place.
In a way, it's fitting that Lawrence and Fields were two of the prominent figures who spearheaded this. It seems like a lifetime ago that we saw them battle in a Playoff game for the ages.
Go figure that the battle they embarked on together will be the one will be what defines both of their college legacies.