BIG TEN
Pitt's Pat Narduzzi clearly doesn't understand how smack talk works
It's not bragging if you can back it up.
But if you can't? Then you just look like a loud-mouthed buffoon. Like Pitt coach Pat Narduzzi.
Speaking on a Pittsburgh-based podcast, Narduzzi asserted that his Panthers would have "kicked Michigan State's butt in" if Heisman finalist Kenny Pickett played in the Peach Bowl rather than opting out for the NFL Draft.
"He's a 21-point difference," Narduzzi opined on "Bazzy's Black and Gold Banter."
Without Pickett, Michigan State outscored the Panthers 21-0 in the 4th quarter for a 31-21 win. Pitt fell to 0-7-1 all-time against the Spartans.
But that's not the silliest thing Narduzzi said. Michigan State had the nation's very worst pass defense last year, so it's quite plausible Pickett would have picked the Spartans apart. Or maybe even backup quarterback Nick Patti, who left the game with an injury in the opening quarter.
Pitt did play with a hand tied behind its back in the Peach Bowl. What Narduzzi elects to gloss over is that the same is true of Michigan State.
While the Panthers were without the quarterback who finished 3rd in Heisman voting, the Spartans were missing the running back who finished 6th. Ignoring that Kenneth Walker III accounted for one-third of Michigan State's total offensive yardage last season (really, 33.4%) is a most convenient omission.
Without Walker, the Spartans managed just 56 rushing yards on 36 carries. His absence was glaring.
Despite this, Narduzzi had the gumption to go ahead and make the following statement.
"If that was one of the best Big Ten teams last year," Narduzzi proclaimed, "then let's go to the Big Ten and win it every year."
In the words of Cousin Eddie: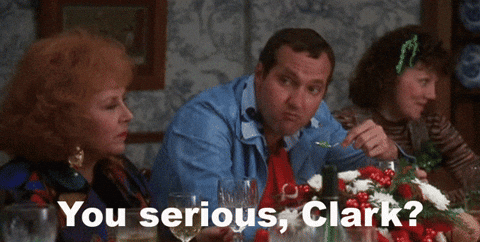 Pitt? Dominate the Big Ten? LOL
It's bad enough for Narduzzi to brag about what might have been in a game where his team was outgained 410-274 despite the other offense missing its most important player.
You lost, buddy.
But if you squint hard enough, at least his theory holds water. If Pickett plays and Walker doesn't, Pitt possibly wins running away.
Sports Betting in Big Ten Country
There is big news coming to the upcoming 2022-23 Big Ten football season (and NFL season). Ohio online sports betting and Maryland sports betting are on the way.
21+ and present in OH. Gambling Problem? Call 1-800-GAMBLER.
Narduzzi's assertion that Pitt is ready to win the Big Ten, on the other hand, is utterly preposterous. The Panthers would be challenged to compete, period.
"I don't want to hear about this Big Ten dominance and SEC dominance," Narduzzi said.
Sorry to be that guy, Pat. But it's time you heard about it. And let's start with Pitt.
The Panthers are 11-20 (.354 winning percentage) against Big Ten opponents since 1973, when Johnny Majors took over the program and temporarily built it into a national power. That includes a 2-5 record against Penn State in games played since the Nittany Lions joined the B1G. Narduzzi himself is 1-3 against Penn State, including a 51-6 loss at Heinz Field in 2018.
And that 2018 Penn State team was no unstoppable force. The Nittany Lions went 6-3 in the Big Ten, including a 42-7 loss at Michigan. The transitive property doesn't treat the Panthers very well in that comparison.
But maybe it's an unfair comparison. Penn State has a much wider recruiting base than Pitt. Hard to keep pace locally with the Nittany Lions, who can more easily extend their reach into Philadelphia and New Jersey. Or wherever they please. Penn State is a national brand.
Maybe the Panthers would have better luck against Ohio State on their path to the top of the Big Ten.
Or maybe not.
Pitt is 1-6 against the Buckeyes since 1984. Granted, the programs haven't played since 1996 — because Ohio State won that game 72-0. It's the most lopsided loss in Pitt history. It was Ohio State's most lopsided win since at least 1950. At No. 2 on that list is a 70-6 thrashing of Northwestern in 1981 during the Wildcats' 34-game losing streak. Yep, Pitt is in that company.
Since that score sounds made up, here's the footage proving its existence:
OK, so maybe Narduzzi bit off more than he can chew by suggesting Pitt would dominate the Big Ten if only it got the chance. But surely the Panthers would be a respectable mid-level Big Ten program, right?
Only if they're able to find a way to avoid scheduling Indiana.
Yes, Indiana. Which in this case is not to be confused with Indiana of Pennsylvania. The Hoosiers own a 7-2 all-time record against Pitt.
To be fair, none of those games have taken place since 1952. But for Indiana to post a winning record against any program, no matter how far back, is quite unusual. Maryland, Rutgers and Nebraska(!) are the only Big Ten programs against which Indiana has winning records.
Speaking of Maryland, Pitt is 2-3 all-time against the Terrapins.
The only Big Ten programs against which Pitt has a winning record are Rutgers (22-8) and Wisconsin (3-0).
The most recent meeting between the Badgers and Panthers took place in 1967 when both programs were at their nadir. Pitt beat Wisconsin 13-11 for its only win in a 1-9 season. The Badgers finished that year 0-9-1. It very well may have been one of the worst college football matchups of all-time.
By the time the programs meet again in a scheduled home-and-home in 2026 and '27, it's safe to say Wisconsin will be in better condition than back then, which was the middle of a 3-year stretch with 3 total wins.
The fine line between rah-rah and absurd
Narduzzi deserves a little bit of grace given his audience. It was a friendly conversation in a podcast meant to excite Pitt's fanbase. And when you're attempting to fire up your fanbase, there's likely to be a bit of embellishment.
When you combine that element with his desire to praise Kenny Pickett's skills, a wild boast might accidentally slip out. It's called "talking season" for a reason.
But Narduzzi went beyond rah-rah here and careened into a land of complete nonsense. And not just because history proves Pitt can't hold the Big Ten's jock strap.
Narduzzi claimed that part of the reason Pickett was too banged up to play in the Peach Bowl was offensive coordinator Mark Whipple's play calling in the ACC championship game. Whipple was hired as Nebraska's offensive coordinator this offseason, as a 3-9 Big Ten team is still more desirable than Pitt.
"We didn't make it easy on Kenny," Narduzzi said. "Everybody knew we were going to throw the ball, and we threw the ball. As a defensive coordinator, I know I can make [the quarterback] pay if you have no desire to run the ball.
"Our old offensive coordinator had no desire to run the ball. He was stubborn. Wake Forest was 118th in run defense; we threw the ball every down. When we ran the ball we had 10 yards a carry, but that wasn't good enough."
Well, not that's not quite how it went down.
The ACC championship game was actually one of Whipple's most balanced game plans of the season. Pickett threw 33 passes with the Panthers sprinkling in 38 rushing attempts. Those rush attempts went for 2.9 yards per carry — against the nation's 118th run defense.
So maybe Whipple knows what he's doing, which should provide Nebraska fans with some comfort.
Pitt fans, on the other hand, will have to settle for whatever world Narduzzi is inventing. Because it certainly isn't the real one.