BIG TEN
Saturday Football: Alabama QB battle, COVID-19 and Kevin Warren
The Saturday Football newsletter goes out to subscribers up to 3 days a week and discusses the major events going on around the nation in college football. You can subscribe by clicking here.
Good morning and happy Monday! At this time next week, we'll be preparing to flip our calendars to September, and it will also be the last Monday newsletter before college football starts! That's right, on Thursday, Sept. 3, there are two FBS games scheduled to be played — South Alabama at Southern Miss and Central Arkansas at UAB.
Then, there are six games scheduled for Saturday, Sept. 5, and BYU at Navy on Monday, Sept. 7. But, before we get to that point, there are some news items to discuss from around the college football world. Let's get started with today's newsletter, shall we?
ALABAMA QB BATTLE
Alabama seems to have a QB battle on its hands. What's the latest from Tuscaloosa?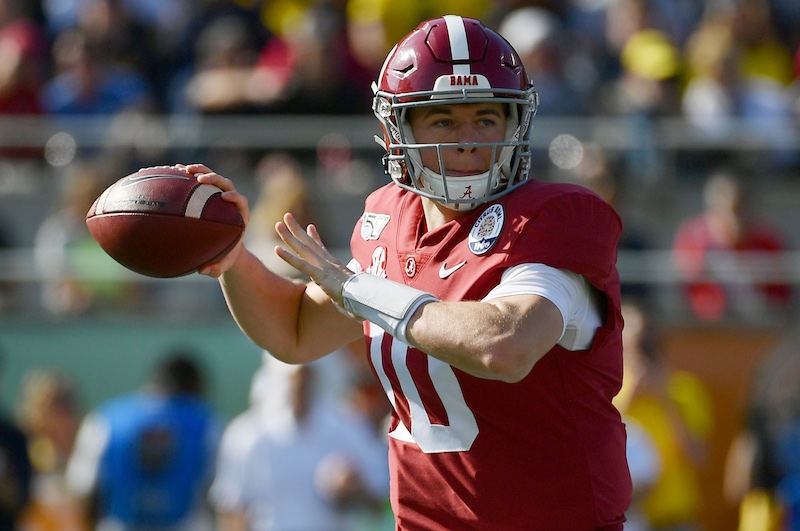 Tua Tagovailoa is off to the NFL after the Miami Dolphins picked him with the No. 5 overall pick in the 2020 NFL Draft. Now, Alabama is trying to move on at the quarterback position. Last year's backup, Mac Jones, is presumed to be in line to start in Week 1, but 5-star freshman Bryce Young is already making waves during fall camp in Tuscaloosa.
So, what is going on with the two talented Alabama quarterbacks? Let's take a look at what's being said and who is potentially in line to get that Week 1 start at Missouri:
Jones got plenty of playing time as Tagovailoa's backup in 2019. He appeared in 11 games and started four of those contests. Aside from a pair of costly interceptions in the Iron Bowl, he played well, finishing the year with 14 touchdowns and only 3 interceptions. Alabama OC Steve Sarkisian praised Jones's experience and how he fared in his starts last year. Speedy WR Jaylen Waddle said Jones has already taken on more of a leadership role this year.
However, excitement is already building for the freshman sensation. Alabama fans are already salivating at this video from practice that showcases Young's arm strength. Sarkisian said Young has some natural passing ability. Waddle praised Young's speed, which means a lot coming from a guy as fast as Waddle. Fellow Alabama WR DeVonta Smith also sees greatness in Young's future.
Even if Jones starts, Young should get some playing time in 2020. That's what happened last year, when Jones got in plenty of games because the Crimson Tide were up by multiple touchdowns. Heck, Tua barely threw any passes in the fourth quarter of games last year. Saturday Down South's David Wasson noted that the backup quarterback always seems to be popular in Tuscaloosa, but Young could take that trend to the next level.
Having multiple quarterbacks that fans are excited about is never a bad thing. As noted earlier, it would be a surprise if Jones didn't start in Week 1, but it also wouldn't be shocking to see Young get plenty of work in the second half if the Tide are up big. This battle will definitely be a good one to keep an eye on moving forward.
GOOD READS
KEVIN WARREN
B1G commissioner Kevin Warren continues to make negative headlines. What's the latest from the Big Ten?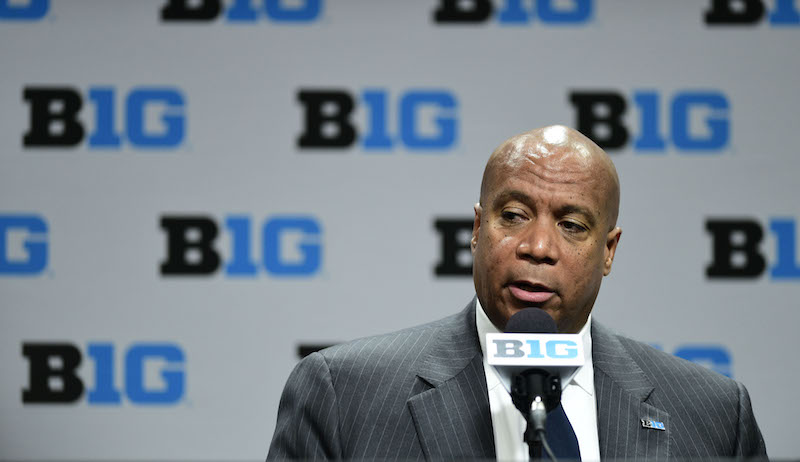 None of the Power 5 commissioners (not even Larry Scott in the Pac-12) is having as rough of a month as Big Ten commissioner Kevin Warren. In his first year in the position, his lack of transparency surrounding the league's decision to postpone football this fall has angered many and led to others questioning whether or not he's right for the job.
Now, a group of Big Ten parents are staging protests outside the league office in Chicago. That's not a great look, obviously. So, as we have done a lot in recent weeks, let's dive into the latest Big Ten drama:
The biggest news came from quotes by Nebraska AD Bill Moos. Moos told Omaha.com that all 14 Big Ten ADs wanted to play football this fall. He said Warren knew that, but didn't communicate that in a meeting with B1G presidents and chancellors, who subsequently voted to postpone the season until at least winter of 2021. The lack of communication throughout the process has been perhaps the biggest knock on Warren. SEC Network host Paul Finebaum said Warren is showing his inexperience in the biggest moment of his career. Finebaum said postponing may ultimately prove to be the right decision, but the way Warren has handled it has been a disaster.
Warren eventually penned an open letter to B1G fans, players, etc. That letter, though, did little to quiet his critics. In fact, a group of Big Ten parents, led by Ohio State CB Shaun Wade's dad, Randy, gathered to protest outside B1G headquarters. Wade and others don't trust that the Big Ten will actually try to play this spring. Obviously, since the B1G fall schedule was released only days before the league announced it was postponing football, that fear is warranted. Iowa parents continue to demand answers, sending another letter to the Big Ten. Randy Wade also questioned why Warren's son was preparing to play this fall while his son, Shaun, can't. (Here's where we'll point out that Powers Warren, who plays at Mississippi State, is over 18 years old and can make his own decisions.)
Is the Big Ten in a position where it is actively rooting against football? That's what Saturday Tradition's Dustin Schutte wondered on Sunday. He wrote that it's clear the Big Ten expected the rest of the Power 5 conferences (not only the Pac-12) to follow suit when it postponed the football season. Schutte wrote that, if the other conferences play their seasons without interruption, it will have a major negative impact on the Big Ten.
As Finebaum, Schutte and others have noted, it is still ultimately possible that postponing football will prove to be the right decision. However, there was no need for the Big Ten to make its choice so early, and there was certainly no need for Warren to be so secretive about it. We'll see what happens moving forward, but don't expect the Big Ten to go back on its decision to postpone the football season.
JUST FOR FUN
At the Power 5 level, the ACC, Big 12 and SEC are planning on playing this fall. At the Group of 5 level, the AAC, Conference USA and Sun Belt are also moving forward with fall football. So, today, let's focus on that latter group of three conferences. We'll give you five schools. You tell us if they play in the AAC, Conference USA or Sun Belt. Ready? Here we go:
Charlotte
Georgia State
Louisiana Tech
Rice
South Florida 
Scroll down to see the answers to today's quiz.
MORE COVID-19 PROBLEMS
COVID-19 outbreaks have hit several campuses. What impact will the outbreaks have on football season?
COVID-19 has dominated headlines across the globe all year long, so of course it continues to play a big part in the college football world, too. As six FBS conferences — the ACC, Big 12, SEC, AAC, Conference USA and Sun Belt — continue to move toward a fall football season, COVID-19 keeps rearing its ugly head.
Between students returning to campuses and outbreaks in athletic departments, there's plenty of worthwhile news to discuss. So, here's the latest when it comes to the pandemic and college football:
As mentioned, students are returning and classes are starting. That has led to some problems, as college students have been lax in some places with mask-wearing and social distancing. Auburn WR Anthony Schwartz has been vocal on Twitter calling out students who aren't following state guidelines. We've already seen a couple of campuses (North Carolina, NC State and Notre Dame, among others) forced to move to online-only classes either temporarily or for the rest of the semester due to outbreaks among the student population. North Carolina is sending students home. Notre Dame is waiting a couple of weeks before re-evaluating. North Carolina is resuming football practice today. Notre Dame got back to work on Saturday.
It's not just outbreaks on campus. Athletic departments have been hit, too. East Carolina has suspended football activities indefinitely after 10 positive cases were reported among players. Vanderbilt, which has already had a few key players opt out of the season, had to hit pause on football activities, too, after multiple positive tests. Ole Miss recently had 13 positive cases in its athletic department (not necessarily with the football team). Headlines like those are ones no one wants to see.
Should other schools learn from the examples that have been set. Virginia has yet to have students return to classes in Charlottesville, and coach Bronco Mendenhall said he's "conflicted" about whether they should return at all. Obviously, Mendenhall doesn't have to make that final decision, but with mounting evidence that bringing 18-22 year old students back together sometimes leads to bad decisions and virus outbreaks, it'll be interesting to see what chancellors and university presidents decide to do.
As you've heard a million times, these are "unprecedented" times. What are the right choices? That's not immediately clear amid the pandemic. Yes, this section has a very doom-and-gloom feel to it, but it's important to keep talking about the challenges the virus presents. If other schools learn from what is taking place now, it will only make things go smoother later.
ANSWERS
Here are the answers to today's Group of 5 conference quiz:
Charlotte — Conference USA
Georgia State — Sun Belt
Louisiana Tech — Conference USA
Rice — Conference USA
South Florida — AAC
QUOTE OF THE DAY
"I know this will not be popular, but there will be no game day social gatherings around stadiums: rallies, parties, tailgates. It's no fun, but it's what allows the athletes to play. I'd still rather be in the SEC with no tailgates, than the Pac-12 or Big Ten with no football."
– Mississippi governor Tate Reeves took a shot at the Big Ten and Pac-12 last week after signing an executive order limiting stadium capacities in the state and banning tailgating and other parties.
TWEET OF THE DAY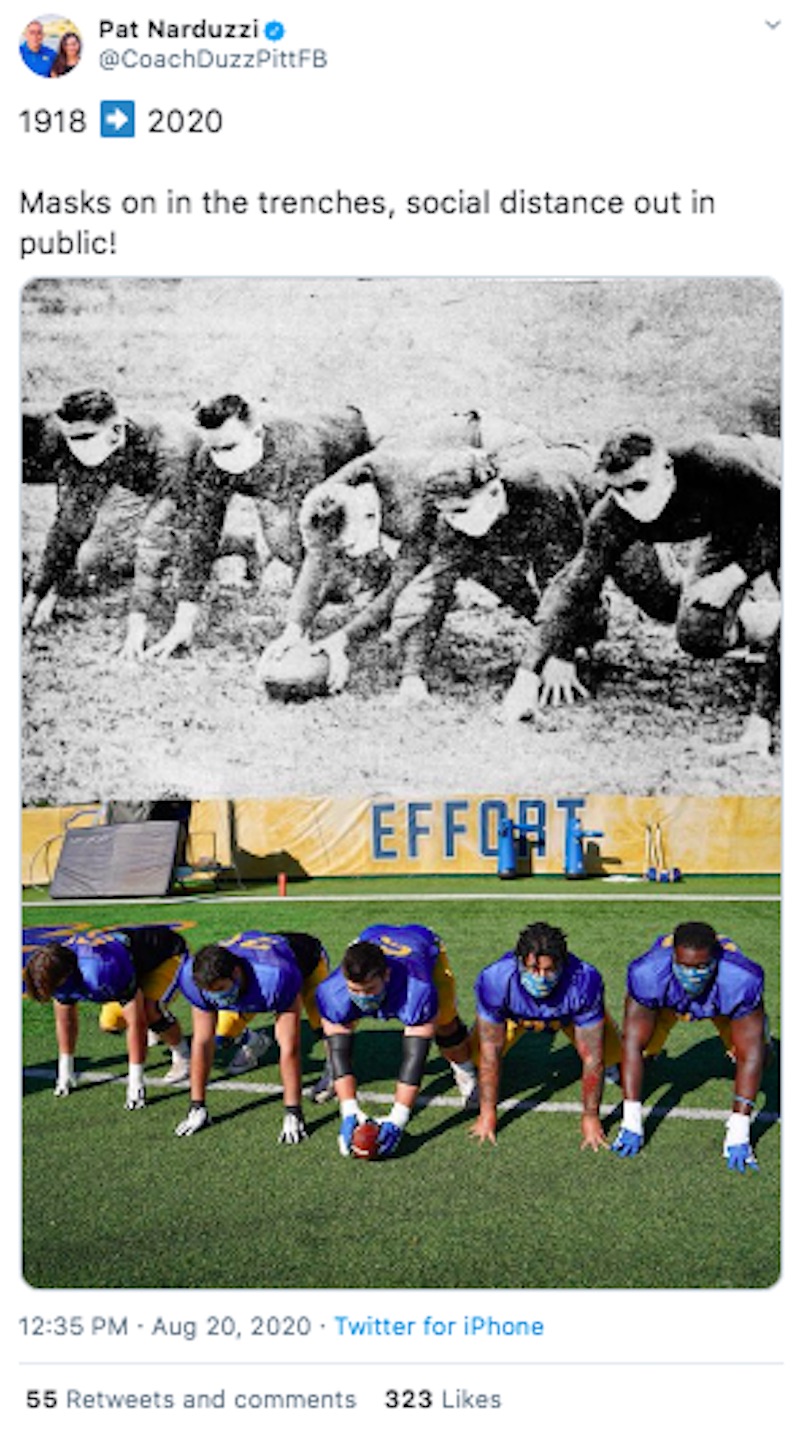 Pitt coach Pat Narduzzi tweeted out a pair of interesting pictures. The top one is of Pitt players during the 1918 pandemic. The bottom picture is of Pitt linemen during this year's pandemic. Fun note: Pitt claims the 1918 national championship after going 4-1 in the pandemic-shortened season. Can the Panthers put together another strong season in 2020?