BIG TEN
Saturday Football: AP Poll takeaways, Will Muschamp recruiting QBs and more COVID-19 news
The Saturday Football newsletter goes out to subscribers up to 3 days a week and discusses the major events going on around the nation in college football. You can subscribe by clicking here.
Good morning and happy Wednesday! The AP Poll was released on Monday, making it almost feel like a normal week of college football, so that's… something? It's certainly better than nothing! And, as mentioned in Monday's newsletter, we're inching ever closer to some actual football being played.
In today's newsletter, we'll discuss the strange first 2020 edition of the AP Poll and some takeaways from that. We'll also share a fantastic quote from Nick Saban and dive into a couple of other noteworthy stories. Let's get started!
AP POLL TAKEAWAYS
The first AP Poll of 2020 is out and it's a weird one. What should we take away from the preseason poll?
On Monday afternoon, the preseason AP Poll was released. The Coaches Poll has been out for a while now (since before the Big Ten and Pac-12 voted to postpone their football seasons). After Monday's AP Poll was revealed, there was plenty of reaction to how the top 25 looked.
So, what were the biggest takeaways from the inaugural poll of the 2020 season? Let's dive into some of the big storylines that have popped up the past couple of days:
First of all, it is noteworthy that B1G and Pac-12 teams are included. In fact, nine of the teams in the top 25 (led by Ohio State at No. 2) won't actually be playing this fall. So, what gives? Why rank those teams? AP writer Ralph Russo explained that the teams that don't play this fall will drop out of the poll once the season starts. "It was more of: Let's give people a look at what the preseason would have been, but once the games start, we will only rank the teams that are playing," he said.
However, that explanation still drew plenty of raised eyebrows. On Tuesday's edition of "Get Up!" on ESPN, host Mike Greenberg was incredulous, saying he couldn't get through the rankings discussion with a straight face. Fan and media reactions on social media echoed Greeny's sentiments.
It was definitely strange to see teams not playing in the poll. That's one of Saturday Down South writer Connor O'Gara's takeaways from the poll. He shares four other takeaways here. Oh, and if you want to see what the poll would have looked like with only the teams who are playing this fall, Stadium's Brett McMurphy has you covered.
So, it seems No. 2 Ohio State is heading for a massive drop from No. 2 to out of the poll once games start. It will be a bit jarring, but for now, it'll be interesting to see how the poll changes throughout the season. With conferences starting games at different times, things are going to get weird this fall.
GOOD READS
MORE COVID-19 UPDATES
COVID-19 continues to make headlines in college football. What's the latest involving the virus?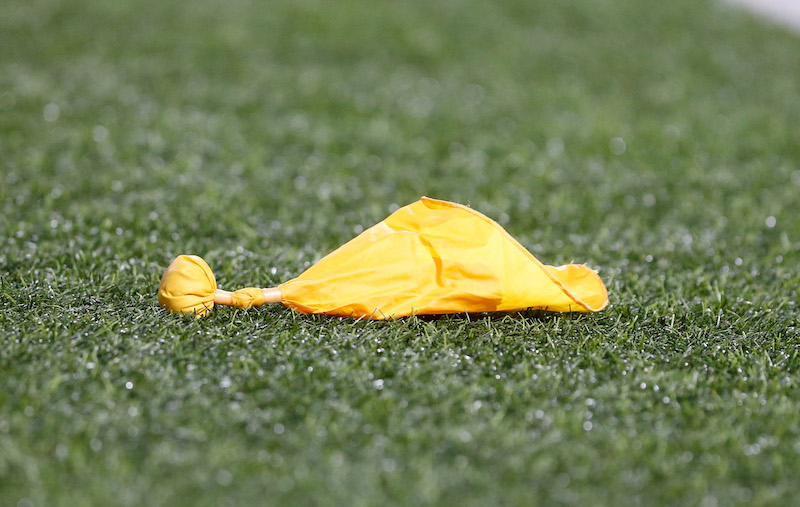 Look, we get it. It's not fun to read about COVID-19 and all the negative headlines the pandemic is making in the college football world and in society at large. If it seems like the headlines are very similar to the ones in the news last week… well, they are. The virus isn't going away, and that means we'll need to continue to discuss it as the start of the 2020 season approaches.
So, what's the latest news that we have to discuss? Let's take a look at the newest COVID-19 headlines that have popped up across the college football universe:
Let's start with some positivity for a change, though. That positivity comes to us via the Florida Gators. Coach Dan Mullen said the Gators haven't had any positive tests since July, which is certainly something to be proud of. Mullen said this shows that playing football can be safe. In other SEC-related news, Vanderbilt LB Dimitri Moore has decided he wants to play after all. Moore initially opted out after losing his grandpa to COVID-19. But, on Tuesday, he said that after doing more research and having conversations with medical experts, he's opting back into the season.
The Big 12, however, has not had such positive headlines. After a good, COVID-free start to voluntary workouts, Oklahoma has been hit hard by the virus. On Tuesday, coach Lincoln Riley revealed that one Sooner position group was essentially unable to practice due to so many positive tests in the group.
Elsewhere in the Big 12, the news is also not great. Texas Tech reported on Tuesday that there were 21 active COVID-19 cases in the program. However, the Red Raiders will continue to practice, even as those 21 players self-isolate. It can't be easy to run practices with 21 missing players.
Tuscaloosa has shut down bars for two weeks to try to slow the spread in the city and on the Alabama campus. Other places are also taking measures to slow the virus's spread. There are still a few weeks to go before the season is scheduled to start, so we'll see if universities are able to get a better handle on things moving forward.
JUST FOR FUN
With some rumblings about potential conference realignment starting to make news once again, let's see how much you remember about the most recent round of conference realignment. Can you name the teams that most recently joined each of the Power 5 conferences? Bonus points if you can name the years they joined the conferences, too:
ACC (1 school)
Big Ten (2 schools)
Big 12 (2 schools)
Pac-12 (2 schools)
SEC (2 schools) 
Scroll down to see the answers to today's quiz.
WILL MUSCHAMP QB RECRUITING
When it comes to recruiting, Will Muschamp lands a lot of talented QBs. How does he get so many elite commits?
The South Carolina Gamecocks made waves last week, landing 5-star 2022 QB Gunner Stockton. Stockton, a Georgia native, is the No. 1 quarterback in the 2022 class, per the 247Sports composite rankings. That continues the trend of coach Will Muschamp being one of the best quarterback recruiters in college football in recent years.
So, what gives? How does Muschamp continue to land elite quarterbacks? Let's take a look into this interesting trend out of South Carolina:
Dating back to his Florida days, Muschamp has always recruited well. During his career, he's landed two quarterbacks ranked No. 1 in their class, three guys ranked No. 2, a No. 3 quarterback in his class and a No. 4. Here's a list of the blue-chip quarterbacks he's landed:

Jeff Driskel (No. 1 dual-threat QB, 2011 — Florida)
Jacoby Brissett (No. 3 pro-style QB, 2011 — Florida)
Will Grier (No. 2 pro-style QB, 2014 — Florida)
Treon Harris (No. 9 ATH, 2014 — Florida)
Brandon McIlwain (No. 2 dual-threat QB, 2016 — South Carolina)
Jake Bentley (No. 12 pro-style QB, 2016 — South Carolina)
Dakereon Joyner (No. 9 dual-threat QB, 2018 — South Carolina)
Ryan Hilinski (No. 2 pro-style QB, 2019 — South Carolina)
Luke Doty (No. 4 dual-threat QB, 2020 — South Carolina)
Gunner Stockton (No. 1 dual-threat QB, 2022 — South Carolina)

That's a list that can stack up against any other coach's resume. But, as you've probably noticed, Muschamp hasn't had a lot of success with those guys. None of the Florida quarterbacks finished their careers with the Gators. As for the Gamecocks, McIlwain is at Cal, Bentley is at Utah, Joyner is listed as a receiver on the current South Carolina roster and Doty has recently been working with the receivers. New OC Mike Bobo even said he wouldn't hesitate to use Doty at receiver this year.   .
Muschamp is good at working his contacts on the recruiting trails. He hired Bentley's dad to work on his staff prior to his son's arrival. With Stockton, he utilized a connection to Jaybo Shaw (brother of South Carolina legend Conor Shaw), who coaches Stockton in high school. That, according to Stockton, was a big factor in choosing the Gamecocks. Now, we'll see how Hilinski, Doty and others fare in new OC Mike Bobo's offense. And, if Stockton sticks with his commitment, we'll see how he does in 2022 and beyond.
No, not many of Muschamp's quarterback recruits have panned out. He's a defensive coach, but he hasn't had much consistency at the offensive coordinator position during his time at South Carolina. Even so, one thing is clear — if you're recruiting against Muschamp, watch out. He can certainly recruit quarterbacks (and a few other positions) with the best of them.
ANSWERS
Here are the answers to today's most recent Power 5 additions quiz:
ACC — Louisville (2014)
Big Ten — Maryland and Rutgers (2014)
Big 12 — TCU and West Virginia (2012)
Pac-12 — Colorado and Utah (2011)
SEC — Mizzou and Texas A&M (2012)
QUOTE OF THE DAY
"I really appreciate the fact that we have a lot of people out there working hard. This is about the players. Everybody acts like we want to play for the money. We want to play for the players. I want to play for the players. We have a lot of guys on our team that can create a lot of value for themselves by playing this season, and we can create a lot of value and these guys have worked really hard to try to create and accomplish something as a team.
"All those things, to me, are important to the players. And I want to play for the players. I know it's important to the fans. I love our fans. I love the way they support our team. They're a part of our team. We want them to continue to be a part of our team in whatever way they can. But this is really about providing an opportunity to the players if we can do it in a safe way."
– Alabama coach Nick Saban gave a thoughtful, passionate answer when asked about football being important.
TWEET OF THE DAY
Remember those two decades it seemed like Hunter Renfrow was at Clemson? Well, after learning of the NCAA's eligibility decision regarding 2020 fall sports seasons, Renfrow joked that he might just come back to college for another year.