BIG TEN
Saturday Football: Bo Nix, spring football and a Q&A with Kris Budden
The Saturday Football newsletter goes out to subscribers up to 3 days a week and discusses the major events going on around the nation in college football. You can subscribe by clicking here.
Good morning and happy Monday! We hope you had a safe and happy Fourth of July weekend. As we progress through July, we're moving ever closer to what could be Week 1 of the college football season in September. However, the COVID-19 pandemic continues to cast uncertainty on those plans.
We'll discuss some of the latest COVID-related chatter. Then, we'll move on to some debate about Auburn QB Bo Nix. We'll also have a conversation with an ESPN reporter and update some recruiting rankings. Let's get started with today's newsletter, shall we?
SPRING FOOTBALL
Spring football is an idea that is gaining momentum. Will any CFB conferences move their seasons?
How are things going in the U.S. as we try to slow the spread of COVID-19? Well, to put it plainly…
Cases are on the rise in a majority of the states in this country, and while the death rate continues to fall, the sheer number of positive cases has many concerned. How could this end up affecting the 2020 college football season? The festivities are still set to commence in the first week of September, but there's some growing pessimism about whether that can happen:
First, the big story of the week comes to us from the Ivy League. The Ivy League is an FCS conference, and the member schools are reportedly considering moving the football season to the spring and playing only conference opponents. Pac-12 commissioner Larry Scott said his conference is also considering many options, including a delayed start to the season or a spring season. However, as of last week, the SEC reportedly had not even discussed the option of a spring season.
So, what could a spring season look like if it comes to that? Oklahoma coach Lincoln Riley broke down one possibility, which, like the Ivy League, would involve a conference-only schedule before the postseason. Michigan governor Gretchen Whitmer has an interesting idea. Last week, she called for her state's high schools to flip the fall and spring seasons, with football and volleyball moving to spring and more socially distant sports like baseball and softball moving to the fall.
Media reaction to the potential of a spring season has been mixed. SEC Network host Paul Finebaum went as far as to say anyone who still thinks the season will start on time this fall with stadiums full of fans is "full of crap." Finebaum later said that in his best-case scenario, no major decisions will be made for another month. Will things be different then? NFL analyst Boomer Esiason came up with perhaps the strongest take of the week, saying he thinks SEC teams and Clemson might be intentionally having players contract COVID-19 so they can build antibodies now and not have to miss time during the season. Meanwhile, while ESPN College GameDay host Rece Davis thinks things could end up looking different, he's still confident football will be played this fall.
After a busy Fourth of July weekend, there's a chance cases could spike once again in a couple of weeks. How will that affect the college football world? That remains to be seen, but it is becoming clear that those in charge of the sport are becoming more concerned about COVID-related trends in the U.S.
TOP 2021 RECRUITING CLASSES
Now that we have flipped the calendar over to July, many top 2021 recruits have either already committed or are narrowing down their lists of favored schools. The Fourth of July saw several high-profile commitments, so it's a good time to update where things stand on the recruiting trails.
Which teams have the current top 10 recruiting classes for the 2021 cycle? We'll take a quick look at how things stand as of Sunday evening (via the 247Sports composite rankings):
Ohio State — 18 players, 4 5-stars, 11 4-stars
Clemson — 14 players, 1 5-star, 12 4-stars
North Carolina — 17 players, 1 5-star, 11 4-stars
Tennessee — 23 players, 1 5-star, 9 4-stars
Oregon — 16 players, 1 5-star, 11 4-stars
LSU — 15 players, 0 5-stars, 13 4-stars
USC — 17 players, 0 5-stars, 11 4-stars
Michigan — 19 players, 1 5-star, 9 4-stars
Florida — 20 players, 0 5-stars, 11 4-stars
Texas — 14 players, 1 5-star, 9 4-stars
How will things change over the course of the next month? Next Monday, we'll update you on the top 10 uncommitted players remaining in the 2021 class. Then, in August, we'll check back in with the nation's top classes as the 2020 season approaches.
GOOD READS
IS BO NIX ELITE?
Can Bo Nix improve enough to make Auburn and SEC title contender? There's been some debate about it.
When Joe Flacco was a quarterback for the Baltimore Ravens, there was a great deal of debate around him every year. He won a Super Bowl with the Ravens, guiding them past the San Francisco 49ers in Super Bowl XLVII. He was the MVP of that game, too. But, there was always chatter surrounding him. Was he elite? Was he even a good quarterback? People were divided.
That seems to be the case with Auburn QB Bo Nix as we gear up for the 2020 college football season. The rising sophomore led the Tigers to a 9-4 record as a true freshman, throwing for 2,542 yards, 16 touchdowns and 6 interceptions. He also ran for 313 yards and 7 scores.
So, can he take a step forward and be even better in 2020? Let's take a look at some of the opposing viewpoints making headlines in recent days:
Under new OC Chad Morris, Nix could be primed for a breakout year. When ranking college football quarterbacks by tiers last month, CBS Sports analyst Ben Kercheval put Nix in Tier IV, which is the group that could break out in 2020. Morris worked wonders at Clemson for former QB Tajh Boyd. Boyd tweeted back in January that he expects big things from Nix.
Nix won't have to do it all himself on offense this fall, either. In her preview of Auburn's offense entering 2020, Saturday Down South's Jacquie Franciulli predicted that the Tigers' passing attack would be better than it was in 2019. She wrote that Nix has receivers like Williams, Anthony Schwartz and Eli Stove, among others, to help him make big plays.
However, not everyone believes Nix is going to take a step forward. Saturday Down South's Connor O'Gara took a look at some concerning numbers that have him skeptical about Nix (at least for his sophomore season). SEC Network analyst Greg McElroy seems to lean more toward that line of thinking, too. He said recently that not having spring practices will really hurt a player like Nix.
Interestingly, ESPN's Football Power Index has Auburn favored in all but three games (at Georgia, vs. LSU and at Alabama) in 2020. To win those nine games, and potentially pull off an upset in any of those three aforementioned games, Nix will have to grow as a player and a leader. Can he do it? One thing is for sure — the debate around him will continue until he steps on the field and shows us what he can do.
JUST FOR FUN
Over the past few weeks, we've asked you to name the top returning quarterback in each Power 5 conference in terms of touchdown passes for the 2020 season and then the same thing for rushing touchdown leaders and receiving touchdown leaders.
For today's quiz, let's move to the other side of the ball and see if you can name the defenders returning in 2020 who led each Power 5 conference (ACC, Big 12, Big Ten, Pac-12 and SEC) in interceptions in 2019. Bonus points if you can guess how many they snagged.
(Note: The Big 12 has 2 players tied for first, the Big Ten has 8 players tied and the Pac-12 has 7 sharing the top spot in the rankings. Name any of them.)
Scroll down to see the answers to today's quiz.
Q&A WITH KRIS BUDDEN
ESPN reporter Kris Budden joined us for a Q&A session. Here's what she had to say.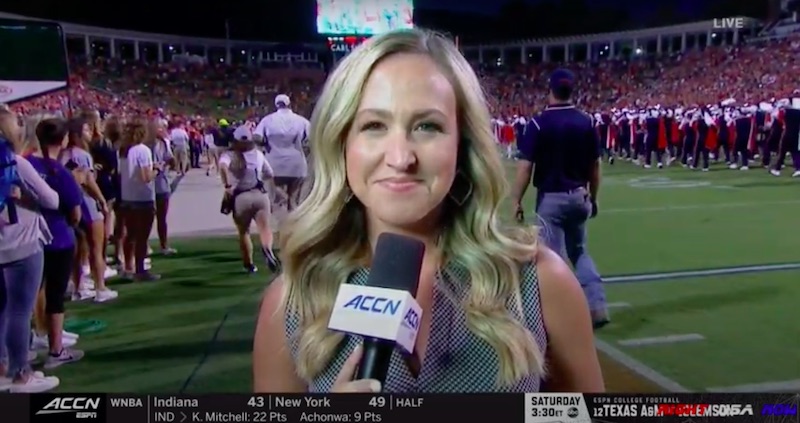 As we (hopefully) approach the start of college football season, we'll bring you weekly Q&A sessions with the voices and personalities you'll hear on the air broadcasting your favorite games. Stay tuned for the next installment of our media Q&A series.
Kris Budden is a sideline reporter ESPN and the ESPN family of networks. She is a Mizzou graduate and has been with ESPN since 2016. She has also made stops at FOX Sports and at WBIR in Knoxville, Tennessee, among others. She took some time to talk with newsletter editor Adam Spencer about a number of topics, including her time at Mizzou, reporters she idolized while getting into the business, her love of tennis, and more.
Here's a summary of what she had to say (interview edited for length and clarity):
Saturday Football: You went to the University of Missouri, too.
Kris Budden: I did!
SF: Let's start with that. Did you know you wanted to be a sports or broadcast journalist? Is that why you went to Mizzou?
KB: I did. Growing up, my godfather was a news anchor here in Dallas. I grew up going to the station and I knew that I wanted to be a reporter. Honestly, I went (to school) thinking that I wanted to become a news reporter. At Mizzou, you can go the news route, you can go the sports route, but you start in news.
Doing 12-hour shifts covering fires and crime and death, I just thought — I'm someone who takes my work home with me. I would have a hard time being around all that negativity. I really enjoyed telling human interest stories, so I ended up going the sports route because I felt it fit my personality more and I'd be happier doing it.
SF: You mentioned that your godfather was someone who you followed into the media industry. Who else did you — at Mizzou or elsewhere — who did you watch and who did you admire when you were getting into the business?
KB: Especially when I started getting into sports and I knew I wanted to eventually be a sideline reporter, I really liked the idea of not being tied to a desk. So I never really had dreams of being a SportsCenter anchor. I wanted to be the one in the field doing the interviews. So, when I knew that's what I wanted to do, Michele Tafoya was someone I always watched and still watch to this day.
Pam Oliver was an early mentor of mine when I started working at FOX, just in terms of really cultivating the sideline reporter role, learning things people don't think about, like how to sell things to your producer or how to find stories on the sidelines, how to use your eyes and ears. A lot of that came from Pam Oliver.
SF: If you had to cover a sport other than football, what would it be and why?
KB: Tennis. Growing up playing tennis, my husband is a former player and former coach. I love the sport. To be able to go to Wimbledon would be my all-time bucket list item.
SF: If you could interview someone — doesn't even have to be an athlete — alive or dead, who would it be and why?
KB: Roger Federer. I've never gotten a chance to meet him. He's my all-time favorite athlete and the amount that he gives back to the sport is amazing. Everyone has always told me he is just as kind as he seems on television.
To read our full interview with Budden, click here.
ANSWERS
Here are the answers to today's quiz involving returning defenders with the most interceptions in 2019:
ACC: Andre Cisco (Syracuse) — 5 INTs
Big 12: Kolby Harvell-Peel (Oklahoma State) and Ar'Darius Washington (TCU) — 5 INTs
Big Ten: Cam Taylor-Britt (Nebraska), Sydney Brown (Illinois), Cory Trice (Purdue), Dedrick Mackey (Purdue), Blake Gallagher (Northwestern), Ambry Thomas (Michigan), Jack Sanborn (Wisconsin) and Eric Burrell (Wisconsin) — 3 INTs
Pac-12: Paulson Adebo (Stanford), Lorenzo Burns (Arizona), Skyler Thomas (Washington State), Elijah Molden (Washington), Isaiah Pola-Mao (USC), Jevon Holland (Oregon) and Verone McKinley III (Oregon) — 4 INTs
SEC: Derek Stingley Jr. (LSU) — 6 INTs
QUOTE OF THE WEEK
"It's truly not that close. The SEC is the best conference. It's their attitude. When I was in the SEC, the attitude was 'how to dominate.' I mean, it was about recruiting. Like I always told everyone, when you talk about college football — this isn't the NFL — you talk about recruiting No. 1.
"That's all they talked about in the SEC. It was all about players, it was all about championships. It was about getting to the [national championship]. … They didn't care about anything other than themselves. And you kind of admire that."
– Former Florida and Ohio State coach Urban Meyer chose the SEC when asked what was the best conference in all of college football.
TWEET OF THE WEEK
Radio veteran Pat Smith compiled every SEC team's regular-season conference record since Mizzou and Texas A&M joined the league on July 1, 2012. As you can see, the Aggies and Tigers have held their own against SEC competition.