BIG TEN
Saturday Football: Colorado's hire, Henry Ruggs' potential 40 time and the transfer portal
The Saturday Football newsletter goes out to subscribers up to 3 days a week and discusses the major events going on around the nation in college football. You can subscribe by clicking here.
Good morning and happy Monday! The NFL Combine started yesterday, but the on-field drills don't begin until Thursday. Still, there is plenty of buzz coming out of Indianapolis as most of the nation's top draft prospects converge on the city.
Add in a new coaching hire and some other stories and there's plenty to talk about as we enter the final week of February. Let's take a look at the biggest news from around the college football world today!
COLORADO UPDATE
The Colorado Buffaloes have hired a new coach. What are they getting in Karl Dorrell?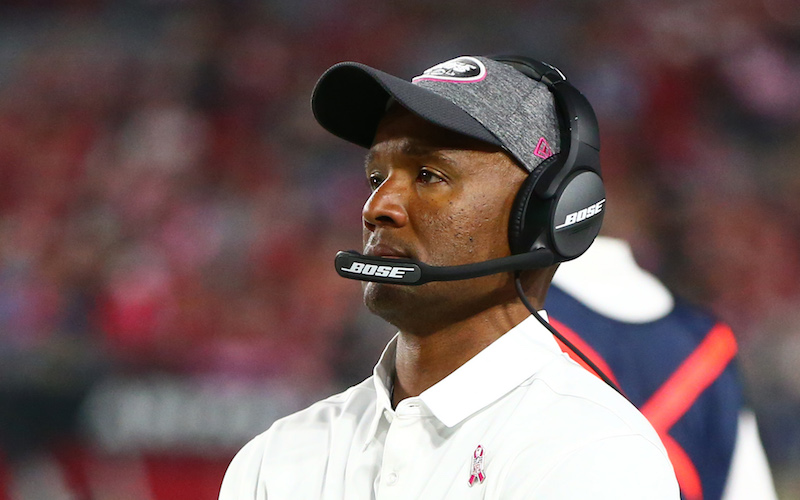 After a semi-lengthy search, the Colorado Buffaloes have made a decision and have hired a new football head coach. It was an off-the-radar name, as guys like Air Force's Troy Calhoun, former Arkansas coach Bret Bielema, Kansas City Chiefs OC Eric Bieniemy and others either passed on or weren't offered the job.
Now, the Buffaloes will be led by longtime NFL assistant and ex-UCLA head coach Karl Dorrell. Let's take a look at what the Buffaloes are getting in Dorrell:
The decision wasn't exactly a popular one among media and fans. There were some questions about Dorrell's UCLA tenure, which resulted in a 35-27 record and five bowl appearances in five years from 2003 to 2007. The Athletic's Stewart Mandel wondered why the Buffaloes would settle for a guy with that record. Bryan Fischer tweeted that the Buffaloes would have been better off promoting interim coach Darrin Chiaverini. Fansided's John Buhler agrees it was a mistake.
It's not SEC or Big Ten money, but Dorrell will be well-paid. Per college football insider Bruce Feldman, Dorrell's contract is for five years and $18 million. His $3.2 million salary in 2020 would have ranked seventh in the Pac-12 in 2019. Mel Tucker, who Dorrell is replacing after Tucker left for Michigan State, made $2.4 million last year.
The Buffaloes were reportedly turned down by a couple of candidates. It seemed throughout the process as if Bieniemy, a former Colorado star, was the top choice. But, reports late last week indicated that Bieniemy turned his alma mater down. Alabama OC Steve Sarkisian also reportedly interviewed for the position, but decided to stay put.
Dorrell hasn't been a head coach since he parted ways with UCLA in 2007. He hasn't been in the college game since 2014, when he was Vanderbilt's offensive coordinator for one year. He has his work cut out for him in Boulder, but as Denver Post columnist Mark Kiszla notes, perhaps the best thing about Dorrell is that he's not named Mel Tucker.
SEC MEDIA DAYS SCHEDULE
The 2020 season is still several months away, but SEC fans and media members were given some excitement last week, as the SEC announced the dates and schedule for SEC Media Days. Unlike other Power 5 conferences' media days, the SEC's event is always huge. It goes for four days, which is longer than the other conferences, too.
So, which coaches will speak on which days? Here's a look at how this year's schedule lines up for SEC Media Days in Atlanta:
Monday, July 13:

Dan Mullen, Florida
Ed Orgeron, LSU
Eliah Drinkwitz, Mizzou

Tuesday, July 14:

Kirby Smart, Georgia
Mark Stoops, Kentucky
Lane Kiffin, Ole Miss
Derek Mason, Vanderbilt

Wednesday, July 15:

Nick Saban, Alabama
Sam Pittman, Arkansas
Mike Leach, Mississippi State
Jeremy Pruitt, Tennessee

Thursday, July 16:

Gus Malzahn, Auburn
Will Muschamp, South Carolina
Jimbo Fisher, Texas A&M
It seems like a missed opportunity to not have Leach and Kiffin going on the same day. On the other hand, that might be too much excitement for media members and fans to handle in such a short period of time.
HENRY RUGGS III
Henry Ruggs III will be closely watched at the NFL Combine. How fast can he run the 40-yard dash?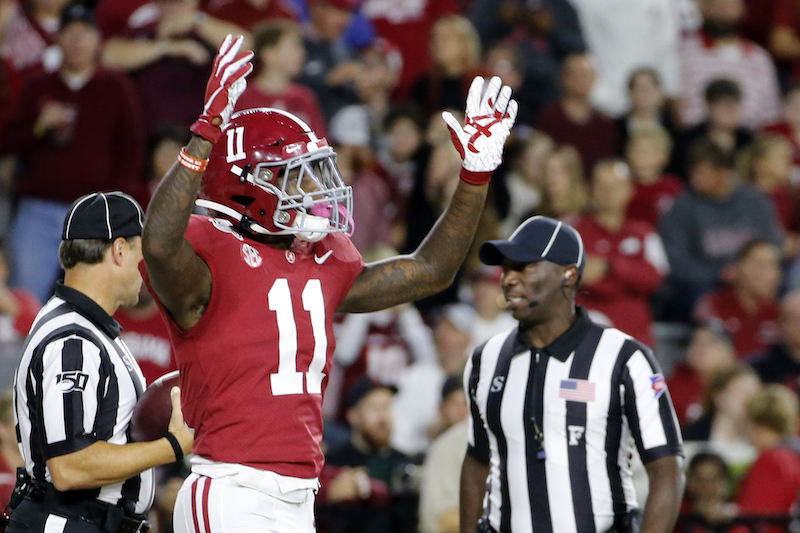 The on-field drills at the NFL Combine don't begin until Thursday, but when the players do take to the turf in Indianapolis, many eyes will be on Alabama WR Henry Ruggs III. Ruggs is widely considered a first-round talent, and his 40-yard dash time will be of great interest to fans and scouts alike.
Can he break or tie John Ross's Combine record of 4.22 seconds? Here's a look at some of the buzz surrounding Ruggs entering the week:
We'll start with that 40 time, which has the potential to be historic. Ruggs' Alabama teammate, Jaylen Waddle, predicts a 4.22-second dash from Ruggs. Waddle has seen first-hand just how fast Ruggs is. The Alabama receivers recently took on the Alabama defensive backs in a 4×100 relay, and let's just say Ruggs made sure the race was won by the receivers.
Media members are also high on Ruggs entering the Combine. NFL.com's Daniel Jeremiah also predicts a time in the 4.20-4.29 range for Ruggs. But, he added, speed isn't the only reason Ruggs has first-round potential. Jeremiah also spoke about Ruggs' strong hands and ability to catch everything thrown his way.
Jerry Jeudy and CeeDee Lamb are also Round 1 receiver prospects. Many think those two will be the first receivers off the board, but Ruggs is right in that mix, too. Several mock drafts, including one from Bleacher Report's Matt Miller, have Ruggs going to the Philadelphia Eagles with the No. 21 overall pick.
Ruggs can boost his draft stock even further if he has a good week in Indianapolis. Even if he doesn't set the 40-yard dash record, he'll likely remain a first-round pick. Still, all eyes will be on the Alabama speedster when he lines up for the 40.
GOOD READS
JUST FOR FUN
There are 130 total FBS schools, and some of them play in relatively unknown towns and cities. For today's quiz, we'll name five cities that are home to an FBS school. You tell us which school plays its home games there. Ready? Here we go:
Murfreesboro
Denton
West Lafayette
Winston-Salem
Kalamazoo
Scroll down to see the answers to today's quiz.
TRANSFER PORTAL UPDATE
Some intriguing players remain in the NCAA transfer portal. Where will they end up playing this fall?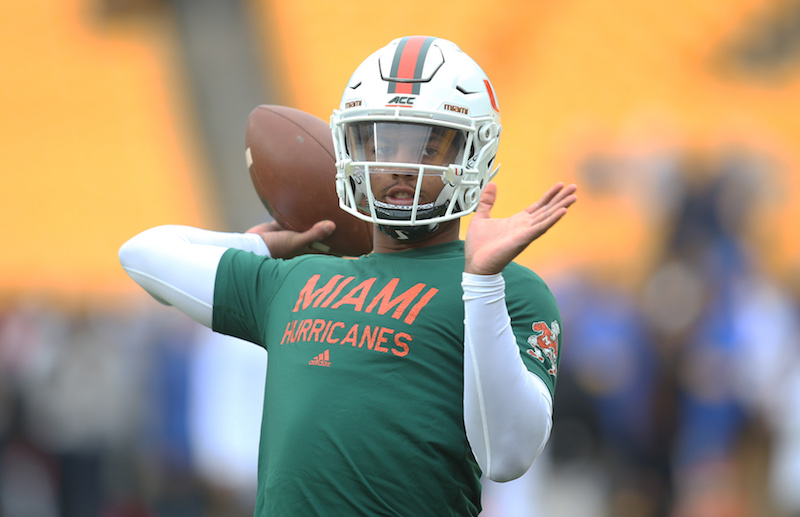 Now that the coaching carousel seems to be finished (at least in terms of head coaches at the FBS level) for the 2020 cycle, players currently in the NCAA transfer portal can continue to make their decision. A number of notable offensive skill-position players remain in the portal as of Sunday night.
Where will these guys end up? And, what kind of impact will they have in 2020 and 2021 when they are eligible to play? Here's a look at some of the most notable offensive skill-position athletes still looking to transfer (via 247Sports):
Jarren Williams, QB, Miami
Jack Sears, QB, USC
Jack Allison, QB, West Virginia
Dillon Sterling-Cole, QB, Arizona State
Jett Duffey, QB, Texas Tech
Anthony Brown, QB, Boston College
Peyton Ramsey, QB, Indiana
Ricky Slade, RB, Penn State
Cordarrian Richardson, RB, Texas A&M
Maurice Washington, RB, Nebraska
Chase Hayden, RB, Arkansas
JaTarvious Whitlow, RB, Auburn
Jacob Kibodi, RB, Texas A&M
Tarik Black, WR, Michigan
CJ Moore, WR, Oklahoma State
Dee Anderson, WR, LSU
Kam Scott, WR, Mizzou
With a new transfer rule being discussed by the NCAA, players could soon be able to transfer once without penalty. However, some of the players listed above will likely have to sit out a year. Others may have a big impact on the 2020 season. Stay tuned to find out!
ANSWERS
Here are the FBS schools that play in each of the cities listed above:
Middle Tennessee — Murfreesboro
North Texas — Denton
Purdue — West Lafayette
Wake Forest — Winston-Salem
Western Michigan — Kalamazoo
QUOTE OF THE DAY
"If you're saying to me, if I can choose what team I want to play on, as far as my favorite team growing up, then I'd probably tell you the Cowboys, but they are so far down (the draft board)."
– Alabama QB Tua Tagovailoa revealed he'd play for the Dallas Cowboys if he could choose any NFL team to join. Unfortunately for the likely top-5 pick, the Cowboys have the No. 17 pick in Round 1, so they'd likely have to trade up quite a bit to land the former Crimson Tide star.
TWEET OF THE DAY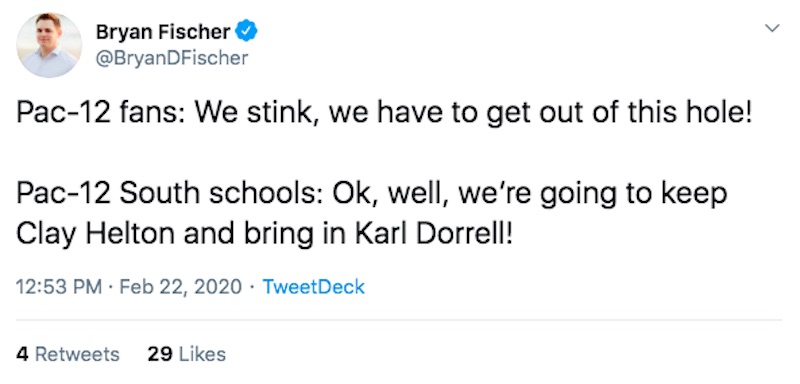 Let's just say USC's decision to keep Clay Helton and Colorado's hiring of Karl Dorrell hasn't exactly sparked a ton of excitement in the Pac-12 South.