BIG TEN
Saturday Football: COVID-19 schedule changes, coaching hot seats and Pac-12 issues
The Saturday Football newsletter goes out to subscribers up to 3 days a week and discusses the major events going on around the nation in college football. You can subscribe by clicking here.
Good morning and happy Monday! Just a heads up — next week's newsletter will arrive on Wednesday, July 22, instead of Monday, July 20. Our newsletter editor is taking a summer vacation. Check those inboxes on Wednesday for all the latest college football news!
Today, we'll once again dive into the world of COVID-19 and discuss what some major conferences are doing in the midst of the pandemic. We'll also talk about some of the hottest coaching seats in the sport and take a look at some top uncommitted recruits. Let's get started with today's newsletter, shall we?
POWER 5 DECISIONS
Power 5 conferences are starting to make big 2020 decisions. What's the latest chatter?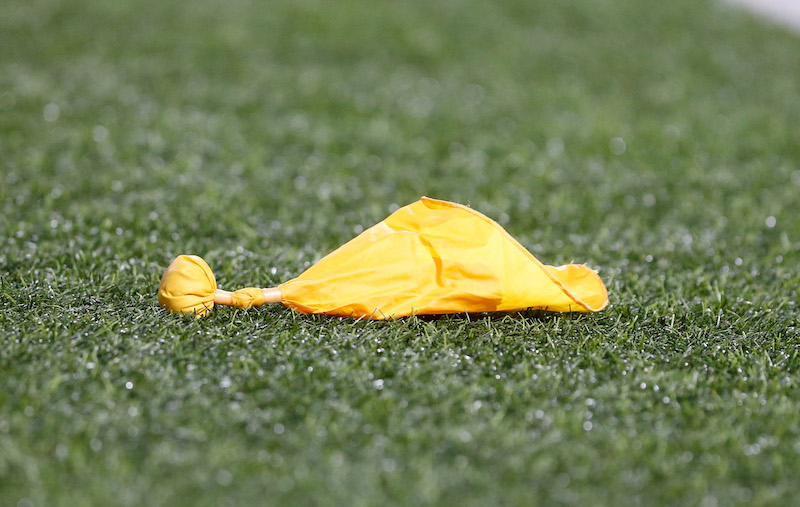 This has been a busy week in the world of college football. As we continue to deal with rising COVID-19 numbers in the United States, there is growing concern about whether or not we can have a season or not. Things are seemingly right back where they were in March when the NCAA Tournament and all spring sports were shut down.
This past week, a couple of Power 5 conferences have preemptively made moves to try to at least protect as many college football games as they can. Let's take a look at the big stories from the past few days:
Last week was one of the darkest weeks since March for college sports. As positive COVID-19 tests continue to rise (with a spike from July 4 festivities potentially right around the corner), pessimism reigns in the college football world. There's still time to turn things around by September, but if numbers don't start going down across the country, prospects for the 2020 season could grow even bleaker in a hurry.
TOP UNCOMMITTED 2021 RECRUITS
Now that we are in the middle of July, some of the nation's top high school athletes in the class of 2021 will shift their focus to their upcoming senior seasons (assuming those seasons haven't been canceled yet). In-person recruiting is still shut down per an NCAA mandate, so no official visits are taking place for the time being. It's a tough time to be an elite recruit, but players are making the most of the unusual situation.
So, which players are the top uncommitted athletes in the country? Here are the top 10 elite recruits who have yet to announce which schools they'll attend (via the 247Sports composite rankings):
5-star DE Korey Foreman — No. 1 overall
5-star DE J.T. Tuimoloau — No. 2 overall
5-star OT Tommy Brockermeyer — No. 5 overall
5-star OT Amarius Mims — No. 6 overall
5-star WR Emeka Egbuka — No. 8 overall
5-star ATH James Williams — No. 10 overall
5-star OT Tristan Leigh — No. 11 overall
5-star OT Nolan Rucci — No. 15 overall
5-star DT Damon Payne — No. 18 overall
5-star RB Camar Wheaton — No. 19 overall
How will things change over the course of the next month? A few top players committed since we last updated the rankings in June. How many more will commit between now and August? We'll find out soon enough!
GOOD READS
COACHING HOT SEATS
Several FBS coaches are on the hot seat entering 2020. Which coaches need a big year the most?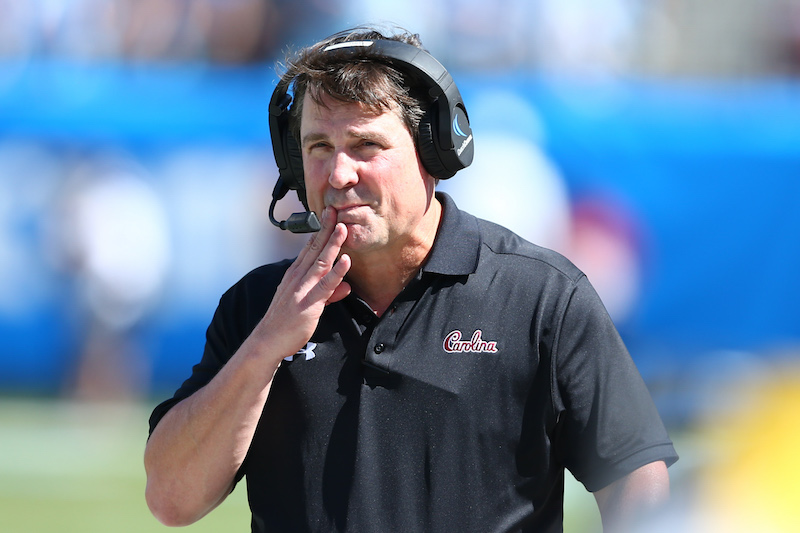 Every year, a handful of FBS coaches enter the season on the hot seat. As they fight for their jobs, they have to pretend everything is fine both in the locker room and on the recruiting trails, acting as if they'll have their job for years to come, even as fans and media members speculate wildly.
The hot seat talk is already starting up ahead of the 2020 season, with a few notable coaches facing pressure to win now or find a different job. So, who is on the hottest of seats? Let's take a look at some of the headlines surrounding the potential coaching carousel:
CBS Sports writer Dennis Dodd got it started with his annual rankings. Dodd used a scale of 0-5, with 5 being the hottest seat, to rank all 130 FBS coaches. He had 6 coaches — Nebraska's Scott Frost, UCLA's Chip Kelly, USC's Clay Helton, Vanderbilt's Derek Mason, UTEP's Dana Dimel and UConn's Randy Edsall — as 5s on his list. Let's just say Nebraska fans were surprised to see Frost as a 5.
Another interesting coach to note was Mizzou's Eliah Drinkwitz. Despite preparing for his first season with the Tigers, Drinkwitz was a 3 on Dodd's list. That seems surprising given Mizzou's patience with coaches and the fact that the Tigers just fired Barry Odom after the 2019 season.
Michael Grant of The Comeback also did some hot seat rankings. He put together a list of the 5 Power 5 coaches who most need to win big in 2020. He agrees with Dodd that Kelly and Helton are on very hot seats, but he'd add Texas's Tom Herman, Arizona's Kevin Sumlin and South Carolina's Will Muschamp to that mix. Indeed, Muschamp has only a 26-25 overall record entering Year 5 with the Gamecocks.
This is sure to be an interesting year on the coaching carousel. How will the COVID-19 pandemic affect schools and their willingness to make a coaching change? Some coaches may get a reprieve for 2020 due to everything that has happened in the world. However, there will surely be plenty of talking over the next few months among media and fans about which coaches aren't living up to expectations.
JUST FOR FUN
As we prepare for the 2020 college football season, it remains to be seen how offenses will be affected by COVID-related spring practice cancellations. Teams with quarterback battles or new coaches/offensive coordinators won't have had a chance to implement much of their offensive system on the field prior to Week 1. That could affect scoring across the country.
Last year, eight different FBS teams averaged at least 40 points per game. How many of them can you name?
Scroll down to see the answers to today's quiz.
PAC-12 UPDATE
Things continue to deteriorate in the Pac-12. What can be done by the conference to stop the negativity?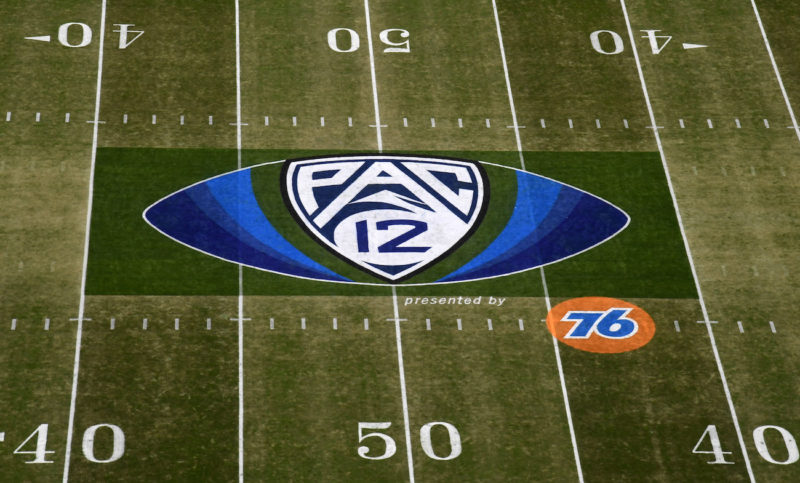 The Pac-12 is already lagging behind the other Power 5 conferences when it comes to revenue and exposure. The conference also hasn't had a team in the College Football Playoff since 2017. Now, as we move toward an uncertain 2020 season, things are continuing to go poorly out West.
What's the latest from the Pac-12? Let's take a look at some of the headlines the conference has made on a national level in the past week:
First, we'll start with the most serious news involving Larry Scott. On Friday, it was announced that the Pac-12 commissioner had tested positive for COVID-19. The Pac-12's release said Scott was experiencing minor symptoms, but would be able to continue serving as the commissioner while quarantining at home. We wish Scott a full and speedy recovery.
Things weren't going well for Scott even before the diagnosis, though. In a report from John Canzano of The Oregonian, it was mentioned that the Pac-12 CEO group was considering a buyout of Scott's contract, with the hopes that a leadership change might help save the struggling Pac-12 Network. Then, there was the news that Stanford was eliminating 11 non-revenue sports. Oh, and pay cuts for employees at the Pac-12 are going to last for another full year. Canzano wrote a recap of the awful week the Pac-12 just finished off.
However, the news isn't all doom and gloom out West, fortunately. Reported 2019 fiscal year revenues for the Power 5 conferences show the Pac-12 becoming more competitive, even distributing more money to member schools than the ACC. Can Scott keep his job long enough to keep that momentum going, or is a buyout plan already in motion? We'll see what happens over the coming year.
It's hard to find any good headlines at all in the college sports world these days, but the Pac-12 is in a particularly precarious position. Running a conference-only season with games airing on a network that only a handful of people get is a risky proposition, to say the least. Important decisions are going to have to be made by the conference, so we'll see what happens in 2020 and beyond.
ANSWERS
Here are the eight FBS programs that averaged at least 40 points per game in 2019:
LSU — 48.4
Alabama — 47.2
Ohio State — 46.9
Clemson — 43.9
UCF — 43.4
Oklahoma — 42.1
SMU — 41.8
Memphis — 40.4
QUOTE OF THE WEEK
"I tell you what, I might not be the best guy to ask this question to because I've always felt that Notre Dame was always given this special pass, and you know they just enjoyed this independence, and that they never had to join a conference. So now, if this ends up being a situation that we do have a season, and under the guidelines that people are talking now where it's just people to play within their conference, and they're left out in the cold because of decisions that they made not to ever join the conference, when they had the opportunity to join the ACC.
"Then I think that's their problem and it just is coming back to bite them in the butt. … And now, because teams are playing within their conference, that they get left out in the cold."
– ESPN analyst Desmond Howard said during an appearance on ESPN's "Get Up" that he'd be fine with conferences excluding Notre Dame during conference-only schedules in 2020. However, ACC commissioner John Swofford has reportedly said the Irish will be able to face as many ACC teams as they need to.
TWEET OF THE WEEK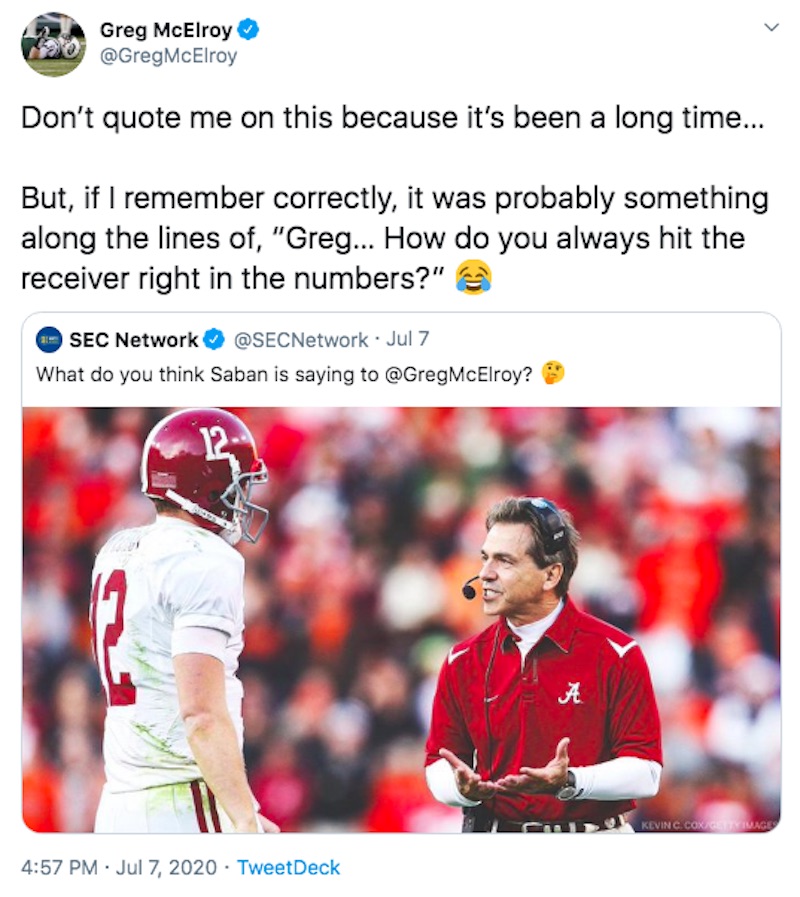 Former Alabama QB Greg McElroy might be misremembering this moment a little bit, but at least he has a good sense of humor!