BIG TEN
Saturday Football: Dabo drama, NFL Draft WRs and Mike Leach's tweet
The Saturday Football newsletter goes out to subscribers up to 3 days a week and discusses the major events going on around the nation in college football. You can subscribe by clicking here.
Good morning and happy Monday! The COVID-19 outbreak continues to dominate the headlines, but there have also been some other big stories over the last few days. Also, the 2020 NFL Draft is expected to take place as scheduled from April 23-25, so there are stories coming out of draft prep, too.
From Clemson to Mississippi State to the NFL Draft, there's plenty to talk about this Monday morning. Here are some of today's top stories in the college football world.
MIKE LEACH TWEET
Mike Leach is in hot water after sending a tweet that included a noose. What's the latest fallout?
Mississippi State coach Mike Leach's Twitter account is usually entertaining and fun, but last week, he got into some hot water. He tweeted out an image that depicted a noose, and that made some people, including a few Mississippi State players, upset.
Reaction predictably ranged from those who decried the "PC" culture to those that want Leach fired. Let's take a step back from the emotion that noose imagery incites (particularly in the south) and take a look instead at what has happened since the tweet:
After the tweet drew criticism, Leach deleted it from his profile. Then, he issued an apology, saying he had no intention of offending anyone. The deleted tweet was linked to in the first paragraph of this section, and it's clear there are no racial undertones to that particular image. However, Leach got a firsthand look at how divisive noose imagery is in any context in the south.
It has already had an impact on the Bulldogs' roster, too. After the tweet and the apology from Leach, DL Fabien Lovett entered the NCAA transfer portal. Over the weekend, Lovett's father called out Leach while explaining why his son decided to leave Starkville.
Former NFL star Shannon Sharpe was a big critic of Leach's tweet. The current co-host of "Undisputed" on FS1 said it was a "fireable offense." Others disagreed with Sharpe's assessment. Romando Dixson of the Clarion Ledger collected some of the most notable reactions to Leach's tweet.
As of Sunday evening, Leach had yet to tweet again. We'll see if and when he goes back to tweeting out memes. For now, though, his start in Starkville is off to a bit of a contentious start. Will there be any additional fallout from the tweet?
GOOD READS
DABO DRAMA
Dabo Swinney's travel comments drew a lot of criticism. Is this a bad look for the Clemson coach?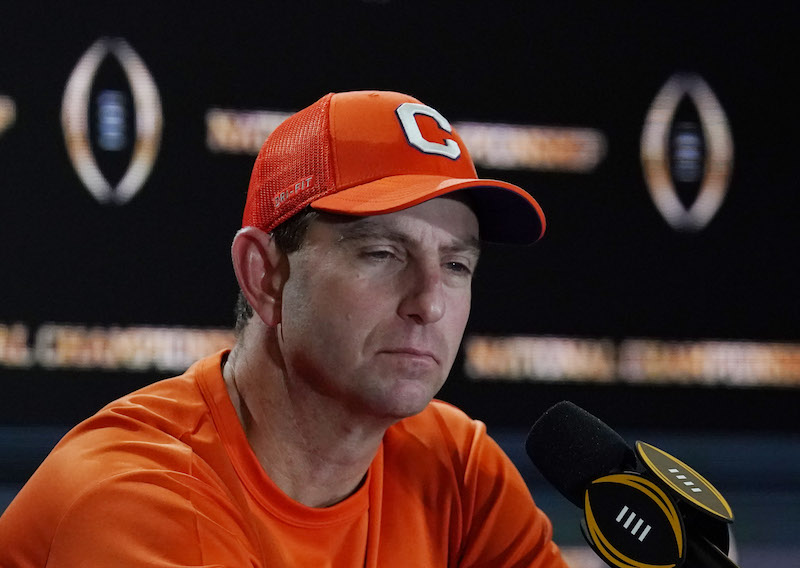 Last week was one that saw Clemson coach Dabo Swinney in the headlines for a couple of very different reasons. The 2-time national champion has never been shy about sharing his opinions, and he certainly did that last week about a number of topics.
So, let's take a look at what Swinney said, as well as a look at both the good and the bad reactions from people around the sports landscape:
First, the Clemson coach provided some much-needed hope to people. In a teleconference with reporters, Swinney said he had "zero doubt" that the college football season would start on time. "Listen, we are going to rise up and kick this thing right in the teeth and get back to our lives," Swinney said.
However, it doesn't seem Swinney is taking CDC guidelines seriously. In a piece by Dennis Dodd of CBS Sports, Swinney said he had recently traveled on a private plane to vacation. He said the plane had been sanitized. He added that he might travel for Easter this coming weekend. At the very least, that sort of message is tone-deaf amid a global pandemic. Plus, people have to sterilize those planes. They don't just magically clean themselves (yet). Naturally, Swinney's comments drew a lot of criticism on Twitter.
The vacation reportedly took place before the shelter-in-place orders were issued. Still, the bigger problem is Swinney saying he might travel this weekend for Easter. Fansided's Jeff Benedict defended Swinney's vacation in this piece. However, the Clemson coach might be better served in the court of public opinion if he comes out and says he won't travel this weekend.
Coaches like LSU's Ed Orgeron, Alabama's Nick Saban, Georgia's Kirby Smart, Minnesota's P.J. Fleck and a number of others are currently working with local and state governments to provide PSAs urging people to stay inside and wash their hands frequently. Let's hope the Clemson coach joins those ranks soon.
JUST FOR FUN
Today, let's do another matching game. We'll give you five big-name FBS head coaches. You match the coach to their first Division I head coaching job (FCS or FBS). For example, if we said Nick Saban, you'd match him with Toledo. Got it? Here we go:
Ed Orgeron
P.J. Fleck
Jim Harbaugh
Gus Malzahn
Les Miles
A: Arkansas State
B: Western Michigan
C: Ole Miss
D: San Diego
E: Oklahoma State
Scroll down to see the answers to today's quiz.
2020 NFL DRAFT
The 2020 NFL Draft is loaded with elite wide receivers. How many could go in Round 1?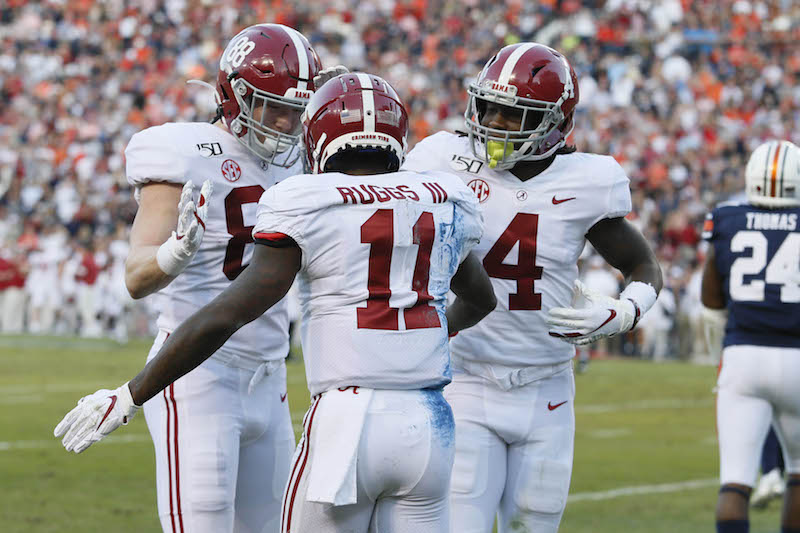 This year's NFL Draft class features four receivers who could go in Round 1 on Thursday, April 23 — Alabama stars Jerry Jeudy and Henry Ruggs III, Justin Jefferson of LSU and CeeDee Lamb of Oklahoma. They all bring different strengths to the table and can help teams in myriad ways.
So, who is the best of the best? Which receiver deserves to go first? Let's take a look at some of the buzz surrounding these talented pass catchers:
Those four guys are sure to make impacts as soon as they can get on the field. NFL teams can't go wrong taking one of the players mentioned in this section. Who will be the best of the group, though? We'll find out over the next few years.
ANSWERS
Here are the answers to today's coach-school matching game:
1C — Ed Orgeron-Ole Miss
2B — P.J. Fleck-Western Michigan
3D — Jim Harbaugh-San Diego
4A — Gus Malzahn-Arkansas State
5E — Les Miles-Oklahoma State
QUOTE OF THE WEEK
"It's absolutely ridiculous what has happened to Kirk Herbstreit," Finebaum said. "He gave an honest, heart-felt opinion, and that's all it was. I know that because I talked to him Friday and have communicated with him since. Kirk Herbstreit is the face of college football. Nobody has done more promoting the game. No one has done more as an ambassador for the game in a classier manner thank Kirk has in recent years. It just shows you how narrow-minded we are about important issues."
– SEC Network host Paul Finebaum came to ESPN analyst Kirk Herbstreit's defense after Herbstreit's comments about potentially not having a 2020 season sparked misguided criticism.
TWEET OF THE WEEK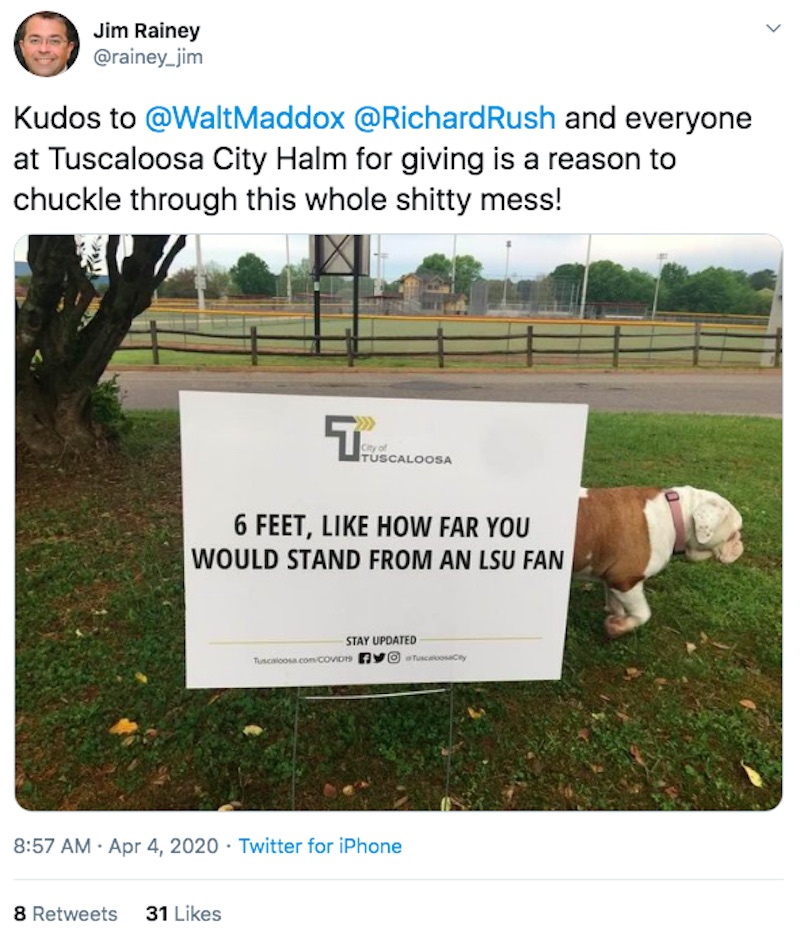 The city of Tuscaloosa got creative with its social-distancing campaign. Will Baton Rouge respond?