BIG TEN
Saturday Football: Electronic whistles, upset alert and Kentucky-Auburn
The Saturday Football newsletter goes out to subscribers up to 3 days a week and discusses the major events going on around the nation in college football. You can subscribe by clicking here.
Good morning and happy Friday! We'll be back in your inboxes every Monday, Wednesday and Friday from now until the end of the season. How exciting is that? Almost as exciting as the SEC season getting started tomorrow, right?
In today's newsletter, we'll preview some big weekend matchups, including a top-25 showdown in the SEC. We'll also take a look at those annoying electronic whistles and put five ranked teams on upset alert. So, without further ado, let's get started!
ELECTRONIC WHISTLES
Everyone seems to hate the new electronic whistles. What is the NCAA doing about this problem?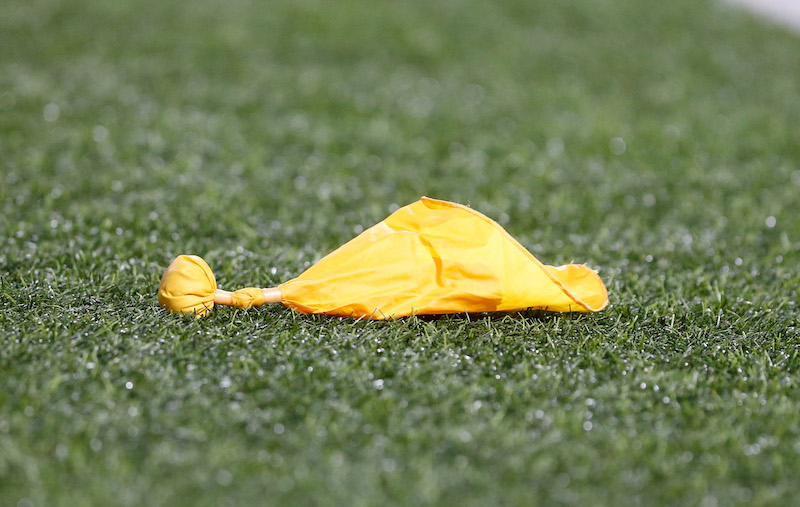 Hey, did you hear that? It's the beautiful sound of a traditional whistle making its triumphant return to college football. Who would've ever thought there'd be so much excitement over the sound associated with a false start penalty?
But this is where we are in 2020 in college football. The NCAA and schools and conferences playing football this fall insisted on making the sport as COVID-19-free as possible. That's certainly an admirable goal, but the recommendation to replace traditional whistles with the electronic product has been a massive failure thus far. And, to be quite honest, these hardly-audible devices have the potential to do more harm than good.
Thankfully, change could be coming:
Coaches and players are noticing a difference with the new device. Actually, everyone from broadcasters to the casual fan surfing through channels on a Saturday afternoon has noticed that the electronic whistle isn't nearly as effective as the traditional one. As West Virginia head coach Neal Brown pointed out in a recent press conference, it has been "evident" that players are continuing to play even after the whistle has been blown. The inability to hear the electronic whistle was definitely an issue last week, everywhere from the Tulsa-Oklahoma State game to the Saturday showdown between Miami and Louisville.
SEC Commissioner Greg Sankey doesn't appear to be a big fan, either. After watching college football games over the last few weeks, Sankey has had time to consider all of the concerns surrounding the sport before the SEC hops into action this weekend. With the criticism of the device being louder than the actual whistle itself, it seems as though Sankey is hesitant to have the conference's officials use them. While he admits that it's been "recommended" that electronic whistles are used this season, the risk of "late hits and extra hits" may nudge the SEC to go the other direction.
It may not just be the SEC that returns to a traditional whistle. Thursday morning, NCAA National Coordinator of Officials Steve Shaw told SEC This Morning that college football officials will have the option to use traditional whistles in games beginning this weekend. It won't completely eliminate digital whistles from the game, but both will be used. Hopefully, we'll see a reduction in late hits and pile-ups when the play is over with the return of the tradition whistle.
Yes, it's fair to acknowledge that the NCAA, schools and conferences all had the right idea in making college football as safe as possible. Actually, it should be commended. But this idea fell flat, and it's nice to see that this dangerous error is going to be corrected moving forward.
KEY WEEK 4 LINES
This weekend will see the SEC return to the field, meaning three Power 5 conferences — the SEC, Big 12 and ACC — are back in action. That means we'll have plenty of big-name matchups gracing our television screens. So, which teams are projected to win some of the biggest games of the weekend? Here are some of the top games of the weekend, complete with the favorites to win:
No. 13 UCF (-27) at East Carolina
No. 24 Louisville at No. 21 Pitt (-3)
No. 5 Florida (-14) at Ole Miss
Georgia Southern at No. 19 Louisiana (-11.5)
Kansas State at No. 3 Oklahoma (-28)
No. 23 Kentucky at No. 9 Auburn (-7.5)
West Virginia at No. 15 Oklahoma State (-7)
No. 8 Texas (-18.5) at Texas Tech
Mississippi State at No. 6 LSU (-16.5)
No. 22 Army at No. 14 Cincinnati (-13.5)
No. 4 Georgia (-28) at Arkansas
No. 2 Alabama (-28) at Mizzou
Florida State at No. 12 Miami (-11)
No. 16 Tennessee (-4) at South Carolina
Vanderbilt at No. 10 Texas A&M (-30.5)
Troy at No. 18 BYU (-14)
How many upsets will we see this weekend? Things have already started getting weird in 2020, so we can expect some more chaos moving forward. We'll put a few ranked teams on upset alert later in the newsletter.
GOOD READS
KENTUCKY-AUBURN PREVIEW
The SEC season starts off with a ranked matchup. Will Kentucky or Auburn pick up the important win?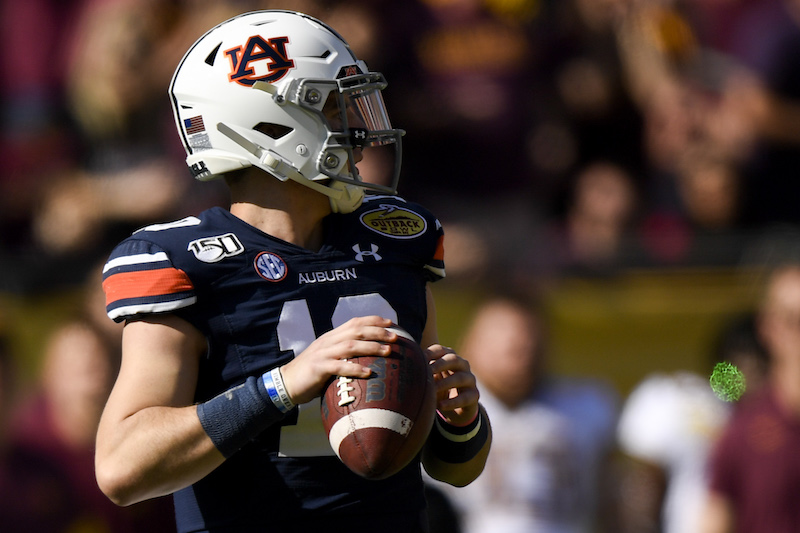 The SEC season kicks off tomorrow, and many eyes will be on Jordan-Hare Stadium at noon Eastern time. That's when the No. 9 Auburn Tigers will play host to the No. 23 Kentucky Wildcats. It's the only matchup of ranked teams on the SEC's Week 1 schedule, so it's certainly going to have a major impact moving forward.
Is Kentucky for real? Can Auburn's Gus Malzahn pick up a big win and avoid ending up on the hot seat right away? Let's take a look at some of the storylines entering Saturday's matchup:
ESPN's Football Power Index (FPI) doesn't think this game will be particularly close, giving the Tigers an 84.9% chance to win. Fortunately for the Wildcats, this game won't be decided by a computer! Tune in to the SEC Network at noon Eastern time tomorrow to find out who wins the first big showdown of the SEC season.
JUST FOR FUN
Heading into the 2020 SEC season, many consider Alabama's Najee Harris and Mississippi State's Kylin Hill to be the league's two top running backs. For today's quiz, we'll focus on who was better last year. We'll give you six categories and you tell us if Harris or Hill fared better in that category in 2019. Ready? Here we go:
Rush attempts
Rushing yards
Rushing touchdowns
Yards per carry
Receptions
Total touchdowns 
Scroll down to see the answers to today's quiz.
UPSET ALERT
Several big games are on the schedule this weekend. Which ranked teams are on upset alert?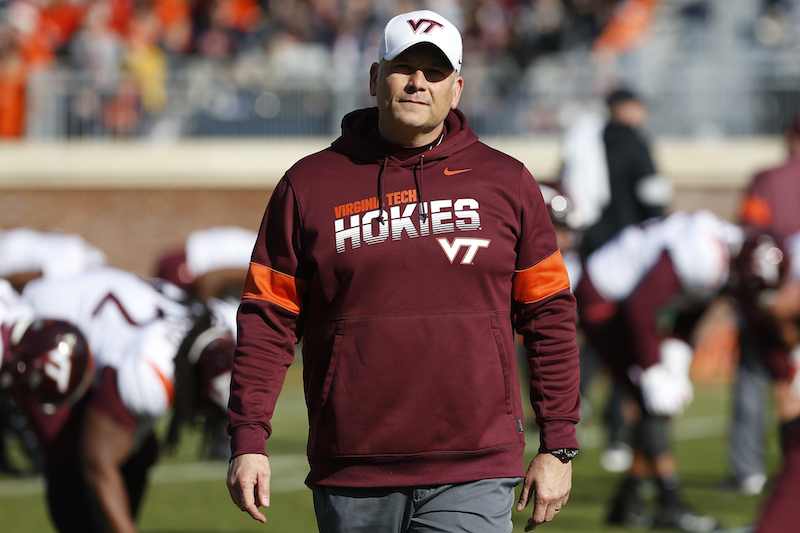 This weekend's FBS schedule features three matchups of ranked teams. We've previewed No. 22 Army at No. 14 Cincinnati (in Wednesday's newsletter) and No. 23 Kentucky at No. 9 Auburn (above). There's also a showdown between No. 24 Louisville and No. 21 Pitt.
But, for this section, let's focus on ranked teams facing unranked teams. Here are five ranked squads that should be careful with their tricky matchups tomorrow:
Let's start off with the defending national champions — LSU. Since the Tigers lost so much talent from last year's title-winning squad, and since they didn't have spring practices, it'll be tough to develop chemistry in Week 1. That could spell trouble against Mike Leach's Air Raid style at Mississippi State with QB KJ Costello. In fact, SEC Network analyst Roman Harper went as far as to pick the upset for the Bulldogs.
Sticking with the SEC, the Florida Gators need to watch out, too. They're favored to win at Ole Miss on Saturday, but the Rebels boast one of the SEC's biggest wildcards in QB John Rhys Plumlee. If Florida can't tackle him (think Navy's struggles against BYU due to limits on full-contact practices), it could be a long day defensively. Adding to the intrigue, SEC media members picked Florida to win the SEC East. The Gators will have to avoid getting too full of themselves prior to Saturday's game.
We had Louisiana on upset alert last week against Georgia State. That upset almost happened, as the Ragin' Cajuns needed overtime to take down the Panthers. This week, they'll host a Georgia Southern team that poses problems with its triple-option style. Triple-option teams are tough to prepare for, so we'll see if the Ragin' Cajuns can remain one of the feel-good stories of the season.
No. 20 Virginia Tech is set to open at home against NC State this week. However, the Hokies are struggling with COVID-19 positive tests and players being held out due to contact tracing. That's something that could potentially cause plenty of upsets this fall. Coach Justin Fuente said the Hokies will be down several guys on Saturday night. "We will not have a full roster," he said. "I hope we're able to play."
Finally, can the Texas Longhorns avoid another early-season upset? The Longhorns have a history of losing in the first couple of weeks of the season under Tom Herman. In 2017 and 2018, the Longhorns started the season by losing to Maryland. Last year, they lost in Week 2 to LSU. Yes, LSU went on to win the national title, but it still qualifies as a trend. Meanwhile, Texas Tech boasts a quarterback in Alan Bowman who threw for 430 yards and 2 scores against Houston Baptist in the Red Raiders' season opener. Texas coach Tom Herman has a lot of respect for Bowman. "We had always thought, when healthy, that this guy was one of the better ones in the Big 12," he said.
This week's slate of games is the best one we've had so far this young season, and not just because the SEC is back in action. Will we see more ranked teams go down in upset fashion? Anything can happen in 2020, so stay tuned for what's sure to be another exciting weekend of college football.
ANSWERS
Here are the answers to today's Najee Harris-Kylin Hill comparison quiz. Here's who fared best in each of the six categories listed above:
Rush attempts — Hill (242 to 209)
Rushing yards — Hill (1,350 to 1,224)
Rushing TDs — Harris (13 to 10)
Yards per carry — Harris (5.9 to 5.6)
Receptions — Harris (27 to 18)
Total TDs — Harris (20 to 11)
Who will put up better numbers this fall? We'll find out starting this weekend!
QUOTE OF THE DAY
"I think that these expectations need to be cut in half. They're unreasonable, just given all the pieces that they have to replace, and they're playing a 10-game conference gauntlet in the SEC … I still expect them to be really good and really talented. I actually really really like Myles Brennan, and I think he'll fill in Joe Burrow's big shoes. I think he'll fill them admirably. This issue is, I think the continuity between coordinator and coach won't be what it was last year. I don't know how it possibly could be."
– SEC Network analyst Greg McElroy thinks expectations for new LSU starting QB Myles Brennan need to be tempered. We'll see how Brennan fares in his first game of 2020 against Mississippi State on Saturday.
TWEET OF THE DAY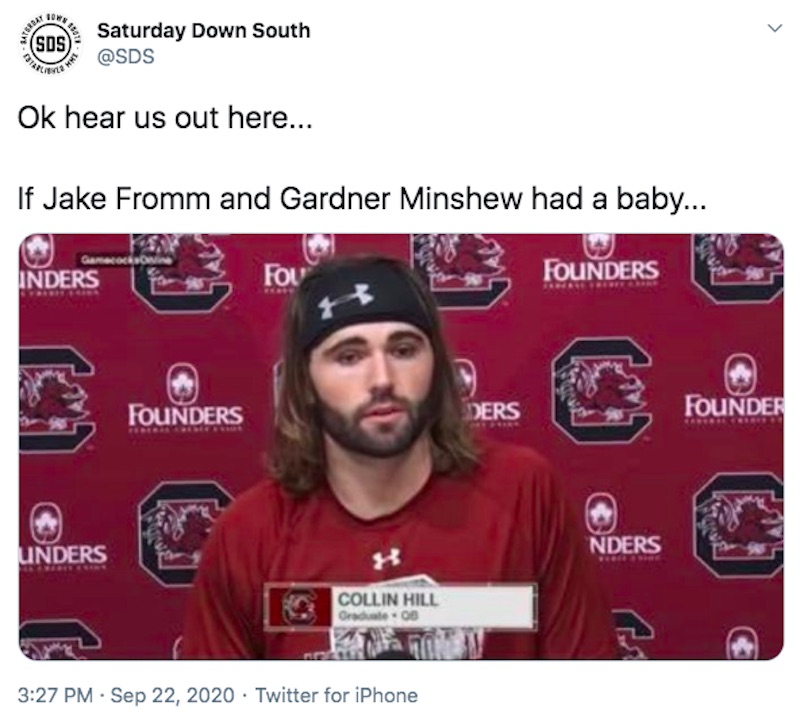 South Carolina recently named Colorado State transfer Collin Hill its starting quarterback. Let's just say he looks like a mix between a pair of other notable recent standout college quarterbacks.
This edition of the Saturday Football newsletter was written by Adam Spencer and Dustin Schutte.