BIG TEN
Saturday Football: Florida State controversy, Justyn Ross injury and Peter Burns interview
The Saturday Football newsletter goes out to subscribers up to 3 days a week and discusses the major events going on around the nation in college football. You can subscribe by clicking here.
Good morning and happy Monday! More players around the country will be starting voluntary workouts today, as this is the first day the SEC can resume activities for football and basketball. A few players have tested positive for COVID-19 as they return to campus, but for now, it seems plans are in place to keep everyone safe as we navigate the unique circumstances.
Today, we'll have plenty to discuss, including an incident at Florida State, a key injury to a potential title contender and more. Let's get started with today's newsletter!
FLORIDA STATE CONTROVERSY
New Florida State coach Mike Norvell angered some players. What happened in Tallahassee?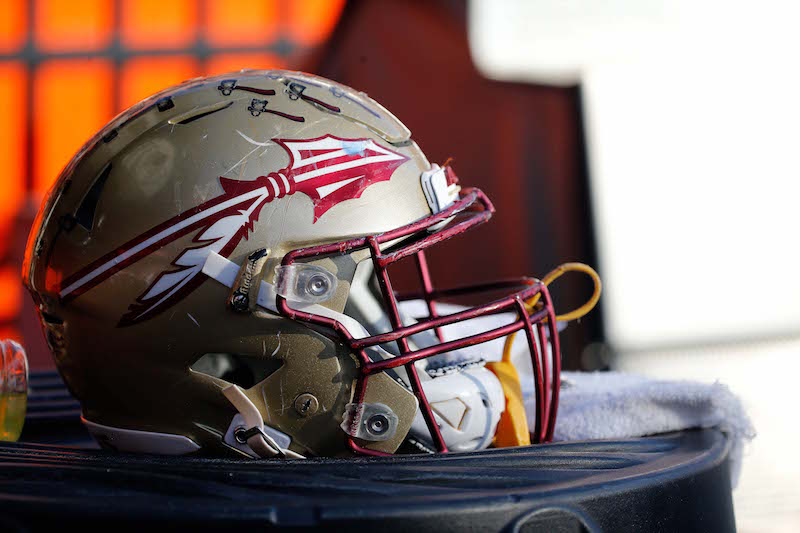 New Florida State coach Mike Norvell found himself in hot water last week after a statement he made was refuted by star DT Marvin Wilson. The turmoil was made public very quickly, leading to Norvell backtracking and issuing an apology.
So, what did Norvell say and what are people saying about the situation? Let's take a look at the headlines out of Tallahassee:
The controversy stems from the protests surrounding George Floyd's death. Norvell said in a statement to The Athletic's Tashan Reed that he had spoken "back and forth" with each FSU player individually about the protests and the current state of affairs in the U.S. However, Wilson, a star defender and team leader, quickly took to Twitter to say that wasn't true. He then said he and his teammates wouldn't be working out until the situation was sorted out.
The Seminoles seemingly got back on the same page quickly, though. Norvell said in a statement that he was wrong to say he had spoken with "every" player individually. He also praised Wilson for using his voice to speak up and call out the coach for his comments. Wilson posted a video on Twitter in which he didn't back down from his initial comments, but did say he appreciated Norvell's statement and that the team would be moving forward.
Whether or not it is cleared up, it wasn't a great look for Norvell. The reactions to Norvell's mistake came in quickly. SEC Network host Paul Finebaum said he "can't think of a worse beginning" for a new coach. Saturday Down South's Connor O'Gara wrote that Marvin Wilson taking a stand illustrates how much power players have now.
Will there be any additional fallout from the situation in Tallahassee? For now, it seems Wilson and the players have mended the fence with their new coach. This has been a learning environment for the entire college football world (and the nation at large), so we'll see how things continue to progress at FSU and around the entire country.
TOP UNCOMMITTED 2021 RECRUITS
The 2021 recruiting cycle continues in full, and some of the top prospects are either narrowing down their lists of top programs or committing to the school they want to play for. However, there are still some elite 5-star prospects out there who remain uncommitted.
So, as we enter march toward the middle of June, let's take a look at the 10 best players (per the 247Sports composite rankings) who are still available. A total of 18 5-star players remain uncommitted. Here are the 10 guys rated highest:
5-star DE Korey Foreman — No. 1 overall
5-star DE J.T. Tuimoloau — No. 2 overall
5-star QB Caleb Williams — No. 4 overall
5-star OT Tommy Brockermeyer — No. 5 overall
5-star OT Amarius Mims — No. 6 overall
5-star CB Tony Grimes — No. 7 overall
5-star WR Emeka Egbuka — No. 8 overall
5-star ATH James Williams — No. 10 overall
5-star OT Tristan Leigh — No. 13 overall
5-star OT Nolan Rucci — No. 14 overall
How many of these guys will commit over the next month? We'll be back in July with an update on the best players remaining on the board.
GOOD READS
JUSTYN ROSS INJURY
Clemson WR Justyn Ross will miss the 2020 season with an injury. Is his career in jeopardy?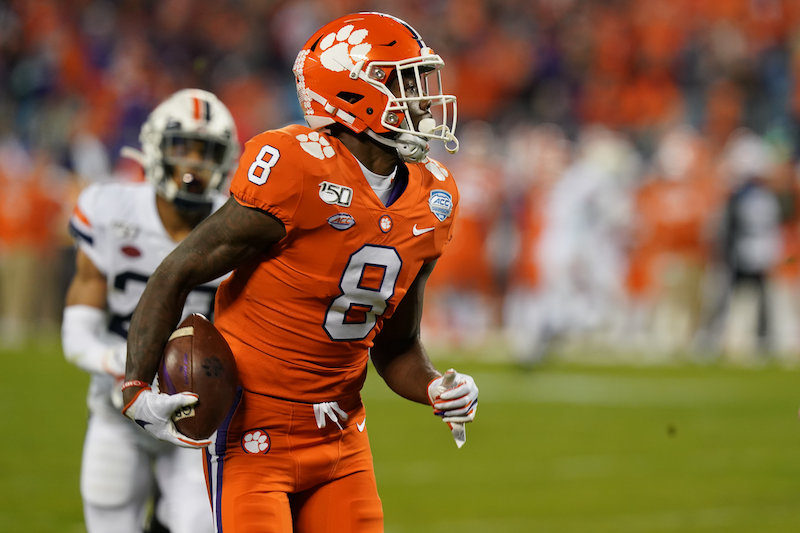 The Clemson Tigers are expected to make another run at a College Football Playoff berth (and even a national title) this season. The schedule is favorable, QB Trevor Lawrence is back, RB Travis Etienne returns and the Tigers have players ready to step up across the roster.
However, last week, Clemson got some devastating news about star WR Justyn Ross. He'll miss the year with a neck injury, but it could be even worse than that. Let's look at what's going on with the Clemson star:
Ross had surgery on Friday for the neck issue, which will keep him out all year. Coach Dabo Swinney called the issue a "congenital fusion" in his neck/spine. A couple of football doctors weighed in on the injury, and both expressed concern that this could be an injury that ends Ross's football career.
Ross took to Twitter on Friday after the surgery to say it went great. He tweeted his appreciation for the prayers and phone calls. He also tweeted that he was going to shock the world with his comeback from the injury. The college football world shared love and appreciation for Ross after word of his situation spread on social media, too.
Ross won't be an easy receiver for the Tigers to replace this fall. He recorded a team-high 66 catches in 2019 and his 865 yards and 8 touchdowns both ranked second on the team behind Tee Higgins, who was a second-round pick in the 2020 NFL Draft. Bleacher Report had Ross as the No. 4 receiver returning to college football this fall. 247Sports had him at No. 7. Dabo Swinney spoke last week about what the Tigers need to do to replace Ross's production.
It's always tough to see players have to deal with injuries like this. Hopefully, Ross can safely return to a football field this time next year, but that isn't a guarantee. He is a special talent as a receiver, and the Tigers will certainly miss him in 2020.
JUST FOR FUN
Heading into the 2020 season, many consider Clemson's Trevor Lawrence and Ohio State's Justin Fields to be the top two quarterbacks in the country. So, let's take a look at how they compared to one another as sophomores in 2019. We'll give you a stat, and you tell us if Lawrence or Fields performed better in that category. Ready? Here are the stats:
Passing TDs
Passing yards
Completion percentage
Rushing yards
Rushing TDs
Interceptions
Scroll down to see the answers to today's quiz.
PETER BURNS Q&A
SEC Network host Peter Burns joined us for a Q&A session. Here's what he had to say.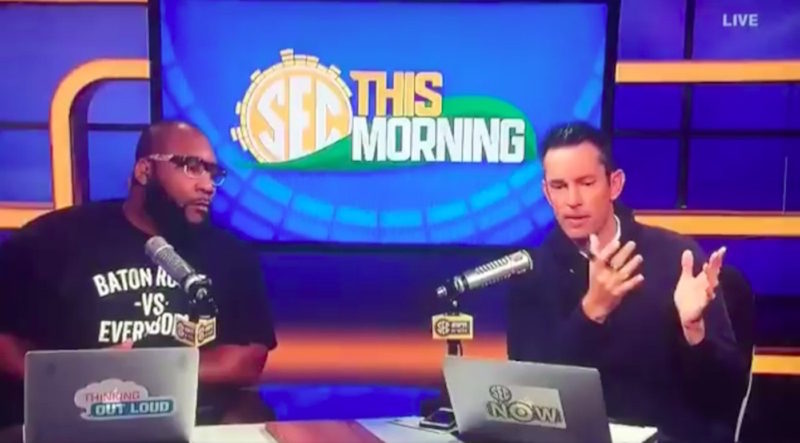 As we (hopefully) approach the start of college football season, we'll bring you weekly Q&A sessions with the voices and personalities you'll hear on the air broadcasting your favorite games. Stay tuned for the next installment of our media Q&A series (which will be with SEC Network analyst Cole Cubelic).
Peter Burns has been with the SEC Network for several years, hosting "SEC Now" and other coverage of SEC sports. He spent some time talking with Saturday Football's Adam Spencer recently, discussing a number of topics.
Here's a summary of what he had to say (interview edited for length and clarity):
Saturday Football: What originally interested you in the world of broadcast and when did you know this is what you wanted to do?
Peter Burns: It goes back to I remember when I was a kid, playing youth sports and Little League and stuff like that, my parents would kind of make fun of me. I'd be giving kind of like a press conference after a game. Like, 'You know, I really saw the ball well today. I had 3 hits and that was a big run we had in the fourth inning.' I'd talk to myself on the way back from games.
I was always kind of interested in it, but it wasn't until college, when I'd gotten a job in the gas and oil industry and I was driving around a lot all through south Texas and south Louisiana. I'd listened to the same 8 mix CDs for the longest time and I just got bored, so I started listening to sports talk radio and I kind of got hooked on it.
My story is kind of weird because one of the shows I listened to, they ended up having a contest back in 2003 to be a radio show host for the day for FOX Sports Radio. I put in an audition tape. Somehow, I ended up winning and got to come out to Los Angeles and host radio for a day. I was like, 'This is awesome. I can't believe people get paid to do this.'
Right after that, I went back to San Antonio where I was living and I went to the local radio station and I was like, 'I'll take any job you have. I want to work in sports talk radio.' They gave me a phone book and a little booth and a cubicle and they said, 'Go learn how to sell advertising,' and off we went.
SF: You are a big lifelong LSU fan. Was it always a goal to get to work with the SEC or is that just something that sort of happened along your career path?
PB: It kinda just happened by chance. Again, I'm born and raised in Baton Rouge, Louisiana, and everyone in my family went to LSU except for me. I wanted to play college golf for them, but I wasn't good enough to be on LSU's team, so I went somewhere else.
But yeah, I just grew up around it. My dad's a cancer survivor. He had cancer when I was very young. When he beat it, he vowed, 'Hey, I'm going to go back to school.' So he went to LSU. So he was a student when I was about 6, 7, 8 years old. I went to every single LSU sporting event and sat in the student section and heard a lot of curse words growing up and fell in love with LSU and just followed it around.
I was in Denver, Colorado, where I owned my own sports radio business out there and I saw the SEC Network was going to be launched. I thought 'Oh my goodness, this is going to be amazing.' I had just recently signed with an agent and the agent was like, 'Hey, I know you're an SEC guy. Let's pitch you.' So I went to ESPN and talked to a bunch of the different talent people up there from 'Around the Horn' to 'Pardon the Interruption' to 'SportsCenter' to SEC Network people. Every single meeting went well except one. It was the SEC Network meeting.
They called back about 3-4 weeks later and said, 'Hey, we want to bring you in to audition to be the anchor.' I wasn't even going for that job. I'd just said I'd be interested in being a contributor or something like that.
I originally turned down the audition to my agent because I'd never done television. I don't want to screw up a good opportunity with ESPN and go look like a fool doing this television audition. My girlfriend/fiance, now my wife, told me, 'You're an idiot. Call back your agent and tell them you're going to go take this audition.' I did. I'm pretty sure I spent the whole 2 hours before I did the audition apologizing for how bad it was going to be. I guess, somehow, it was the right place at the right time and I got my dream job.
SF: Setting the bar low for yourself, I guess?
PB: Maybe it helped, because everybody who is in that position I think probably went in going, 'I'm doing this, I'm that good,' and selling themselves and I kind of went in like, 'Man, it's just so much fun to be here.' I think it was just a different angle I took. I don't know if it helped, but I've been there for a while now.
SF: Having grown up in Baton Rouge, you must have been following this past LSU season pretty close. Do you have an LSU memory from your childhood that sticks out to you? And what did this past season mean to you and to your family?
PB: I remember walking into Tiger Stadium with my dad when he was recovering from cancer. We'd go into the games and I can remember him vividly saying, 'Now, we don't repeat any of the words we hear when we come back home.' I used to be a huge college basketball fan. I was there for the LSU-Loyola Marymount game where it was 148-141. It was Shaquille O'Neal, Chris Jackson, Stanley Roberts, Hank Gathers, Bo Kimble. It was one of the craziest basketball games in the history of the sport. …
Being in the Superdome this year was incredible. It was just, I mean, I got emotional in the stands. I'm like, 'I can't believe I get to cover my dream team having their dream season next to my wife and we have 2 beautiful kids. Life could not be any better.'
To read our full interview with Burns, click here.
ANSWERS
Here are the answers to today's Trevor Lawrence-Justin Fields comparison quiz:
Passing TDs: Fields (41 to 36)
Passing yards: Lawrence (3,665 to 3,273)
Completion percentage: Fields (67.2% to 65.8%)
Rushing yards: Lawrence (563 to 484)
Rushing TDs: Fields (10 to 9)
Interceptions: Fields (3 to 8)
QUOTE OF THE WEEK
"Can the average fan relate? No, they can't. There's a double standard maybe a little bit. We're going to pack 100,000 people into DKR and millions watch on TV that are predominantly white — not all of them certainly, but most of 'em white. We're gonna cheer when they score touchdowns, and we're gonna hug our buddy when they get sacks or an interception.
"But we gonna let them date our daughter? Are we going to hire them in a position of power in our company? That's the question I have for America. You can't have it both ways. And if you're going to cheer them and love them for three-and-a-half hours a Saturday in the fall, you better have the same feelings for them off the field, because they're human beings. They deserve the same amount of respect and human rights that all of us do in this country when we agreed on the social contract to be a member of the United States."
– Texas coach Tom Herman shared a powerful statement on the double standard black athletes face.
TWEET OF THE WEEK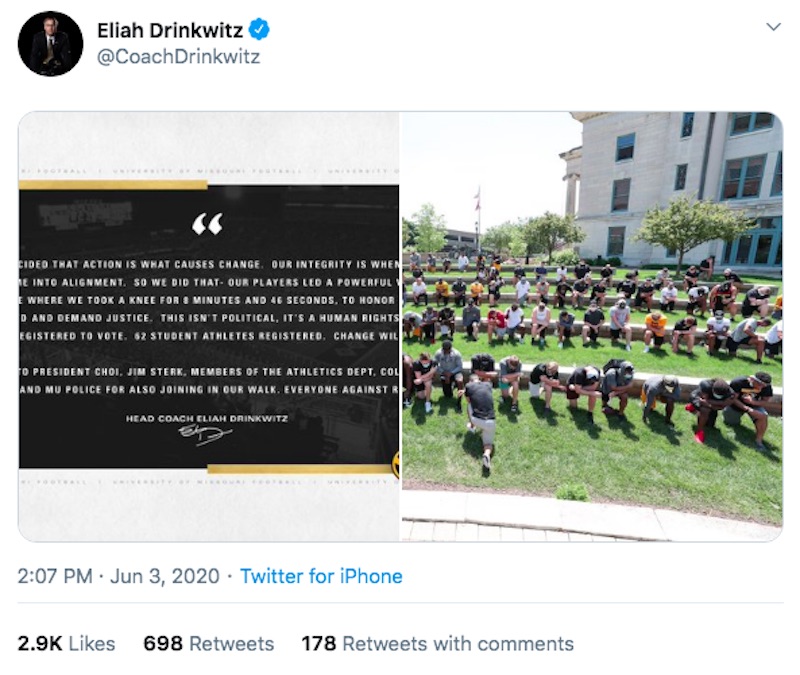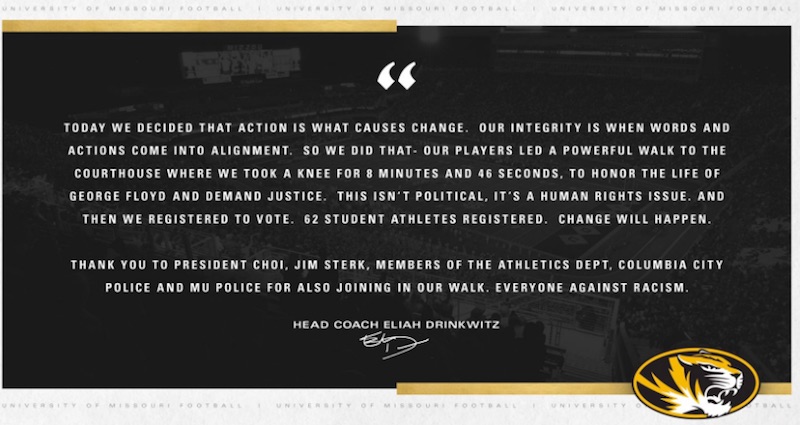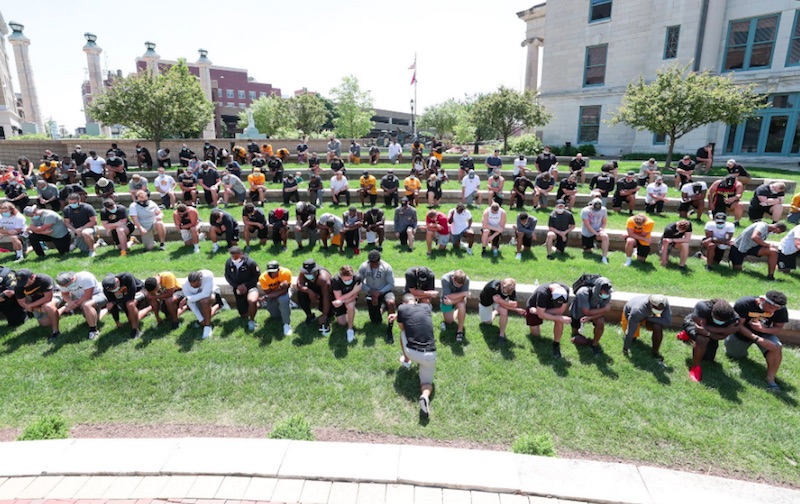 New Mizzou coach Eliah Drinkwitz took to Twitter to share a powerful image of Tiger athletes participating in a peaceful protest. Drinkwitz shared that the players marched to the courthouse in Columbia and many (62 players, according to the coach) registered to vote.