BIG TEN
Saturday Football: Jake Fromm, funniest draft moments and SEC dominance
The Saturday Football newsletter goes out to subscribers up to 3 days a week and discusses the major events going on around the nation in college football. You can subscribe by clicking here.
Good morning and happy Monday! Now that the NFL Draft is over, it could be a while before we have any live major sporting events back on our televisions. However, as some states begin to reopen by the end of this week, we'll see if that leads to more momentum for sports to return.
For now, though, we have plenty of draft-related items to discuss. We'll also take a look at an eye-opening comment Georgia coach Kirby Smart made last week. So, let's get started with today's newsletter!
JAKE FROMM
Jake Fromm experienced a free fall during the 2020 NFL Draft. What happened and how will he fare in Buffalo?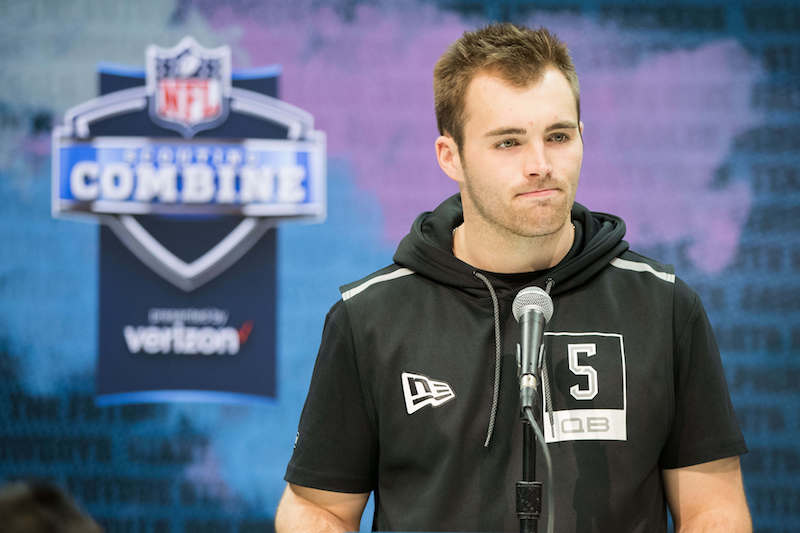 Nobody was surprised when Round 1 of the 2020 NFL Draft came and went without Georgia QB Jake Fromm hearing his name called. However, when Rounds 2 and 3 passed on Friday without Fromm being picked, people started to talk about his fall. Then, on Saturday, Round 4 also went by without the Georgia quarterback being selected. By that point, it was all anyone was talking about.
Finally, in Round 5, the Buffalo Bills took a chance on Fromm, taking him with the No. 167 overall pick in the draft. Let's take a look at the aftermath of Fromm's draft weekend free fall:
As Fromm's wait continued, it became the talk of the draft. Heading into Saturday's Round 4, many analysts thought the Georgia QB would come off the board quickly. Instead, he didn't get picked by the Bills until midway through Round 5. That drop, naturally, led to some interesting reactions on Twitter.
After he was finally picked, Fromm weighed in on his long wait. He said he's OK with being the underdog once again. "My entire career I've kind of been the guy left out, the guy unseen… for me it's just getting to work… I'm excited to get to do that at this level," Fromm said. Georgia coach Kirby Smart also weighed in on Fromm's draft day plummet. Smart said he thought Fromm would go in Rounds 3 or 4, adding that he was nervous for his former player waiting for him to be drafted. "I've been sitting here holding my breath that he'd get picked," Smart said on NFL.com. "And now he's going to cold, cold Buffalo."
NFL analysts had plenty to say on the TV broadcast about Fromm. There were some concerns about his arm strength at the NFL Combine, and that may have played a part in Fromm's fall. "You talk about polar opposites as players," NFL Network's Daniel Jeremiah said. "Josh Allen — the big size, the huge arm. Josh Allen doesn't throw with a ton of anticipation, but he's got such velocity, can still put it on you. Then you talk about Jake Fromm, who's a rhythm touch, timing passer." We'll see how those two coexist in Buffalo starting this fall. Yahoo's Pete Thamel went all-in on what Fromm's free fall means for the Georgia program and Kirby Smart's ability to develop quarterbacks.
The important thing is that Fromm has an NFL home. Now, he'll have a chance to get his pro career started. We'll see if he ends up making an impact in Buffalo or if he has to move on before he gets a chance to play. At the moment, he'll do his best to earn the Bills' backup job.
GOOD READS
BEST DRAFT MOMENTS
The 2020 NFL Draft was unique. It also provided plenty of great moments we'll remember.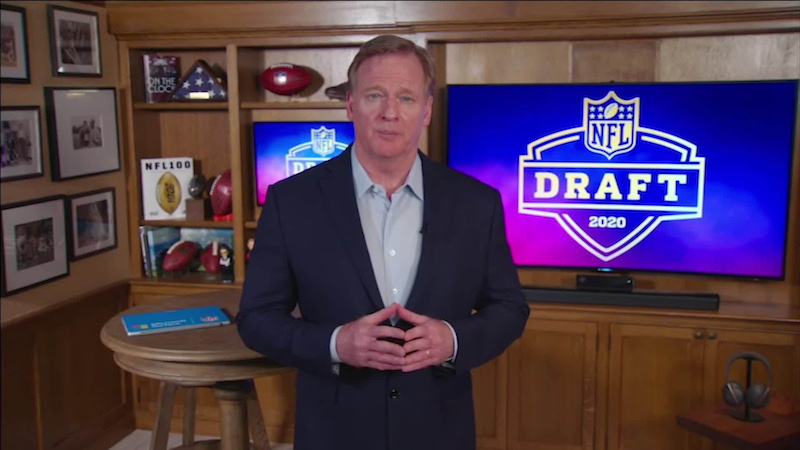 This year's NFL Draft was supposed to be held in Las Vegas. Instead, due to the COVID-19 pandemic, it was held virtually instead, making for a unique experience. Since no first-round picks, coaches or executives were able to attend the draft, there were an abundance of interesting camera shots from inside players' and coaches' homes. That, naturally, provided some comedy, too.
So, what were the funniest moments from this year's draft? Let's take a look at some of the storylines and random occurrences that took the nation by storm over the weekend:
First, we have to start with a particular dog that stole the show. New England Patriots coach Bill Belichick isn't known for having much of a sense of humor in public, but he had a great moment during Friday's proceedings. As you can see here, his dog, Nike, became an internet sensation by stealing the coach's chair and sitting in front of his computers. Of course, when the Patriots confusingly drafted a kicker from Marshall in Round 5, Nike took his share of the blame, too.
Some players' homes provided hilarious moments in Round 1, too. When Oklahoma WR CeeDee Lamb was drafted by the Dallas Cowboys, he was captured on camera snatching his phone back from his girlfriend. That set the internet abuzz wondering why he would do such a thing. The explanation from Lamb's girlfriend? His agent was calling and he wanted to answer. Then there was Isaiah Wilson, the former Georgia guard. When he was shown receiving a call from the Tennessee Titans, who took him in Round 1, his girlfriend was in the camera shot hugging him. Let's just say Wilson's mom was having none of that. Speaking of the Titans, nothing topped the strangeness coming from coach Mike Vrabel's home on Thursday night. From a weird costume to a fantastic mullet to a kid who appeared to be sitting on the toilet, Vrabel's house was simply inexplicable. He did clear up the toilet thing, though.
Finally, there was Roger Goodell, who showed some versatility. No, not with his pronunciations of players' names, which were often wrong, but rather with his clothing. Goodell showed off basically his entire wardrobe over the weekend, going from a suit to start Round 1 on Thursday to a T-shirt by Saturday afternoon's proceedings.
While it wasn't the extravagant affair it would have been in Vegas, this year's draft shattered viewership numbers and provided some much-needed live entertainment as we all shelter in place during the pandemic. Las Vegas will get another crack at the draft in 2022, but for now, let's hope the NFL is able to host the event live in Cleveland this time next year.
JUST FOR FUN
Today, let's test your knowledge of the NFL Draft's Mr. Irrelevant. This year, Georgia LB Tae Crowder was the final player drafted, earning the "Mr. Irrelevant" title. For today's quiz, we'll give you the last five Mr. Irrelevants. Can you name which schools they played for?
2019: Caleb Wilson, TE
2018: Trey Quinn, WR
2017: Chad Kelly, QB
2016: Kalan Reed, CB
2015: Gerald Christian, TE
Scroll down to see the answers to today's quiz.
SEC DOMINANCE
Kirby Smart says coaches from other conferences tell recruits the SEC is too hard. What should we make of that?
A big debate over the last decade-plus in college football has involved the SEC. Is there a media bias toward the conference, or is the SEC really just dominant and thus deserving of all the praise? It depends on who you ask, of course. As humans, no one is inherently unbiased, and when it comes to quantifying "dominance," there are thousands of ways to do so.
But, it's an interesting debate to have nonetheless, and based on some comments from Kirby Smart over the weekend, it is back in the national spotlight. Let's take a look at this topic:
We all know coaches negatively recruit against other schools. But, Smart's comments imply that some coaches recruit negatively against the entire SEC. He appeared on "The Paul Finebaum Show" on Friday and said he's heard of other programs telling potential SEC recruits that the conference is too physical and they might get too banged up for an NFL career. "(F)or a coach in another conference to sell, 'Hey, it might be an easier path to come over here and go this way,' it just speaks volumes," Smart said.
When you look at NFL Draft numbers, SEC dominance is evident. The SEC had 63 players drafted in 2020, which fell just short of the record of 64 players drafted from a single conference set in 2019 … by the SEC. LSU also set a record by having 14 players drafted, breaking Alabama's record of 13 (set in 2018). In the 2020 recruiting cycle, the SEC had seven of the top 10 classes, including three of the top four. Clearly, the highest-rated recruits are heading to the conference and then moving on to the NFL at a rate higher than other major conferences.
Just don't mention those numbers to noted SEC troll Danny Kanell. The former Florida State quarterback-turned-analyst took to Twitter during the draft and tweeted a message that included the sentence "They buy the best players" in reference to the SEC. He quickly backtracked, saying he simply meant the SEC spends more on recruiting and facilities to land the top-rated recruits (which is true if you compare recruiting budgets for the SEC's top programs and the Pac-12's top squads). However, Kanell should have known that the way he phrased his original tweet would stir up some controversy.
Again, there are many different ways this debate can go, and there are numbers and stats that can bolster either side of the argument. But, these recent comments from Smart and Kanell, along with the sheer numbers from the NFL Draft, added fuel to the fire this week, for sure.
ANSWERS
Here are the answers to today's Mr. Irrelevant quiz. These are the colleges each of the previous five Mr. Irrelevants played for:
2019: Caleb Wilson (UCLA)
2018: Trey Quinn (SMU)
2017: Chad Kelly (Ole Miss)
2016: Kalan Reed (Southern Miss)
2015: Gerald Christian (Louisville)
QUOTE OF THE WEEK
"As soon as this virus calms down, I'm gonna go in there and compete my nuts off."
– Former Georgia and Washington QB Jacob Eason delivered the strangest quote of the draft after being selected in Round 4 by the Indianapolis Colts.
TWEET OF THE WEEK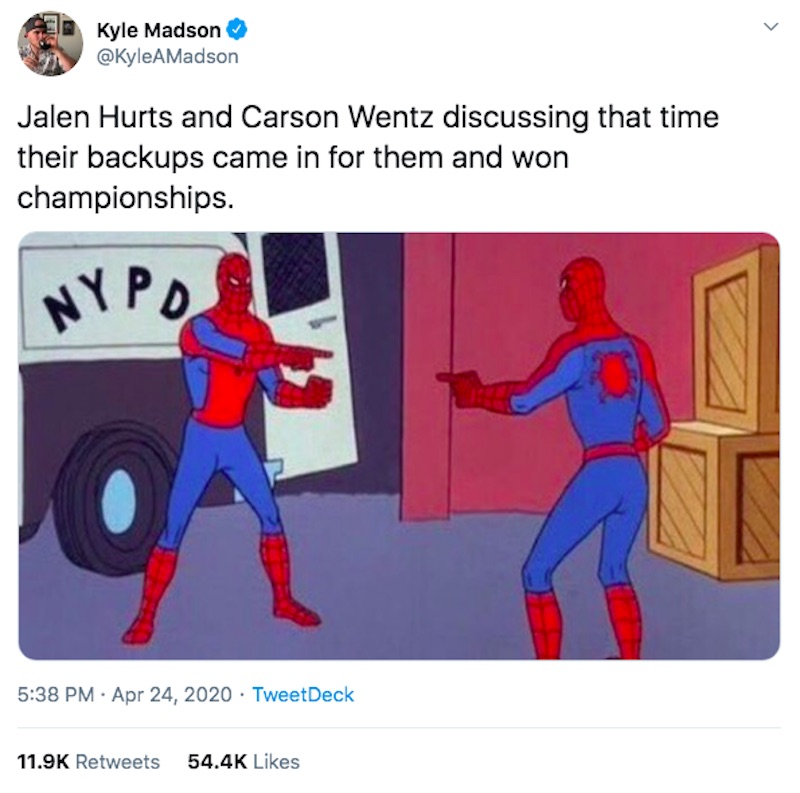 Jalen Hurts and Carson Wentz are now both with the Philadelphia Eagles. And, as referenced above, they have one particularly noticeable similarity. Wentz was injured as Nick Foles led the Eagles to a Super Bowl win a couple of years ago, while Hurts was benched at halftime during the College Football Playoff title game following the 2017 season as Tua Tagovailoa led Alabama to victory.