BIG TEN
Saturday Football: Joe Burrow-Bengals drama, a new transfer rule and a Colorado update
The Saturday Football newsletter goes out to subscribers up to 3 days a week and discusses the major events going on around the nation in college football. You can subscribe by clicking here.
Good morning and happy Thursday! The college football offseason continues, but at least spring game dates are starting to be finalized, giving us something to look forward to as the month of February crawls along at a snail's pace.
Fortunately, the offseason news cycle continues to be eventful. Plus, some of the top 2019 college players are heading to Indianapolis in a few days for the NFL Combine. So, let's start this Thursday morning by discussing some of today's top stories.
NCAA TRANSFER RULE
A one-time, penalty-free transfer rule is looking likely. Here's the latest on the possible new rule.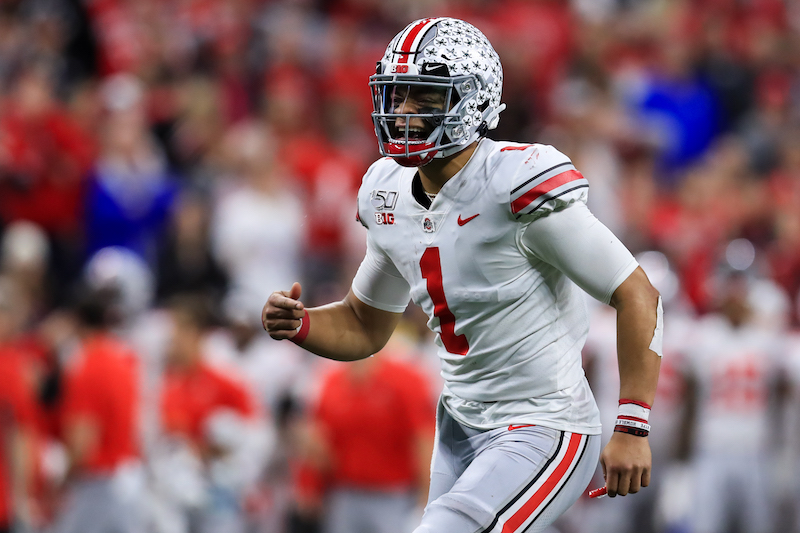 To see how confusing the NCAA's current transfer rules are, one only needs to look at a couple of players who transferred from Georgia following the 2018 season — QB Justin Fields and TE Luke Ford. Fields, who transferred to Ohio State after allegedly having racial slurs directed at him by fans, got to play for the Buckeyes right away, leading them to the College Football Playoff. Ford transferred to Illinois (another Big Ten school, for the record) to be closer to his ailing grandparents. He had to sit out the 2019 season.
Because of those situations and many others, it's easy to see why fans, media members and conferences would like more concrete rules. Well, that could soon be happening, as a one-time, penalty-free transfer rule is quickly gaining a lot of momentum. Let's take a look at what is going on with this new rule proposal:
For the record, the Big 12 and Pac-12 have yet to offer their support, either. However, this proposal is quickly gaining steam and it could be just a matter of time before it is implemented. How will it affect college sports? We may find out soon enough!
ESPN FPI EARLY 2020 TOP 10
The 2020 season is still several months away, but with spring practices quickly approaching, many analysts are starting to look ahead to this fall. This week, ESPN updated its Football Power Index (FPI) and ranked all 130 FBS squads for the upcoming season.
So, who made the cut for the top 10? As you can see below, a number of familiar teams are in the top 5, followed by some traditional powers later in the top 10 (via ESPN):
Clemson
Ohio State
Oklahoma
Alabama
Penn State
Wisconsin
Texas
Texas A&M
Notre Dame
Georgia
Obviously, this could all change after we get a look at these supposed top teams this spring. Also, shout out to UMass, holding things down in the last (No. 130) spot. Can the Minutemen pull off some surprises this fall?
JOE BURROW-BENGALS DRAMA
Should Joe Burrow refuse to play for the Bengals? Everyone has an opinion about the likely No. 1 pick.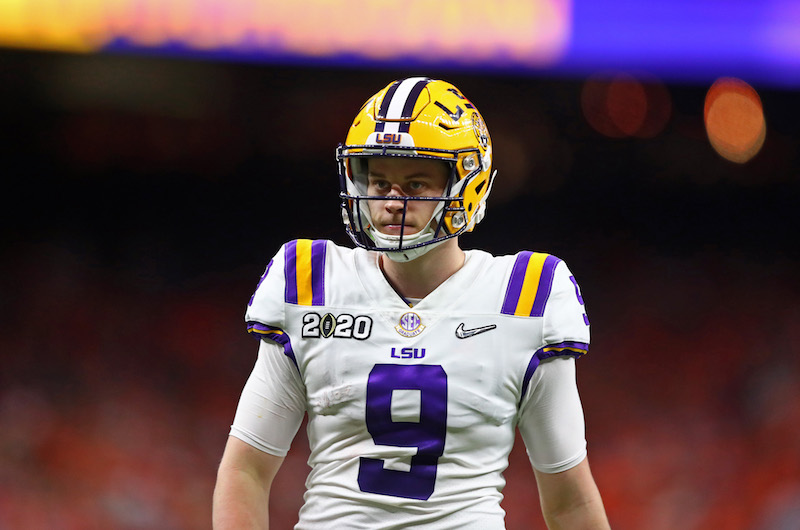 Joe Burrow is coming off perhaps the best season a college quarterback has ever had, going 15-0, winning a national title, winning the Heisman Trophy and throwing a record 60 touchdown passes. Now, he's being projected as the likely No. 1 overall pick in the 2020 NFL Draft, a pick which currently belongs to the Cincinnati Bengals.
In recent days, though, some drama has made its way into the media about what Burrow should do. Should he play for the Bengals or not if they draft him? Let's take a look into what people are saying:
Still, The Ringer's Danny Heifetz looked into all the ways it seems like Burrow is trying to break up with the Bengals already. More news involving Burrow and the Bengals is sure to come out of the NFL Combine at the end of the month. For now, it doesn't seem like this story is going to go away any time soon and could drag on until the actual draft takes place in Las Vegas in April.
GOOD READS
GEORGIA-CLEMSON
Georgia and Clemson will kick off the 2021 season in Charlotte. What should we expect from these two powers?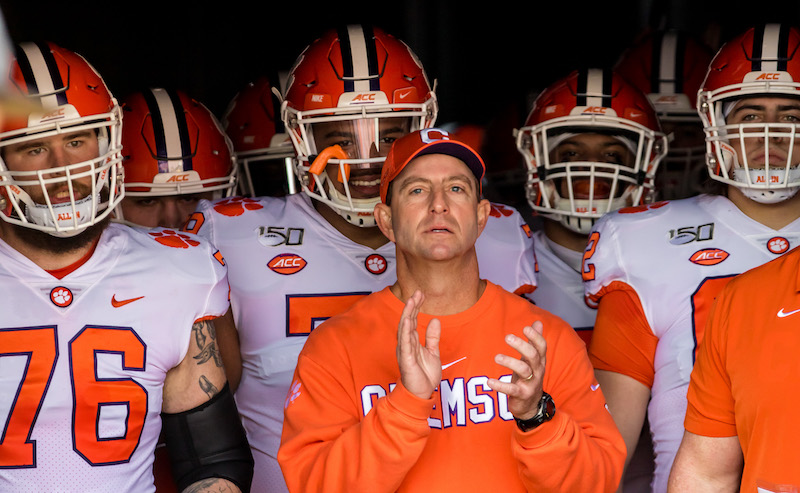 This week, college football fans were given a treat, as Georgia and Clemson announced they'd agreed to play a game in Charlotte in 2021. As more details emerged, it was revealed that the game would kick off each team's season on Sept. 4, 2021.
It's good for the sport to see teams as prominent as the Bulldogs and Tigers taking each other on in nonconference play, and it seems top Power 5 teams are starting to become more willing to schedule other top Power 5 teams as part of their nonconference slates. Let's take a look at some news about this blockbuster matchup coming in 2021:
When the original Clemson-Georgia games were scheduled, it was disappointing that we'd have to wait so long to see them face off for the first time in 2024. However, this 2021 game should be exciting, as both teams should still be national powerhouses. A lot can happen between now and then, but at the moment, it seems like this could be one of the most anticipated games of 2021.
JUST FOR FUN
With so many coaches constantly on the move, it can be difficult to keep tabs on who is running certain Power 5 programs. So, for today's quiz, we'll give you the name of five FBS schools and you tell us who the head coach currently is. Ready? Here we go:
Oregon State
Georgia Tech
Indiana
Louisiana Tech
Texas Tech
Scroll down to see the answers to today's quiz.
COLORADO UPDATE
Colorado is still looking for a replacement for Mel Tucker. Where is the search going?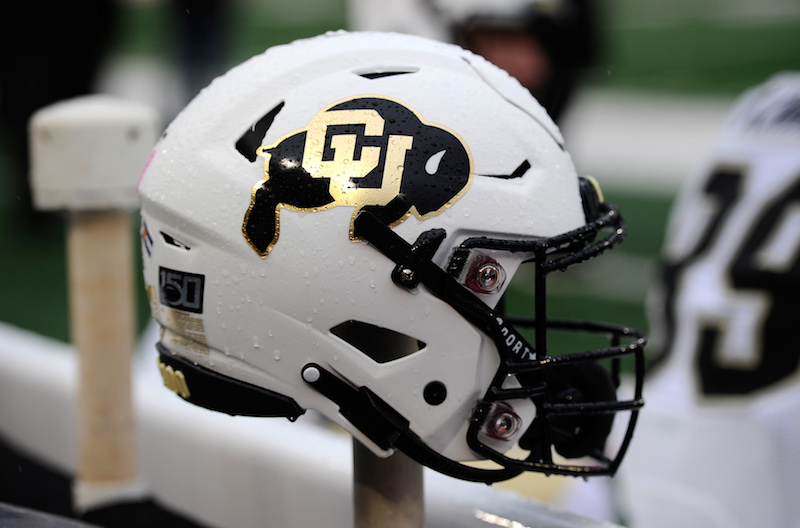 Mel Tucker left Colorado for Michigan State last week, putting the Buffaloes on the clock when it comes to looking for a new coach. As of Wednesday night, they still hadn't made a hire, though several names are reportedly in the mix.
So, what's the latest in Boulder and where is the Colorado coaching search trending? Let's take a look at the latest news from the Pac-12:
If Colorado hires someone who is not a current FBS head coach, that will close the books on the head coach carousel for the 2020 offseason (theoretically). For now, though, this search is still ongoing, so it's too soon to say with any clarity what will happen in Boulder.
ANSWERS
Here are the coaches who currently run the five programs listed above:
Oregon State — Jonathan Smith
Georgia Tech — Geoff Collins
Indiana — Tom Allen
Louisiana Tech — Skip Holtz
Texas Tech — Matt Wells
With how frequently coaches move around these days, will all of these guys be at the same schools this time next year? We'll see when the 2020 coaching carousel starts spinning!
QUOTE OF THE DAY
"I think that's important no matter where your seat is … every program values their in-state or local recruits … I think it's good in our case understanding of the in-state rivals with Washington and getting that Apple Cup to be a pretty exciting, important game for our team, team culture and our coaches."
– New Washington State coach Nick Rolovich wants to make sure the Apple Cup is a big deal again. He even went as far as to install an Apple Cup countdown clock in the locker room. The Cougars have lost seven in a row to rival Washington.
TWEET OF THE DAY
Information continues to come out surrounding potential NCAA violations former Michigan State coach Mark Dantonio is alleged to have committed. The photo in the above tweet doesn't do Dantonio any favors. Read up on what this photo means in this DetroitNews.com story.