BIG TEN
Saturday Football: Joe Burrow's tiny hands, Scott Cochran's big move and a new bowl game
The Saturday Football newsletter goes out to subscribers up to 3 days a week and discusses the major events going on around the nation in college football. You can subscribe by clicking here.
Good morning and happy Thursday! Whew, what a week we've had in the college football world. From news pouring out of the NFL Combine to a high-profile loss to the Alabama coaching staff, it has been a busy few days of action.
The NFL Combine continues from Indianapolis through the weekend, with on-field drills beginning today. So, with so many important stories to get to, let's dive right in, shall we?
SCOTT COCHRAN
Alabama's strength coach is leaving for an on-field job at Georgia. Why is that such a big deal?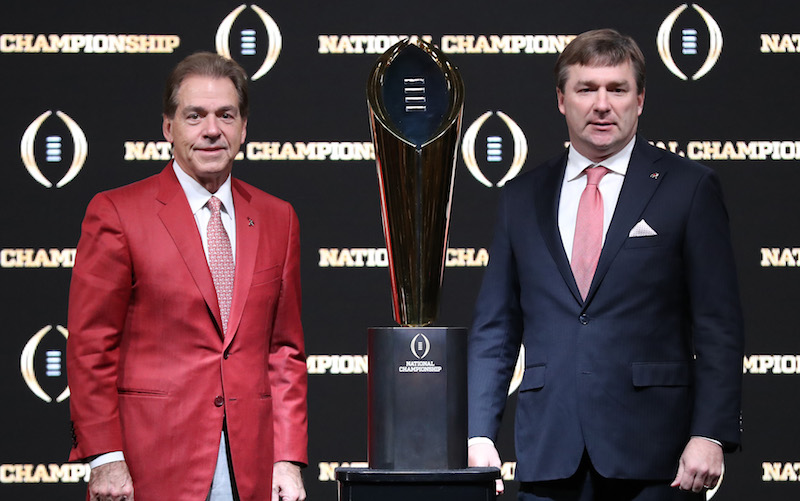 Easily the most divisive, intense story of the week took place in Tuscaloosa, where longtime Alabama strength coach Scott Cochran left to take an on-field job with Georgia. That sparked way more outrage and hot takes than any other strength coach changing jobs ever has.
So, why was this such a big deal? Let's dive into this mess that really accentuates the tension between the Alabama and Georgia programs and head coaches Nick Saban and Kirby Smart:
As of Wednesday night, Alabama had yet to hire a new strength coach. Brad Crawford of 247Sports put together a list of some potential candidates, so keep an eye on these guys. For now, though, there's a big hole in the Alabama staff and Georgia is taking a gamble in moving Cochran to special teams coordinator.
NFL COMBINE SCHEDULE
The 2020 NFL Draft is still a couple of months away, as it will be held at the end of April in Las Vegas. However, the NFL Combine is taking place in Indianapolis this week, and the on-field workouts from the top players in the country start today.
Players will be divided up by position groups and will work out over the course of the next four days. Here's a look at the schedule in case you want to see some of your favorite former college stars in action (via NFL.com):
Thursday, Feb. 27 (4-11 p.m. ET)

Tight ends
Quarterbacks
Wide receivers

Friday, Feb. 28 (4-11 p.m. ET)

Kickers
Special teams
Offensive linemen
Running backs

Saturday, Feb. 29 (4-11 p.m. ET)

Defensive linemen
Linebackers

Sunday, March 1 (2-7 p.m. ET)
Draft stocks will rise and fall over the weekend at the NFL Combine. Who will be the guys who open eyes and take massive jumps up teams' draft boards? We'll find out soon!
JOE BURROW'S HANDS
Joe Burrow's hands are kind of small. How big of a deal is that for his NFL Draft stock?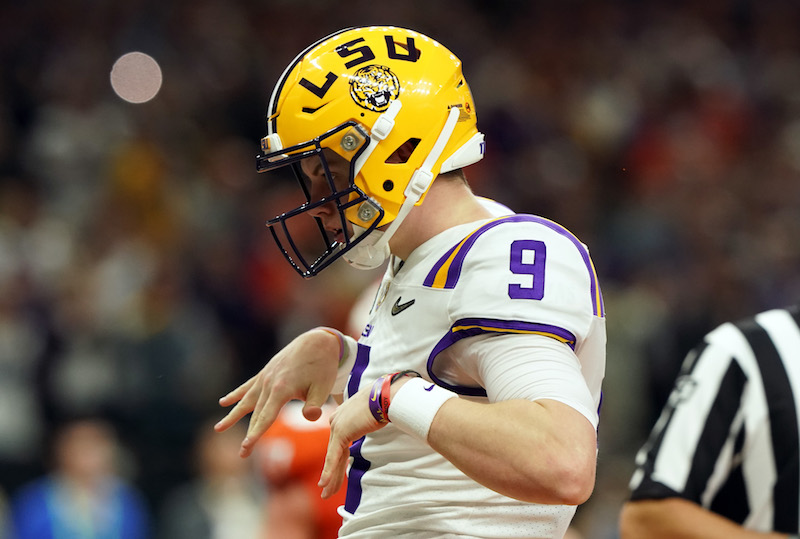 It's NFL Combine season, and that means we have to pretend to care about things such as hand size and Wonderlic scores for the next couple of months leading up to the 2020 NFL Draft. We've already had our first drama out of Indianapolis, as potential No. 1 overall pick Joe Burrow's hands measured in at only 9 inches.
That has sparked some debate and some interesting responses, so let's take a look at the reaction to Burrow's hand measurements over the past couple of days:
We'll start with some of the reactions that poured in on Twitter. As you might expect from Twitter, there were people on both sides of the debate over Burrow's hand size. Burrow's hands were 9 inches and Georgia QB Jake Fromm's hands were 8 7/8 inches. Michigan State QB Brian Lewerke's hands measured 10 5/8 inches, for the record.
Fortunately, Burrow continues to have a great sense of humor. After his hand measurements sparked so much debate, he tweeted that he was considering retirement because of his "tiny" hands. Hopefully he keeps that sense of humor, because the next two months leading up to the draft will be some of the longest months of his life.
Most analysts absolutely love what Burrow brings to the table. Most come down on the side of NFL.com's Daniel Jeremiah, who said he'd still draft Burrow even if Alabama star Tua Tagovailoa was fully healthy and not working his way back from a devastating hip injury. Then, there's Colin Cowherd, who said Burrow is more of a great story than a great prospect. Of course, earlier this year, Cowherd actually asked Urban Meyer why he didn't recruit Burrow at Ohio State, clearly not knowing that Burrow actually graduated from Ohio State before heading to LSU.
Much will be made about Burrow's hand size and his other performances at the NFL Combine in the buildup to the draft, but it remains to be seen whether it affects his draft stock or not. The Cincinnati Bengals hold the No. 1 pick, so we'll see what they decide to do.
GOOD READS
LA BOWL
There's a new bowl game coming this year. How many bowls can college football support?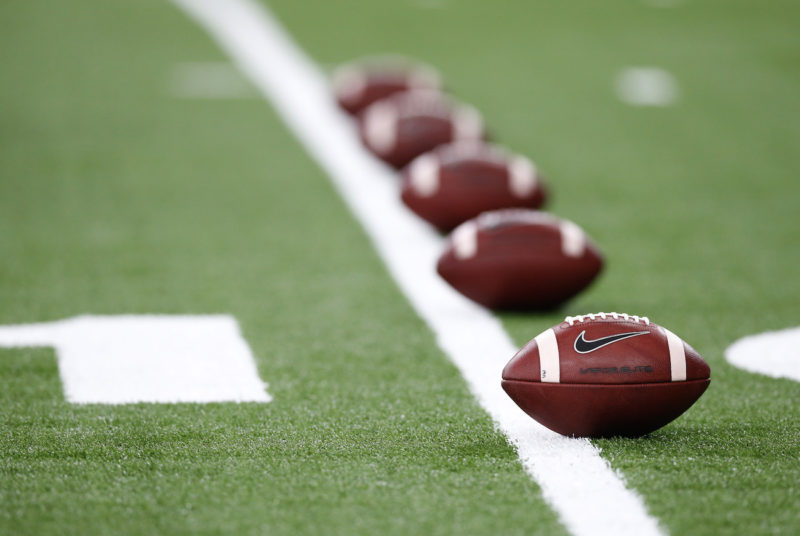 The Los Angeles area is already home to perhaps the most iconic bowl game we have in college football, as Pasadena is the host of the annual Rose Bowl game. That game dates back to 1902 and is lovingly referred to as the "Granddaddy of Them All."
Apparently, though, there needs to be another bowl game in Los Angeles, as the LA Bowl was announced on Wednesday. Let's take a look at this new bowl game:
The game will be played an SoFi Stadium in Inglewood. Though construction on the stadium has yet to be completed, it is scheduled to open in July of this year and serve as the home to both NFL teams in Los Angeles — the Rams and Chargers.
The bowl will pit a Pac-12 team against a Mountain West squad. Per Wednesday's announcement, the No. 1 team from the Mountain West will take on the Pac-12's No. 5 selection. The top Mountain West team had previously gone to the Las Vegas Bowl, but that game has shifted to feature a Pac-12 team against either an SEC or Big Ten squad.
There were 40 bowl games in 2019-20, so this will make it 41. The Mountain West and Pac-12 are both excited for the opportunity to play a game in Los Angeles, though. "The Mountain West is delighted to partner with the Pac-12 Conference and the outstanding management team assembled at SoFi Stadium and Hollywood Park to launch this exciting new bowl game," said Mountain West commissioner Craig Thompson. "Los Angeles is a tremendous market firmly within our footprint that is home to a large number of our member institutions' alumni and the area from which many of our student-athletes are recruited.  This will be a top-flight postseason destination for the No. 1 selection from our Conference." .
Yes, this is yet another bowl game to pay attention to, but watching football games played in Los Angeles is always a beautiful sight to see on TV. The Rose Bowl consistently provides some amazing footage of sunsets, so we'll see if the new SoFi Stadium can match it in beauty. Having the top team from the Mountain West won't hurt the bowl's watchability, either.
JUST FOR FUN
Last week, we gave you five schools and asked you to name the head football coaches for each of those schools. Today, we'll give you the names of five coaches. You tell us which FBS program they lead. Ready? Here we go:
Justin Wilcox
Jake Spavital
Jason Candle
Tyson Helton
Neal Brown
Scroll down to see the answers to today's quiz.
TRANSFER PORTAL
There are several key defenders still in the transfer portal. Where will they end up going?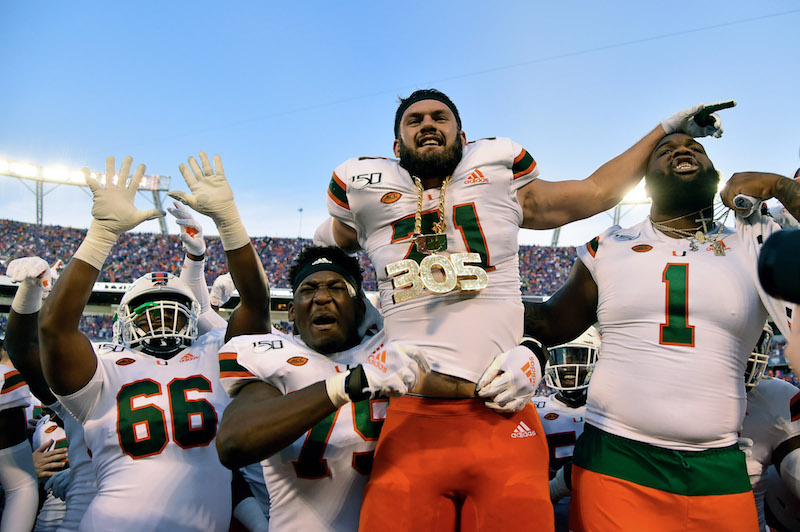 If your favorite team is weak at a certain position or lacks depth, there are still plenty of options out there. The NCAA transfer portal is still full of players who are exploring moving on to new schools ahead of the 2020 season.
On Monday, we took a look at some of the biggest names still in the portal on the offensive side of the ball. Now, we'll look at some of the biggest names on defense. We've included the players, their positions and the schools they'd be leaving (via 247Sports):
Michael Thompson, DT, Oklahoma
Mark Jackson Jr., DE, Oklahoma
Isaiah Chambers, DE, Houston
Ellison Jordan, DT, Penn State
D'Andre Christmas, DT, Texas
Scott Patchan, DE, Miami
Trajan Jeffcoat, DE, Mizzou
Gerald Wilbon, DT, Texas
Justus Reed, DE, Youngstown State
Eyabi Anoma, OLB, Houston
Jordan Anthony, OLB, Michigan
Anthony McKee, OLB, Pitt
Christian Bell, OLB, Wisconsin
Pernell Jefferson, OLB, Nebraska
Nigel Knott, CB, Alabama
Jamel Cook, S, South Carolina
Deon Jones, S, Maryland
Ryan Jones, S, Oklahoma
Kyriq McDonald, S, Cincinnati
Donovan Duvernay, CB, Texas
These guys will explore all their options. If they do decide to move on, they could have a big impact on how the 2020 season plays out. Keep an eye on some upcoming player movement.
ANSWERS
Here are the schools currently coached by the five guys listed above:
Cal — Justin Wilcox
Texas State — Jake Spavital
Toledo — Jason Candle
Western Kentucky — Tyson Helton
West Virginia — Neal Brown
We'll see how long these guys remain in their current jobs before they are either let go or move on to another job in the college or pro ranks.
QUOTE OF THE DAY
"Well, I don't like (Tua's comments) because I don't think that a young phenom, with all the potential in the world – once he gets healthy, needs to contaminate himself to such a flagrant degree before he even does anything. You know, listen, being a Cowboy, it's going to give you the sizzle, it's going to give you the back pages. But I think they've proven, your Thanksgivings are not going to be very beneficial. Christmas time is not going to be a festive time for you. To be a member of the Dallas Cowboys is to virtually ensure that your holiday seasons are not going to be jolly."
– ESPN's Stephen A. Smith made a bizarre argument for why Tua Tagovailoa wouldn't like being a Dallas Cowboy. Seriously, click that link, because the quote above is only the tip of the iceberg on Smith's argument.
TWEET OF THE DAY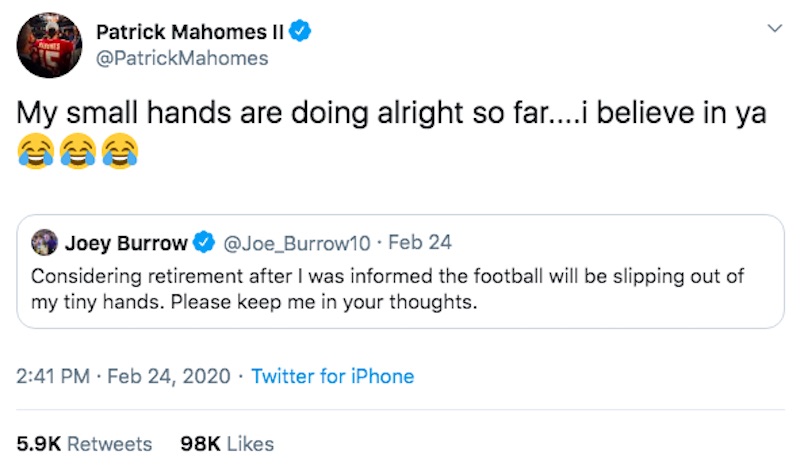 Joe Burrow's hands, as mentioned above, measured in at only 9 inches at the NFL Combine. Super Bowl champion Patrick Mahomes' hands were only 9 1/4 inches. Mahomes has confidence Burrow can overcome his small hands, too.