BIG TEN
Saturday Football: JT Daniels, Alabama's strength program and spring football
The Saturday Football newsletter goes out to subscribers up to 3 days a week and discusses the major events going on around the nation in college football. You can subscribe by clicking here.
Good morning and happy Monday! Hopefully, you enjoyed the Michael Jordan documentary last night (we know we did!). Fortunately for us, there will be some more new sports action on TV this week when the 2020 NFL Draft kicks off on Thursday.
This week, we'll have some more talk about when the 2020 college football season could potentially begin. We'll also talk about a big-name transfer quarterback and some interesting quotes from Nick Saban about the Alabama strength program. Let's get started, shall we?
JT DANIELS
USC QB JT Daniels is transferring. Where can he make the biggest impact in 2020?
Back in 2018, JT Daniels was the No. 2 overall pro-style quarterback (per 247Sports). He was a 5-star recruit and chose to stay close to home by committing to USC. In 2019, he won the Trojans' starting QB job, but suffered a season-ending injury in USC's first game of the year. He has since had his job taken by Kedon Slovis, who was sensational as a freshman last season.
So, Daniels is in the transfer portal, and it's safe to say he's a highly coveted asset on the open market. Let's take a look at this story and which teams could be interested in his services:
A number of big-name teams are expected to be in the mix for Daniels. Last week, Rivals expert Mike Farrell wrote that a pro-style offense suits Daniels best. He also named five elite programs where he could make an impact — Tennessee, LSU, Notre Dame, Michigan and Washington. CBS Sports analyst Tom Fornelli had four of those schools also in the mix for Daniels, but swapped in Penn State for Notre Dame.
However, one expert says don't rule out a return to USC, either. After Daniels announced his decision, LA Times reporter Ryan Kartje tweeted that the talented quarterback could remain with the Trojans if the NCAA doesn't pass a one-time transfer exemption this offseason.
Perhaps the team that makes the most sense is Tennessee. The Vols run a pro-style offense, provide an opportunity to start right away (if he receives a waiver) and recruit at a competitive level in the SEC. Saturday Down South's Michael Bratton writes that if the Vols believe Daniels would be a good fit, they absolutely need to go all-in to land him.
It looks like Daniels has several intriguing options, so his situation will be one to monitor closely over the coming weeks. There's still so much up in the air about the 2020 season, so we'll have to see what he decides and what he's able to accomplish this fall and beyond.
GOOD READS
SPRING FOOTBALL?
Is starting the 2020 season next spring (in 2021) a viable option? It continues to gain momentum.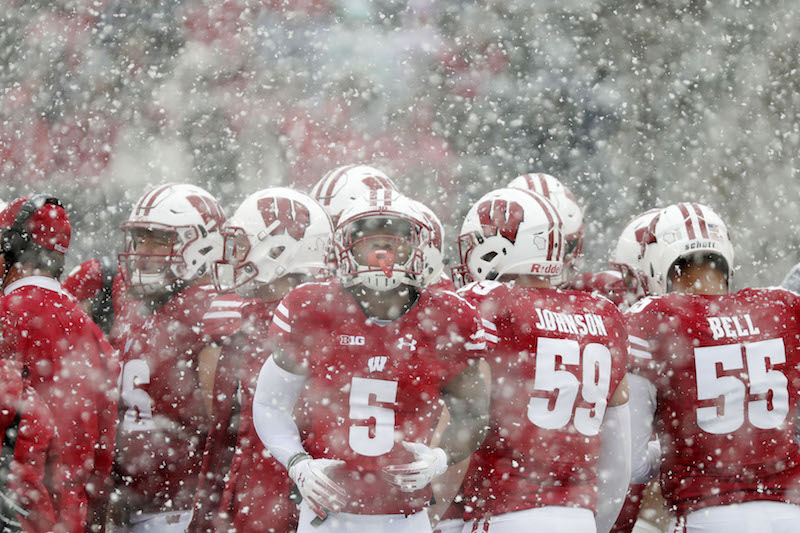 Normally, football seasons begin in the fall (duh). But, as the COVID-19 pandemic continues to force pro and college sports into a weird sort of limbo, it's no guarantee that the 2020 college football season will start this fall as expected. However, due to how much of an impact football has on college athletic budgets, it's a safe bet that the season will be played at some point.
So, could it begin this coming spring semester instead? What once seemed crazy is actually gaining some momentum, it seems. Let's take a look at what's being said about spring football:
First, how important is it that football season takes place this year? One quote from Florida State athletic director David Coburn sums up perfectly how much college athletics counts on football money. "We are planning to develop several different budget scenarios for next year. I don't think any of them will be pretty," Coburn said. "One of them will be a scenario without football and I would just say God help us if that is the scenario."
Some prominent figures in college sports think it's a possibility, too. In an Instagram Live video, ESPN broadcaster Chris Fowler shared some "informed speculation" about moving the season to the spring, which he said is gaining momentum. AAC commissioner Mike Aresco said on "The Paul Finebaum Show" last week that spring football is something that people would be crazy not to consider if the alternative is no football at all. "I don't want to be the one to go on record saying there is going to be spring football, or winter football. But talking to our own group, that is something you have to consider," Aresco said.
Could certain teams actually benefit from spring semester football? That's a question Saturday Tradition's Connor O'Gara pondered. He named four Big Ten teams that could potentially thrive in the early season cold weather a spring campaign would provide. Fellow Saturday Tradition writer Dustin Schutte thinks spring football is still a bad idea, though.
Right now, it's still way too early to make any final decisions about a season that is supposed to start more than four months from now. But, it would also be irresponsible if those in charge of the sport weren't starting to consider every option. Yes, it's looking likely that we'll have football in some form this coming school year, which is a positive. But, for now, figuring out when exactly Week 1 will be is tough to do.
JUST FOR FUN
Today, let's test your knowledge of FBS geography. There are nine states that have exactly one FBS program. Can you name those nine state? Bonus points if you can also name all nine schools.
Scroll down to see the answers to today's quiz.
ALABAMA'S STRENGTH PROGRAM
Nick Saban seems thrilled with Alabama's new strength coaches. How will it translate to the field in 2020?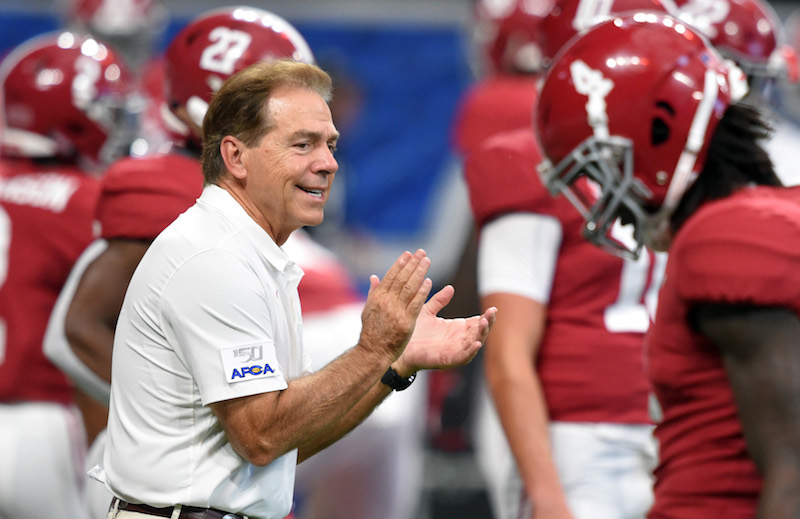 One of the most high-profile breakups in America thus far in 2020 has been the split between Scott Cochran and Alabama. The longtime Alabama strength coach left Tuscaloosa to accept an on-field job at Georgia under coach Kirby Smart. Alabama coach Nick Saban then went out and hired Dr. Matt Rhea and David Ballou away from Indiana to take Cochran's place.
And, so far, even in this bizarre offseason affected greatly by the COVID-19 pandemic, it seems Saban is thrilled with his new strength program. Last week, he offered some big-time praise to Ballou and Rhea while also seeming to take a shot at Cochran. Let's take a look at this latest story out of Tuscaloosa:
On Saturday, Saban spoke with Alabama broadcaster Eli Gold. The legendary coach shared his thoughts on the new Alabama strength program, and it was easy to see how highly he regards Ballou and Rhea. "When they came in and we interviewed them, there was no question that from a sports science standpoint and from a conditioning standpoint they were light-years in advance of what a lot of people have done in their programs for a long, long time, which we've done the same thing for a long, long time, too," he said. "And we'd actually brought some NFL people at the end of the season because we wondering if there was something that we could do to improve performance and injury prevention because we seemed like we'd gotten a lot of guys hurt this past season."
Some on social media read those comments as a slight at Cochran. When Alabama reporter Cecil Hurt tweeted out the quote, may Twitter users responded by reading in between the lines about what Saban was potentially trying to say about his former strength coach.
However, Ballou and Rhea have already sparked some controversy. The Crimson Tide recently caught some flak for using Apple Watches to track players' rest and workouts. The SEC is reportedly looking into the Tide's use of the watches. Dabo Swinney also had something to say about it. "Our guys are putting the work in. I don't need an Apple Watch to track 'em," Swinney said.
Alabama obviously had a ton of success while Cochran was running the strength program. However, in recent years, there have been some high-profile injuries. While it would be foolish to blame all those injuries on Cochran, it is safe to assume that Alabama fans will be closely keeping an eye on how players look on the field during the 2020 season.
ANSWERS
Here are the answers to today's FBS geography game. The nine states with exactly one FBS program are:
Connecticut (UConn)
Hawaii (Hawaii)
Idaho (Boise State)
Minnesota (Minnesota)
Missouri (Mizzou)
Nebraska (Nebraska)
New Jersey (Rutgers)
Wisconsin (Wisconsin)
Wyoming (Wyoming)
QUOTE OF THE DAY
"Easy, easy, easy. Alabama-Auburn 2013. The Iron Bowl. That one was a no-brainer for me. We did Georgia-Auburn two weeks before that. Auburn had lost once earlier in the season to LSU. They went on a tear. We were doing the game in Auburn. Georgia led with less than a minute to go. Nick Marshall and Auburn had a 4th and 18 and they did a Hail Mary. Two Georgia defenders went up. Instead of knocking the ball down – it was fourth down for crying out loud – one tipped it to the hands of Ricardo Lewis. He made a heck of a catch. On the air, Gary (Danielson) said, 'This is the greatest finish I have ever seen in any college football game in my life. You'll never see anything better.'
"Well, it took us two weeks. Then, we had the Chris Davis return of a missed field goal 109 yards. That whole game was No. 1 vs. No. 4. It is the most bitter rivalry in all of college athletics, in my view. I know Ohio State and Michigan argue their case, so does Texas-Oklahoma and USC-UCLA out west. There is nothing compared to the passion for Alabama and Auburn."
– Longtime CBS broadcaster Verne Lundquist didn't hesitate when asked what the best SEC game he ever called was. Of course it was the famous Kick Six game.
TWEET OF THE DAY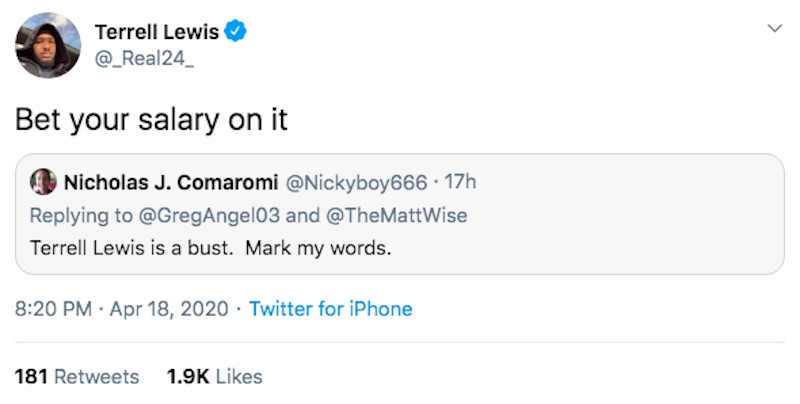 Former Alabama LB Terrell Lewis is clearly confident in his abilities at the next level. We'll find out this week which team takes him in the 2020 NFL Draft.