BIG TEN
Saturday Football: Kylin Hill, Under Armour drama and a Q&A with Alyssa Lang
The Saturday Football newsletter goes out to subscribers up to 3 days a week and discusses the major events going on around the nation in college football. You can subscribe by clicking here.
Good morning and happy Monday! It was a busy week in the college football world, with athletes using their platform to create change, some big uniform news, COVID-19 talk and more. As we prepare to flip the calendars to July, we're going to start seeing some bigger decisions made about the 2020 college season.
For today, we'll take a look at a Mississippi State star's big stand, Under Armour's attempt to cancel a huge contract with UCLA and more. Let's get started with today's newsletter!
KYLIN HILL AND THE STATE OF MISSISSIPPI
Kylin Hill and the SEC took a stand against Mississippi's state flag. Then, things happened quickly.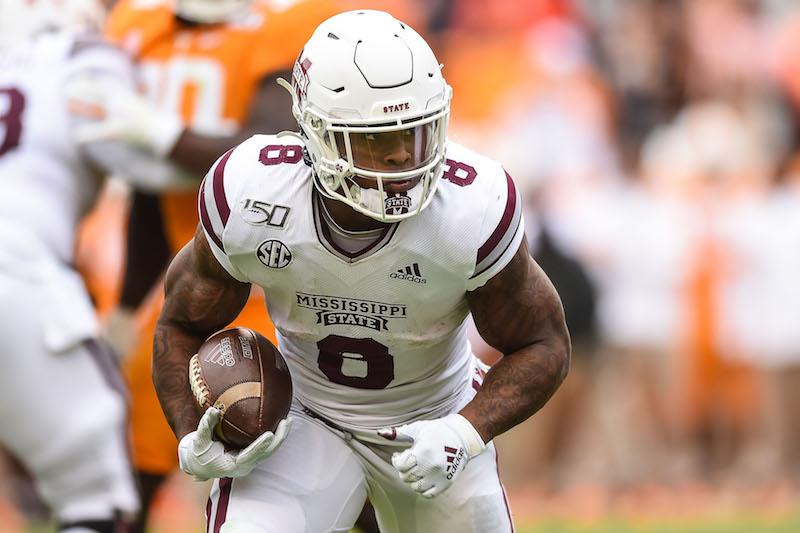 All across the country, major changes are taking place. Last week, those changes came to the state of Mississippi and were driven by Mississippi State star RB Kylin Hill, the SEC, a couple of big-name coaches and plenty of others. The issue? The Mississippi state flag, which contained the Confederate emblem.
So what happened? And what were the results of Hill's (and the others') actions? Let's take a look at what is going on in the state of Mississippi:
It seems Hill and the state of Mississippi are back on good terms for now, so it's likely he'll be back on the field this fall. Hill is just the latest player to make a stand. In recent weeks, we've seen Chuba Hubbard call out coach Mike Gundy at Oklahoma State, West Virginia's defensive coordinator get put on administrative leave after a player made accusations about him on Twitter and Kansas State athletes threatening to sit out the season over a fellow student's racially insensitive tweets. We'll see what happens in those situations and what other stands players use their platforms to make moving forward.
GOOD READS
UNDER ARMOUR VS. UCLA AND CAL
Under Armour is trying to terminate contracts with UCLA and Cal. Will the Pac-12 squads be able to fight it?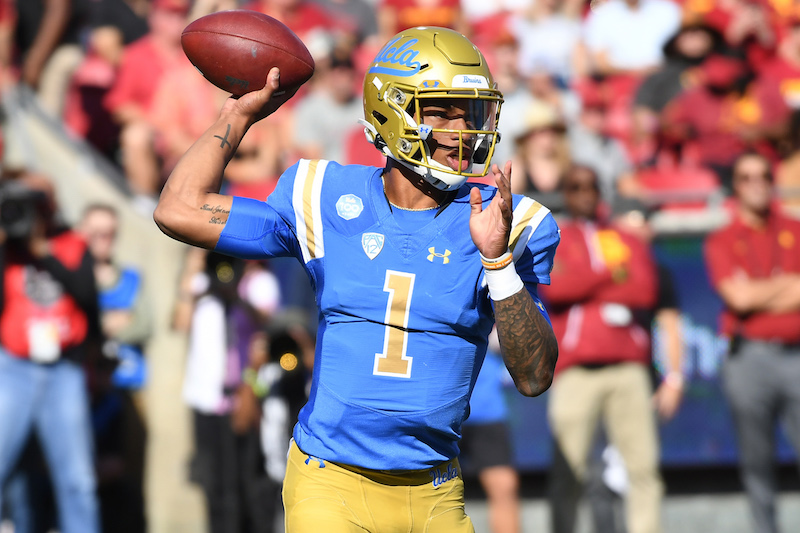 Not to go all "Morning Brew" on you, but it's time to talk some business. Late last week, Under Armour was making some headlines in the college football world, and they weren't exactly headlines you'd file in the "positive" category.
As you can see in the picture above, Under Armour has an apparel deal with UCLA (along with many other schools, including Cal, Notre Dame, Texas Tech, Utah, Auburn, Northwestern, Maryland and more). However, it seems the company is attempting to get out of a couple of those deals. So, let's put on our ties, grab our briefcases and talk business for a bit:
The main schools involved in the Under Armour contract headlines are UCLA and Cal, so let's take a look at what's happening out in the Pac-12:
Under Armour reportedly wants to cancel its massive deal with UCLA. The apparel contract, which was signed in 2016, was worth a record-setting $280 million, per the Los Angeles Times. In a statement given to the LA Times, the company said it has "been paying for marketing benefits that we have not received for an extended time period," citing that as the reason for the attempted cancellation of the contract. Understandably, UCLA is fighting that stance from Under Armour. "We are exploring all of our options to resist Under Armour's actions and will share more information as we can," outgoing UCLA AD Dan Guerrero wrote.
A nearly identical situation is playing out a few hours north at Cal. The Bears' deal wasn't worth as much as UCLA's, but it was a hefty 10-year, $86 million contract. Cal Athletics released a statement on Sunday saying Under Armour does not have grounds to terminate the deal. What could be driving Under Armour to try to get out of these deals? LA Times reporter Ben Bloch tweeted last week that Wall Street analysts expect the company's sales for this quarter compared to the same quarter last year to drop by more than 50%.
Reaction to the news has been interesting on social media. Former UCLA basketball player Matt Barnes said on Twitter that he thinks getting away from Under Armour could be a good thing for recruiting. He went as far as to call UA gear "trash." If UCLA and Cal do need new apparel sponsors, the folks at @RedditCFB on Twitter came up with some interesting ideas:
Interestingly, Under Armour isn't completely cutting ties with college football. In fact, earlier this month, Texas Tech announced a four-year extension with the company. It seems certain that lawyers will get involved in the UCLA/Cal situation, so we'll have to wait to see what becomes of the Under Armour Pac-12 partnerships.
JUST FOR FUN
Alright, folks, if you've been paying attention to our quizzes the past couple of weeks, you've had plenty of time to study up for this week's quiz! We've asked you over the past two editions of the newsletter to name the top returning quarterback in each Power 5 conference in terms of touchdown passes for the 2020 season and then the same thing for rushing touchdown leaders last week.
For today's quiz, let's see if you can name the receivers returning in 2020 who led each Power 5 conference (ACC, Big 12, Big Ten, Pac-12 and SEC) in touchdowns in 2019. Bonus points if you can guess how many touchdowns they snagged.
(Note: The ACC and Big 12 each have 2 players tied for first place.)
Scroll down to see the answers to today's quiz.
Q&A WITH ALYSSA LANG
SEC Network host/reporter Alyssa Lang joined us for a Q&A session. Here's what she had to say.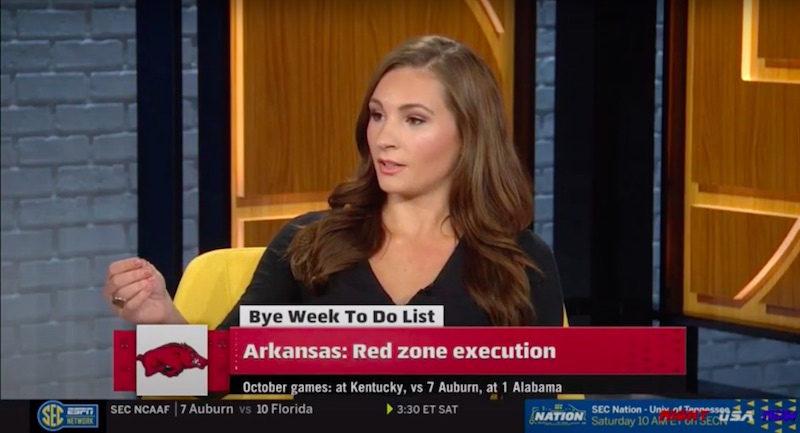 As we (hopefully) approach the start of college football season, we'll bring you weekly Q&A sessions with the voices and personalities you'll hear on the air broadcasting your favorite games. Stay tuned for the next installment of our media Q&A series.
Alyssa Lang has been with the SEC Network since 2018. She is a South Carolina graduate and serves in many roles at the SEC Network, including sideline reporter and studio host of shows like "Thinking Out Loud," "SEC Now" and "SEC Featured." She took some time to talk with newsletter editor Adam Spencer about a number of topics, including knowing she wanted to do something involving public speaking from a young age, a dream interview subject in Mia Hamm and an untimely soda spill before a live broadcast.
Here's a summary of what she had to say (interview edited for length and clarity):
Saturday Football: When did you know that being a reporter or host was what you wanted to do?
Alyssa Lang: When I was in middle school, I took a public speaking class. At the end of the year, my teacher said something to my parents about looking into career paths utilizing public speaking. My parents encouraged me to look into more as I got into high school.
I ended up doing the morning announcements, writing for the school newspaper, drama club, etc. Combine that with being sports-obsessed from the age of 6, and I had the realization that talking about sports was something I could do for a living. Friends signed my high school yearbook with, "see you on ESPN," which is crazy to look back at.
SF: When you got started in the business, who were some of your biggest inspirations? And, who do you still enjoy watching or listening to now?
AL: Tom Rinaldi was always someone I tried to emulate early in my career. He's just so good at everything he does. He's very kind, too. I met him when I was in college and he left a lasting impression.
Suzy Kolber is another broadcaster who I always looked up to. She gives off such great energy. She's so knowledgeable, but has this ability to make it all seamless and fun.
When it comes to sideline reporting, Tracy Wolfson was and is one of my favorites. She always has the best composure and asks great questions. I would constantly take notes on what kind of interview questions she had in the tank.
SF: If you could do a long interview with any athlete (alive or dead), who would it be and why?
AL: Mia Hamm has always been a bucket list interview. I grew up playing soccer, and the 99ers were my heroes. What she and that team did for women's soccer, and girls everywhere, will be remembered forever.
SF: What's the funniest moment/mishap you've had either on the field or in the studio?
AL: This past year, during a women's basketball show, one of our analysts (I won't snitch and say who) spilled a giant cup of soda ALL OVER the underside of the studio desk and floor. I mean there was ice and soda all over everything — papers, shoes, our bags — and we were literally 15 seconds to show time. All we could do was laugh while it just seeped through the studio floor. We came on the air pretending like everything was fine, even though I think you could see some of the spillage in the background of one of the shots. It was definitely a test of willpower to not lose control laughing!
To read our full interview with Lang, click here.
ANSWERS
Here are the answers to today's quiz involving returning running backs with the most touchdowns in 2019:
ACC: Chatarius Atwell (Louisville) and Dyami Brown (North Carolina) — 12 TDs
Big 12: Tylan Wallace (Oklahoma State) and Stephon Robinson Jr. (Kansas) — 8 TDs
Big Ten: Rashod Bateman (Minnesota) — 11 TDs
Pac-12: Frank Darby (Arizona State) — 7 TDs
SEC: Ja'Marr Chase (LSU) — 20 TDs
QUOTE OF THE WEEK
"Today's announcement is not only right but is a long time coming, and I wish to thank former Duck great Dennis Dixon for raising the question and being the catalyst for change. Thanks also to our current student-athletes for their leadership and input during this process. We must all recognize the power of words and the symbolism associated with the Civil War. This mutual decision is in the best interests of both schools, and I would like to thank (Oregon State AD) Scott Barnes for his diligence as we worked through this process. We look forward to our continued and fierce in-state rivalry with Oregon State in all sports."
– Oregon AD Rob Mullens issued a statement after the Ducks and rival Oregon State agreed last week to stop referring to their rivalry as the "Civil War."
TWEET OF THE WEEK
FOX Sports host Colin Cowherd ranked his top two tiers of college football teams last week. After some immediate feedback, he issued an explanation for his rankings.