BIG TEN
Saturday Football: LSU opt outs, BYU-Navy and an SEC East preview
The Saturday Football newsletter goes out to subscribers up to 3 days a week and discusses the major events going on around the nation in college football. You can subscribe by clicking here.
Good morning and happy Wednesday! We've officially made it to September, which means there is actual FBS football this month! This Saturday was supposed to be Week 1, but of course, the COVID-19 pandemic had other plans. Still, this week will be a busy one at the FBS level. First, Central Arkansas heads to UAB and South Alabama will take on Southern Miss on Thursday. There are six FBS games on Saturday and then there's a big BYU at Navy game on Monday night.
We'll discuss some upcoming college football action, preview one of the most intriguing division races, talk some recruiting and more in today's newsletter. So, without further ado, let's get started!
LSU OPT OUTS
LSU has been hit hard by opt outs heading into the 2020 season. How will they affect the Tigers on the field?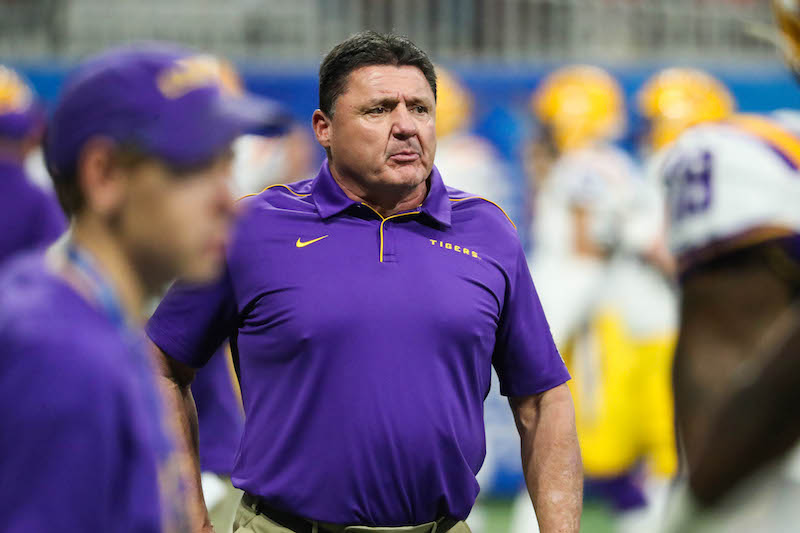 We discussed star LSU WR Ja'Marr Chase's decision to opt out of the 2020 season in Monday's newsletter. However, the news was still so fresh at that point that we didn't get to dive into it fully. In fact, a lot has happened since Sunday evening when Monday's newsletter was put together, including another big-name opt out at LSU.
So, things have gotten a lot tougher for the Tigers as they prepare to attempt to repeat as national champions. Let's take a look at some more headlines coming out of Baton Rouge:
First, let's dive back into Chase's decision and what he said. In a Twitter post on Monday morning, Chase said he wished he could have broken the news that he was opting out himself. He then posted a long explanation on social media later on Monday, saying it's what is best for his family. However, Chase's father, Jimmy, said the star receiver would probably be playing this season if things were normal and we weren't living through a time of civil unrest and a pandemic. Star LSU CB Derek Stingley Jr., who is still playing this fall, offered a strong, passionate defense of Chase's decision during a radio appearance.
Then, on Monday, another LSU star decided to opt out of the season. Talented DT Tyler Shelvin, another guy getting Round 1 buzz for the 2021 NFL Draft, decided not to play in 2020, per reports. Coach Ed Orgeron commented on the two opt outs, saying he supports both Chase and Shelvin. He said they both helped LSU win a national title and then added "that's the time we're living in" with regards to the opt outs. Interestingly, he added that a couple of other Tigers are considering opting out. We'll keep an eye on that the next few days.
The Tigers aren't returning many players from the 2019 title team. In fact, after Shelvin's decision, LSU is down to two offensive starters and four defensive starters coming back. Coach O said LSU is looking to add some transfers to the mix. However, Saturday Down South's Les East writes that LSU fans need to prepare for tough times ahead in 2020.
The season is still 24 days away, so LSU has a little over three weeks to make additions to the roster and get players up to speed. However, we'll continue to monitor the situation in Baton Rouge and whether more Tigers decide to opt out. One thing is for sure — Coach O and his staff will be coaching almost a completely different team this fall.
TOP UNCOMMITTED 2021 RECRUITS
The 2021 recruiting cycle is in full swing. Even as we prepare for games to start later this month for many top schools, coaches are balancing game preparations with reaching out to top players to try to add to their recruiting hauls.
Over the past few weeks, a number of top players have made their college decisions, but some elite talent remains uncommitted. Here's a look at the current top-10 uncommitted 2021 recruits (via the 247Sports composite rankings):
5-star DE Korey Foreman — No. 1 overall
5-star DE J.T. Tuimoloau — No. 2 overall
5-star OT Amarius Mims — No. 6 overall
5-star WR Emeka Egbuka — No. 8 overall
5-star OT Tristan Leigh — No. 11 overall
5-star OT Nolan Rucci — No. 14 overall
5-star RB Camar Wheaton — No. 18 overall
5-star DT Maason Smith — No. 19 overall
5-star CB Ga'Quincy McKinstry — No. 23 overall
5-star OLB Smael Molden — No. 27 overall
How many of these elite players will commit over the course of the next few weeks? Check back here in October to see which players are still waiting to make their final decisions.
GOOD READS
SEC EAST PREVIEW
Florida and Georgia are again expected to battle it out for the SEC East title. Who will earn a trip to Atlanta?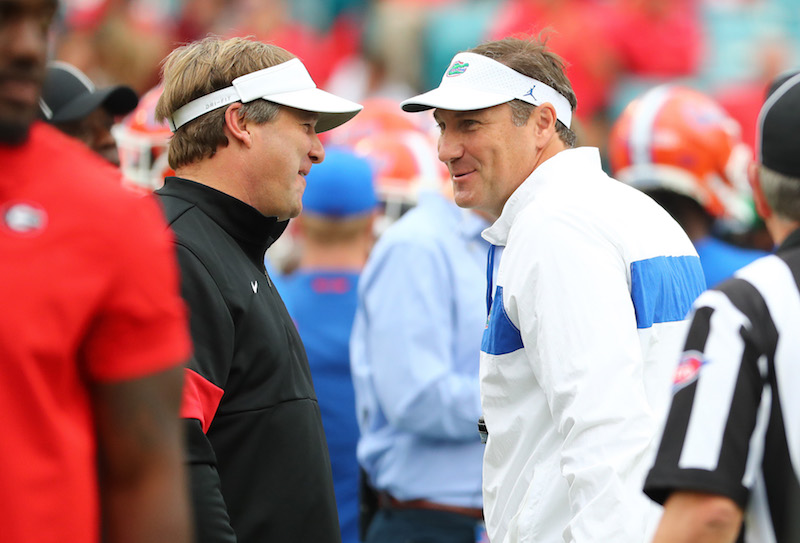 The SEC East is going to be tough this year. Georgia and Florida are considered the top two teams in the division, but Tennessee is on the rise, Kentucky is a strong squad under Mark Stoops, South Carolina has some talent and Mizzou is a wildcard under first-year head coach Eli Drinkwitz. Still, many think the winner of the annual Florida-Georgia game will once again represent the East in the SEC Championship Game in Atlanta.
So, let's focus on those two teams. Georgia has won the last three SEC East titles. What to the Gators need to do to make sure that streak doesn't reach four? Here's what's being said about the SEC East race heading into the 2020 season:
Florida's offense returns a few key players this fall. The Gators have perhaps the top returning quarterback in the conference in Kyle Trask. Meanwhile, at tight end, Kyle Pitts is one of the best in the country. FOX Sports analyst Urban Meyer heaped praise on Pitts, calling him a "matchup nightmare." The receiving corps also avoided heavy losses in the receiving corps. Trevon Grimes, Jacob Copeland and Kadarius Toney were all considering opting out, but they're all going to play. Saturday Down South's Neil Blackmon writes that the Florida receiving corps should be just fine this year.
Georgia, on the other hand, has a QB battle on its hands. After losing Jake Fromm to the NFL, the Bulldogs brought in graduate transfer Jamie Newman from Wake Forest. Then, they also landed USC QB JT Daniels as a transfer and he was granted a waiver from the NCAA to play in 2020. Newman seemingly has the edge. Per coach Kirby Smart, Daniels hadn't been cleared for full contact as of Saturday's scrimmage. First-year OC Todd Monken praised Newman's passing ability and Daniels' athleticism. Outside of the quarterback position, though, the Dawgs got some bad news recently, as WR Dominick Blaylock tore his ACL during practice.
Media members think there could be a changing of the guard this year. FOX Sports' "Big Noon Kickoff" analysts Matt Leinart, Reggie Bush, Urban Meyer and Joel Klatt ranked their top five SEC teams for 2020. Leinart, Klatt and Meyer all had Florida ahead of Georgia, with Meyer having the Gators at No. 1. Dan Mullen would agree with that assessment. He said recently that the Gators have championship potential. Beating the Bulldogs won't be easy, though. ESPN's Football Power Index gives Georgia a 61.4% chance to win the game in Jacksonville on Nov. 7.
Again, in a year like this, there could be surprises, but the Gators and Bulldogs are both considered top 10 teams. We'll see how they look coming out of the gates against Ole Miss and Arkansas, respectively, but Nov. 7 will certainly be a date to circle on your calendars. The SEC East race could once again come down to the game in Jacksonville.
JUST FOR FUN
Since taking over as Alabama's head coach in 2007, Nick Saban has only lost 23 times. The list of coaches who have beaten Saban includes legends like Urban Meyer (twice), Bobby Bowden, Bob Stoops and others. But, only seven current FBS head coaches have taken down Saban (accounting for 13 of the 23 losses). Can you name the seven current coaches to beat Saban-led Alabama squads?
Scroll down to see the answers to today's quiz.
BYU AT NAVY
Navy will host BYU in the first big FBS matchup of 2020. Who will win the Monday primetime game?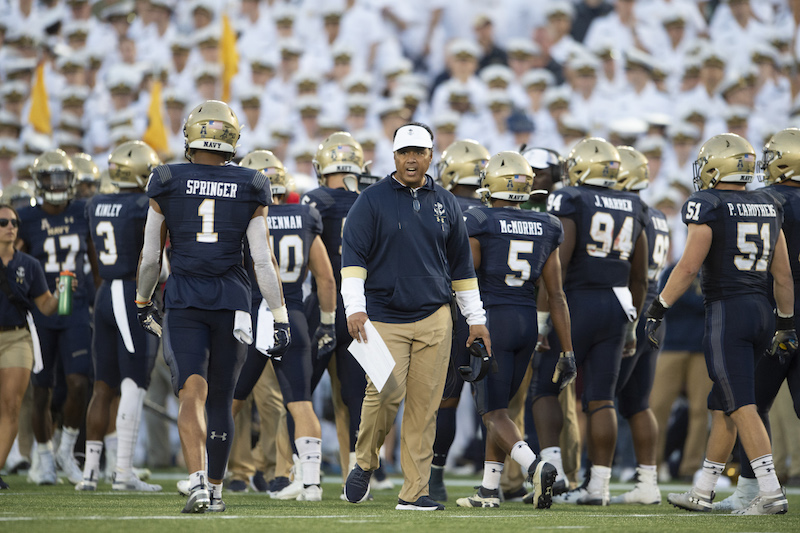 It's going to feel like college football is officially back on Monday night. No, this Labor Day Weekend isn't going to be like normal, but at least on Monday at 8 p.m. Eastern time, we can sit down in front of our TVs and listen to Rece Davis and Kirk Herbstreit call a game.
That game will be coming to us live from Annapolis, Maryland, where the Navy Midshipmen will play host to the BYU Cougars. So, who has the edge in that first big FBS game? Let's break down some storylines to keep an eye on for Monday's contest:
It will be a matchup of two coaches of Polynesian descent. Ken Niumatalolo is entering his 13th full season as Navy's head coach, while Sitake is entering Year 5 at BYU. KSLSports.com's Mitch Harper explored the connections between Niumatalolo and Sitake, including that they both called a certain small town in Hawai'i home for a while.
The Midshipmen are trying to replace a legend at quarterback. Malcolm Perry, who ran for 2,017 yards and 21 touchdowns in 2019 (and added 1,084 yards and 7 scores as a passer), is now a member of the Miami Dolphins. The Midshipmen are expected to turn to senior Dalen Morris as Perry's replacement. Sports Illustrated's Casey Lundquist explains what Morris brings to the table. Meanwhile, KSLSports.com's Matt Baiamonte breaks down a few things to watch with BYU's depth chart.
So, who has the edge in this matchup of teams with different styles? Well, ESPN's Football Power Index heavily favors the team that runs the triple-option. The FPI gives Navy a 67.9% chance to win on Monday night. However, BYU, which only has 8 games currently scheduled this year (such is life as an independent during a pandemic), is expected to do just fine in 2020. The FPI projects the Cougars to finish the year with a record of 6-2.
Central Arkansas and Austin Peay provided plenty of excitement in the FCS opener on Saturday. Will this weekend's slate of games live up to that example? Either way, it'll be exciting to have multiple games to watch on Saturday before Monday's showdown in Annapolis.
ANSWERS
Here are the answers to today's Nick Saban losses quiz. The seven current FBS coaches to beat Saban are:
Gus Malzahn, Auburn — 3 times
Les Miles, Kansas — 3 times (all while he was at LSU)
Dabo Swinney, Clemson — 2 times
Hugh Freeze, Liberty — 2 times (both while he was at Ole Miss)
Ed Orgeron, LSU — 1 time
Kevin Sumlin, Arizona — 1 time (while he was at Texas A&M)
Kyle Whittingham, Utah — 1 time
QUOTE OF THE DAY
"There's a lot of speculation in the league that Dabo Swinney, who has been on the shortlist of multiple head coaching searches, could be a coach that teams want to talk about, and this would really be the perfect storm and here's why — he's immensely popular in that area of the country. And if he could go with Trevor Lawrence from Clemson right down the road in Jacksonville, with all those picks and all those cap that cap room, that's the ideal situation."
– Former NFL GM Mike Tannebaum explains why Clemson coach Dabo Swinney could seriously consider a move to the NFL this coming offseason. Will Trevor Lawrence and Swinney reunite next year with the Jacksonville Jaguars? That will certainly be a story to watch.
TWEET OF THE DAY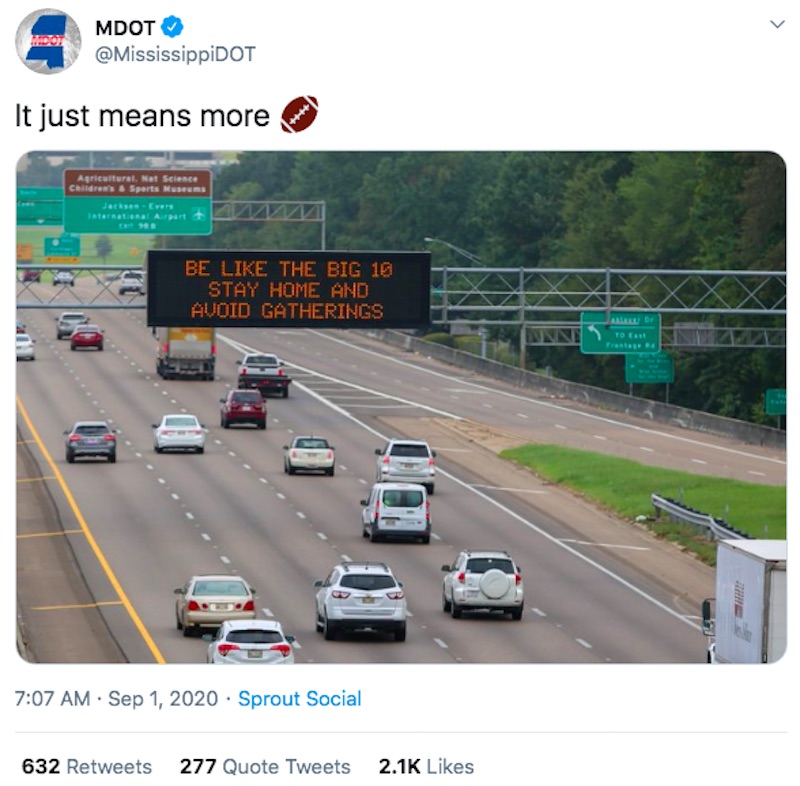 The Mississippi Department of Transportation took a playful shot at the Big Ten this week with a sign on a major highway. As you can see above, the sign reads "Be like the Big 10. Stay home and avoid gatherings."