BIG TEN
Saturday Football: Mac Jones for Heisman, Pac-12's CFP hopes and Cocktail Party
The Saturday Football newsletter goes out to subscribers up to 3 days a week and discusses the major events going on around the nation in college football. You can subscribe by clicking here.
Good morning and happy Friday! With the Pac-12 returning tomorrow, we'll now have a full slate of college football games, as all 10 FBS conferences are back in action. Yes, there are still games being canceled or postponed on a weekly basis due to COVID-19, but it's nice to see so many games on the schedule.
As we prepare for our busiest weekend of football yet, there are a few big stories to discuss. We'll start with Alabama QB Mac Jones's meteoric rise to Heisman frontrunner. Then, we'll preview Saturday's huge Cocktail Party between Georgia and Florida. Finally, we'll discuss whether or not a Pac-12 team can crash the Playoff. Let's get started, shall we?
MAC JONES FOR HEISMAN?
Alabama QB Mac Jones has been incredible this year. Is he the current Heisman frontrunner?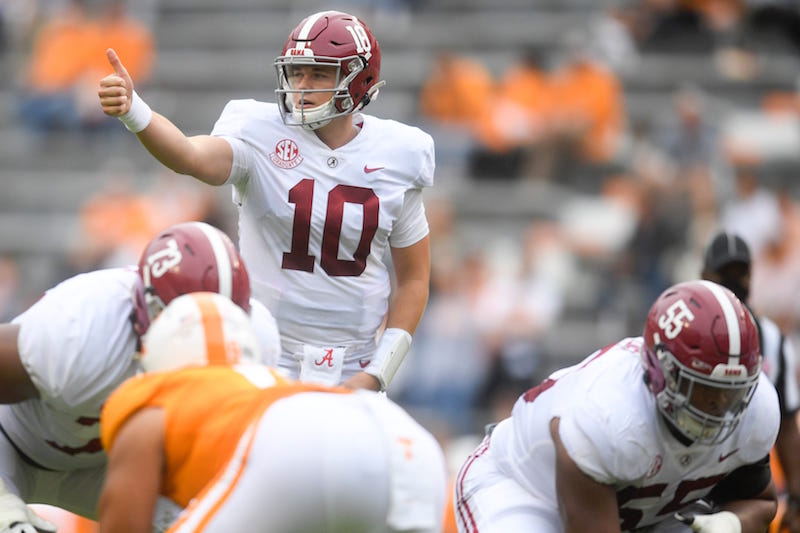 Many (not all, but many) Alabama fans, and college football fans in general, thought the Crimson Tide offense could take a step back this year. Tua Tagovailoa left for the NFL, where he was the No. 5 overall pick in the draft. That left Mac Jones as the likely starter, though many thought 5-star freshman Bryce Young could challenge for the job.
Instead, Jones has been absolutely incredible. Through six games, he has thrown for 2,196 yards, 16 touchdowns and 2 interceptions. Those are legitimate Heisman numbers, especially when you consider that the Tide are 6-0. So, can Jones actually win the trophy? Let's take a look at the Alabama QB's candidacy:
Many see Jones's meteoric rise as similar to Joe Burrow's. The reigning Heisman winner from LSU went undefeated and won a national title. FOX's Joel Klatt declared a couple of weeks ago that Jones is "the new Joe Burrow." High praise, indeed. Meanwhile, Rivals' Tony Tsoukalas broke down how Jones's numbers stack up against Burrow's.
Plenty of national analysts are hopping on the Jones Heisman train. ESPN's Heisman Watch currently has Jones as the top Heisman contender. Jones also leads the way in Saturday Down South columnist Matt Hinton's weekly SEC QB rankings. ESPN's Jesse Palmer went as far as to say the Heisman is Jones's to lose. Former Heisman winner Tim Tebow also has Jones as the frontrunner.
So, if Jones is a Heisman candidate, what does that mean for his NFL stock? He's only a redshirt junior, so he could still return to school in 2021. But, the last three Heisman winners (Burrow, Kyler Murray and Baker Mayfield) were all the No. 1 overall pick in their respective NFL Drafts. Jones, however, isn't getting much Round 1 buzz. ESPN's Todd McShay and Mel Kiper Jr. debated Jones's NFL prospects recently, and they said his lack of experience starting hurts him, but did add that he was rising quickly on big boards everywhere.
There's a lot of football left to be played, but it's safe to say there aren't many people who saw this explosion from Mac Jones coming. Not only is he the current Heisman frontrunner in many analysts' eyes, he also has the Tide positioned to potentially win a title. Can he continue this level of play? That'll be exciting to watch down the stretch.
KEY LINES
This is a big weekend of college football, as No. 1 Clemson takes on No. 4 Notre Dame and No. 5 Georgia squares off with No. 8 Florida. There will be some College Football Playoff hopes dashed, but those aren't the only big games of the week.
Which teams are heavy favorites as we enter another exciting Friday and Saturday slate of games? Here are some of the key lines of the week (via DraftKings Sportsbook):
Friday, Nov. 6
No. 9 BYU (-3) at No. 21 Boise State
No. 11 Miami (-10.5) at NC State
Saturday, Nov. 7
No. 23 Michigan (-3) at No. 13 Indiana
No. 25 Liberty at Virginia Tech (-14)
Arizona State at No. 20 USC (-11)
No. 18 SMU (-17.5) at Temple
UMass at No. 16 Marshall (-44.5)
No. 5 Georgia (-3) vs. No. 8 Florida
Houston at No. 6 Cincinnati (-13.5)
Kansas at No. 19 Oklahoma (-37.5)
No. 14 Oklahoma State (-12) at Kansas State
No. 7 Texas A&M (-9.5) at South Carolina
Baylor at No. 17 Iowa State (-13.5)
No. 1 Clemson (-5.5) at No. 4 Notre Dame
Stanford at No. 12 Oregon (-8)
South Alabama at No. 15 Coastal Carolina (-18)
That makes four ranked teams that have to lose this week. Will we see any additional major upsets? It should be another exciting weekend, especially with every FBS conference now back on the field!
GOOD READS
COCKTAIL PARTY PREVIEW
Georgia and Florida meet in Jacksonville with an SEC East title on the line. Who will win this important game?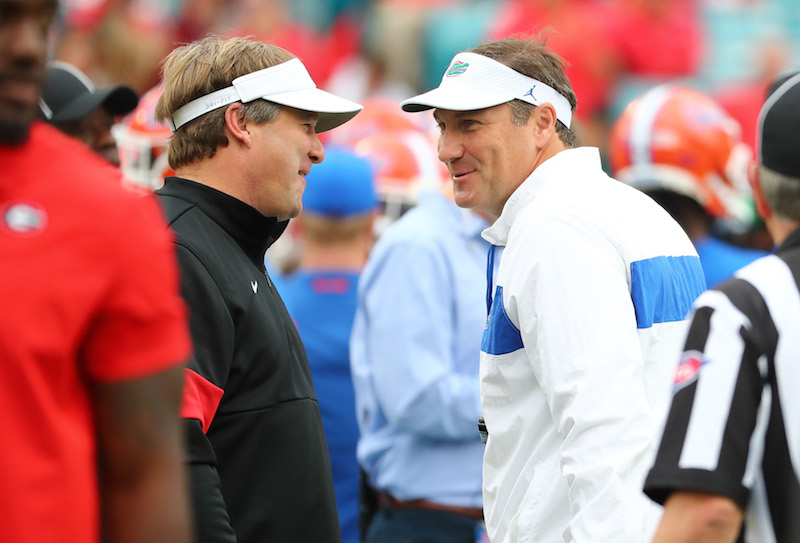 On Wednesday, we discussed Georgia QB Stetson Bennett IV and whether or not he was still the Bulldogs' best option. However, there are plenty of other storylines as we approach Saturday's Cocktail Party in Jacksonville between Georgia and the Florida Gators. The SEC East title is presumably on the line, and with that comes a trip to Atlanta to (again, presumably) face the Alabama Crimson Tide in the SEC Championship Game.
So, who will win this important matchup? And, what should we be watching for on Saturday afternoon? Let's take a look at what's being said about this heated rivalry game:
This is a big game for Georgia coach Kirby Smart. The Gators have a legitimate Heisman candidate at quarterback in Kyle Trask, while the Dawgs face questions about Bennett. SEC Network host Paul Finebaum said this week that a loss to the Gators will make Georgia fans question whether Smart made a mistake letting Justin Fields get away. Indeed, quarterback play is a big concern for many analysts. CBS Sports' Danny Kanell noted that Georgia's stagnant passing game is a major hindrance. However, Saturday Down South's Sydney Hunte noted five reasons why the Bulldogs can get the win in Jacksonville this weekend.
Meanwhile, Georgia has its hands full with Florida's offense. It isn't just Trask doing the damage. Kyle Pitts is the best tight end in the country and Kadarius Toney has developed into an all-around receiver. Smart said those two will create matchup problems for the Dawgs. However, this game is still important to Trask. All the great Florida quarterbacks have dominated Georgia, and Saturday Down South's Neil Blackmon writes that Trask needs a win on Saturday to cement his Gator legacy. Blackmon also listed five reasons the Gators will win the Cocktail Party.
As mentioned earlier, the winner will likely get to go to Atlanta. So, which of these two teams has the best chance of pulling off an upset over the Tide, winning the SEC title and getting into the Playoff? Well, ESPN analysts Kirk Herbstreit and Jesse Palmer both think it's Georgia. Herbstreit said he doesn't think Florida can play with Alabama. Meanwhile, Palmer said Jaylen Waddle's season-ending injury gives the Bulldogs a chance against Alabama in a potential rematch.
Will the Gators turn the tides in the SEC East back in their favor? Or, will the Bulldogs make it four wins in a row against their biggest division rivals? One Florida commit predicted a 40-0 win for the Gators. We don't think it'll be that lopsided, but anything can happen. Tune in to CBS at 3:30 p.m. Eastern time on Saturday afternoon to find out who wins!
JUST FOR FUN
Currently, there are 12 FBS programs that have played at least two games and are undefeated. For today's quiz, can you name those 12 FBS squads that are 2-0 or better?
Scroll down to see the answers to today's quiz.
PAC-12 PLAYOFF HOPES
The Pac-12 resumes play this weekend. Can the conference get a team into the College Football Playoff?
The Pac-12 will embark on its 2020 season starting tomorrow. Teams will only be playing seven games, and even that number might be a stretch. Cal-Washington has already been canceled due to COVID-19 concerns, so if one of the league's top teams misses a game, it could be enough for the College Football Playoff committee to shy away from putting a top Pac-12 team in the Playoff field.
But, in 2020, anything can happen. Thus, the question must be asked — can the Pac-12 end its three-year CFP drought? Here's a look at what people are saying about the Pac-12's Playoff chances:
As things stand, Oregon might be the Pac-12's best hope. The Ducks are at No. 12 in the AP Poll as they prepare to start the season, which makes them the top-ranked team in the Pac-12. ESPN's Mark Schlabach and CBS Sports' Jerry Palm both have Oregon making the Playoff as things stand now. ESPN's Kirk Herbstreit also said he can see a path to the Playoff for the Ducks.
There's another team to keep an eye on, though — USC. The Trojans look like the favorites to win the Pac-12 South, which would put them in striking distance of the Playoff. ESPN analyst Joey Galloway cited USC's returning experience as a big reason he thinks the Trojans are the Pac-12's best Playoff hope. 247Sports analyst Barton Simmons agrees, breaking down how USC can enter the Playoff picture. The Trojans are No. 20 in the AP Poll right now, though, so they have further to rise than Oregon.
Others aren't as confident in the Pac-12's chances this year. ESPN's Bill Connelly wrote about how the Pac-12's late start is a huge hindrance to the Ducks and Trojans. San Francisco Chronicle columnist Bruce Jenkins says the Pac-12 actually lost its best CFP chance when commissioner Larry Scott didn't argue harder for the Playoff to be expanded to eight teams for 2020.
If Oregon or USC (or another surprise Pac-12 team) goes 7-0 and looks like a world-beater during this pandemic-shortened season, it certainly would be worthy of Playoff consideration. Right now, Alabama, Ohio State and Clemson/Notre Dame look like three locks. Anything can happen for that fourth spot. Why not a Pac-12 team?
ANSWERS
Here are the 12 FBS programs that currently have a record of 2-0 or better:
Clemson — 7-0
BYU — 7-0
Alabama — 6-0
Coastal Carolina — 6-0
Liberty — 6-0
Notre Dame — 6-0
Cincinnati — 5-0
Marshall — 5-0
Ohio State — 2-0
Purdue — 2-0
Northwestern — 2-0
Indiana — 2-0
We know either Clemson or Notre Dame will lose this weekend. Will any other undefeated squads go down?
QUOTE OF THE DAY
"He tried to practice today. He practiced a little bit. It wasn't very good. It was hurting. So we're going to see again tomorrow and see how much he can practice next week. Right now, I'd have to say he's very doubtful the way it is."
– LSU coach Ed Orgeron didn't sound too optimistic after starting QB Myles Brennan returned to the practice field after suffering an injury against Mizzou earlier this season. The Tigers are off this week, but face Alabama on Nov. 14 and might be without Brennan.
TWEET OF THE DAY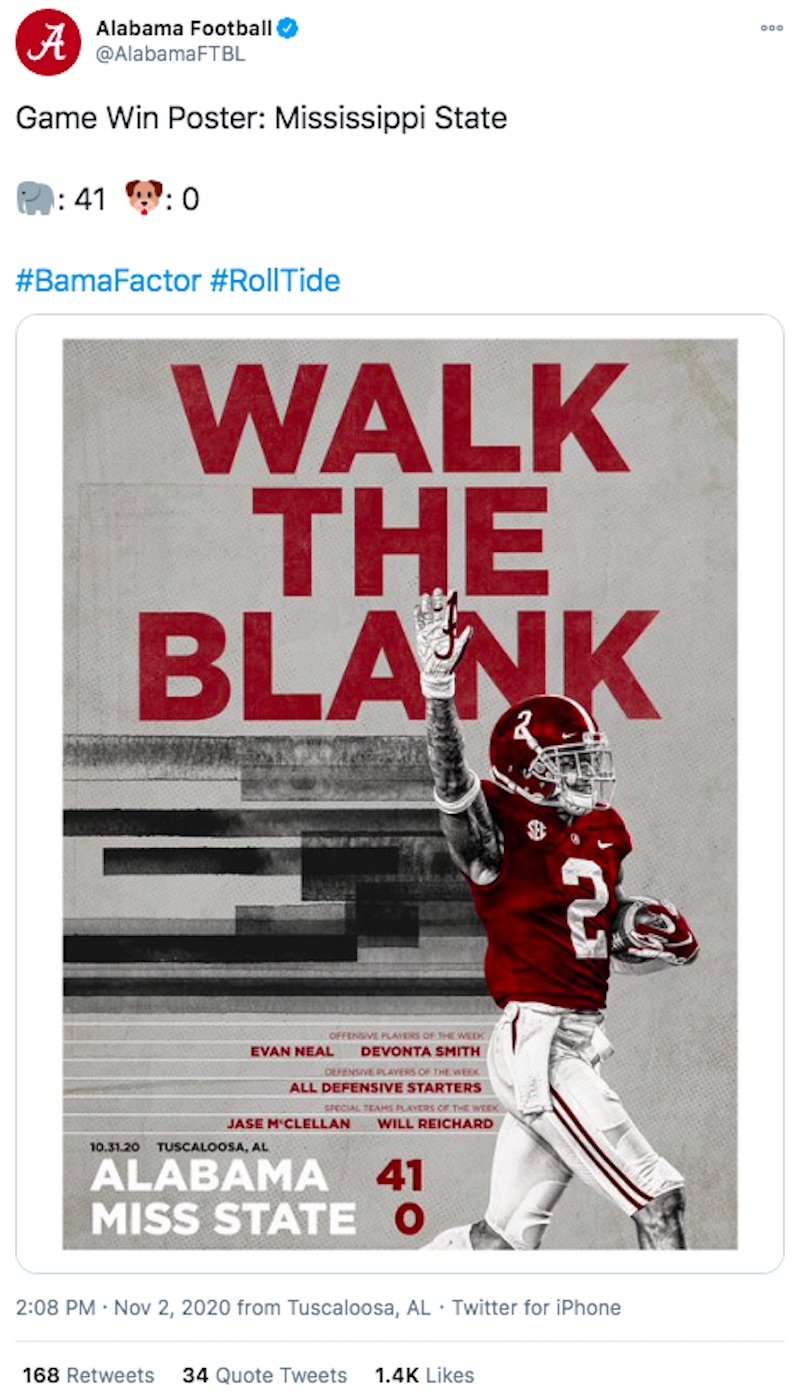 Alabama trolled Mississippi State coach Mike Leach after handing him the first shutout loss of his career last weekend. It has been a rough few weeks for The Pirate.
This edition of the Saturday Football newsletter was written by Adam Spencer.