BIG TEN
Saturday Football: Mike Gundy, Tua's durability and fans vs. no fans
The Saturday Football newsletter goes out to subscribers up to 3 days a week and discusses the major events going on around the nation in college football. You can subscribe by clicking here.
Good morning and happy Monday! We hope you had a great Easter Sunday and are recharged for another long week of lockdown. The debate about when it will be safe to resume sports continues, and it doesn't appear it is any closer to being finalized. That's to be expected, though, since it is only April.
Still, there are some important stories to talk about today, from some comments made by Oklahoma State coach Mike Gundy to former Alabama QB Tua Tagovailoa's injury history. We'll also give you some good reads to get you through the week and play some trivia. Let's get started!
MIKE GUNDY COMMENTS
Mike Gundy made some controversial comments last week. Was his apology sufficient?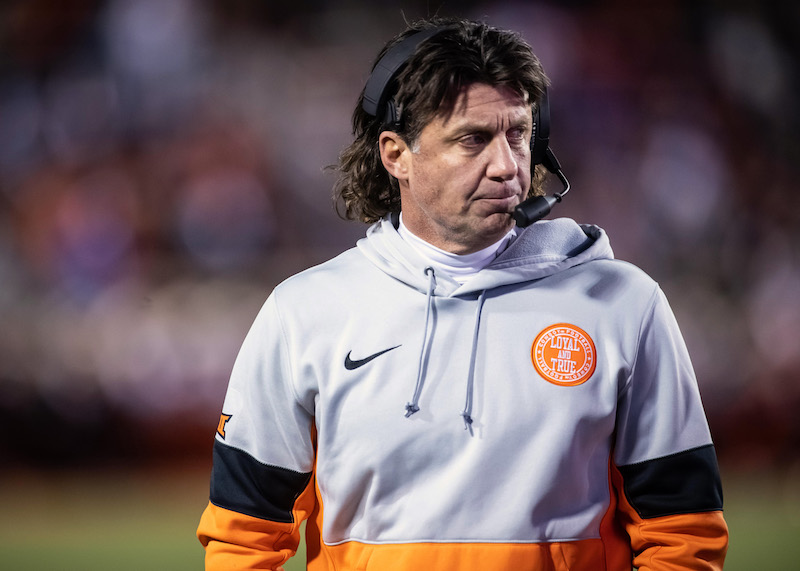 Oklahoma State coach Mike Gundy has never been afraid to speak his mind. Sometimes, that leads to some incredible interviews ("I'm a man! I'm 40!"). Other times, that tendency gets him in trouble. The latter is what happened last week.
So, what did Gundy say and what has been the reaction to it? Let's break down the latest news coming from the Oklahoma State coach:
As the COVID-19 outbreak continues, it is unclear when sports will resume. Last week, Gundy said he'd like to get the Cowboy players back on campus and back in action on the football field by May 1. He said the young college athletes are healthier than most people, so the risk of severe coronavirus complications is lesser for them. NCAA Chief Medical Officer Brian Hainline said there's no date set for the return of football.
That drew widespread criticism from media members and some fans. After Gundy's comments, USA TODAY's Dan Wolken wrote a scathing column, saying Gundy's words show he cares more about making money than for the health of his players. As the backlash against Gundy continued into the latter part of the week, SEC Network's Paul Finebaum also ripped into the Oklahoma State coach, saying he's having a worse week than Mike Leach or Dabo Swinney (other coaches who have created controversy recently). "(T)here's not a dumber, more out-of-touch or tone deaf figure in college sports that can top Mike Gundy," Finebaum said.
Finally, on Saturday, Gundy issued an apology for his statements. However, the apology was short and only apologized for offending anyone. Gundy said, "It was never my intention to offend anyone, and I apologize." Many media members didn't find that issued statement to be very sincere.
It doesn't look like football will be back by May 1, or even mid-May, like Gundy wants. When will it return? That's a question no one knows the answer to yet. There's still a lot that must be done, but there is some cautious optimism among many experts that the season will be played at some point.
GOOD READS
TUA'S DURABILITY
Tua Tagovailoa defended himself against an "injury-prone" label. Can he hold up at the NFL level?
When the first round of the 2020 NFL Draft kicks off on Thursday, April 23, former Alabama QB Tua Tagovailoa is expected to hear his name called pretty quickly. Tagovailoa could go as high as No. 1 overall (though former LSU QB Joe Burrow is currently projected at No. 1), and will almost certainly be off the board by the time the No. 7 pick comes along.
Still, concerns about his injury history surfaced again this week. So, is Tagovailoa "injury-prone" or just the victim of bad luck? Let's take a look at the discussion around the talented quarterback's health:
Former NFL GM Mike Lombardi got the discussion started again. On a podcast this week, Lombardi said he's heard a couple of NFL teams have "flunked" Tagovailoa during their grading process. "It's not just his hip," Lombardi said. "It's his ankle. It's his wrist. He broke his wrist the first day of spring ball one year. … He's brittle. He is brittle. You can't deny it. He's a really good player."
However, Tagovailoa himself disagrees with that assessment. In comments made to former Alabama OC Mike Locksley, Tagovailoa defended his durability. "I'm not playing badminton," Tagovailoa said. "I'm not on the swim team. This is a physical sport. You're gonna get hurt. That just comes with it. It's just very unfortunate I got hurt each season. It's a part of the game. It's a contact sport. I can only control what I can control. I can't control that."
Tagovailoa has many supporters in the media, as well. Former NFL doctor David Chao took to Twitter to explain why calling Tagovailoa "injury-prone" is foolish in this lengthy thread. Meanwhile, ESPN's Dan Orlovsky, a former NFL QB himself, said he actually thinks Tagovailoa doesn't get enough credit for the toughness he's shown at Alabama. Then there's Clemson coach Dabo Swinney. Swinney said he's a huge fan of Tua's and wouldn't pass on him at the draft.
Recently, some of Tagovailoa's makeshift Pro Day footage made its way online. The former Alabama star looks pretty smooth in the videos. Will NFL teams be convinced? We'll find out if he goes in the top 5 or takes a bit of a tumble on April 23.
JUST FOR FUN
Today, let's do another matching game. Can you match the FBS schools to the correct bird nickname? See how many you get right below:
Bowling Green
Georgia Southern
Louisiana-Monroe
Miami (Ohio)
UTSA
A: WarHawks
B: Roadrunners
C: Eagles
D: Falcons
E: RedHawks
Scroll down to see the answers to today's quiz.
FANS VS. NO FANS
Will the 2020 college football season be played this fall? If so, will fans be allowed to attend?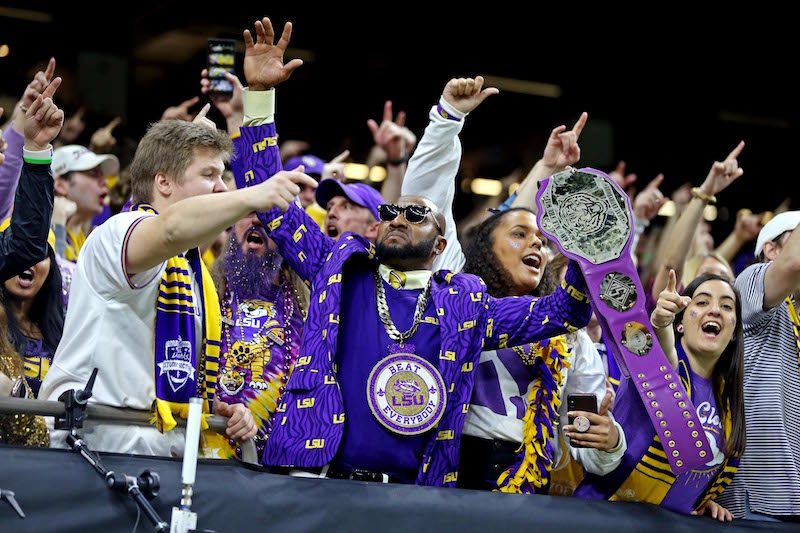 As the COVID-19 pandemic continues to dominate headlines across the globe, chances are the picture above hits you both with a cringe for the people gathering so closely together and a longing to get back to the days when crowds were things that were allowed to happen. Currently, all major sports are on hiatus, and it isn't clear when they'll return.
If the 2020 college football season does start on time, there's a chance no fans will be allowed to attend. Would we as a society rather have games played with no fans or wait until stadiums can be safely filled again? Let's take a look at what's being said about that topic:
While it would definitely be weird to have football without fans, if the experts and doctors say it's safe to play games in front of empty stadiums, that's probably what FBS schools will decide to do. Football revenue is huge for athletic departments across the country, so as soon as they get the green light from the experts, it'll be game on, whether fans are able to attend or not.
ANSWERS
Here are the answers to today's school-bird mascot matching game:
1D — Bowling Green Falcons
2C — Georgia Southern Eagles
3A — Louisiana-Monroe WarHawks
4E — Miami (Ohio) RedHawks
5B — UTSA Roadrunners
QUOTE OF THE DAY
"The governors of the states and mayors are going to be the ones who tell you whether we can do it because the NCAA can say, 'Hey, you guys are all going back' and if (California) Governor (Gavin) Newsom says, 'We're not going back' then we're not going back. I'm not well-versed in infectious diseases. I'll leave that to the Dr. Faucis of the world, who I've got a lot of faith in. When I listen to him talk, it seems like he's got a pretty good grasp of it, so when he says 'Go,' we'll go."
– UCLA coach Chip Kelly had some insightful thoughts on who really has the power to bring sports back when things are safe from the COVID-19 pandemic.
TWEET OF THE DAY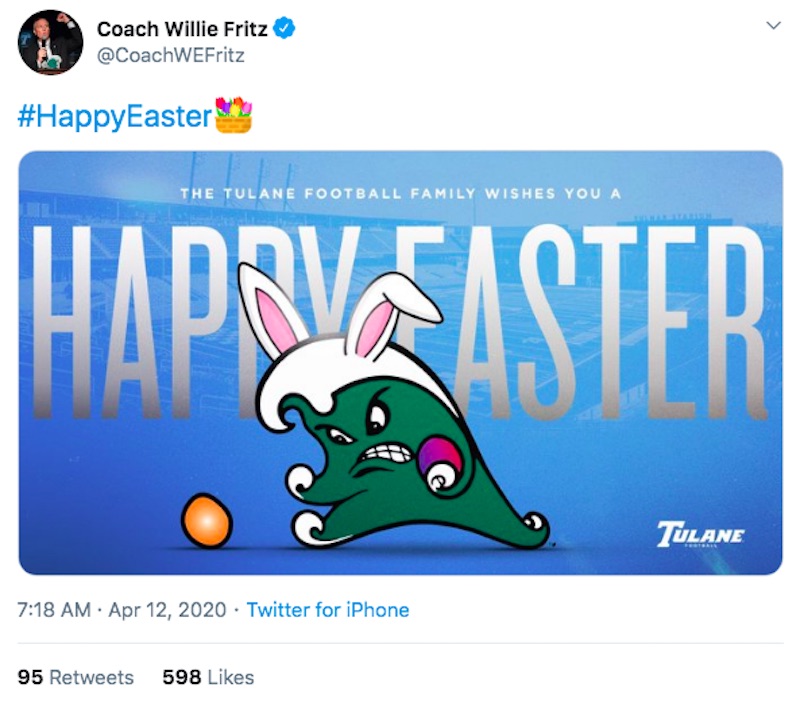 The Tulane mascot won Twitter on Easter Sunday with this perfect edit. The wave has Easter Bunny ears and a white top of his head. Why is he so angry at that egg? We may never know.