BIG TEN
Saturday Football: Power 5 schedules, Pac-12 demands and face shields
The Saturday Football newsletter goes out to subscribers up to 3 days a week and discusses the major events going on around the nation in college football. You can subscribe by clicking here.
Good morning and happy Monday! We have officially made our way into August, and as expected, decisions are starting to be made about the 2020 college football season. Yes, the COVID-19 pandemic is still dominating headlines, but plans to play football this fall are being finalized.
Today, we'll discuss those plans, including Power 5 conference schedules. Then, we'll dive into a potentially huge looming roadblock in the Pac-12. We'll also update the current 2021 recruiting rankings. Let's get started with today's Saturday Football newsletter!
POWER 5 SCHEDULES
Power 5 schedules are starting to take shape for the 2020 season. What will they look like?
In the buildup to the 2020 season, there are different plans for each Power 5 conference amid the COVID-19 pandemic. Some are still planning on nonconference games, but three of the five have eliminated that possibility and will keep things league-only.
So, let's take a look at some of the Power 5 plans, including some quirks involved in the scheduling process. Here's the latest on what the 2020 season should look like:
Every conference now has a projected starting date for games. The Big 12 is still planning on playing a full season (nonconference games included) and will kick things off in the original Week 0 on Aug. 29. The Big Ten will follow on Sept. 5, then the ACC on Sept. 7. The SEC and Pac-12 won't start until Sept. 26. The Pac-12 was originally scheduled to start on Sept. 19, but pushed it back to match the SEC's start date. (We'll have much more on the Pac-12 in the next major section.)
The SEC and ACC aren't having their four rivalry games this year. The ACC had a plan in place to allow for those games, but the SEC decided on a 10-game, conference-only slate. Commissioner Greg Sankey explained the rationale behind that decision. This is something Alabama coach Nick Saban has said would be a good idea for years now. So, naturally, he expressed his support for 10 conference games. No one, not even Texas A&M AD Ross Bjork, knows exactly what the SEC schedule will look like this year, though.
What will the postseason look like if everyone plays conference teams only? That's a good question, and it's still being sorted out. One bowl game — the Redbox Bowl in California — has been canceled after not finding a new host venue. What about the College Football Playoff? Executive director Bill Hancock said the fundamental mission of the selection committee won't change. In sports other than football, reports surfaced this week that the Power 5 conferences could decide to hold their own championships, separate from NCAA jurisdiction.
Whatever happens this year, things are going to be weird. The pandemic has already had an effect on the college football season, and it will surely stay front and center until games are supposed to start later this month. We'll see what happens when the Big 12 starts play the last weekend of the month.
TOP 2021 RECRUITING CLASSES
Now that we've flipped the calendars to August, more of the top 2021 recruits have made their college choices. And, even more will commit this month. Alabama had a great July, shooting all the way up to No. 2 in the rankings, but the Tide have some work left to do to catch Ohio State.
Below, you can take a quick look at the current recruiting rankings (via the 247Sports composite rankings) and which big-name schools are doing the best work on the recruiting trails:
Ohio State — 19 players, 4 5-stars, 12 4-stars
Alabama — 16 players, 4 5-stars, 9 4-star
Clemson — 15 players, 1 5-star, 13 4-stars
Oregon — 18 players, 1 5-star, 12 4-stars
Tennessee — 24 players, 1 5-star, 9 4-stars
LSU — 16 players, 0 5-stars, 14 4-stars
USC — 18 players, 0 5-stars, 12 4-stars
Michigan — 21 players, 1 5-star, 10 4-stars
North Carolina — 17 players, 0 5-stars, 11 4-stars
Miami — 21 players, 1 5-star, 9 4-stars
Several top recruits have already announced commitment dates for August, so we'll see how these top-10 rankings change moving forward. Check back in September!
GOOD READS
PAC-12 DEMANDS
A group of Pac-12 players is threatening to boycott the 2020 season. Will their demands be met?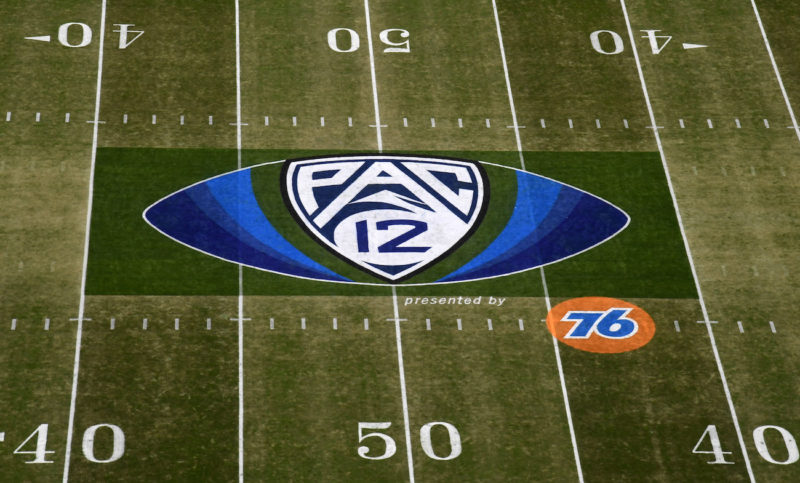 As mentioned in the previous section, the Pac-12 has agreed to start on the same day as the SEC for the 2020 season, and will also play a 10-game, conference-only campaign. However, there's a potentially huge roadblock looming on the horizon for the conference.
Let's take a look at a movement that is growing among Pac-12 players. They have a list of demands they want met before they'll take the field this fall. Here's the latest from the West Coast:
Again, this movement from Pac-12 players just surfaced in a big way over the weekend. There is still more than a month before games in the conference are scheduled to start. However, the Pac-12 and its leaders need to address this in a hurry if there is going to be a football season this fall.
JUST FOR FUN
This week, let's see how much you remember about the final AP Poll from last season. We'll give you four pairs of teams. You pick the one that finished higher in the final 2019 AP Poll. So if the two schools were LSU and Clemson, you'd say LSU. Got it? Here we go:
Oklahoma and Florida
Penn State and Wisconsin
Memphis and Appalachian State
Texas and Boise State
Scroll down to see the answers to today's quiz.
COVID FACE SHIELDS
Football helmets are being equipped with COVID-19 face shields. The early reactions aren't promising.
Top medical experts believe the COVID-19 virus is transmitted mainly through droplets exchanged between humans. That's why face masks are supposed to be worn to slow the spread. For football players, that means equipping helmets with shields so sweat, coughs, sneezes and other droplet-causing events are minimized.
As schools equip the face shields, though, the feedback hasn't been very positive. Let's take a look at this face shield story:
When the first look at the face shields popped up, there were questions. First, would they be able to avoid fogging up. Obviously, that would be difficult for football players to deal with. Here's what the face shields looked like on LSU's helmets. A look at Texas's face shields can be found here.
Another big concern? Elite athletes need to be able to breathe freely. And, let's just say a couple of LSU players aren't exactly fans of the new helmet add-ons. In this video (WARNING: NSFW language), LB Soni Fanua offers a very frank assessment of the breathability. OL Austin Deculus says they're like breathing in a Ziploc bag. That's not a good sign. We'll see if changes are made moving forward.
Players aren't going to be the only ones wearing face shields. Some coaches will be donning face shields during practices and/or games this fall. Mack Brown's North Carolina staff will wear shields during practices and maintain social distance with 6-foot sticks. That makes sense, as many coaches fall in the older age group that is seemingly affected more severely by COVID-19.
There's still time to improve the face shields that will go on helmets this fall, but it certainly isn't encouraging to hear those LSU players' first reactions. We'll see moving forward what additional safety measures are put in place at the FBS level to protect players' health.
ANSWERS
Here are the answers to today's final AP Poll quiz:
Florida — No. 6 to Oklahoma's No. 7
Penn State — No. 9 to Wisconsin's No. 11
Memphis — No. 17 to Appalachian State's No. 19
Boise State — No. 23 to Texas's No. 25
QUOTE OF THE WEEK
"I'd like to play Alabama when they've played seven straight and we're their eighth."
– Tennessee AD Phillip Fulmer hopes the Vols' 2020 schedule is favorable when it comes to the Alabama game.
TWEET OF THE WEEK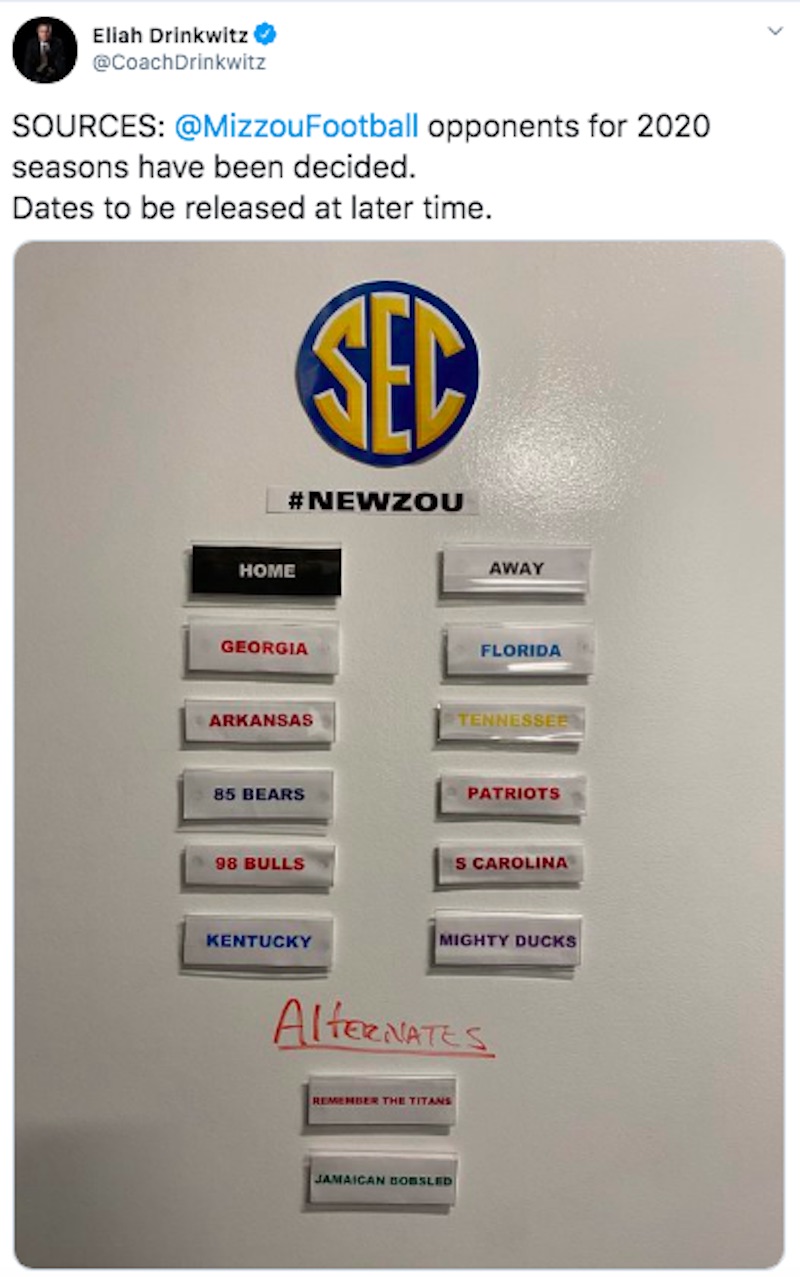 Mizzou coach Eli Drinkwitz showed off his sense of humor with this tweet about the Tigers' potential 2020 schedule. If we're being honest, though, Mizzou would mop the floor with the Mighty Ducks!