BIG TEN
Saturday Football: Recruiting drama, GoFundMe problems and more coronavirus
The Saturday Football newsletter goes out to subscribers up to 3 days a week and discusses the major events going on around the nation in college football. You can subscribe by clicking here.
Good morning and happy Monday! We hope you are staying safe and taking precautions to slow the spread of the coronavirus. The pandemic has made its way into the college football world and has continued to be a major topic of discussion this past week.
Today's top stories all involve the virus in one way or another. Let's take a look at what is being said out there in the college football world this week, shall we?
CORONAVIRUS
Kirk Herbstreit said he'd be surprised if we had football this fall. What's the latest on the 2020 season?
The sports world has come to a halt as a COVID-19 outbreak continues to sweep the globe. There's a chance that it extends into the fall, which would put the college football season in jeopardy. It's still early, of course, but people are talking and looking into alternative plans.
Last week, some comments made by ESPN's Kirk Herbstreit made headlines, and for good reason. Let's take a look at what Herbie said and the reaction it caused:
Herbstreit said that he doesn't think there will be football this fall. That's a strong statement coming from him. "In my opinion, until we have a vaccine, where we've really got some control over this, even if this curve is flattened out, this virus is still out there," Herbstreit said. "I'll be shocked, I haven't talked with anybody but I'll be shocked if we have NFL football this fall, if we have college football."
Herbstreit followed up on those comments after the stir it caused. "I hope and pray there is a football season," he said on The Paul Finebaum Show. "I hope we are in a position where we can have a football season. I'm not trying to create drama or hysteria, I'm just trying to be real." FOX Sports personality Jason Whitlock criticized Herbstreit for the comments, saying it's way too soon to be discussing not having a football season since it is five months away.
Still, changes could be made to the season, according to reports. One report from the weekend suggested that the season could be moved up, taking place in July, August and September to avoid a potential second outbreak of the coronavirus. However, one Power 5 official scoffed at that suggestion.
Again, it's still early to make a final decision about the 2020 season. There are far more important bridges to cross before we reach that point, but football is still important to so many people. We'll see what happens over the next couple of months.
GOOD READS
TREVOR LAWRENCE
Trevor Lawrence started a GoFundMe for coronavirus relief. Why did it cause so much drama?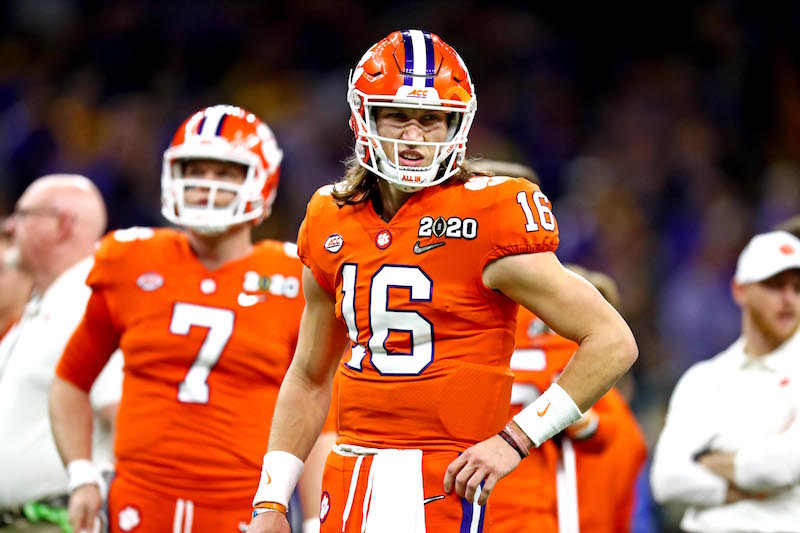 Last week, Clemson QB Trevor Lawrence was back in the headlines. He and his girlfriend, Anderson University soccer player Marissa Mowry, started a GoFundMe to help raise money for South Carolina organizations that are helping those in need during the COVID-19 outbreak.
A nice story, right? Well, as these things often do when they involve college athletes, it became quite complicated. Let's dive into the story:
Lawrence and Mowry said the NCAA shut down their fundraiser. In a since-deleted video on Mowry's Instagram page, that's what the duo said, but it wasn't entirely accurate. Instead, it seems the Clemson compliance department asked for Lawrence to take it down out of an abundance of caution surrounding NCAA rules.
Many immediately took issue with the NCAA for the drama. However, the NCAA quickly issued a statement saying it did not, in fact, ask for Lawrence to take down the fundraiser. According to one report, the NCAA has actually reached out to athletic departments to allow athletes to support charitable causes during this time.
Fortunately, this story has a happy ending for everyone. Lawrence and Mowry were able to restart their fundraising, and you can find the page here. Based on all of this publicity and drama surrounding the fundraiser, maybe they'll be able to raise even more money for those in need.
Other athletes are sure to follow suit. It's great to see a pair of college athletes helping their community. We all need to come together during this dark time. At least the NCAA is putting aside its usual rules about athletes and fundraising.
JUST FOR FUN
Today, let's do another matching game. This will be our toughest city-school matching game yet! We'll give you five FBS schools and five cities and you match them up. Ready? Here we go:
Old Dominion
Texas State
UMass
New Mexico State
Louisiana Tech
A: San Marcos
B: Ruston
C: Amherst
D: Norfolk
E: Las Cruces
Scroll down to see the answers to today's quiz.
RECRUITING DRAMA
The NCAA has issued a ban on in-person recruiting. Is everyone playing by the rules?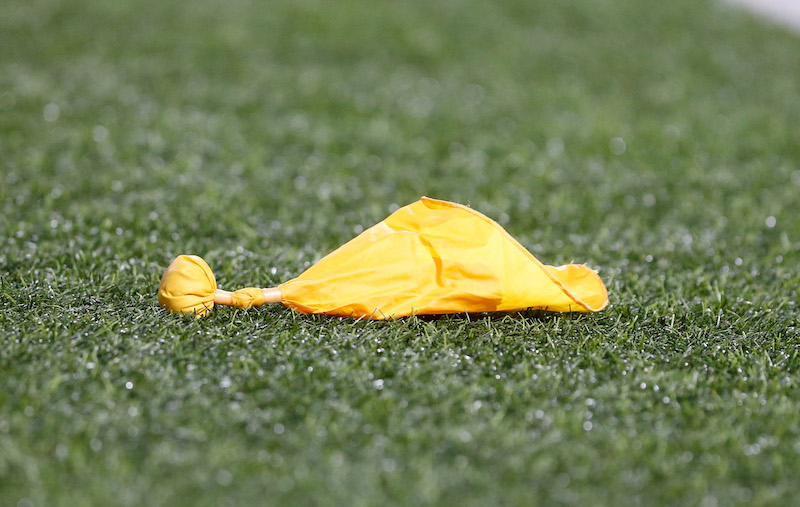 With the COVID-19 outbreak infecting people across the globe, the NCAA made the decision to suspend all in-person recruiting until at least April 15. That makes sense, but it has obviously made things a bit difficult for players in the 2021 class and coaches across the country.
Under this strange recruiting period, there are new rules and creative ways to get into contact with players. Let's take a look at this latest situation:
It's important to keep the playing field level for all teams. Over the weekend, the NCAA said it has heard reports about some potential violations of the in-person recruiting ban. It has also issued a warning to teams that continue to recruit illegally. "We are mindful of the circumstances and challenges on campus," NCAA VP of Enforcement Jon Duncan said. "But at the same time, we're obligated to keep the infractions process moving."
Certain teams are finding creative ways to keep recruiting legally. Recently, Texas A&M assistants set up a Madden tournament, pitting coaches against recruits. Penn State coach James Franklin said the Nittany Lions are giving virtual tours of their facilities. It's certainly time to get creative.
Coaches aren't used to having so much down time right now. How are they adjusting to these unique times? ESPN's staff spoke with coaches like Alabama's Nick Saban and Baylor's Dave Aranda and put together a piece about how coaches are spending their time these days.
We'll see how long the recruiting ban lasts, but it could be a while. Recruits are still committing and narrowing their lists of top schools. This cycle is going to be one of the strangest on record. We'll see what other creative ways schools find to land top players for their 2021 classes.
ANSWERS
Here are the answers to today's school-city matching game:
1D — Old Dominion-Norfolk
2A — Texas State-San Marcos
3C — UMass-Amherst
4E — New Mexico State-Las Cruces
5B — Louisiana Tech-Ruston
QUOTE OF THE DAY
"He looks as good, if not better, than he did pre-injuries. Now, to his credit, he has worked – I don't have the words to express the lonely work he's done to come back from this."
– Former NFL QB Trent Dilfer thinks Tua Tagovailoa might be even better than he was before his hip injury.
TWEET OF THE DAY
If we do get college football this fall, Big 12 commissioner Bob Bowlsby said it's possible there won't be fans in the stadiums.