BIG TEN
Saturday Football: SEC hot seats, Big 12 CFP hopes and upset alert
The Saturday Football newsletter goes out to subscribers up to 3 days a week and discusses the major events going on around the nation in college football. You can subscribe by clicking here.
Good morning and happy Friday! There's another loaded weekend of college football ahead of us, starting with Louisville at Georgia Tech tonight. There have been some alterations made to the schedule due to Hurricane Delta, but for now, only one game (Coastal Carolina at No. 23 Louisiana) has been postponed.
In today's newsletter, we'll take a look at some ranked teams on upset alert, discuss SEC coaching hot seats and also dive into this weekend's showdown between Texas and Oklahoma and whether each of the disappointing Big 12 powers can turn their seasons around. Let's get started with today's newsletter!
SEC HOT SEATS
A few SEC coaches are struggling in 2020. How hot are these seats getting?
With the COVID-19 pandemic affecting college athletics budgets across the country, many analysts have speculated that struggling coaches could get a reprieve this year. After all, with budget shortfalls, paying massive buyouts to coaches won't look great. Still, the SEC has deep pockets and not much patience, so there are a few coaches who need to improve if they don't want to get the ax.
So, who are the SEC coaches on the hottest seats as the league prepares for Week 3 action? Let's take a look at some of the grumblings from around the conference:
The hottest seat in the SEC belongs to South Carolina's Will Muschamp. The CoachesHotSeat.com rankings have him on the second-hottest seat in the country, behind only USC's Clay Helton. The biggest question about Muschamp's 0-2 Gamecocks this season has been clock management late in games. Ryen Russillo of The Ringer called it "brutal." Muschamp has had to field several questions about a plodding fourth-quarter drive against Florida, and he's said the offense needs to speed things up. This weekend, South Carolina heads to Nashville to take on an equally desperate 0-2 Vanderbilt team. Vandy coach Derek Mason is also on the hot seat, so he knows how important this game is. "We need the win. Just like South Carolina does," he said.
Next, we'll head to Auburn, where the Gus Malzahn roller coaster continues. The Tigers trounced Kentucky in Week 1 before getting crushed at Georgia in Week 2. Fans were not happy with Malzahn after that loss to the Bulldogs. This weekend, they host a resurgent Arkansas team. Plenty of questions abound about new OC Chad Morris and the offense. SEC Network host Paul Finebaum says Malzahn's past decisions don't bode well for this year's offense.
A coach taking a surprising amount of heat is Texas A&M's Jimbo Fisher. In Year 3 of a fully guaranteed 10-year contract, Fisher's Aggies were expected to take a step forward. Instead, the Aggies barely beat Vanderbilt in Week 1 and were routed by Alabama last week. Now, a tough Florida team comes to College Station. Saturday Down South's Chandler Vessels went as far as to call it a "must-win" game for the Aggies. Even with all the opt-outs the Aggies have suffered, SDS's Connor O'Gara says it's time to stop making excuses for Fisher's A&M team. SDS's Matt Hayes compared Fisher's tenure at A&M to another 2018 SEC hire — Florida's Dan Mullen. Considering the upward trajectory of the Gators, Hayes writes that makes this game even more important for the Aggies.
We've already seen one college coach (Southern Miss's Jay Hopson) part ways with his school. Will we see some changes in the SEC? It seems highly unlikely that all four coaches mentioned above will be let go, but anything is possible. If these guys don't start winning some big games, their seats will continue to heat up.
KEY LINES
Even with some hurricane-related shuffling and some COVID-19 issues around the country, there's still a full slate of college football games scheduled for Saturday. And, among those games are three matchups of ranked teams (Miami-Clemson, Florida-Texas A&M and Virginia Tech-North Carolina).
So, as we prepare for another week of exciting college football action, which teams are expected to win some of the biggest games on the schedule? Here's a look at some of the key lines as of Thursday evening:
No. 19 Virginia Tech at No. 8 North Carolina (-4.5)
Oklahoma (-2) vs. No. 22 Texas
No. 4 Florida (-6.5) at No. 21 Texas A&M
No. 17 LSU (-14.5) at Mizzou
No. 14 Tennessee at No. 3 Georgia (-12.5)
Texas Tech at No. 24 Iowa State (-12.5)
UTSA at No. 15 BYU (-35)
Arkansas at No. 13 Auburn (-13.5)
No. 7 Miami at No. 1 Clemson (-14)
No. 2 Alabama (-23.5) at Ole Miss
Florida State at No. 5 Notre Dame (-21)
Will we see more chaos in the rankings like we have in the Big 12 in recent weeks, with Oklahoma and Texas both being disappointments thus far? Or, will this be a chalk weekend, with the favorites taking care of business? Tune into some of the big games tomorrow to find out!
ROCKY TOP HIGH
Has Jeremy Pruitt brought Tennessee all the way back? We'll find out on Saturday.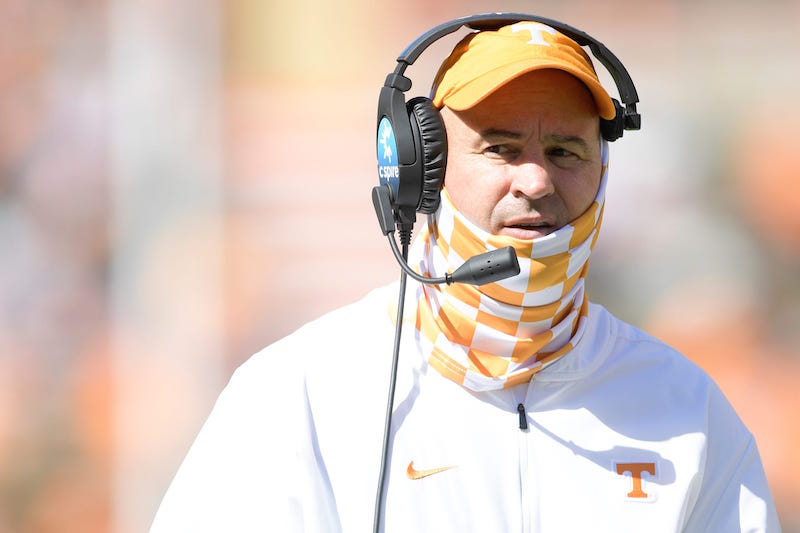 No. 12 Tennessee has a ton of momentum heading into Saturday's matchup at No. 3 Georgia as the Vols currently have the longest winning streak in the SEC. The progress made on Rocky Top in just a season's time has been nothing short of remarkable. Tennessee was sitting at 0-2 to start last season after losing to both Georgia State and BYU in Neyland Stadium, which led many to question whether coach Jeremy Pruitt was in over his head.
One season later and Tennessee has reached the doorstep of becoming a legitimate SEC contender — and perhaps, national title contender. For all the progress Tennessee has made, the next step will undoubtedly be the toughest as Georgia has as much talent as any team in the nation, led by perhaps the best defense Kirby Smart has fielded during his impressive coaching career.
While Vol Nation may enter Saturday's matchup believing Tennessee returns to Rocky Top with a W, the rest of the nation is going to need to see it before buying into the Volunteer hype once again. Tennessee seems to be stuck in an endless hype cycle every 3-5 years, only to fail to live up to the expectations. That's not entirely Pruitt's fault, and neither is Tennessee's current 33-game losing streak to top 10 opponents, but the Volunteer coach has yet to put much of a scare into elite competition during his time on Rocky Top. ESPN's Football Power Index doesn't have much faith in the Vols, either, giving them only an 11.6% chance to win in Athens.
During Pruitt's tenure at Tennessee, the Vols have not only failed to challenge the elite SEC programs standing in their way, they've gotten destroyed nearly every time out. During Pruitt's first season in 2018, Florida beat Tennessee 47-21, No. 2 Georgia beat Tennessee 38-12, and No. 1 Alabama defeated Tennessee 58-21. The following season was much the same. No. 9 Florida dismantled Tennessee 34-3, No. 3 Georgia again beat the Vols 43-13 and No. 1 Alabama outlasted Tennessee 35-13 after Jarrett Guarantano's inexplicable goal line fumble, which was returned for a touchdown and broke the Vols' back during the process in the upset bid.
Will Tennessee finally manage to secure a top 10 win? Pruitt sounded confident immediately after Tennessee beat Missouri 35-12 on Saturday. "You know, the last two years we've played (Georgia), they've had a really good football team, I'm sure that — I've not even watched them — but I'm sure they'll have a really good football team this year. I mean, they've got good players, they've got good coaches, but we do too," Pruitt said. "That's why I came to Tennessee, that's why these players came to Tennessee, to play in games like this, we're looking forward to it."
That sounds great and all, but until Tennessee actually pulls off a victory over a top 10 opponent, Pruitt's program isn't "back," and no one should make that statement until it happens.
GOOD READS
RED RIVER SHOWDOWN
This year has been disappointing for Oklahoma and Texas so far. Is either team still in the Big 12 race?
Typically, the Red River Showdown between Oklahoma and Texas is one of the most anticipated rivalry games of the season. But with the Sooners entering at 1-2 and the Longhorns sitting at 2-1, this year's matchup lacks some of the appeal. We're only three games into the season and both teams are considered out of the College Football Playoff race. Not to sound like an ESPN 30 for 30 clip, but what if I told you that wasn't the case?
With just one loss, Texas is hardly out of the conversation, especially considering the already-wild season we've experienced. A win over Oklahoma would offset the loss to TCU and have the Longhorns back in the College Football Playoff conversation. The Sooners would obviously need some help, but with games against Texas, Oklahoma State and TCU on the schedule, OU could be in a great spot to compete for a spot in the Big 12 Championship Game at the end of the year. But before we talk about that, let's dive into this year's Red River Showdown matchup:
There's one Big 12 team sitting around this weekend that's going to take particular interest in this game — Oklahoma State. The 10th-ranked Cowboys are a perfect 3-0 (the only unbeaten left in the conference) and still have games against Texas, Oklahoma, Iowa State and Kansas State left on the schedule. Mike Gundy's squad would have to feel pretty good about its chances to compete for a league title if both Oklahoma and Texas have two losses after just three conference games.
Oklahoma State also got a huge boost with QB Spencer Sanders returning to practice and working at "full speed," according to Gundy. Right now, there's a good chance that the state of Oklahoma is still represented in the College Football Playoff, but it's the Cowboys, not the Sooners, currently in the driver's seat for one of the four spots.
JUST FOR FUN
As of right now, three of the Power 5 conferences have started their seasons — the ACC, Big 12 and SEC. Entering this weekend's action, those three conferences have a total of 10 undefeated teams. For today's quiz, can you name those 10 undefeated teams?
Scroll down to see the answers to today's quiz.
UPSET ALERT
Upsets have been happening every week this season. How many could be in store on Saturday?
Last weekend saw some incredible upsets across the country. In fact, the same could be said of almost every weekend since the 2020 season kicked off. Thus, it seems fair to say that a few ranked teams will fall this weekend, too.
The Big 12, in particular, has been a hotbed for upsets this year. So, which top 25 teams are on upset alert this weekend? Let's start with a Big 12 team:
Will we see any of these teams go down on Saturday? Will we see other top teams fall? Everything is in play this season. We've already had a handful of teams ranked in the top 10 suffer upset losses, so nothing can surprise us this weekend (probably).
ANSWERS
Here are the 10 undefeated teams from the ACC, Big 12 and SEC as things stand right now:
Clemson (ACC) — 3-0
Miami (ACC) — 3-0
North Carolina (ACC) — 2-0
Virginia Tech (ACC) — 2-0
Notre Dame (ACC) — 2-0
Oklahoma State (Big 12) — 3-0
Alabama (SEC) — 2-0
Georgia (SEC) — 2-0
Florida (SEC) — 2-0
Tennessee (SEC) — 2-0
How many of those teams will keep their records intact? Miami-Clemson, North Carolina-Virginia Tech and Georgia-Tennessee matchups ensure at least three teams mentioned above will lose this weekend.
QUOTE OF THE DAY
"Well, I think he's probably right. I wouldn't disagree with him. I guess I would ask, when he's my age, what's he going to do? It's a little bit of a disadvantage to be my age and have a hip replacement. I still pride myself on my ability to cover. I just don't think I could cover him."
– Alabama coach Nick Saban had a great response to Ole Miss coach Lane Kiffin's quip about Saban being "elderly" and unable to cover him one-on-one. This new SEC West rivalry is already incredible.
TWEET OF THE DAY
First-year Washington coach Jimmy Lake has plenty of experience facing Mike Leach's offenses when Leach was at Washington State. He's confident Leach's Mississippi State team will score plenty of points in the SEC this year.
This edition of the Saturday Football newsletter was written by Adam Spencer, Dustin Schutte and Michael Bratton.