BIG TEN
Saturday Football: Should we be worried about the possibility of no college football in 2020?
Good morning and happy Monday! We hope you're staying safe and remaining indoors as the COVID-19 outbreak continues to dominate headlines. We'll have more on the coronavirus situation in today's newsletter, but that's not all there is to discuss.
Today, we'll also dive into a big-time transfer and take a look at an interesting situation in the NFL. So, let's get started with today's newsletter, shall we?
CORONAVIRUS
Coronavirus continues to spread across the globe. Should we be worried about college football being canceled?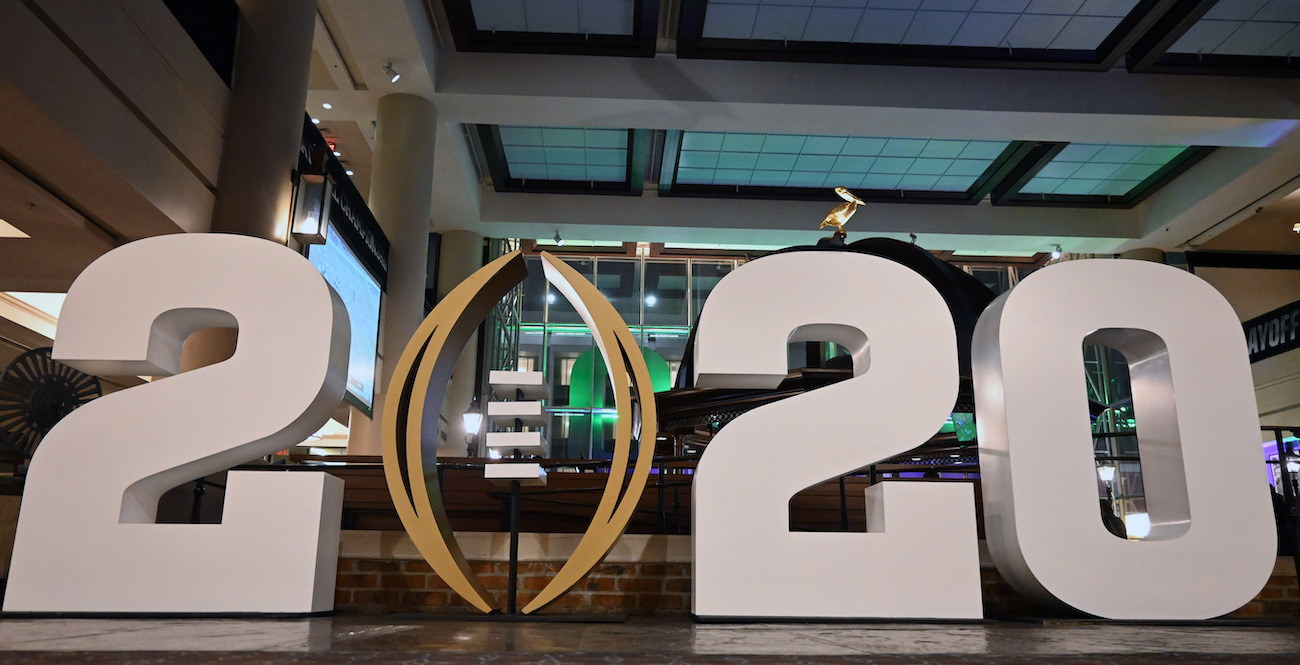 We should be watching March Madness right now, but it was canceled. Spring sports are supposed to be taking place right now, but they aren't. Canceled. There won't be any college sports until this fall, and that's assuming we are even able to have sports then.
Due to the COVID-19 outbreak, it's worth wondering if fall sports will be canceled, too. Plenty of people are worried about that possibility. Let's take a look at some of the headlines surrounding that possibility:
It's up to all of us to stop the spread of COVID-19. That's the message our country's leaders are trying to get out there. Coach Ed Orgeron has done a PSA and given speeches about staying inside. USA TODAY's Dan Wolken writes that college football coaches need to do even more to help get the message out to the public. He writes that if we as a nation don't take things seriously, we're going to lose the 2020 season of college football.
Could the NCAA withstand not having a football season? Well, having to cancel March Madness put a huge dent in their revenue streams, but losing football would hurt just as much. Florida AD Scott Stricklin and UCF AD Danny White both expressed concern recently to the Orlando Sentinel about what a season without college football would do to the NCAA financially. "From a financial standpoint, if we're not playing football games in the fall, it will shake the foundation of college athletics," Stricklin said.
Even if the season does take place, there will be ramifications. Without spring practices, coaches are losing valuable time to get a read on their players for this fall. Saturday Down South's Connor O'Gara recently discussed a few reasons why the lack of spring practices is a big deal for coaches everywhere.
Facing a fall without college football is a scary proposition. There are many reasons to take the coronavirus outbreak seriously, and this is one of them. Stay tuned over the next few months, because there is certainly going to be a lot of discussion about it.
GOOD READS
TREY SERMON
Former Oklahoma RB Trey Sermon has chosen a new school. What impact will he have?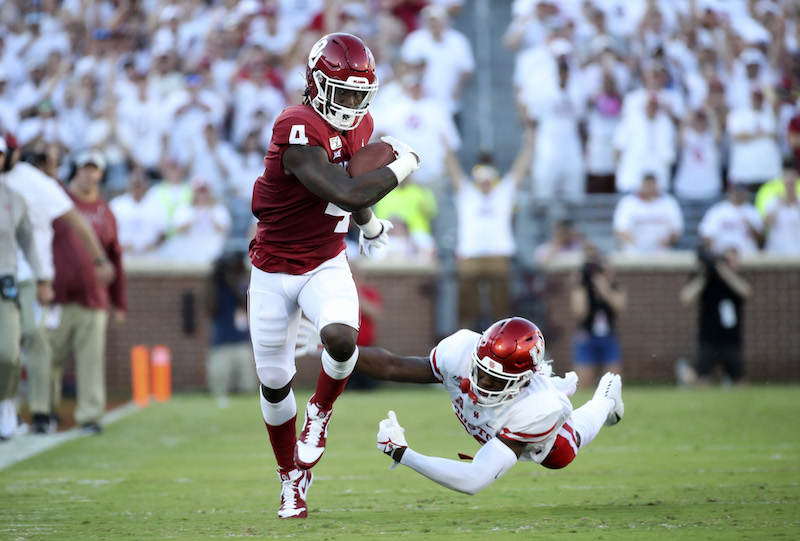 Last week, Oklahoma RB Trey Sermon decided to enter the NCAA transfer portal as a graduate transfer. He was projected to go to Ohio State, and that's exactly what ended up happening, as he made his decision official on Sunday via Twitter.
So, what does this mean for Sermon and for the Buckeyes? Let's break down some of the stories that came out of Sermon's big decision on Sunday:
There's one player who is super-excited to have Sermon in Columbus. Ohio State QB Justin Fields, a 2020 Heisman Trophy frontrunner, tweeted out a message to Sermon after the former Sooner announced he was heading to Columbus.
Interestingly, Sermon scored his first college TD at Ohio State. Remember that game where Baker Mayfield planted the Oklahoma flag at midfield of Ohio State's stadium? Yeah, it was in that game. Sermon mentioned that game when he explained to Letterman Row why he chose Ohio State. "It's kind of crazy to look back and believe that the place where I scored my first touchdown is where I'm going to be spending my final year of college football," Sermon said on Sunday morning. "I'm excited for this opportunity, I'm excited to just be with the team and I'm excited to connect with the guys. I just believe it's the best situation for me. I know that I have the opportunity to play there considering the depth, and I had a relationship with [RB coach Tony] Alford during my recruiting process coming out of high school."
Fields isn't the only one excited to have Sermon at Ohio State. Fans and media members took to social media to discuss what this means for the Buckeyes in 2020. Saturday Tradition's Dustin Schutte wrote about how Sermon's choice further widens the gap between Ohio State and the rest of the Big Ten.
Sermon's best year was in 2018, when he carried the ball 164 times for 947 yards and 13 touchdowns. He also added 181 yards as a receiver. That's what the Buckeyes will be hoping for this fall. Can Sermon deliver?
JUST FOR FUN
Today, let's do a school-state matching game. We'll give you the name of an FBS program and five states. You match the state with the school. For example, if one of the options was "Auburn," you would match it with "Alabama." Ready? Here we go:
Air Force
Kent State
Marshall
Northwestern
Temple
A: Illinois
B: Pennsylvania
C: Colorado
D: Ohio
E: West Virginia
Scroll down to see the answers to today's quiz.
JARRETT STIDHAM
Jarrett Stidham is currently in line for the Patriots' starting QB job. Is he ready to take over for Tom Brady?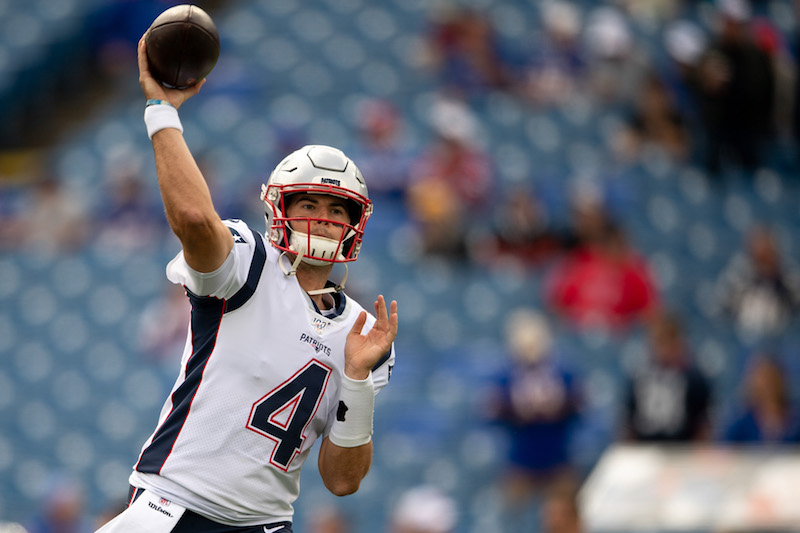 The biggest news in the football last week was six-time Super Bowl champion Tom Brady leaving the New England Patriots to join the Tampa Bay Buccaneers. This is on the same level as Joe Montana leaving the San Francisco 49ers for the Kansas City Chiefs, or Brett Favre going from the Green Bay Packers to the New York Jets (and then to the Minnesota Vikings).
Now, a couple of familiar names to Auburn fans have entered the headlines surrounding the Patriots' quarterback opening. Let's discuss Jarrett Stidham, Cam Newton and the Patriots:
Stidham was a Round 4 pick of the Pats in the 2019 NFL Draft. As Brady's primary backup last season, Stidham appeared in three games, completing two of his four passes for 14 yards and an interception. Obviously, that's not a ton of experience, but NESN's Doug Kyed broke down what Stidham's first preseason can tell us about his possible future as New England's starter.
Stidham has one big believer — Auburn coach Gus Malzahn. Recently, Malzahn spoke to reporters and Stidham's name came up. He said he thinks his former signal caller is ready to start in the NFL. "He's obsessed with being the best," Malzahn said. "When it came to studying film, he was always up in the complex watching. You couldn't chase him out of there. He was just trying to be the best. That's the way he went about everything."
Could Stidham's shot at starting be taken by another former Auburn star? Former Carolina Panthers QB Cam Newton (who led Auburn to the 2010 title and won the Heisman) is currently looking for a new team. Bill Belichick has praised Newton in the past. Malzahn also recently praised his former QB. Will he end up taking a flyer on the 2015 NFL MVP?
Everything is still up in the air, obviously, as the NFL Draft approaches and teams struggle to figure out how to evaluate players in the coronavirus era. However, Newton will be leading a team somewhere in 2020, so we'll see if Stidham, Newton or someone else takes the first snap under center for the Patriots this fall.
ANSWERS
Here are the answers to today's school-state matching game:
1C — Air Force-Colorado
2D — Kent State-Ohio
3E — Marshall-West Virginia
4A — Northwestern-Illinois
5B — Temple-Pennsylvania
QUOTE OF THE DAY
"I'm not going to let somebody say, 'Well, sports don't matter.' Sports do matter. They matter a lot. Right now, I think we are going to miss it terribly. And part of the reason why we enjoy it so much and I think are going to miss it so much is it takes our mind off other things. Let's say you're down and out about whatever in your life and you put on a basketball game, you forget everything. You're screaming and hollering and jumping up and down. On a Friday in March when the temperature finally hits 75 for the first time, you head down to Kansas and sit there and watch a baseball game or softball game or a tennis match. It's an escape, but it's also a lot of our identity."
– SEC Network host Paul Finebaum explains why sports do matter, even in times like this.
TWEET OF THE DAY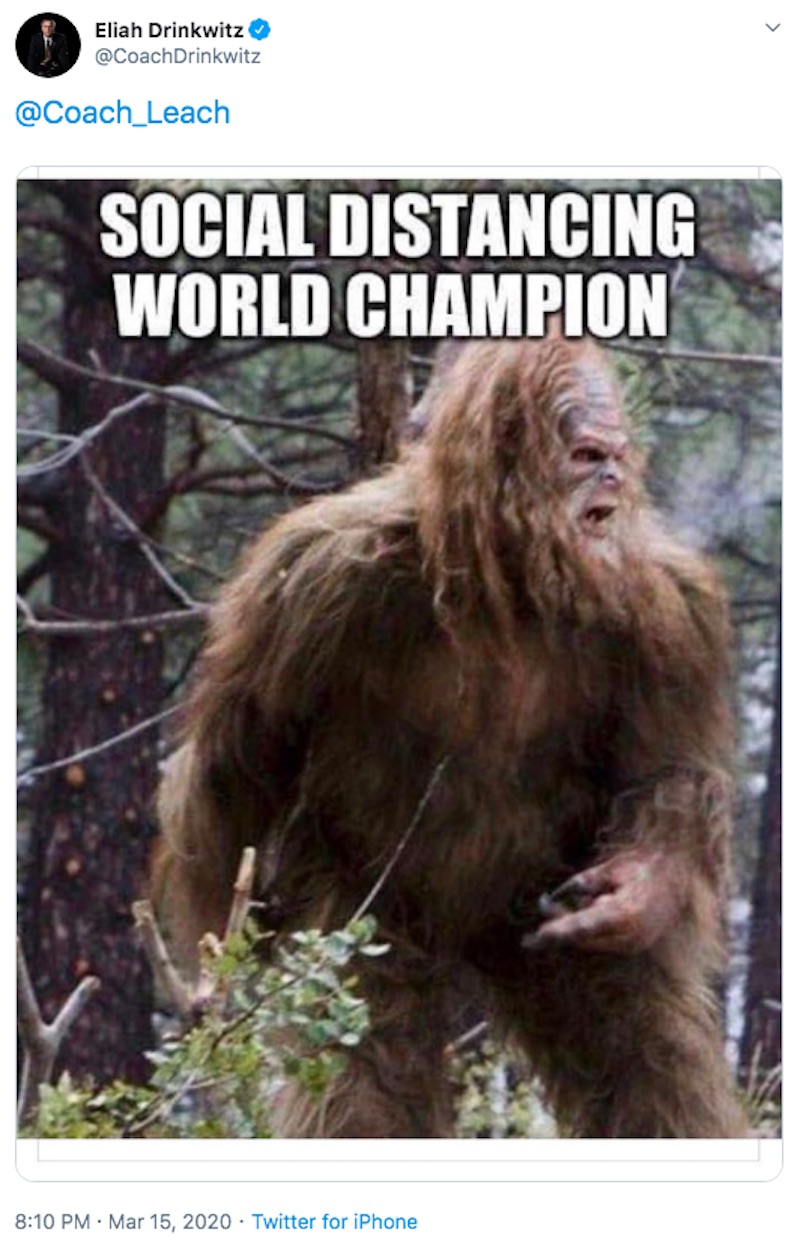 New Mizzou coach Eliah Drinkwitz clearly gets Mississippi State coach Mike Leach's sense of humor.