BIG TEN
Saturday Football: Tank for Trevor, Taulia's transfer and a college football czar?
The Saturday Football newsletter goes out to subscribers up to 3 days a week and discusses the major events going on around the nation in college football. You can subscribe by clicking here.
Good morning and happy Monday! As certain parts of the world get sports started again (the Korean Baseball Organization is playing and the German Bundesliga begins this week), it's looking more and more likely that we'll have college football in some form this year. There's still work to be done, but there is plenty of positive momentum these days.
There are also plenty of storylines emerging that are worth discussion. From the next tank-worthy prospect for NFL teams to an Alabama transfer and more, let's get started with this week's top stories!
TANK FOR TREVOR?
Trevor Lawrence is considered the top 2021 NFL Draft prospect. Will teams tank to get him?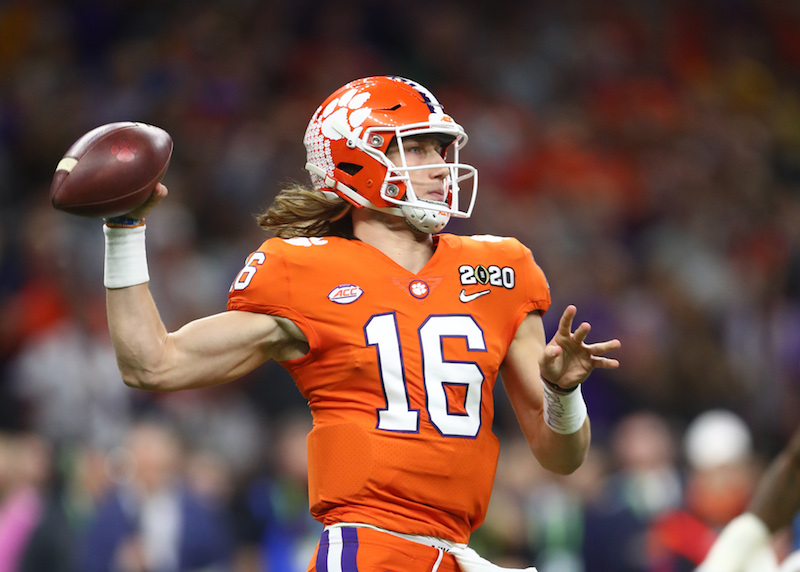 Last year, "Tank for Tua" was the hot topic heading into the NFL season. The Miami Dolphins were expected to be the team that tried to position itself for the No. 1 pick to draft Alabama star QB Tua Tagovailoa. Instead, Joe Burrow of LSU had perhaps the greatest season ever for a college football player and went No. 1 overall to the Cincinnati Bengals. The Dolphins didn't successfully tank, winning five games, but they did scoop up Tua with the No. 5 pick.
Heading into the 2020 season, Clemson QB Trevor Lawrence is the hot name on the NFL Draft boards. Yes, we explored a "Tank for Trevor" discussion a couple of months ago, but now that the 2020 draft and the bulk of NFL free agency is out of the way, it's worth revisiting this conversation:
The Panthers and Buccaneers were the original teams mentioned. However, it's possible neither of them will be in position to make the No. 1 pick in 2021, as the Bucs signed Tom Brady and traded for Rob Gronkowski. The Panthers, meanwhile, landed Teddy Bridgewater as their quarterback.
What teams remain in the mix to potentially tank for Trevor? Well, Bleacher Report listed the Redskins and Jaguars as the most-likely contenders for Lawrence. Prior to the draft, Pro Football Focus named a number of teams. The New England Patriots — Brady's old stomping grounds — could be an interesting fit. Would Bill Belichick ever actually tank, though? Hall of Fame QB Terry Bradshaw said he simply doesn't see that happening. "Are you kidding me? I would never entertain that line of thinking. That's not gonna happen," Bradshaw said. "And who's to say Trevor Lawrence is going to be the second coming? … I love this kid, but there's no guarantees in this world."
Still, entering the 2020 season, the Jaguars seem like the most-likely fit. They have the required potential opening at quarterback, as well as a roster going through change. Bleacher Report's Matt Miller had Lawrence going to the Jaguars with the No. 3 overall pick in his early 2021 mock draft. However, Jaguars coach Doug Marrone said the team won't be intentionally tanking this fall. ″[Tanking] is like an attack on the player's competitiveness," Marrone said. "If someone asked me that question, I'd take a deep breath before I answered because my anxiety level would go up fast. You don't understand why someone would even ask that. People don't understand that players and coaches are fighting for their jobs to support their families. If you do have that situation [where a team finishes with the NFL's worst record], I can promise you a lot of people are going to lose their jobs. The concept might be out there, but it's not reality in the sports world."
It's still very early in this process, obviously, but Lawrence will likely remain a hot NFL commodity all through the 2020 college football season. He could potentially return to school for the 2021 season, but if he does leave early for the draft as expected, plenty of teams will be interested. Who will hold the No. 1 overall pick? That's yet to be determined.
TOP 2021 UNCOMMITTED RECRUITS
Last week, we gave you the top 10 current 2021 recruiting classes, with Tennessee rocketing up the rankings after a huge week. This week, let's put the spotlight on the top 2021 recruits who have yet to choose the school they want to play for.
Sports Betting in Big Ten Country
There is big news coming to the upcoming 2022-23 Big Ten football season (and NFL season). Ohio online sports betting and Maryland sports betting are on the way.
21+ and present in OH. Gambling Problem? Call 1-800-GAMBLER.
So, who are the guys every top program will be chasing after over the next couple of months? Here are the 10 highest-rated recruits who have yet to commit (via 247Sports):
5-star DE Korey Foreman — No. 1 overall
5-star DE J.T. Tuimoloau — No. 2 overall
5-star OL Tommy Brockermeyer — No. 4 overall
5-star QB Caleb Williams — No. 5 overall
5-star OL Amarius Mims — No. 6 overall
5-star CB Tony Grimes — No. 7 overall
5-star WR Emeka Egbuka — No. 8 overall
5-star S James Williams — No. 11 overall
5-star OL Tristan Leigh — No. 13 overall
5-star OL Nolan Rucci — No. 14 overall
Only six of the top 20 players in the 2021 class have committed at this point. That means there's plenty of high-level recruiting to be done over the next few months. Where will these top uncommitted prospects end up? Their decisions will have a huge impact on the recruiting rankings.
GOOD READS
TAULIA TAGOVAILOA'S TRANSFER
Taulia Tagovailoa is leaving the Alabama program. Will he follow Tua to Miami?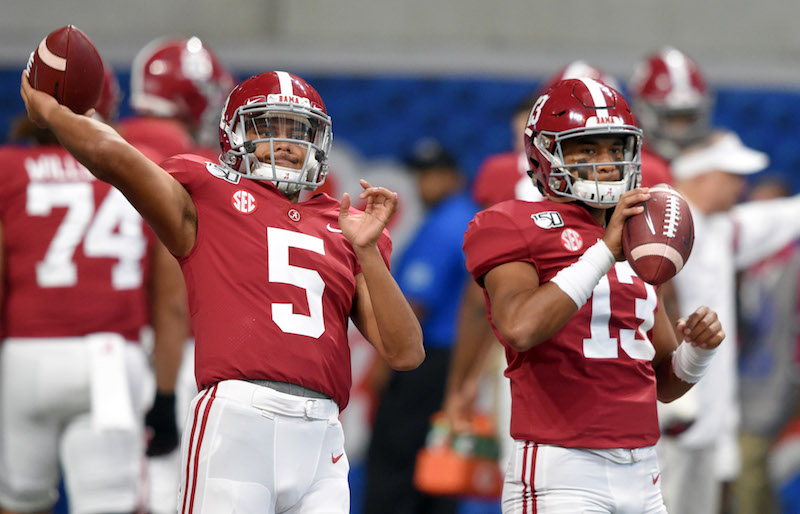 The Miami Dolphins selected former Alabama QB Tua Tagovailoa with the No. 5 overall pick in the 2020 NFL Draft. Meanwhile, the Crimson Tide prepare to enter the 2020 season with Mac Jones as their presumed starting quarterback. Then, there's 5-star freshman Bryce Young, who many consider to be Alabama's quarterback of the future. With that writing on the wall, Tua's younger brother, Taulia, entered the NCAA transfer portal last week.
So, what was the reaction nationally to Taulia's decision? And, where will the former 4-star recruit end up next? Let's take a look at the buzz around the younger Tagovailoa brother:
First, we'll take a look at the social media reaction to Taulia's decision. Plenty of people immediately predicted that he'd follow Tua to Miami, potentially transferring to the Hurricanes' program or to FIU. Here's a sampling of the Twitter reaction from around the country. Some other predictions have him going to schools like FAU, UCF, USF and even LSU.
Another interesting option could be Maryland, where Taulia has ties. Former Alabama OC Mike Locksley is the Terrapins' head coach now, so Taulia could decide to play for him. Chris Hummer of 247Sports says that wouldn't be surprising, as Locksley has a great relationship with the Tagovailoas.
So, what sort of legacy does Taulia leave behind at Alabama? Well, that's a complicated question. AL.com's Joseph Goodman tried to answer that question. He writes that Taulia's high school accomplishments shouldn't be forgotten and that the Tagovailoa family will always be royalty in Tuscaloosa.
There will be plenty of speculation about where Taulia ends up next. Will he follow his brother to a school in Miami or carve his own path? These next couple of weeks as he makes his decision will be important ones for his future in the game he loves.
JUST FOR FUN
Today, let's compare the college careers of the top-two quarterbacks taken in the 2020 NFL Draft — LSU's Joe Burrow and Alabama's Tua Tagovailoa. We'll give you five statistical categories. You tell us which of the two former SEC stars performed better in that category over the course of their entire college career. Got it? Here we go:
Touchdown passes
Completion percentage
Passing yards
Rushing yards
Rushing touchdowns
Scroll down to see the answers to today's quiz.
CFB CZAR
No one is sure what to do about the 2020 CFB season yet. Does college football need a czar?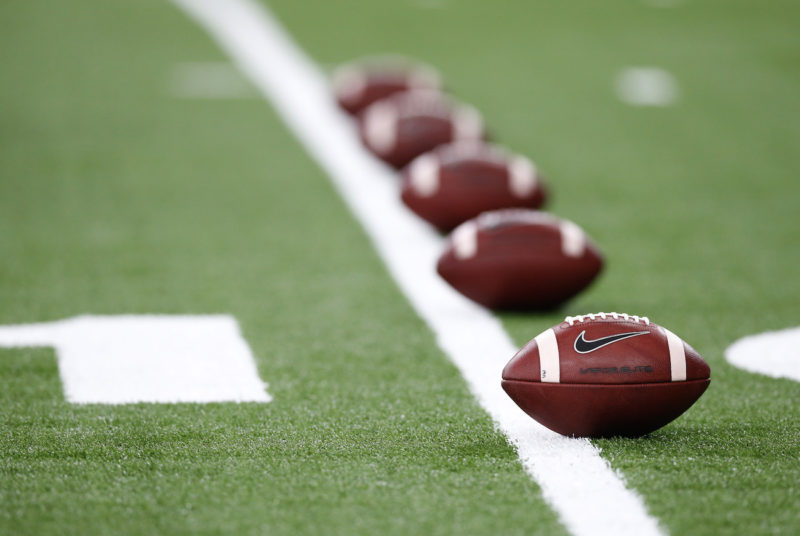 With 130 teams in 10 conferences spread across 42 states, getting all FBS squads on the same page regarding the 2020 season is going to be a tough task. And, amid the COVID-19 pandemic, it might even be an impossible job. Some conferences could decide to move forward with the 2020 season even while others decide to cancel games.
Some are wondering if the top level of college football needs some sort czar to be put in charge of things to make sure any 2020 plans are uniform across the board. Let's take a look at that option, as well as some chatter about what people are saying regarding certain conferences going it alone:
As we've said before, it's only mid-May, so there's time to wait before making any final decisions. Things seem to be trending positively in this country, and with other sports leagues reopening around the globe, it might be best to wait a few more weeks before making any definitive statements on the 2020 season. Even if players can only return to campus by Aug. 1, and even if universities only partially reopen campuses, that could be enough for the 2020 season to start on time. We'll see what happens.
ANSWERS
Here are the answers to today's Joe Burrow vs. Tua Tagovailoa statistical comparison game:
Touchdown passes: Tagovailoa (87 to 78)
Completion percentage: Tagovailoa (69.3% to 68.8%)
Passing yards: Burrow (8,852 to 7,442)
Rushing yards: Burrow (820 to 340)
Rushing touchdowns: Burrow (13 to 9)
QUOTE OF THE WEEK
"All of that talent, he's certainly gifted. He's got those young receivers now who will be sophomores. I think he's one that could really make a nice jump. We saw Joe Burrow make a huge jump up. We saw it with Baker Mayfield. We saw it, obviously, Kyler Murray. Now we see Jamie Newman, the quarterback at Georgia. The first year there, we'll see if he does well, how far he moves up the draft board."
– ESPN NFL Draft expert Mel Kiper Jr. on new Georgia QB Jamie Newman's stock for the 2021 NFL Draft. Can Newman skyrocket up draft boards during his one season with the Bulldogs?
TWEET OF THE WEEK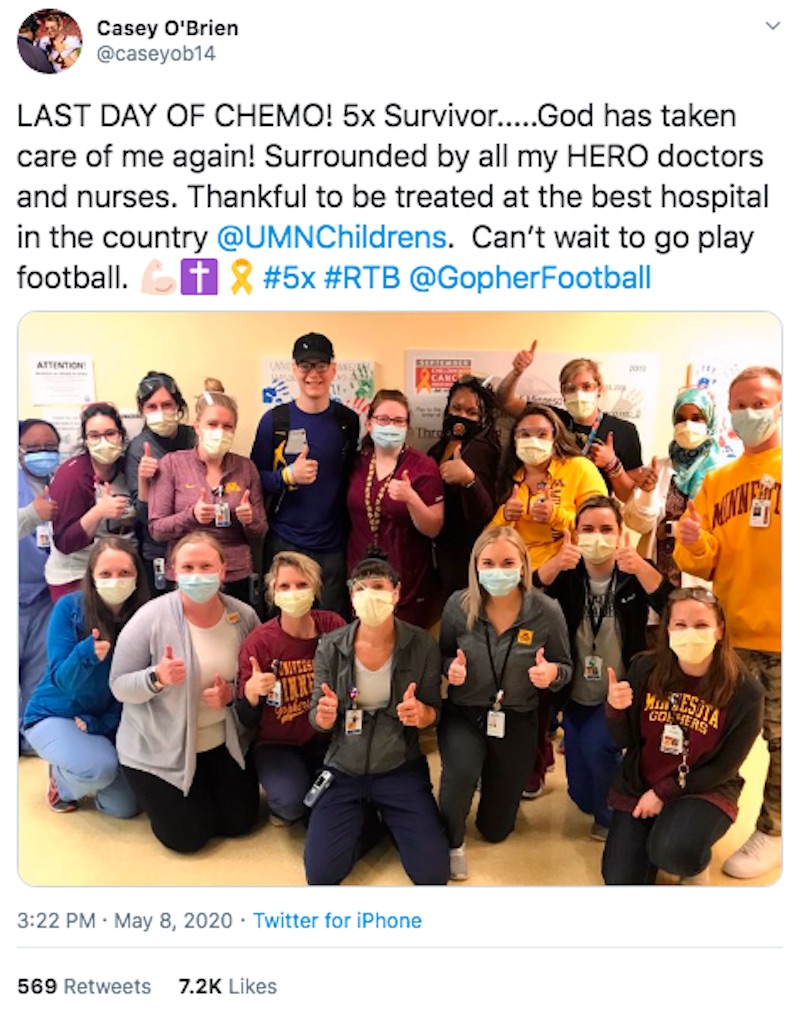 Minnesota football player Casey O'Brien has now beaten cancer an incredible five times! We can't wait to see him back in a Gopher uniform this season.