BIG TEN
Saturday Football: The legend of Stetson, Big 12 chaos and uniform talk
The Saturday Football newsletter goes out to subscribers up to 3 days a week and discusses the major events going on around the nation in college football. You can subscribe by clicking here.
Good morning and happy Monday! Wow, what a weekend of football we just saw! Georgia dominated Auburn, Oklahoma and Texas both lost (so did UCF), the Mississippi State bandwagon crashed and Alabama and other top teams continued to roll. This season has been exciting so far.
In today's newsletter, we'll discuss the growing legend of Georgia QB Stetson Bennett IV, the chaos in the Big 12 and also take a look at some of the best uniform combinations from the weekend. So, without further ado, let's get started!
STETSON BENNETT IV
Stetson Bennett IV's legend is growing weekly at Georgia. How far can he lead the Bulldogs?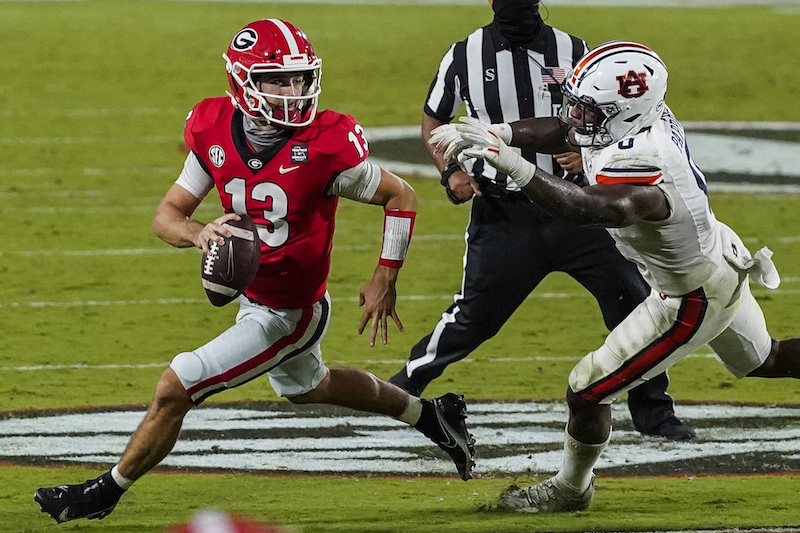 If you had told a Georgia fan that former walk-on Stetson Bennett IV would be the Bulldogs' starting quarterback in 2020, you likely would have gotten slapped. At the very least, you would have been laughed out of the room. That's because the Georgia QB room appeared loaded, with Wake Forest graduate transfer Jamie Newman, USC transfer JT Daniels, redshirt freshman D'Wan Mathis and freshman Carson Beck all seemingly ahead of Bennett on the depth chart.
What happened next is the stuff Disney movies are made of. Newman opted out. Daniels was only recently cleared for full contact after suffering a knee injury last year. Mathis was ineffective in his first few drives as the team's Week 1 starter. All of a sudden, it was Stetson time.
Whether you think his name sounds like a law firm, a DUI lawyer, a men's brand at JC Penney, a stock broker or a character in a romance novel, what he's actually been this year is a steady quarterback for Georgia. So, where did Bennett come from and how long will he have the reins to the Georgia offense? Let's take a look at this growing legend in Athens:
The former walk-on QB actually has a nickname — The Mailman. With apologies to NBA legend Karl Malone, Georgia's Mailman has been delivering wins this season. In a 27-6 rout of Auburn on Saturday night, Bennett threw for 240 yards, 1 touchdown and 0 interceptions. Not exactly Kyle Trask-like numbers, but with Georgia's elite defense, the 0 interceptions is the key to success. As any good mail carrier knows, securing the packages is important. Bennett's Mailman nickname? He explains it in this video, saying it stems from wearing a USPS hat to a QB camp.
That may have gotten him attention around camp, but not nationally. In fact, former Georgia WR Jeremiah Holloman shared a DM he got from Bennett back in 2016 asking for contact info for an Auburn coach so he could try to get on their radar. It's safe to say he's on the Tigers' radar now! Gus Malzahn had plenty of praise for Bennett after Auburn's loss to the Bulldogs.
Bennett isn't getting too big of a head after his success this year. He downplayed the emotions of getting his first home start and was quick to credit others, including OC Todd Monken, in his postgame comments. So, is it his job moving forward? Coach Kirby Smart had this to say after the game: "Right now he's the guy and he's done a good job preparing for what we want to do."
Daniels is cleared physically and Mathis is still lurking behind him on the depth chart, but if Bennett keeps piling up wins, Georgia will probably keep going with the hot hand. As Saturday Down South's Connor O'Gara mentions here, staying in the College Football Playoff race is all about supporting the Bulldogs' incredible defense. If the Mailman can continue delivering strong performances, it's his job to lose. And if he leads the Dawgs to a win over a feisty Tennessee team this weekend, the legend will continue to grow.
STAT LEADERS
The 2020 season is off to a fast start. We've had some major upsets, some questionable losses, some elite teams emerge and some talented players putting up amazing numbers. So far, the Power 5 conferences that are currently playing are lagging behind some Group of 5 squads in terms of numbers of games played, but they're quickly catching up.
Sports Betting in Big Ten Country
There is big news coming to the upcoming 2022-23 Big Ten football season (and NFL season). Ohio online sports betting and Maryland sports betting are on the way.
21+ and present in OH. Gambling Problem? Call 1-800-GAMBLER.
So, who are the current leaders at the FBS level in a number of statistical categories? Here's a look at the current leaders in seven important stats (via CFBStats.com):
Passing yards: Shane Buechele, SMU — 1,326
Passing TDs: Sam Ehlinger, Texas — 14
Rushing yards: Sincere McCormick, UTSA — 572
Rushing TDs: Two players tied — 7
Receiving yards: Reggie Roberson Jr., SMU — 474
Receiving TDs: Two players tied — 6
Sacks: Five players tied — 4.0
Tackles: Hayes Maples, Southern Miss — 38
Interceptions: Asante Samuel Jr., Florida State — 3
Who will have big performances this weekend to jump up the leaderboards? It's safe to say there are plenty of elite players competing for spots on the list above this year!
GOOD READS
BIG 12 CHAOS
Does anyone actually want to win the Big 12 title? Saturday was another crazy day for the league's top teams.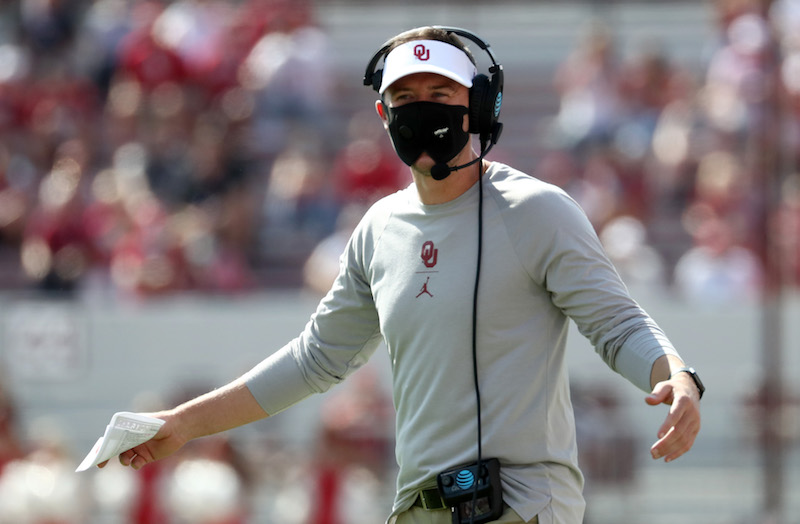 In case you haven't been paying much attention to the Big 12 this year, allow us to recap what has been a wild season thus far. Let's start off by saying that there haven't been many positive headlines coming out of the league, from COVID-19 cancellations to awful on-field performances. Here's just a quick recap of some of the worst things to happen to the Big 12 this year:
0-3 vs. the Sun Belt on Sept. 12 (Iowa State, Kansas State and Kansas all losing)
No. 3 Oklahoma losing at home to unranked Kansas State on Sept. 26
No. 8 Texas needing overtime to beat unranked Texas Tech on Sept. 26
No. 11 Oklahoma State eking out a 16-7 win over Tulsa on Sept. 19
So, that brings us to this past Saturday, when things got even worse for the Big 12. What happened on this crazy weekend? Let's dive into the Big 12's woes:
First, let's start with the Sooners, who many picked to win the Big 12 title. Well, now they've lost two straight games to unranked foes for the first time since … well, we aren't going to tell you right now. That's the subject of today's quiz (scroll down for that). For the second week in a row, the Sooners let their opponents come back in the fourth quarter — first Kansas State, then Iowa State on Saturday. So, what's the deal with Lincoln Riley's squad? Sporting News's Bill Bender breaks down three major issues facing Oklahoma right now. Meanwhile, the Sooners are going to have to deal with being trolled by Tennessee. Don't mess with Vol Twitter.
Now, let's head to Austin, where Texas most definitely isn't "back." After that narrow escape at Texas Tech last weekend, the Longhorns fell at home to unranked TCU 33-31 on Saturday. A key play in the game was this fumble at the goal line by Texas late in the fourth quarter. How bad are things in Austin? Well, many fans are calling for coach Tom Herman to be fired and replaced by Urban Meyer. Would Meyer even have any interest in that job?
Oklahoma State might be the league's best chance to get in the Playoff. Saturday saw backup QB Shane Illingworth hit his stride, as he threw for 265 yards and 3 touchdowns. Yes, it was only against Kansas, but still, that's an encouraging sign as the Cowboys wait for starter Spencer Sanders to recover from an injury suffered against Tulsa. Can the Cowboys win every game this season? ESPN's Football Power index at least gives them a chance. The FPI has the Cowboys favored in every game but two, giving Oklahoma State a 44.5% chance to beat Texas in Stillwater on Oct. 31 and a 49.5% chance to win at TCU on Dec. 5. Those are basically 50-50 games, then. Mike Gundy will take those odds.
Currently, Oklahoma State, Iowa State and Kansas State sit atop the conference standings at 2-0. However, tough games remain for all of those teams. Based on the way carnage has ensued every week this season, expect more shakeups in those standings moving forward. Who will win the league? And, will that team have a chance to make the College Football Playoff? Those are questions we can't answer just yet.
JUST FOR FUN
Oklahoma has now lost back-to-back games against unranked teams (Kansas State and Iowa State). For today's quiz, let's put that losing streak in perspective. First, can you name the year Oklahoma last lost two games in a row in the same season? Then, can you name the year when the Sooners last lost back-to-back games against unranked foes? Bonus points if you can name the teams, too!
Scroll down to see the answers to today's quiz.
UNIFORM TALK
From Air Force to Vanderbilt, there were some great looks this week. Which teams had the top uniform combos?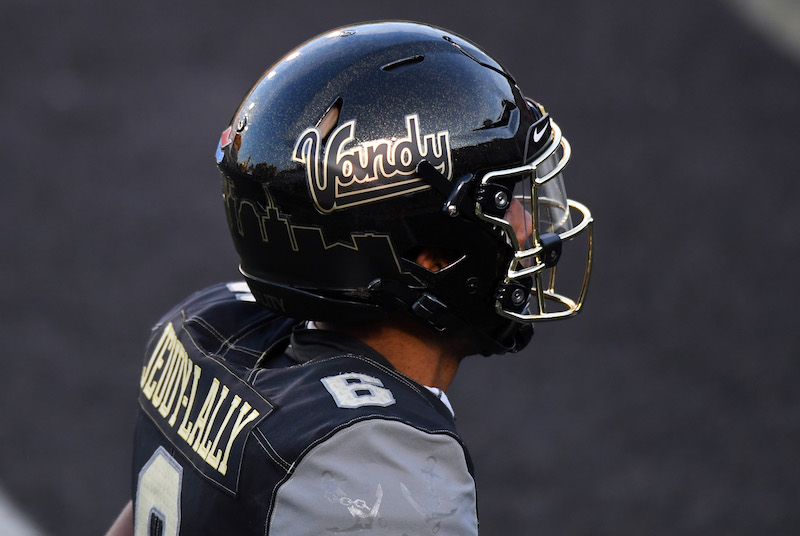 With condensed schedules across the country, we're seeing a ton of interesting uniform combinations in college football every single weekend. Saturday's slate of games didn't disappoint, either, as there were plenty of fresh looks and throwback jerseys to see.
So, which teams had the best uniforms of the weekend? Let's take a look at five schools that wore notable uniform combinations for their games:
We've got another busy weekend of college football ahead of us, and when the Big Ten, Pac-12 and others eventually return to the field, they'll have some catching up to do on uniform combinations. What does Saturday hold for us? Check back next Monday for some more uniform discussion!
ANSWERS
The last time Oklahoma lost back-to-back games was at the end of the 2014 season, when the Sooners fell against rival Oklahoma State to end the regular season before losing to No. 18 Clemson in the Russell Athletic Bowl. To find the last time the Sooners lost to unranked teams in back-to-back weeks, you have to go all the way back to 1997, when the Sooners finished 4-8 and lost at Kansas and vs. Texas on back-to-back weekends in October. Can Lincoln Riley get the 2020 Sooners back on track?
QUOTE OF THE DAY
"Oh, super disappointed. Great young man and very, very disappointed. He's a good kid, but he just said he wanted to be closer to home and we just wish him well and, certainly, didn't have him long — just a couple months — but certainly appreciate the opportunity that we had to work with him a little bit and, hopefully, he'll get in a good situation and become the player that I know he can be."
– Clemson coach Dabo Swinney wished former 5-star RB Demarkcus Bowman well after the 2020 signee left the program to transfer to Florida. Bowman reportedly wants to play closer to his Lakeland, Florida, home after losing both of his grandfathers recently.
TWEET OF THE DAY
Arkansas snapped a 20-game SEC losing streak with a surprising 21-14 win over Mike Leach's Mississippi State Bulldogs on Saturday. The Razorbacks were quick to troll Leach with this awesome pirate-themed video and the graphic above.
This edition of the Saturday Football newsletter was written by Adam Spencer.