BIG TEN
Starting 5: Kentucky collapses, a bubble buzzer beater and 2 inspirational stories
Welcome back to the Starting 5. The Starting 5 is written multiple times per week by Adam Spencer to keep you up-to-date on all the news and events in the world of college hoops. You can follow Adam on Twitter at @AdamSpencer4.
1. The Opening Tip
As we get into the heart of the conference tournament season, I want to start today's column by highlighting a pair of really awesome stories that took place over the last few days. It's important to recognize the good that college sports brings the world.
First, we'll start with Jackson State, which had a student manager named Thomas "Snacks" Lee get in the game against Arkansas-Pine Bluff. It was his first game action, and he made the most of it, knocking down this ridiculously long three-pointer:
SNACKS!

Jackson State guard, Thomas "Snacks" Lee, played in his first career game and hit the 3 from Curry range 💦

(via @JSUTV) pic.twitter.com/a3jIKaxKUm

— ESPN (@espn) March 3, 2020
That shot went viral, and Snacks has now made appearances on the "Today Show" and many other media outlets. He was even named the Southwestern Athletic Conference Player of the Week:
BREAKING NEWS: @GoJSUTigers deep range shooter Thomas "Snacks" Lee (@BigHomie_Tom) has been named #SWACMBB Player of the Week. The Jackson, Miss. native leads the league in social media views and is a legitimate scoring threat from virtually anywhere on the court #SWACHoops pic.twitter.com/xmY02y9oKq

— Southwestern Athletic Conference (@theswac) March 4, 2020
It's so cool that a moment of pure joy like that can capture the nation's heart for a brief moment. Kudos to Snacks.
Also kudos to everyone involved in the Vermont-Albany game this week. Vermont senior Josh Speidel was a highly-touted recruit before a car accident in high school left him in a coma.
After a long rehab, he was able to start on Senior Night for the Catamounts, and that led to this incredible moment:
Here's the best thing you'll see tonight.

Vermont senior Josh Speidel gets the first start of his career and the first points of his career.

Speidel was a highly touted UVM recruit before a car accident in high school left him in a coma. Incredible story in Burlington. pic.twitter.com/kWInlKqFZF

— Matt Norlander (@MattNorlander) March 4, 2020
That's a moment no one who was in the building will ever forget. Great work by both teams to provide such a special scene for a player who has never given up.
I love it when we get stories like that in college basketball. Snacks and Speidel truly are inspirations.
Now, let's move on to some SEC news.
2. Home-Court Advantage
Kentucky has the SEC regular-season title locked up and seemed to be rolling toward a potential No. 2 seed in the NCAA Tournament. On Tuesday, the Wildcats led Tennessee by 17 points at one juncture in the game in Lexington.
That's when it all went wrong for John Calipari's squad. Kentucky was outscored 50-31 in the second half to lose 81-73 to the Volunteers.
Kentucky simply had no answer for John Fulkerson, who is making a late case to be a first-team All-SEC selection. He had 27 points and 6 rebounds in a truly dominant effort:
John Fulkerson
6-9 F Tennessee@fulkerson_john had a huge performance last night, leading the Vols to a W in Lexington. With 27 PTS + 6 REB + 2 AST, he continues to be one of the best players in the SEC.

PnR Roll: 92nd percentile
Post up: 87th
Transition: 99th@ProBBallCombine pic.twitter.com/yDBfv8uLP2

— Derek Murray (@dmurrayNBA) March 4, 2020
Now, Kentucky has to finish the year against Florida in Gainesville. Perhaps this loss, which snapped an 8-game winning streak for the Wildcats, will serve as a wake-up call heading into the SEC Tournament. We shall see.
Now, for some other SEC stories:
Speaking of teams limping to the finish line, Auburn and LSU both lost on Wednesday to further jumble up the SEC standings. Now, LSU, Auburn and Florida are all 11-6 in SEC play, with Mississippi State and South Carolina a game behind at 10-7. Three of those 5 teams will get double-byes (along with Kentucky) in the SEC Tournament. The other 2 will be left out of that group. LSU fell victim to Mason Jones, who scored 36 points and was making shots like this:
Mason Jones heat check 🔥🔥 pic.twitter.com/60gLTanbYQ

— SEC Network (@SECNetwork) March 5, 2020
Yeah, no one is going to want to play Arkansas if Jones is on fire like he was on Wednesday night.
It happened! Vanderbilt won a second SEC game on Tuesday night, beating Alabama in convincing fashion 87-79. Saben Lee scored a whopping 38 points to lead the Commodores to a big win:
Saben Lee
6-2 G Vanderbilt

One of the most underrated players in the country, Lee is a fast, physical, combo guard who had a monster 38 PTS in last night's W over Alabama. Round 1 potential in 2021.

Isolation: 88th percentile
PnR: 87th
Dribble jumpers: 92nd@ProBBallCombine pic.twitter.com/sHI2LxlC4k

— Derek Murray (@dmurrayNBA) March 4, 2020
Lee and the Commodores have offensive firepower. As far as No. 14 seeds go in conference tournaments, they won't be an easy out in the SEC tourney, especially since it'll be held in their home city of Nashville.
Let's end this section with an appreciation of South Carolina F Keyshawn Bryant's dunking ability. He threw down 2 incredible slams in a win over Mississippi State on Tuesday. The first one even came after he blocked a shot on defense:
𝐊𝐄𝐘𝐒𝐇𝐀𝐖𝐍 𝐁𝐑𝐘𝐀𝐍𝐓 🔥 pic.twitter.com/0Tc4YNviLm

— SEC Network (@SECNetwork) March 4, 2020
The second dunk was a ferocious tomahawk slam:
ON. HIS. HEAD. 😱 #SCtop10 pic.twitter.com/6rvj2uPdTD

— SEC Network (@SECNetwork) March 4, 2020
Here's hoping he continues to get opportunities to dunk as the SEC and (potentially for South Carolina) NCAA Tournaments go on.
Now, let's see what's going on around the rest of the country.
3. Road Game
The Big 12 has 2 of the top teams in the country in Kansas and Baylor, but there's also a fight among some bubble teams that has been fascinating to watch. This week, Texas and Oklahoma squared off, and it was a thriller.
The Longhorns and Sooners are obviously huge rivals, and they entered the game with identical 18-11 overall records and 8-8 marks in Big 12 play. Then, the game ended like this:
— Bob Pataki (@BeepingBobby) March 4, 2020
After a ton of talk about whether he should be fired, Shaka Smart now has the Longhorns on the verge of an NCAA Tournament berth. It'll be fascinating to see if Texas can sneak into the field of 68 and, if it does, how many wins it can pick up. The Sooners, meanwhile, are now on life support in their quest to make the tourney.
Now, for some other big stories in college basketball:
While watching the Memphis-Wichita State game at a bar on Thursday night, I saw a graphic next to Memphis guard Alex Lomax's name. The graphic said he averaged 4.2 assists per game, which was good for third in the American Athletic Conference. I did a double take. How can 4.2 assists per game be the third-best mark? Then I looked it up, and sure enough: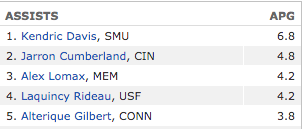 That's brutal. In the ACC, Kihei Clark averages the third-most assists, with 5.9 per game. In the Big Ten, Nebraska's Cam Mack is third with 6.4 assists per game. In the SEC, Alabama's Kira Lewis Jr. is third with 5.3 assists per contest. Maybe "AAC" stands for "Anti-Assist Conference."
Michigan State had a huge second half to come from 19 points down to beat Penn State on the road. A big reason? Xavier Tillman's 23 points and 15 rebounds. He played 38 minutes, and his energy was a big spark for the Spartans. Just look at him running the floor early in the game:
An extrememly Tillman-esque stretch by Xavier Tillman sr. pic.twitter.com/WNeng8aTei

— Emiliano Naiaretti (@EmilianoNaiar8) March 4, 2020
Now, Michigan State will try to clinch at least a share of the Big Ten regular-season title on Sunday by beating a tough Ohio State team (more on that game in a second).
Maryland is going in the wrong direction at the wrong time. The Terrapins have lost 3 of their last 4 games heading into Sunday's regular-season finale at home against a tough Michigan team. At one point, it looked like the Terps could be a sneaky No. 1 seed. Now, not so much. If the Terps bow out of the B1G and NCAA Tournaments early, expect Mark Turgeon's seat to heat up quickly.
Now, let's look ahead to the final weekend of the regular season.
4. Outlet Pass
It's the last weekend of the regular season, and the schedule isn't holding anything back now! The next 3 days are jam-packed with some incredible games, but these are the 5 I can't wait to watch:
No. 8 Seton Hall at No. 11 Creighton (Saturday at 2:30 p.m. ET on FOX) — Since Villanova beat Seton Hall earlier this week, this game will determine whether Seton Hall is the sole regular-season Big East champ or whether it has to split the title with Creighton. This will be a raucous atmosphere in Omaha.
No. 18 Iowa at No. 23 Illinois (Sunday at 7 p.m. ET on BTN) — After losing to Ohio State on Thursday, the Illini will need some help if they are going to win a share of the regular season title. However, Illinois will be out for revenge either way after a hard-fought loss at Iowa earlier this year. Luka Garza vs. Kofi Cockburn in the post is always a fun battle, too.
No. 19 Ohio State at No. 16 Michigan State (Sunday at 4:30 p.m. ET on CBS) — Michigan State can lock up at least a share of the Big Ten regular-season title with a win. However, it won't be easy against a suddenly resurgent Buckeyes squad.
No. 1 Kansas at Texas Tech (Saturday at 2 p.m. ET on ESPN) — Kansas is primed to enter postseason play as the No. 1 team in the country and the top seed in the NCAA Tournament. Can the Jayhawks avoid a letdown in Lubbock on Saturday?
North Carolina at No. 12 Duke (Saturday at 6 p.m. ET on ESPN) — If this game even comes close to living up to the first meeting between the Tar Heels and Blue Devils, it's well worth your time. Even if it doesn't have the stakes as the other games mentioned above, it'll be a crazy atmosphere.
That's a great appetizer before the major conferences start up tournament play next week. Should be fun!
5. Buzzer Beaters
Now, let's answer a couple of random questions before we get out of here and enjoy the final weekend of the regular season. Here's the first question:
If you had to pick a mid-major program to win it all this year, who would you pick, and why?
I'd really like to see Mark Few and Gonzaga win a title, but I want the Bulldogs to do it in a year when people can't diminish their accomplishment. This year has been crazy, with constant shakeups in the top 25 and more top teams losing to unranked teams than I can remember in my lifetime. I feel like if Gonzaga won this year, the haters would have a field day. Instead, I'll pick Dayton, because I absolutely love watching Obi Toppin play. I'd vote for him as the National Player of the Year, and it'd be fun to watch the Flyers make a run to the title. Don't sleep on Jalen Crutcher as a difference-maker in March, either.
Is this the year the Big Ten finally wins another title?
Short answer — no. The Big Ten hasn't won a championship since Michigan State in 2000, and while there are several talented teams in the conference this year, there aren't any elite teams. Michigan State has been a disappointment, I don't trust Maryland and the rest of the conference has beaten up on each other so much this year. I wouldn't be surprised to see a B1G team in the Final Four, but I think the national champion will come from a different conference this year.
Enjoy the Starting 5? Have a question? Want to yell at me about something? Follow me on Twitter @AdamSpencer4 or email me at [email protected]