BIG TEN
Starting 5: Tom Crean's inexplicable decision vs. Alabama, Jaden Springer vs. Cam Thomas and Ayo Dosunmu's heroics
Welcome back to the Starting 5. The Starting 5 is written multiple times per week by Adam Spencer to keep you up-to-date on all the news and events in the world of college hoops. You can follow Adam on Twitter at @AdamSpencer4 and @SDSBasketball.
1. The Opening Tip
If you know college basketball, you know that the biggest threat to a zone defense is a team that can knock down 3-pointers at a high rate. So, if you're scouting the Alabama Crimson Tide and discover that they've made an SEC-best 240 3-pointers this season, and that they're knocking them down at a 36.6% clip (good for second in the SEC), you would probably not use a zone defense against them, right? Right?
Well, that's not the strategy Tom Crean and the Georgia Bulldogs went with on Saturday, and boy, was it ever a mistake. For a sizable chunk of the first half, the Bulldogs were in a 2-3 zone look, and Alabama torched the Dawgs for 51 first-half points.
By the time the Bulldogs went back to more man-to-man defense in the second half, it was too late, as the Crimson Tide shooters were brimming with confidence. The final result? A 115-82 win for the Tide. That's the most points Alabama has ever scored in an SEC game.
Just look at how easy it was for the Tide to break the Georgia zone early. You want to get the ball to the high post and have that guy look for an open shooter. This Jahvon Quinerly-to-Herb Jones-to-John Petty Jr. sequence is textbook:
Simple, yet effective zone set. Georgia is in a matchup 2-3… Ellis's cut from the corner to the top of the key frees up the middle of the paint and leaves #14 alone to guard two. Herb finds Petty for a wide open triple. pic.twitter.com/tFOocvuPzZ

— Bama Basketball Film Room (@BamaFilmRoom) February 15, 2021
You can also drive into the lane and kick it out to a shooter, as Jaden Shackelford demonstrates here, finding Herb Jones:
Shackelford has really improved as a ball handler. Great split and kick to the corner. pic.twitter.com/C7oy8MnqA6

— Bama Basketball Film Room (@BamaFilmRoom) February 15, 2021
That Shackelford play is a lot like what the Houston Rockets used to do when James Harden was playing for them. Get in the lane and make a layup, draw a foul or find an open shooter behind the arc. As you can see from Alabama's shot chart from Saturday's game, that's exactly coach Nate Oats' plan: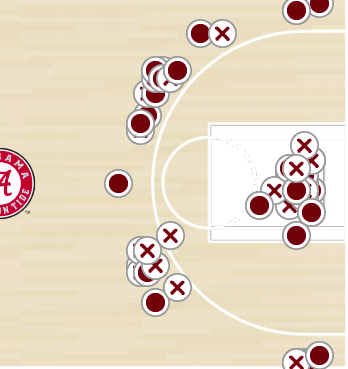 Look, Georgia is not a good defensive team no matter what scheme it is playing. The Bulldogs have allowed an SEC-worst 84.8 points per game this conference season. But, when their coaches don't put them in position to succeed, things get even uglier.
Alabama's offense entered that game struggling a bit (by its lofty standards). If this hot-shooting game (the Tide went 18-for-30 from 3-point range) reawakens this dynamic offense, the other SEC teams on Alabama's schedule will be cursing Crean.
Now, let's move on to some of the other SEC headlines from the weekend.
2. Home-court advantage
There are several great freshmen in the SEC this year. There's Moses Moody at Arkansas, Keon Johnson at Tennessee, Josh Primo at Alabama and, of course, Sharife Cooper at Auburn. But, 2 of the best freshmen in the league went head-to-head on Saturday when LSU and Tennessee met in Baton Rouge.
Those 2 players would be Jaden Springer of the Vols and Cam Thomas of the Tigers. Thomas is currently trying to become the first freshman since fellow LSU Tiger Mahmoud Abdul Rauf to lead the SEC in scoring:
Cam Thomas: 22.6 PPG ♨️@24_camthomas is trying to become the first freshman since @RaufMahmoud to lead the SEC in scoring. @LSUBasketball 🐯 pic.twitter.com/62kD45ZfMq

— SEC Network (@SECNetwork) February 13, 2021
He didn't disappoint in LSU's 78-65 win over the Vols. He had a game-high 25 points and made some NBA-caliber shots. This tough 3-pointer over some good Tennessee defense showcases his catch-and-shoot skills:
Thomas got his wins in too during this battle, tough catch and shoot 3 off the DHO against Springer here who's got a hand up in his face. Just doesn't matter, Thomas is easily one of the best scorers in this 2021 draft class and maybe the best tough shot maker. pic.twitter.com/hjnh8ilyD0

— Evan Wheeler (@Evzsz) February 14, 2021
He can score in the lane, too. This floater in traffic was as difficult as it gets:
This is really damn good defense from Springer again, good fundamentals, shuffles well, shows the lateral quickness to stay in front of Thomas but it just doesn't matter. Thomas hit's an insane floater off the glass, just has a knack for making tough shots look easy. pic.twitter.com/9AQvMnNKgA

— Evan Wheeler (@Evzsz) February 14, 2021
Springer only finished with 21 points, but he had a more versatile game, grabbing 6 rebounds and dishing out 7 assists. He showed off his NBA range, too:
Just finished watching LSU-Tennessee from yesterday, what a fun battle between Cameron Thomas (25 Pts) and Jaden Springer (21 Pts, 7 Ast, 6 Reb). Two guys, I think ultimately should be top ten selections. Springer reminds me of Brandon Roy, the set up to this 3 is so smooth. pic.twitter.com/Br25wn4BbZ

— Evan Wheeler (@Evzsz) February 14, 2021
Oh, and you want to see him get into the lane like Thomas? Well, how about this difficult shot?
Ultimately, of the two I'm more impressed with Springer although I believe in both guys potential. Again I just can't get Brandon Roy out of my mind when watching Jaden Springer play. Another showcase of the smoothness and footwork, great attack on the switch. I'd take him Top 5. pic.twitter.com/pvX8US723c

— Evan Wheeler (@Evzsz) February 14, 2021
Those guys are both going to be contributors in the NBA, probably by this time next year. Can either of them win the SEC Freshman of the Year award? Well, they'll have their work cut out for them down the stretch, as the competition is fierce this year.
Now, let's look at some other SEC stories from the weekend:
Ole Miss is the hottest team in the SEC right now, having extended their winning streak to 4 games with an 81-74 road win at South Carolina on Saturday. Devontae Shuler has been red-hot lately, dropping a career-high 31 points against the Gamecocks. He also had 7 rebounds, 4 assists, 2 steals and 2 blocks. He showed off his NBA range, too:
Just showing off | @Devontae_Shuler

📺 | https://t.co/X14TvwzM1t pic.twitter.com/Q9jPs5bkaU

— Ole Miss Men's Basketball (@OleMissMBB) February 14, 2021
Shuler's confidence is the difference during this streak. Can the Rebels shoot their way into the NCAA Tournament picture? They'll have a chance to pick up another big resume-boosting win on Thursday night when LSU makes the trip to Oxford. More on that game later.
I'm as surprised as anyone, but Kentucky actually managed to hold onto a late lead on Saturday at home against Auburn! The Wildcats earned an 82-80 victory and it looked like John Calipari actually did some coaching down the stretch! Shocker! Look at this play that led to an alley-oop from Devin Askew to Keion Brooks Jr.:
UK had two GREAT play calls late to ice the game. Back screen lob off the stagger out of the box set. It worked so well Isaiah Jackson is open on the first cut as well. Both he & Keion Brooks men get caught in the back screen action. Easy possession. @KentuckyRivals pic.twitter.com/33WfwyOUyx

— David Sisk (@CoachDavidSisk) February 13, 2021
Askew picked up another assist on this 3-pointer by Davion Mintz that proved to be a dagger in the Tigers' hearts:
Game winner by Davion Mintz. They had this the play earlier but couldn't execute & Auburn tied it. Ballscreen occupies the top & the backside is overloaded. Mintz steps into the slot. Ball is reversed & now it's two on one. HORSE shot. @KentuckyRivals pic.twitter.com/gJQDufJOWp

— David Sisk (@CoachDavidSisk) February 13, 2021
When Askew makes the right decisions with the ball, this team is much better. When the Wildcats embrace the 3-point arc, they're much better. We'll see if both of those trends continue down the stretch.
Since losing at Oklahoma State in the SEC/Big 12 Challenge, the Arkansas Razorbacks have been on a tear. They've won 3-straight games, and on Saturday, they finally picked up a signature win for their NCAA Tournament resume, beating Mizzou in Columbia in overtime. The difference? The Tigers were without big man Jeremiah Tilmon due to a death in the family (thoughts out to the Mizzou forward and his family). And, after he missed the first game against Mizzou, Arkansas had Indiana transfer Justin Smith back in the lineup. Smith led the Hogs with 19 points and threw down a pair of thunderous alley-oops, including one in overtime:
Tonight's Top 3️⃣

3️⃣ @justinsmith3_ just checking the weather above the rim ❄️
2️⃣  UP IN OT
1️⃣ @moses_moody3 with the game clenching steal 😤 pic.twitter.com/6dXXiIeRr5

— Arkansas Razorbacks Basketball 🐗 (@RazorbackMBB) February 14, 2021
Smith is a difference maker for this team. If he's in the lineup, the Hogs can beat anyone in the SEC. Now, we'll see if they can keep the momentum rolling and continue to pad their tourney resume.
Hey, when did the Vanderbilt Commodores become fun to watch? They might only be 2-8 in conference play, but they've been competitive in their last 5 games, going 2-3 in that stretch, with single-digit losses at Florida, at Georgia and vs. Auburn. Scotty Pippen Jr. continues to be exciting, as he was when he knocked down 3-straight 3-pointers to set the tone in Vandy's 72-51 win at Mississippi State on Saturday:
☔️ ☔️ ☔️ ☔️ ☔️ ☔️ ☔️ ☔️ pic.twitter.com/HPAg7uk1UN

— Vanderbilt Men's Basketball (@VandyMBB) February 14, 2021
The Commodores host Kentucky on Wednesday night in a game that suddenly looks a lot more interesting than it did a couple of weeks ago.
Next up, let's take a look around the rest of the college hoops world.
3. Road trip
I mentioned in a recent Starting 5 that Iowa big man Luka Garza might be losing his stranglehold on the National Player of the Year awards. I had Gonzaga's Corey Kispert and Illinois' Ayo Dosunmu as the potential challengers to Garza's throne.
Well, I'm glad I had Dosunmu on the list, because he continues to be incredible. Yes, Illinois needed overtime on Friday night to beat a bad Nebraska team, but the Illini would have lost without Dosunmu's heroics.
He finished with 31 points, but he actually got off to a bit of a slow start. He finished strong, though, scoring Illinois' last 10 points in regulation to force overtime. Then, he scored the Illini's first 5 points in the extra period. Here are a couple of his late-game highlights. Look at the degree of difficulty of these shots:
Ayo Dosunmu acabó el partido 🔥🔥🔥
Metió los 10 últimos puntos del tiempo regular, mandando el partido a la prórroga con esta canasta y los 5 primeros del tiempo extra, evitando el upset de Nebraska sobre Illinois pic.twitter.com/bpTGK6GuyS

— NCAA España (@ncaabspain) February 13, 2021
Ayo Dosunmu puts a bow on this one. He finished with 31 points for @IlliniMBB. pic.twitter.com/9xHNNT20qH

— Illinois on BTN (@IllinoisOnBTN) February 13, 2021
His highlight reel from the game is full of 3-pointers, buckets in transition and finishing through contact at the rim. He can create his own shots and has a nice mid-range jumper, too:
Ayo Dosunmu in a 77-72 OT win vs. Nebraska : 31 points on 12-23 shooting, 2-6 from 3, 5-8 from the FT line, 6 assists & 4 steals in 43 minutes (Scored the last 10 points in regulation & the first 5 points in OT) pic.twitter.com/vq5vXvr47r

— Lee Harvey (@MusikFan4Life) February 13, 2021
Kofi Cockburn is a great Robin to Dosunmu's Batman, as he had 21 points and 13 rebounds against Nebraska. But, if the rest of the team doesn't step up more consistently, the Illini will only go as far as Dosunmu can carry them.
Now, let's look at some other stories from around the country:
In the last Starting 5, I said the Oklahoma-West Virginia game was going to be the best game of the weekend. I have to pat myself on the back for that one, as the Sooners beat the Mountaineers 91-90 in double-overtime in one of the most exciting games of the year. Austin Reaves was incredible. He scored 28 points, but he proved he's fearless in the clutch. He scored the game winner on this difficult jumper in the lane:
Austin Reaves (28 PTS) came up clutch vs. West Virginia 🔥

No. 12 Oklahoma beats No. 14 WVU in double OT pic.twitter.com/balhCAAAyO

— Bleacher Report CBB (@br_CBB) February 13, 2021
Derek Culver continues to dominate. He had 29 points and 14 rebounds for the Mountaineers in the loss. Neither team got much from their bench players, though. Oklahoma only had 6 points. West Virginia had 7. That's going to have to change a bit when the Big 12 Tournament forces teams to play 3 or 4 games over the course of a long weekend. Both of these teams are threats to play deep into March, though.
I also mentioned in the last Starting 5 that Michigan at Wisconsin was another game to keep an eye on. Nailed that prediction, too! The Wolverines were coming off a 3-week layoff and faced a 14-point in the first half. They trailed by 12, 39-27, at halftime. But, in the second half, it was a different story, as the Wolverines torched the Badgers for 40 points in the second half, allowing only 20, in the 67-59 victory. Keep an eye on Isaiah Livers moving forward. He's quickly becoming one of the best shooters in the country, especially when he can make long-range shots like this:
Isaiah Livers step back! Currently shooting almost 46% on 5.4 3's per game. pic.twitter.com/FVjGzPKV3I

— CJ Marchesani (@cjmarchesani) February 16, 2021
That's almost impossible to defend. He also hit the shot that gave Michigan the lead, coming off an offensive rebound from freshman big man Hunter Dickinson:
Michigan torna in campo dopo 3 settimane di stop e batte Wisconsin per 67-59, rimontando dal -12 di fine primo tempo

20 punti per Isaiah Livers, 14 per Franz Wagner e doppia doppia (11+15) per Hunter Dickinsonpic.twitter.com/ewfO0lI9ch

— Basketball NCAA (@BallNcaa) February 14, 2021
Dickinson continues to make a case for Big Ten Freshman of the Year. He had 11 points, 15 rebounds and 5 blocks in the game. The Wolverines host Rutgers on Thursday in another important game. We'll see if they can keep hold of 1 of the 4 No. 1 seeds in the NCAA Tournament.
Virginia normally plays such stifling defense that opponents can't reach the 60-point mark. The Cavaliers had held 3 of their last 4 foes under 60 points entering Monday night's game at Florida State. Well, the Seminoles weren't having that. They scored early and often in a dominant 81-60 victory. That's the problem with the Cavaliers. Yes, they play good defense, but it masks their own offensive deficiencies. They've only scored 70 or more points in 2 of their last 8 games. That's going to be a problem in March when they run into hot teams like Florida State.
What if I told you that the day after getting blown out 81-54 by Loyola-Chicago, Drake would bounce back to earn a 51-50 win over the Ramblers in Game 2 of their 2-game series? You'd probably think it was a great defensive effort, right? But what if I told you the game went to overtime? Yes, that's right, we had a 51-50 overtime game! It was a brutal shooting performance from both teams, as they combined to go 7-for-38 from 3-point range. But, finally, Darnell Brodie put the Bulldogs up 51-50 in overtime and then blocked this shot on defense to seal the win:
darnell brodie is a bad man pic.twitter.com/cw30WSzk4Q

— Andy Dieckhoff (@andrewdieckhoff) February 14, 2021
Now, the Bulldogs are 11-2 in Missouri Valley Conference play and the Ramblers are 13-2. This battle will keep going down the stretch.
Next, let's look at some of the top games over the next few days.
4. Outlet pass
Snowstorms across large parts of the country and the continuing COVID-19 pandemic have wreaked havoc on this week's schedule. But, there are still some intriguing games on tap between now and Friday. Here are the 5 games I can't wait to watch this week:
No. 11 Iowa at No. 21 Wisconsin (Thursday at 7 p.m. ET on ESPN) — After a stretch in which the Hawkeyes lost 4 of 5 games, they've bounced back in a big way with lopsided wins over Rutgers and Michigan State. Meanwhile, Wisconsin has gone 4-4 in its last 8 games, alternating wins and losses. That means the Badgers are due for a win, if that trend holds. Can they put the Hawkeyes back in a spiral?
No. 12 Texas at No. 9 Oklahoma (Wednesday at 9 p.m. ET on ESPN) — We'll have to keep an eye on if the weather impacts this game or not, but if it is played, this is going to be a great Big 12 matchup. Baylor is running away with the Big 12 regular-season title right now, but these teams are both in a tight race for second. We'll see who gets the big win.
LSU at Ole Miss (Thursday at 5 p.m. ET on SECN) — Neither of these teams are ranked, but they're 2 of the hottest teams in the SEC. The Rebels have won 4 in a row and the Tigers have beaten Mississippi State and Tennessee in back-to-back games. We'll see who wins this important game for 2 teams currently fighting to boost their March Madness resumes.
No. 6 Houston at Wichita State (Thursday at 7 p.m. ET on ESPN2) — These are the top 2 teams in the AAC. Houston is 17-2 on the year and 11-2 in conference play. Wichita State is 12-4 overall and 8-2 in AAC action. If the Shockers pull off a (don't say shocking, don't say shocking) surprising upset (nailed it), they could very well win the AAC regular-season title. Should be fun to watch!
Saint Mary's at No. 1 Gonzaga (Thursday at 9 p.m. ET on TBD) — The Gaels aren't as big of a threat to Gonzaga as they normally are, but if Gonzaga is going to lose a game before the West Coast Conference Tournament, this is one to circle. Anything can happen in a rivalry game. Saint Mary's always has a chance.
Double-check all these dates and times, as they are certainly subject to change. Still, if these 5 games are played as currently scheduled, they should be some entertaining ones to watch!
5. Buzzer beaters
Now, let's answer a couple of random questions before we get out of here for the day:
Who is your favorite college hoops player of all-time?
I loved watching DeMarre Carroll during my first year at Mizzou, but I'll have to go back a little further to find my all-time favorite college hoops player. I'm probably going to go with either Deron Williams or Dee Brown on that 2004-05 Illinois team. I was in high school at the time and still remember where I was when the Illini had that insane comeback against Arizona in the NCAA Tournament. That was probably my favorite game ever, and Brown and Williams played big parts in it. Those were some really fun players to watch.
Should the men's game follow the NBA and the women's game by moving to quarters? Or should it keep its 2 halves style?
My honest answer to this question is that I don't care one way or the other. I think either way would be fine. There are some advantages to the quarters system, but I think there are bigger problems facing college basketball than whether to ditch the halves system or not (the block/charge call, for instance). I don't mind the 2 halves system, so I say keep it for now. Don't rock the boat if you don't have to.
Enjoy the Starting 5? Have a question? Want to yell at me about something? Follow me on Twitter @AdamSpencer4 or email me at ASpencer@SaturdayDownSouth.com.