BIG TEN
Starting 5: Vanderbilt snaps horrific losing streak, Iowa implodes and Kamar Baldwin's heroics
Welcome back to the Starting 5. The Starting 5 is written multiple times per week by Adam Spencer to keep you up-to-date on all the news and events in the world of college hoops. You can follow Adam on Twitter at @AdamSpencer4.
1. The Opening Tip
Well, I was going to start the SEC portion of today's column by talking about Vanderbilt's SEC losing streak, which I had assumed would be at 27 games right now. Then, I was going to look at the Commodores' upcoming schedule and rank their best chances of snapping that embarrassing losing streak.
Instead, coach Jerry Stackhouse and his squad did the impossible, taking down LSU (who entered the game 8-0 in SEC play) on Wednesday night in Nashville. How shocking was the result?
According to ESPN's win probability, the Tigers entered the game with an 82.1% chance to win. LSU had been road warriors, winning every SEC away game last year and this year so far. For it to end at the hands of the previously hapless Commodores is one of the most surprising results in a college basketball season that has been full of head-scratching moments.
One thing is for sure, though — Vandy guard Saben Lee came to play. He scored a game-high 33 points and dished out 6 assists in the Commodores' 99-90 high-scoring victory. He also threw down this incredible dunk:
OH MY GOODNESS. SABEN LEE! 😳 #SCtop10 pic.twitter.com/mAFZjncXWh

— SEC Network (@SECNetwork) February 6, 2020
So, what's Vanderbilt's reward for finally winning an SEC game? Well, the Commodores will have their hands full the next 3 games, to say the least:
at Mississippi State
vs. No. 15 Kentucky
at Florida
That won't be easy, but at least the Commodores finally got that awful losing streak off their backs. This should be a looser group moving forward, and we saw on Wednesday night that they have plenty of talent.
Now, on to some more SEC news:
2. Home-Court Advantage
Georgia's awful, no good, very bad season continued on Wednesday at Florida. Apparently, the Bulldogs have yet to meet a 20-point lead they can't blow.
After blowing a 20-point lead against Mizzou recently, the Dawgs were up 22 points on the Gators before allowing Florida to come back and win 81-75. Freshman sensation Anthony Edwards was impressive again, scoring 32 points on 10-for-17 shooting (6-for-9 from three-point range) and grabbing 6 rebounds.
However, down the stretch, he couldn't quite keep pace with Florida's Andrew Nembhard. Nembhard had 25 points, scoring 9 of the last 10 points for the Gators. The sophomore guard also had a nice dunk to finish things off:
@AndrewNembhard with the dunk in transition… and the crowd goes wild!

79-75, 16.7 seconds to go. pic.twitter.com/uCiYdNijYl

— O'Connell Center (@OConnellCTR) February 6, 2020
How many more 20-point leads can the Bulldogs blow this season? I, for one, can't wait to find out!
Here are some other top SEC stories from the week:
The Arkansas-Auburn game definitely lived up to expectations, with Auburn holding on for a huge road win in overtime. Mason Jones did all he could to help the Razorbacks, scoring 40 points, but it wasn't enough in the Hogs' 79-76 home loss. Samir Doughty led the Tigers with 23 points. Jalen Harris of Arkansas had the highlight of the night, though. I can't stop watching this dunk:
JALEN HARRIS! My goodness. #WPS pic.twitter.com/gYneeo7jh0

— Adam Spencer (@AdamSpencer4) February 5, 2020
LSU's loss to Vanderbilt took a bit of the luster off of this weekend's showdown between Auburn and LSU in Auburn, but that should still be a heck of a game.
When Nick Richards only had 2 points at halftime against Mississippi State on Tuesday night, it looked like Reggie Perry was going to take the lead in the SEC Player of the Year race. Instead, Richards exploded for 25 points in the second half to finish with a career-high 27 points to go with 11 rebounds. Here are some of the highlights from his big night:
Nick Richards
27 pts (7-10 FG) (13-15 FT)
New career high
(25 pts in the 2nd half)
11 rebs
10th double-double of the season
1 SEC POY trophy soon cometh pic.twitter.com/i86PxBvoaw

— Not Scott Charlton (@Scott_Charlton2) February 5, 2020
The Wildcats head to Tennessee on Saturday. If they can avoid a letdown, they'll stay right in the thick of the SEC race.
I am so unbelievably frustrated by Mizzou right now. Other than a fluky 20-point comeback against Georgia, the Tigers have been awful lately, going 1-6 in their last 7 games. The bad news? Mizzou can't even fire coach Cuonzo Martin until April 30, 2020, without cause. That reminds me of a great "The Office" quote where Michael Scott tries to fire Toby and David Wallace won't let him:

Michael: Is there no way we can get rid of him?
David: Not without cause, Michael.
Michael: I have cause. It is because I hate him.

Michael is obviously Mizzou AD Jim Sterk in this situation, with the Mizzou Board of Curators playing the David Wallace role and Cuonzo Martin as Toby.
Now, let's move on to the top stories from the rest of the country.
3. Road Game
Duke is the No. 7 team in the country and has a 19-3 overall record. North Carolina is 10-12 and is nowhere near the top 25. Still, when these 2 ACC powerhouses meet in Chapel Hill on Saturday night, it will still be must-see television.
Why, you ask? Well, the Tar Heels and Blue Devils have had an insanely close rivalry over the years. Just look at how even they've been in their last 100 meetings:
THE. GRAPHIC. IS. BACK.

North Carolina and Duke in last 100 meetings. pic.twitter.com/R7WCGxC8vC

— Bryan Ives (@awaytoworthy) February 2, 2020
Yeah, that's crazy. Also, there will be plenty of NBA talent on display between North Carolina's Cole Anthony and Duke's Vernon Carey Jr. But, don't sleep on Duke's Cassius Stanley, either. Look at his incredible hops:
Cassius Stanley's bunnies are borderline unbelievable. pic.twitter.com/gEVTqYUJHo

— Kyle Boone (@Kyle__Boone) February 5, 2020
The only bad thing about Saturday's game (other than North Carolina's record)? The jerseys for both teams leave a lot to be desired:
Nike.. you serious? These aren't 100th anniversary rivalry uniforms. These are just Duke and UNC practice jerseys https://t.co/Od2lIemtyT pic.twitter.com/uvxDGOYpGx

— Daren Stoltzfus (@DarenStoltzfus) February 6, 2020
Yeah, whoever thought those up didn't do a great job. Oh well, the game should still be fun.
Here are a few other stories from around the country:
On Super Bowl Sunday, Iowa picked up a hard-fought, physical victory over a tough Illinois team. Apparently, the Hawkeyes thought they could take the rest of the week off: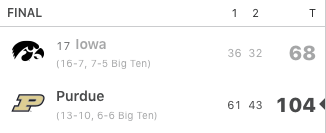 Yeah, not much to say about that game. It wasn't a great one for Luka Garza's Player of the Year campaign. Yes, he scored 26 points, but how he only grabbed 1 rebound is beyond me.
The Butler-Villanova game got off to a bit of an auspicious start, as the Hinkle Fieldhouse roof started to leak, causing a delay. That led to the arena crew hanging a bucket in the rafters to stop the water from falling onto the floor:
The rare basketball rain delay in Butler-Villanova. Hinkle Fieldhouse is leaking, apparently. pic.twitter.com/kLUyprwwDC

— Mark Cooper (@mark_cooperjr) February 5, 2020
Fortunately, the game was able to go on, as it ended in spectacular fashion. Kamar Baldwin is one of the best mid-major players in the country and he proved it on Wednesday. Look at how calmly he drills this step-back three to win the game:
Kamar calls GAME. pic.twitter.com/MLDG7H3SsM

— Butler Basketball (@ButlerMBB) February 6, 2020
Penn State managed to keep the Big Ten standings close on Tuesday night, going into East Lansing and beating Michigan State. Lamar Stevens was spectacular, scoring 24 points and grabbing 7 rebounds. That knocked the Spartans from atop the B1G standings. The Nittany Lions are somewhat quietly putting together an incredible season.
Things are getting really exciting across the country. This weekend is sure to add some more fuel to some of these conference battles.
4. Outlet Pass
What games highlight the schedule this weekend? Let's take a look at the 5 games I'm most excited for:
No. 9 Maryland at No. 20 Illinois (Friday at 8 p.m. ET on FS1) — Maryland and Illinois are tied at the top of the Big Ten standings with 8-3 records. Maryland is 13-0 at home this season, but only 2-4 on the road. Illinois is 12-1 at home, so this could be a tough game for the Terrapins.
No. 18 LSU at No. 11 Auburn (Saturday at noon ET on ESPN) — LSU definitely got caught looking ahead to this game and not respecting Vanderbilt. Which group of Tigers will play best on Saturday at Auburn? This will be a huge game for the SEC standings.
No. 12 Seton Hall at No. 10 Villanova (Saturday at 2:30 p.m. ET on FOX) — After losing 2 games in a row, Villanova desperately needs this win to keep pace with Seton Hall in the Big East. At the moment, the Pirates have a 2-game lead in the regular season standings.
Saint Louis at No. 6 Dayton (Saturday at 2 p.m. ET on CBSSN) — Dayton is a juggernaut this year, but there are plenty of strong teams in the Atlantic 10. SLU could easily pull off an upset if the Flyers start slow.
No. 7 Duke at North Carolina (Saturday at 6 p.m. ET on ESPN) — As we discussed above, this is a rivalry that is always worth it, no matter the records both teams have. And, even though they'll be wearing hilariously bad jerseys, I'll still be watching.
This is a loaded weekend. Games like Virginia-Louisville, Michigan State-Michigan, Gonzaga-Saint Mary's and Butler-Marquette didn't even make the cut. Should be an exciting few days of hoops action!
5. Buzzer Beaters
Now, let's get out of here with a couple of random questions. Here are today's buzzer beaters:
Between now and 2025, the Final Four will be held in Atlanta, Indianapolis, New Orleans, Houston, Phoenix and San Antonio. Which cities would you like to see host the Final Four in the future?
I'd like to see Los Angeles host the Final Four, as well as Chicago, Nashville, Philadelphia, Boston and St. Louis. Those are all great basketball cities, and would be great hosts. I'm surprised Chicago hasn't hosted since 1955, to be honest. I guess it's pretty close to Indy, but Chicago has plenty of basketball history.
Which team is going to win the mess that is the Pac-12 right now?
Just like in football, the Pac-12 absolutely beats itself up when it comes to basketball. Anyone can win on any given night, and that leads to a ton of upset losses. Oregon leads the conference at 7-3 right now, but entering Thursday night's action, 5 Pac-12 teams only had 3 conference losses. For now, I'll say Arizona gets the regular-season title, since the Wildcats get to host Oregon in their only remaining meeting on Feb. 22.
Enjoy the Starting 5? Have a question? Want to yell at me about something? Follow me on Twitter @AdamSpencer4 or email me at ASpencer@SaturdayDownSouth.com.