BIG TEN
Welcome to the B1G show: A Big Ten primer for UCLA and USC fans
The impending move of Texas and Oklahoma to the SEC continues to shake up the college sports landscape. But from a cultural perspective, nothing feels odd about the Longhorns and Sooners joining the SEC.
Former conference rivals Missouri and Texas A&M await both teams in the SEC. Arkansas was a Southwest Conference rival of Texas, and Fayetteville is less than an hour from the Oklahoma border. There's a cultural connectivity that should make it a sensible transition for Sooners and Horns fans.
The same cannot be said of USC and UCLA's move to the Big Ten. Nebraska is the nearest conference opponent, and the strongest connection between Nebraska and Tinseltown is the Oscar-nominated 2013 indie flick "Nebraska."
...
ESPN BET is now live in 17 states
Use promo code SATURDAY to get your $250 bonus
...
But perhaps this will still work out to be mutually beneficial for all involved parties. It already is, if you really think about it. The top 5 soy-producing states are all in B1G country. And who consumes more soy milk than Southern Californians?
With all the media rights money they'll make from the Big Ten's next TV contract, USC and UCLA will be able to purchase plenty of soy milk. Or whatever else they want to put in the team dining hall.
Because of that impending cash infusion, most Bruins and Trojans fans seem quite pleased to leave their Pac-12 brethren behind in 2024. And have very little interest in bringing any of them along.
But how much do they actually know about their future rivals?
In the spirit of inclusivity, we've created the following B1G primer exclusively for USC and UCLA fans looking to learn more about their new conference mates. (Can something be both inclusive and exclusive? Probably not, but I'm rolling with it.)
With a nod to local sensibilities, this list has been heavily Hollywoodized.
Illinois
What the Illini are known for
Like cicadas, the Illini unexpectedly pop up with a great team every 10-15 years or so before heading back under ground. This applies to both football and basketball.
The L.A. connection
The alma mater of legendary linebacker Dick Butkus, who many Los Angelenos surely recognize as Coach Mike Katowinski on "Hang Time."
Dick Butkus from Hang Time 😂 pic.twitter.com/aanxlAyFan

— Jordan Young®✌🏾️ (@SteelCitysFnst) April 15, 2021
Illinois graduate Hugh Hefner also owned property in Los Angeles until his 2017 death.
Indiana
What the Hoosiers are known for
Basketball. Indiana's 5 national championships rank 4th all-time behind UCLA, Kentucky and North Carolina. However, each of those programs have won a title more recently than the Hoosiers. Some might also know Indiana for not winning a bowl game since 1993.
The L.A. connection
Lee Majors, The Six Million Dollar Man, arrived at Indiana on a track and football scholarship before transferring to Eastern Kentucky after 2 years. Nobody complained much about the transfer portal in 1959.
📺DEBUT: 'The Six Million Dollar Man' starring Lee Majors premiered as a regular weekly series 47 years ago, January 18, 1974, on ABC pic.twitter.com/As5P8yhSFE

— RetroNewsNow (@RetroNewsNow) January 18, 2021
Iowa
What the Hawkeyes are known for
Using more tight ends than you think the rule book permits.
The L.A. connection
Much like Illinois, Iowa produced a Hall of Fame defensive player who would go on to take a star turn in Hollywood: Alex Karras. Karras stole the show as Mongo in "Blazing Saddles," then played Webster's godfather in "Webster" a decade later.
"Mongo only pawn in game of life."
-Blazing Saddles@MelBrooks pic.twitter.com/hLkr1U3a5f

— David Escobedo 👨‍🍼 (@FntsyWlkr) March 14, 2017
The 1989-97 show "Coach" was set at fictional Minnesota State, but the exterior campus shots were filmed at Iowa. Craig T. Nelson's titular role of Coach Hayden Fox was also named after Iowa coach Hayden Fry.
Maryland
What the Terrapins are known for
Putting their gaudy state flag on every article of clothing they can find.
Top 4 worst college football uniforms
1. MSU neons 😢
2. Oregon all the time
3. Ohio State black helmet thing
4. Maryland flag vomit pic.twitter.com/nQ89S6tXgZ

— Harry James (@FugiFair2) May 7, 2021
The L.A. connection
Larry David is a 1970 Maryland graduate.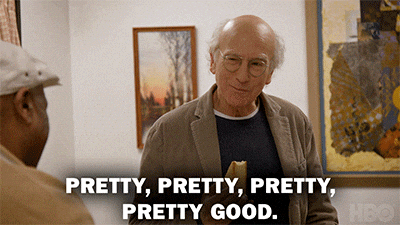 Michigan
What the Wolverines are known for
Winged helmets and pleated khakis. Some also know Michigan for being college football's all-time wins leader at 976 and counting.
The L.A. connection
Wolverines coach Jim Harbaugh played Screech's cousin on an episode of Saved By The Bell: The New Class.
RIP, Dustin Diamond. (Also, today I learned Saved By The Bell: The New Class ran 3 seasons longer than the original. What?)
Michigan State
What the Spartans are known for
Magic Johnson, without whom Los Angeles would be a Clippers town. (It's Hollywood, sometimes facts get made up because they sound better.)
And if you actually are a Clippers fan who resents Magic, we offer you another Spartan: Kirk Gibson.
And if you're somehow a Clippers and Angels fan… why do you still like sports?
The (other) L.A. connection
Former Michigan State football star Bubba Smith played Moses Hightower in the never-ending "Police Academy" series, which was basically the Fast and Furious of the 1980s.
Smith, like Butkus and Karras, was an intimidating all-Big Ten defensive player. Had they played in the '50s or '60s, the Bosa brothers would have been in every movie or TV series 20 years later.
Minnesota
What the Golden Gophers are known for
Minnesota is a hockey school trapped in a "football and basketball matter a lot more for revenue" body. The Gophers also play on an elevated basketball court that players can fall off of.
The L.A. connection
Ron Perlman, who received a Masters in Fine Arts from Minnesota, starred as the villain in "Police Academy VII: Misson to Moscow" before going on to far more acclaim as Hellboy.
Of course, the far more visible Minnesota-to-L.A. connection is the Lakers. The Lakers kept their Minnesota-inspired name even after moving to Los Angeles in 1960.
Nebraska
What the Cornhuskers are known for
Bruce Springsteen has an entire album called Nebraska, but the Huskers can best be summed up by his Born In The USA track "Glory Days." Nebraska continues trying to recapture the glory of its 1970s-90s heyday to the point that it is giving the program's worst coach in 60 years another shot because he played for some of those teams.
The L.A. connection
If you asked yourself "Wasn't Johnny Carson from Nebraska?" then you are correct, sir! And if you're old enough to understand that reference, remember to have your cholesterol levels checked.
Carson graduated from Nebraska with a degree in radio and speech before eventually hosting "The Tonight Show" for 30 years. Carson was the show's host when it moved from New York to Los Angeles in 1972.
Northwestern
What the Wildcats are known for
Meet your new version of Stanford. In other words, at some point USC is going to show up in Evanston as a 4-touchdown favorite and lose.
Northwestern is also decidedly less Northwestern on the map than it was when founded in 1851.
The L.A. connection
Northwestern's respected drama program makes it by far the most connected current Big Ten school to Los Angeles. Your best shot at a celebrity sighting will be if the Cats are in town, particularly since no fans show up at Northwestern's actual home games.
Prominent Hollywood Cats (past and present) include Ann-Margret, Warren Beatty, Zach Braff, Julia Louis-Dreyfus, Charlton Heston, Dermot Mulroney (but not Dylan McDermott), Stephen Colbert and Seth Meyers.
Ohio State
What the Buckeyes are known for
Being the power program everybody else in the conference loves to hate.
In other words, USC, meet yourself.
The L.A. connection
Richard Lewis, who was 1 of the original stars of standup comedy in the '80s before becoming known to modern audiences for his many cameos on "Curb Your Enthusiasm," is a Buckeye.
And since we're talking Hollywood, we'd be remiss to forget former "Hollywood Squares" panelist Bruce Vilanch. Vilanch also co-wrote the "Star Wars Holiday Special," which is considered by some to be the worst thing ever televised.
But you can bet none of those critics ever watched a Rutgers football game.
Penn State
What the Nittany Lions are known for
You know how Oregon shows up with a different uniform every week? Penn State is the exact opposite. These are the plainest uniforms in the game, down to the blank white helmets with a single dark stripe. And they are beloved.
Black Shoes. Basic Blues. No Names. All Game.

Penn State lands at #️⃣6️⃣ on ESPN's #CFB150: The Greatest Uniforms.#WeAre pic.twitter.com/dXNdaX4CIh

— Penn State Football (@PennStateFball) October 25, 2019
The L.A. connection
Keegan-Michael Key of "Key & Peele" fame is a Penn State grad. And his legacy is the greatest piece of college football comedy in existence.
Purdue
What the Boilermakers are known for
Graduating astronauts. The first man on the moon, Neil Armstrong, was a Boilermaker. Some say it's no coincidence he went as far away from West Lafayette as humanly possible soon thereafter. (Just kidding, only Indiana fans say that.)
Purdue also specializes in recruiting basketball players who are over 7-foot-2.
The L.A. connection
If John Wooden was the Wizard of Westwood, then Purdue is Hogwarts. Wooden graduated from Purdue in 1932, then led UCLA to 10 NCAA Tournament titles between 1964-75.
Rutgers
What the Scarlet Knights are known for
Being from Jersey.
The L.A. connection
Rutgers legend James Gandolfini had scene-stealing roles in several movies before finally making it big as mob boss Tony Soprano on HBO. It was, without exaggeration, 1 of the 10 most iconic roles in television history.
Gandolfini also appeared on a 2002 episode of Sesame Street.
been trying to think of a caption for this but it's beyond me. how about we just enjoy this picture of james gandolfini on sesame street pic.twitter.com/jVCmJ92kWR

— i hate you eric adams (@sonyashea3) February 16, 2021
Wisconsin
What the Badgers are known for
Running the football, jumping around and beating you in basketball after you've laughed at the team picture.
The L.A. connection
Director Michael Mann, whose credits include "Heat," "The Last of the Mohicans" and "Ali," went to Wisconsin. So did the Zucker brothers, who wrote "Airplane!" and "The Naked Gun."
The Naked Gun, of course, co-starred a Heisman Trophy-winning USC running back. And featured a cameo from the Trojan Marching Band.
That's what we call bringing it full circle. Or as you say out in Hollywood: that's a wrap.