IOWA
Iowa is the team no one wants to draw in the Big Ten tournament
If Big Ten writers have been sleeping on Iowa this season, you can consider me Rip Van Winkle.
Some enterprising Hawkeye fan will likely discover I've written about Iowa with the same frequency as Penn State. While that may not literally be the case, the fact it's even a remote possibility says a lot. And none of those things reflect very well on the author.
But in the defense of us sleepers, the Hawkeyes were legitimately lurking in the shadows midway through the season. Maybe even some place murkier than the shadows. Like an 1880s London alley or something.
At the beginning of February, Iowa was 14-7 with a 4-6 record in the Big Ten. Those wins were against Maryland, Indiana, Minnesota and Penn State.
Not exactly Murderers' Row. Hardly even Jaywalkers' Row.
Then, due to schedule quirkiness, Iowa finally moved above .500 in conference play. By beating Minnesota, Maryland and — wait for it — Nebraska.
At that point, it would be fair to look at Iowa's Big Ten wins and have the same reaction as Big Ern McCracken in "Kingpin."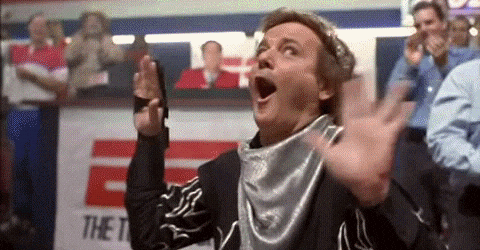 But that reaction is so 3 weeks ago.
February and March have revealed who the Hawkeyes really are — quite possibly the team best situated to win the Big Ten tournament.
Fran McCaffery's well-oiled machine
In most cases, machinery doesn't work very well when you remove the motor. And Iowa basketball did not figure to be an exception when Luke Garza graduated after winning Big Ten player of the year in consecutive seasons.
Garza was the first player to win that award in back-to-back seasons since Mateen Cleaves in 1998 and '99. And the first Iowa player to win the thing, period.
Iowa just doesn't get players like that. That's not a slight; it's reality. Garza was the first Hawkeye to be named a first team all-American since Chuck Darling.
If you're saying "Who in the heck fire is Chuck Darling?" it's probably because he played in 1952. And you would say it exactly that way to use era-appropriate language.
Thus, it was quite reasonable to believe Garza would be impossible for the Hawkeyes to replace. The Sweet 16, unreached since Dr. Tom Davis led them there in his final season, figured to continue eluding Iowa for untold years to come.
Instead, Fran McCaffery has built a team that looks capable of ending that drought. Iowa is an offensive juggernaut.
No one in the country turns the ball over at a lower rate than the Hawkeyes. That crispness puts Iowa at fourth nationally in offensive efficiency, behind only Purdue, Kentucky and Gonzaga.
But the secret to Iowa's success is that there's also a side dish of defense. It may not be great, but it's  more effective than most would probably think.
The Hawkeyes are a respectable fifth in the Big Ten in defensive field goal percentage. And Iowa isn't just good at preventing turnovers. What makes this team different from McCaffery's previous crews is its ability to force them.
Iowa is 88th nationally in defensive turnover percentage. That may not sound extraordinary. But the Hawkeyes were 314th in the same category a year ago. The only other time they've been in the top 100 under McCaffery was in 2011 — his first season in Iowa City.
Hawkeyes heating up at the right time
If Iowa can win at Illinois in Sunday's season finale, it will officially be the most scorching team in the Big Ten tournament field.
As it stands, the Hawkeyes have won 5 in a row and 8 of their past 9 games. All of those wins have come by double figures. Beating the Illini would also clinch the No. 4 seed in the Big Ten tourney. And that means a much easier path to the tournament title.
That's partially academic. It goes without saying that winning 3 games in 3 days is easier than winning 4 in 4 days. Particularly for a team that likes to push the pace like Iowa does.
But earning the 5-seed would result in a probable quarterfinal matchup with Wisconsin. The Hawkeyes have improved substantially since losing 87-78 to the Badgers on Jan. 6, but it's still not an ideal matchup.
As the 4-seed, the Hawkeyes would get someone from a mix of Michigan, Michigan State, Indiana, Maryland or Penn State. The Hoosiers and Wolverines would be pretty desperate for resume-padding wins, but obviously none of those teams are of Wisconsin's caliber.
And against these Hawkeyes, desperation might not be enough anyhow. No team in the Big Ten is playing harder than Michigan since Juwan Howard's suspension. But that effort was not enough to prevent Iowa from slicing and dicing the Wolverines on Thursday night.
In a game Michigan badly needed, Iowa shot 53% from the field and 58% from 3-point range. It was a clinical takedown. Every time the home crowd got fired up for a Michigan mini-rally, the Hawkeyes coldly dissected the Wolverine defense and killed the vibe.
In little over a week, they may be poised to do the same against all comers they face.