MICHIGAN
Ultimate Fiesta Bowl Preview: Michigan is on a Playoff mission. TCU has the skill to ruin the Wolverines' Redemption Tour
Online sports betting is live in the state of Michigan. Here are our favorite sportsbooks for betting on the Wolverines, the NFL, the NBA, and more…
Let's get on to the Fiesta Bowl!
Everything you need to know about Saturday's semifinal collision between No. 2 Michigan and No. 3 TCU.
– – –
...
ESPN BET is now live in Michigan
Use promo code SATURDAY to get your $250 bonus
...
The College Football Playoff has not been around very long, in the grand scheme of things, and the days of the 4-team version the sport has come to love/hate over the past decade are already numbered. If we've learned anything about the format in its brief existence, though, it's the consistently enormous gap between a Semifinal Team and a Championship Team. And there may be no clearer example of that gap than Michigan in 2021 vs. Michigan in 2022.
The 2021 Wolverines were a semifinal team through and through. They were, let's face it, just happy to be there. Their presence was a shock. Not only had they started out unranked: Coming off the collapse of 2020, they'd kicked off with no momentum, with a huge, highly engaged fan base projecting disgruntled vibes on a daily basis, and with Jim Harbaugh hanging onto his job by the thinnest of threads. At that point, few people expected him to survive, much less thrive. The thriving window had already slammed shut.
Even as the turnaround unfolded, it was never obvious where it was headed until it actually reached the destination. Michigan survived a handful of close calls, lost to its major in-state rival, and arrived at its annual colonoscopy appointment against Ohio State as an automatic underdog. It was only then, in its decisive, emotional vanquishing of the Buckeyes in the snow, that the notion of Michigan in a Playoff game suddenly came into full view. The following week, the Wolverines clinched their first Big Ten championship since 2004, essentially accomplishing everything they'd set out to accomplish.
The Playoff, as everyone implicitly understood (whether they were willing to acknowledge it or not), was gravy. Michigan showed up for the semifinal in Miami, got run out of the stadium in a matter of minutes by Georgia – the embodiment of a Championship Team – and went right back to basking in the glow of its most satisfying campaign in a generation.
A year later, the 2022 Wolverines are back as a Championship Team in their own right. Despite a significant exodus from last year's run (which, remember, very nearly included Harbaugh himself), this version of Michigan has conducted itself like an outfit on a much bigger mission from Day 1. It rolled unchallenged through the first half of the schedule, passed its first real test against Penn State with ease, and kept on rolling all the way through an even more emphatic win over Ohio State, this one coming in Columbus, on a day Michigan's best player was reduced to a spectator. The existential crisis in the rivalry is officially the Buckeyes' problem now, as is the doomed semifinal date with Georgia.
Along the way, the Wolverines faced only one close shave, in a come-from-behind, 19-17 win over Illinois in Week 12 with multiple key players under wraps ahead of the trip to Ohio State. They buried their other Big Ten opponents on average by 22 points per game. The Big Ten Championship Game, a celebration in '21, was a more perfunctory affair this time around: Just one more routine step to get them where they always expected to go.
Now that they're here, with gas in the tank, a very real opportunity to win it all, and no guarantee that they're going to get another one anytime soon, the pressure to make it count is an order of magnitude higher than it was at the same time last year. That team wanted to win; this team needs to to justify the enormous emotional investment in this season, specifically, and in the entire Harbaugh project, in general. Few coaches in recent memory have arrived with the fanfare and expectations that accompanied Harbaugh's return to his alma mater in 2015, and none has rebounded from the brink of being fired to win a national title. That trajectory, if they pull it off, would be unique in the modern history of college football. If they don't, then Michigan fans will just have to adapt to a new, slightly less sympathetic type of angst.
TCU? Well, TCU is not dealing with any of that. For the purposes of the dynamic established by this already too-long intro, the Horned Frogs are a classic Semifinal Team: No expectations in September, several narrow escapes en route to a 12-0 regular season, a close loss in the conference championship game, and a consensus feeling that they've wildly overachieved just to make it to this point. No team has flown in from as far off the preseason radar to crash the Playoff field, or the BCS Championship Game before it for that matter, as TCU under first-year coach Sonny Dykes.
For that, the Frogs have been installed as 7.5-point underdogs – the exact same "nod of respect" point spread the experts settled on last year for Michigan-Georgia in the Orange Bowl. That game was all but over a few minutes into the second quarter, if not sooner. For all of our sakes (Michigan fans excluded), let's pray that TCU is up for a more sustained fight.
When Michigan has the ball

Best players on the field
1. Michigan C Olu Oluwatimi (80.8 PFF grade | 0 sacks allowed | Rimington Trophy)
2. TCU CB Tre'Vius Hodges-Tomlinson (78.0 PFF | 11 PBUs + 3 INTs | Thorpe Award)
3. Michigan RB Donovan Edwards (90.8 PFF | 1,064 scrimmage yards + 9 TDs)
4. TCU CB Josh Newton (81.9 PFF | 12 PBUs + 3 INTs | 1st-team All-Big XII)
5. Michigan OT Ryan Hayes (76.8 PFF | 0 sacks allowed | 2nd-team All-B1G)
6. Michigan OG Zak Zinter (75.7 PFF | 1 sack allowed | 1st-team All-B1G)
7. Michigan QB JJ McCarthy (78.5 PFF | 79.0 QBR | 3rd-team All-B1G)
8. Michigan WR Ronnie Bell (76.0 PFF | 754 yards + 3 TDs | 3rd-team All-B1G)
9. TCU DB Millard "Nook" Bradford (79.5 PFF | 43 tackles + 6 PBUs)
10. TCU DE Dylan Horton (75.3 PFF | 41 tackles + 10 TFLs)
Michigan's priority: Running the dang ball
The most satisfying part of Michigan's post-pandemic surge is that it was built from the trenches up. Last year, the offensive line was the surprise strength of the CFP run, emerging over the course of the season as vintage maulers who looked like they would have been right at home blocking for Harbaugh himself back in the mid-80s. This year, it was a known quantity that kicked butt from Day 1. The Wolverines were never really stopped on the ground, and rarely held in check. They ran for at least 225 yards in nine of 13 games, including a dominant, 418-yard romp vs. Penn State; a methodical, 276-yard paving vs. Michigan State; and an exuberant, 252-yard afternoon at Ohio State — all season highs on the ground against those respective defenses. Four o-linemen were voted first- or second-team All-Big Ten by league coaches, and center Olu Oluwatimi, a grad transfer from Virginia, was singled out as a consensus All-American. The unit as a whole claimed the Joe Moore Award as the nation's best OL for the second year in a row.
Faith in the front line's ability to continue opening running lanes regardless of who's running through them is one big reason that losing all-everything RB Blake Corum to a season-ending knee injury is not the death blow it was initially feared to be. The other: Corum's understudy, sophomore Donovan Edwards, who is every bit as dangerous as his more decorated running mate and picked up right where Corum left off in the past 2 games. Edwards, who was sidelined or limited by nagging injuries himself for parts of the regular season, is sometimes typecast as a pure speed back, more big-play threat than every-down workhorse. The big play part is certainly true: In his first two years on campus, he's averaged 8.0 yards per touch with six touchdowns covering 60+ yards. This season, he broke open a close game against Penn State with a go-ahead, 67-yard sprint in the third quarter that sparked a 25-0 Michigan run; he put the Ohio State win on ice with a couple of breakaway TD runs in the fourth quarter that entered directly into Wolverine lore in real time; and he ripped off a 60-yarder on the first play of the second half in the Big Ten Championship Game, setting up the first of Michigan's four second-half touchdowns against Purdue.
Donovan Edwards now has three 60+ yard carries in his last two games: pic.twitter.com/xlslKjjv8g

— Marlee Wierda (@marleewierda) December 4, 2022
In Corum's absence, though, Edwards has also proven he can handle a full-time workload with the requisite oomph. He logged 22 carries against Ohio State with his right hand in a cast, the majority of them right up the gut. Against Purdue, he ran 25 times with 10 broken tackles, per Pro Football Focus, and 145 of his 185 yards on the night coming after contact. It would be foolish to suggest that a star of Corum's caliber — a unanimous All-American and top-10 finisher in the Heisman vote — is somehow expendable, if for no other reason than two first-class backs in the same backfield are better than one. Edwards is less reliable sniffing out blitzes in pass protection, and the depth chart behind him is alarming. But when the ball is in his hands, he's yet to leave Michigan fans pining for anybody else.
On the other side, TCU replaced Gary Patterson's longstanding 4-2-5 scheme with a 3-3-5 alignment under first-year coordinator Joe Gillespie that sacrifices size on the line for speed at the second level, with inconclusive results. Statistically, the Frogs were as resolutely average against the run as you can be, finishing fifth in the Big 12 and 65th out of 131 teams nationally in rushing defense. From one week to the next, though, they held their own. They were never overwhelmed, holding 11 of 13 opponents below 200 yards, and played easily their best game against the best back they faced, Texas' Bijan Robinson. In his other 11 games this season, Robinson was close to unstoppable, averaging 169.6 scrimmage yards on 7.0 per touch. Against TCU, he limped in with 29 yards on a long gain of nine in the Longhorns' lowest-scoring outing of the year.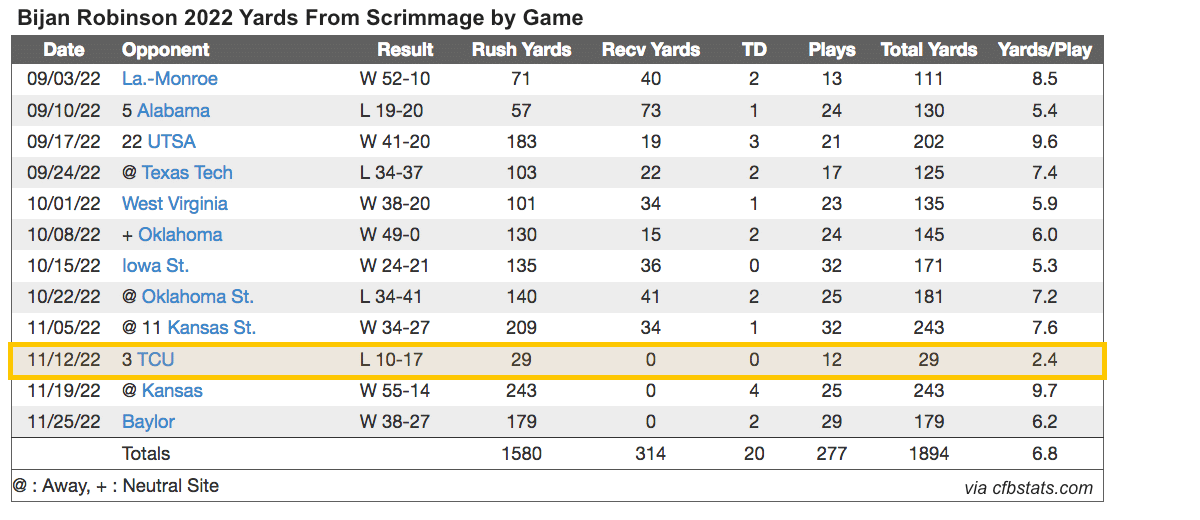 Obviously, Texas' offensive line is not Michigan's, and TCU did not make a habit out of pulling the emergency brake on every All-American running back on the schedule. (Kansas State's Deuce Vaughn accounted for 121 yards in the regular season and 160 in the Big 12 title game.) As outliers go, though, bottling up Robinson — whose all-purpose skill set is essentially a more seasoned version of Edwards' — is a compelling example of what it's capable of on any given Saturday. The Wolverines' advantage in sheer beef might bear out, but that doesn't necessarily mean it will be decisive.
TCU's priority: Limiting explosive plays
Even by Big Ten standards, Michigan doesn't put the ball in the air very often, mostly because it hasn't had to. With the ground game operating at peak efficiency, the main concern in the passing game has been its capacity to complement the grind with the occasional bomb. When sophomore JJ McCarthy, a former 5-star recruit, replaced incumbent QB Cade McNamara* in September, there was some optimism that his blue-chip arm would open things up the downfield. (*McNamara, whose season ended in Week 3 due to a knee injury, left the team earlier this month with plans to transfer to Iowa.) For the most part, that didn't happen: McCarthy's stat line on attempts of 20+ yards is more or less identical to McNamara's in 2021. Against Ohio State, though, the premise paid off in the timeliest and most dramatic possible fashion. After a shaky start, McCarthy connected on three touchdown strikes in rapid succession covering 69, 75, and 45 yards, respectively — his 3 longest TD passes of the season.
75 YARDS DEEP TO THE ENDZONE!! 🔥😎 @jjmccarthy09 x @CorneliusNation x @UMichFootball pic.twitter.com/J30m0J2QQv

— FOX College Football (@CFBONFOX) November 26, 2022
The Wolverines don't have a go-to deep threat who singlehandedly strikes fear in the heart of opposing secondaries, but every member of the regular rotation has at least 1 reception of 40+ yards, including tight ends Luke Schoonmaker and Colston Loveland, who made a strong impression down the stretch in place of the injured Erick All. (Loveland, a true freshman, was on the receiving end of McCarthy's 3rd TD pass in Columbus, as well as a 25-yard jump-ball touchdown against Purdue.) That list does not include sophomore Andrel Anthony, a specimen who has remained on perpetual breakout watch since his monster game at Michigan State in 2021 despite marginal production in the meantime. Any one of a half-dozen guys could potentially pop the lid off at any time.
Still, for the Frogs' part they have to feel pretty good about the match-ups on the back end. The starting corners, seniors Tre'Vius Hodges-Tomlinson and Josh Newton, were both first-team All-Big 12 picks with a combined six interceptions and 23 passes broken up. Newton, a grad transfer from UL-Monroe, allowed completions on just 34.4% of passes targeted in his direction, per PFF, best in the country among cornerbacks with at least 400 coverage snaps; Hodges-Tomlinson (La'Dainian's nephew) was right behind him, ranking fourth nationally at 37.1 percent. Safeties Millard Bradford and Mark Perry have logged more than 3,500 career snaps between them. And McCarthy, while he's proven to be efficient and mistake-averse within the friendly confines of Michigan's offense, is still relatively green as a straight drop-back passer. He had significantly more success throwing with play-action than without it, and his accuracy weirdly plummeted in the month of November. If TCU manages to limit Edwards to singles in the run game, can McCarthy make the routine throws that sustain drives? Its mission is to find out.
The wild card: JJ McCarthy's legs
McCarthy is not a frequent runner nor a particularly electric one, averaging fewer than 4 carries per game (excluding sacks) with a long gain of 21 yards. But he is plenty athletic enough to force defenses to respect the threat, or to make them regret it if they don't. As a freshman, he was the designated "change of pace" QB in zone-read packages, and memorably generated a viral highlight in which he wasn't even the ballcarrier, streaking into the frame from well behind the action to escort Blake Corum down the sideline on a long touchdown run against Iowa in the Big Ten Championship Game. This year, he's flashed some ability as a scrambler to escape the pocket for positive yards, extend plays under pressure, and make something out of nothing on the hoof:
WHAT A FIRST DOWN 🔥@UMichFootball pic.twitter.com/2o0eOSHHLJ

— FOX College Football (@CFBONFOX) December 4, 2022
Still, the most useful role for his mobility is keeping the defense honest in the zone-read game. Although McCarthy doesn't pull the ball often — and against the lesser opponents on the schedule, may not even be making an actual read — he does it often enough, and with enough success, to change the math just by reminding them that he can. (As thin as the RB depth chart is, this could be a game where he's asked to remind them a few more times than usual.) When the quarterback succeeds in freezing an edge defender or a linebacker for the half-second necessary to prevent them from crashing down on the running back, that fraction of time and space may be all a player like Corum or Edwards needs to find daylight. Without the respect, that fraction doesn't exist, and the going gets that much tougher.
Key matchup: Michigan OL Olu Oluwatimi vs. TCU DT Damonic Williams
Williams, a true freshman listed at 6-2, 320 pounds, moved immediately into the starting lineup and never left, starting all 13 games in the middle of TCU's three-man front. A true nose tackle in the "war daddy" tradition, his job is to absorb double teams, clog up as much space as possible, and tie up opposing blockers long enough for TCU's linebackers to have a free run at the ball — easier said than done when lined up directly across from arguably the best center in the college game. Factor in All-Big Ten guards Zak Zinter and Trevor Keegan flanking Oluwatimi to the right and left, respectively, and Williams is in for the steepest assignment of his young career, by far.
When TCU has the ball

Best players on the field
1. TCU QB Max Duggan (85.6 PFF grade | 80.2 QBR | O'Brien Award)
2. TCU WR Quentin Johnston (76.3 PFF | 903 yards + 5 TDs | 1st-team All-Big XII)
3. Michigan DE Mike Morris (84.5 PFF | 21 tackles + 11 TFLs | 1st-team All-B1G)
4. Michigan DT Mazi Smith (76.8 PFF | 45 tackles + 3 TFLs | 1st-team All-B1G)
5. TCU RB Kendre Miller (85.4 PFF | 1,342 yards + 16 TDs | 1st-team All-Big XII)
6. Michigan CB D.J. Turner (77.3 PFF | 33 tackles + 10 PBUs | 2nd-team All-B1G)
7. Michigan CB Will Johnson (87.4 PFF | 25 tackles + 3 INTs | Freshman All-American)
8. TCU OG Steve Avila (72.1 PFF | 0 sacks allowed | Consensus All-American)
9. Michigan LB Junior Colson (73.7 PFF | 95 tackles + 6 TFLs | 2nd-team All-B1G)
10. Michigan DL Kris Jenkins (79.0 PFF | 50 tackles + 4 TFLs)
TCU's priority: Staying balanced
Everyone knows the Frogs' fate is riding on the arm of senior QB Max Duggan, Heisman runner-up, face of the program, and leading candidate for the title of Most Improved Player in America. Duggan's individual turnaround may be even more dramatic than his team's: Coming off a couple of unremarkable turns as the full-time starter in 2020-21, he was initially beaten out for the job in the preseason by sophomore Chandler Morris, only to find himself back in the saddle after Morris suffered a sprained knee in the season opener. The rest is history, the ending to which is yet to be written.
Duggan's production is impressive, especially his 165.5 passer rating and 30-to-4 touchdown-to-interception ratio. Clearly, though, the numbers did not resonate nearly as much with Heisman voters as the unmistakable Tebow vibes he radiated for much of the season. In my Peach Bowl preview, I compared Ohio State quarterback CJ Stroud to an expensively engineered race car with a tendency to break down on anything less than a perfect track. To extend that analogy, Duggan is an old pickup truck with no seat belts that's traversed every back road in the county. He led 4 fourth-quarter comebacks, most memorably against then-undefeated Oklahoma State in mid-October (a game TCU won in double overtime after trailing at one point 24-7) and at Baylor in late November, where he accounted for 116 yards in the final seven minutes and set up the game-winning field goal as time expired. Two weeks later, he cemented his reputation for crunch-time moxie in in the Big 12 Championship Game, rallying the Frogs from a 28-17 deficit against Kansas State to force overtime in their most high-profile outing of the year. Although they went on to lose in OT after coming up short on back-to-back runs from the K-State 1-yard line — TCU fans will insist the ball crossed the plane on both of them, and I won't argue — they might actually have earned a little respect in the process.
While the cameras and the conversation have focused on Duggan, though, the reality is that the offense under boy-wonder coordinator Garrett Riley (Lincoln's little brother) thrives on balance. In fact, the Frogs were so committed to balance they ended the regular season ranked exactly 25th nationally in both rushing and passing yards per game. On the rushing side, the lion's share of the credit for that goes to junior RB Kendre Miller, who was as productive in his first year as the feature back as he was unsung. At 6-0, 220 pounds, Miller is built like a thumper, and often runs like one, generating most of his 1,342 yards after contact. He forced 67 missed tackles, per PFF, second among Big 12 backs behind only Bijan Robinson. But he's got some juice to spare in the open field, too. He had 13 carries of 20+ yards, which tied for eighth in the Power 5, and scored at least once in every game, including a 69-yard TD run against Oklahoma, a 51-yard sprint at West Virginia, and a 75-yarder at Texas.
Kendre Miller 75-yard touchdown! 🔥#Big12FB x @TCUFootball

📺 ABC | @ESPNCFB pic.twitter.com/A04zKBh50t

— Big 12 Conference (@Big12Conference) November 13, 2022
TCU also gets significant production on the ground out of Duggan (580 yards, excluding sacks; 6 TDs) and sixth-year senior Emari Demercado (472 yards, 5 TDs), who had his best college season. Duggan's usage in the running game varies based on the opponent, the situation, and the opportunities he sees fit to exploit as a scrambler; obviously, a Playoff semifinal is a green-light scenario at all times.
Along with the offensive line, Michigan's run defense is the strength of the team, anchored along the front line by galactic nose tackle Mazi Smith and the DT rotation of Kris Jenkins and Mason Graham. Smith, a weight-room legend from his earliest days on campus, is an overpowering presence with legitimate first-round aspirations next spring; Graham, a 317-pound true freshman who wasted no time establishing himself as (literally) the next big thing. Only one opposing running back put together a notable performance against the Wolverines, but it was the most notable running back they faced: Illinois' Chase Brown, who churned out 140 yards and two touchdowns on 29 carries in the Illini's upset bid in late November. Miller rarely comes in for anywhere near that many carries, but if he can match Brown's 4.8-yard average over a typical workload, the Frogs will take it.
Michigan's priority: Containing Quentin Johnston
Johnston's stat line was subdued by a sluggish start in September, followed by a nagging ankle injury in November that cost him two full games and limited him in others. But make no mistake: 17.5 yards per catch over the course of his career doesn't lie, and neither does the tape, which has made him the early favorite for WR1 status in the '23 draft. At 6-4/215, Johnston is the complete package — an imposing athlete with an elite catch radius, ball skills to spare on contested catches, and the speed and fluidity of a much smaller receiver in the open field. Every pass thrown in his direction is a potential spectacle.
Quentin Johnston continues his tear! Goes up and GETS it! pic.twitter.com/KLo18LA10y

— Cam Mellor (@CamMellor) October 15, 2022
Quentin Johnston is at it again pic.twitter.com/dzgTICvaUm

— Colton Denning (@Dubsco) October 15, 2022
6'4 TCU WR Quentin Johnston is going to be a stud on Sunday. A true #1 wide-out.pic.twitter.com/pcSxjcQkHq

— Jared Tokarz (@JaredNFLDraft) November 19, 2022
Quentin Johnston looked pretty darn healthy to me on this 53-yard gain. Great throw by Duggan. pic.twitter.com/vgiNedio7A

— Max Olson (@max_olson) December 3, 2022
Good-not-great numbers aside, TCU has shown a willingness in competitive games to make feeding Johnston a priority. He was targeted 39 times in a 3-week mid-October stretch against Kansas, Oklahoma State, and Kansas State alone, coming down with 26 catches for 460 yards and three touchdowns. Even at less than 100% down the stretch, he saw 20 targets in the Frogs' past 3 games, resulting in contested catches against both Texas and Baylor and a 137-yard performance in the rematch against K-State. All signs leading up to kickoff indicate Johnston will be at full speed, or at least close enough to approximate it, which almost certainly means his number is going to be called early and often.
Michigan, like TCU, has high confidence in its corners, junior DJ Turner and true freshman Will Johnson. Turner, who emerged midway through last season as the Wolverines' top cover man, is the known quantity; he started every game, forced a team-high 14 incompletions, and was tabbed as a second-team all-conference pick. The local buzz, however, is all about Johnson. A 5-star talent listed at 6-2/194, Johnson came on strong in November, starting four of the past 5 games; in that span, he recorded his first career interception at Rutgers, held up just fine opposite Ohio State's Marvin Harrison Jr., and came down with 2 more picks in the win over Purdue.
Is there a secondary player in the country that's trending upward faster than Will Johnson? While you ponder that question, allow me to show you both of his INTs in the Big 10 Championship game: pic.twitter.com/yqT1bd1imU

— Wolverine Chronicle (@WolverineChron) December 10, 2022
Johnson earned a stellar 89.5 coverage grade against the Boilermakers, bringing his season grade to 88.4, third-best among Big Ten corners. Athletically, his length poses a more intriguing challenge to Johnston's size than the 6-foot Turner, although where 19-year-old freshmen are involved "intriguing" can always go in multiple directions. Both can count on being tested.
The wild card: Michigan's pass rush
Aidan Hutchinson and David Ojabo formed the nation's most feared edge-rushing tandem in 2021, so some drop-off in that department following their exit for the draft was inevitable. But between Mike Morris, Jaylen Harrell and Eyabi Okie, it was not nearly as steep as it could have been. As a team, Michigan tied for the Big Ten lead with 36 sacks (2 more than last year in one fewer game) and only generated about two fewer QB pressures per game, per PFF — the big difference being that those pressures were distributed more evenly across the depth chart, as opposed to one or two headliners. The committee approach got the job done all the same.
In terms of generating individual mismatches, though, the fear factor is not the same. The most productive member of the rotation, Morris, is more of a strongside type at 6-6/292 than a true edge who threatens to turn the corner on an opposing tackle; he was also limited at the end of the regular season by an ankle injury, missing the Illinois and Purdue games and playing just 11 snaps against Ohio State. (Morris told reporters this week he expects to be at "95-100 percent" against TCU.) The most talented, Okie, only arrived in Ann Arbor in August, the latest stop in a far-flung career that had previously taken him from Alabama — Bama fans will remember him as Eyabi Anoma, a 5-star recruit in the 2018 class who saw the field there as a true freshman — to Houston to UT-Martin; in his brief tenure as a Wolverine, he's been a hot-and-cold contributor off the bench. He was hot against Purdue, for what it's worth, turning in his most productive game with 7 QB pressures on a season-high 41 snaps. Harrell, who was credited with 2 sacks against the Boilermakers, had not laid a hand on an opposing quarterback prior to that in nearly two months.
Duggan is gettable: He's been sacked 23 times, 18 of them coming in just 4 games against SMU, Kansas State (regular season), Texas Tech and Texas. But PFF has charged 8 sacks to Duggan himself, compared to just 5 on his starting tackles, Brandon Coleman and Andrew Coker, both multi-year starters with prototypical size. Either Michigan finds a way to add to those numbers, or Duggan will continue to add to his.
Key matchup: TCU WR Taye Barber vs. Michigan DB Mike Sainristil
Barber is a big play waiting to happen. Although he averages fewer than 4 targets per game, he's made them count by way of pure speed, averaging 17.4 yards per catch from the slot with 3 touchdowns covering 70+ yards.
#CFB's Top 5 Fastest Ball Carriers from Week 12

3️⃣ TCU WR Taye Barber (@_UniquelyGifted) 20.6 mph💨@TCUFootball | #GoFrogs pic.twitter.com/Axoc0juiL6

— Reel Analytics (@RAanalytics) November 25, 2022
You know, you don't encounter too many 22 MPH guys in the Big Ten. Sainristil, a converted wide receiver in his first year in the secondary, has been a quick study in a full-time nickel role, earning a 79.4 PFF grade on the season while allowing just one touchdown. Against Ohio State, he made one of the plays of the year for Michigan when, with the Wolverines leading 31-20 midway through the fourth quarter, he punched an apparent touchdown pass out of the grasp of OSU tight end Cade Stover at the last second, forcing the Buckeyes to settle for a field goal and an 8-point deficit; they didn't touch the ball again with the score within single digits. Besides his play on the ball, that particular PBU also highlighted Sainristil's closing speed, which paid off in a key moment. Barber and Davis will challenge him to keep the pedal to the metal all day.
Special Teams, Injuries, and Other Vagaries
Both kickers are among the nation's best inside of 50 yards. Michigan's Jake Moody followed up a Groza Award-winning campaign in 2021 with a nearly identical performance in '22, connecting on 24-of-26 field goal attempts from 49 and in. That included perfect outings in wins over Penn State (4/4), Michigan State (5/5), and Illinois (4/4), against whom the Wolverines needed every point to preserve their perfect record. Moody hit the game-winner against the Illini from 35 yards out with 12 seconds to play. His counterpart, TCU's Griffin Kell, was just as reliable, hitting 15-of-16 from inside of 50, and no stranger to a little high-stakes drama himself: He was 3/3 in the Frogs' double-OT win over Oklahoma State, and memorably buried the game-winner at Baylor in fire-drill mode as the clock expired:
GRIFFIN KELL HAS ICE IN HIS VEINS!!!!! TCU steals one in Waco. pic.twitter.com/ysCeSw2pHB

— The Get Back Coach (@TheGBCoach) November 19, 2022
From long range, it gets dicier. Moody was 2/6 from 50+ yards after attempting just one field goal from that distance in '21, while Kell was 1/2. Calling on either of them from that far out might be a strictly "break glass in case of emergency" scenario.
Michigan punter Brad Robbins dropped 18 punts inside the opposing 20-yard. He looks like this: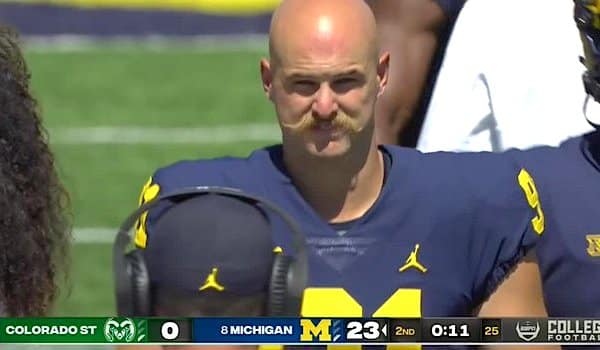 TCU's Derius Davis has been an electric presence in the return game throughout his career, with 5 career touchdowns on punt returns (2 of them coming this year, against Colorado and Texas Tech) and a 6th on a kickoff return in 2021. He's also prone to putting the ball on the turf, with 5 career muffs as a punt returner, per PFF; the Wolverines should still err on keeping the ball out of his hands at all costs. Michigan AJ Henning is dangerous in both phases of the return game, as well, having scored on a punt return earlier this year and taken a kickoff to the house in 2021.
Other than Corum's absence for Michigan, the injury list is refreshingly short. On the nagging injury front, both teams benefited from the 3-week layover, especially Quentin Johnston and Mike Morris, both of whom said this week they expect to be closer to 100% on Saturday than they've been in months. That's … it? End of section!
The bottom line
In certain ways, this is a classic matchup of brawn vs. speed, and TCU's speed at the skill positions cannot be dismissed. If the Frogs can eke out enough of a ground game to Michigan's pass rush on its heels, Max Duggan and his receivers are more than capable of inflicting some damage in the box score and on the scoreboard. Quentin Johnston is not the kind of receiver who gets shut out, and the slot guys are never more than one false step from breaking one. TCU's offense is not as talented as Ohio State's across the board, but it might be more versatile in the number of different ways it can attack.
That said, in this space we abide by the law of the Blue-Chip Ratio, which hasn't been defied yet. On this stage, talent wins out, and in this matchup there's no question which side has the edge in baseline talent level. Michigan has won the line-of-scrimmage battle on both sides of the ball in every game. It has the personnel to run the ball, stop the run, and make life more difficult for Duggan and his wideouts than any opposing defenses they've faced. It's the blueprint the Wolverines have followed all season.
Their game might not be the most exciting or inspiring. But if they play it their way, there's only one other team in America good enough to do anything about it, and that team is busy this weekend against Ohio State.
– – –
• Michigan 36 | TCU 27