NORTHWESTERN
Why Chris Collins should be sitting on the hottest seat in the Big Ten
It's the first day of summer. So what better time to name the Big Ten's most scorching coaching hot seat for 2022?
In football, everyone knows that seat is occupied by the man with the coldest name. Nebraska coach Scott Frost has a win-or-go-home mandate after failing to reach a bowl game in his first 4 seasons.
But Nebraska AD Trev Alberts, another former Huskers football star, also provided Frost with a life raft. The change would have been justified this offseason. Instead, Frost was given a pay cut. If the Huskers turn it around in 2022, he'll be back.
Frost restructured Nebraska's offensive staff and was active in adding talent from the transfer portal. Basically, he has everything at his fingertips to turn down the temperature where he sits.
And that's where Frost differs from the man who occupies what should be the hottest seat in all of the Big Ten: Northwestern basketball coach Chris Collins.
When you look at Nebraska's roster and schedule, you can build a case that Frost will extend his stay. The same cannot be said of the Wildcats, who are destined to be 1 of the Big Ten's most dismal basketball teams next season. Just as they have every year since Collins led the program to its only NCAA Tournament berth in 2017.
The case against Chris Collins
The past week has provided the most damning argument against Collins' coaching competence. This is less about talent and more about Xs and Os — or whatever shapes Collins is drawing on his clipboard.
Over the weekend, former Northwestern standout big Pete Nance announced he was transferring to North Carolina. Nance will certainly help the Tar Heels, who became even heavier favorites to return to the Final Four with his addition.
Somehow, Nance wasn't the only talented Wildcat big to find his way to an ACC powerhouse.
Nance's former frontcourt peer is now going to be his biggest rival. In April, Ryan Young transferred from Northwestern to Duke. Though Young's playing time is destined to dip as a Blue Devil, at least he'll have a chance to win. That wasn't happening in Evanston, and now it definitely won't.
Combined with point guard Boo Buie, Northwestern had enough talent last season that an NIT berth should have been the team's floor. Instead, the Cats couldn't even accomplish that modest feat, finishing 15-16. Northwestern was a telling 4-9 in games decided by 6 points or fewer.
Those are the narrow-margin games where coaching makes a difference. And Collins has proven he can't cut the mustard in the competitive Big Ten.
How long can the 2017 odometer run?
When you have a basketball history as dismal as Northwestern's, a coach can get a lot of mileage out of an unprecedented accomplishment. And there's no question Collins deserved extra time for bringing the Wildcats to their first NCAA Tournament in 2017.
No other Power 5 program had endured such an ignominious drought, made all the more humiliating by the fact the first Final Four was played on Northwestern's campus.
That Tournament berth was no fluke, either. Northwestern didn't sneak in with a Big Ten Tourney run for the at-large bid. The Cats earned their place at the table, going 24-12 and 10-8 in the B1G. They even won a game before a heartbreaking Second Round loss to Gonzaga that launched a thousand memes.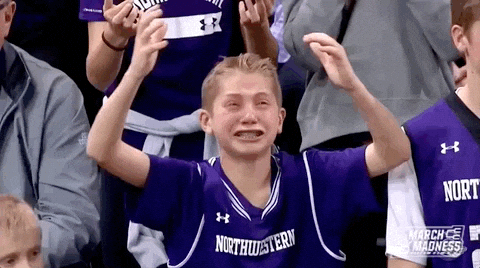 That heartbreak seemed temporary. Northwestern was a program on the rise. The mood for Northwestern fans was "hopefully Collins sticks around at least until Coach K retires at Duke."
Apparently, whoever asked that wish of a genie should have been more specific.
Mike Krzyzewski finally did retire, but in the meantime, Collins squandered any opportunity he had to take over at his alma mater.
Northwestern post-2017 seasons
2018: 15-17 (6-12 B1G)
2019: 13-19 (4-16)
2020: 8-23 (3-17)
2021: 9-15 (6-13)
2022: 15-16 (7-13)
In 9 seasons, Collins has posted 2 winning seasons — 2016 and 2017. The '16 team was snubbed out of an NIT bid, so 2017 remains his lone postseason appearance.
Collins defenders — they obviously exist, or he wouldn't still be employed — will point out that it's difficult to win at Northwestern. And it is.
But one of Northwestern's biggest crutches, the outdated facilities at Welsh-Ryan Arena, is no longer applicable. Northwestern poured $110 million into an extensive renovation project that took the entire 2017-18 season to complete. Collins is no longer recruiting players to a glorified high school gym.
And at the current rate, 2017 is the only thing separating Collins from predecessor Bill Carmody. In 13 years in Evanston, Carmody led Northwestern to 5 winning seasons and 4 NIT appearances. The Wildcats hit 20 wins twice — same as they have under Collins.
In order to better Carmody, Collins would need to rattle off 4 consecutive winning seasons at this point of his career. And he would need to start that streak the year 2 of his best players have decamped for North Carolina and Duke.
In other words, it's not happening. And there's no reason for Northwestern to offer Collins a restructured contract a la Scott Frost. For starters, the AD who hired him, Jim Phillips, is now the ACC commissioner. So there's no security blanket.
And in theory, Frost could finally get everything to click in Year 5 at Nebraska. It's pretty clear that we're past the point where Collins is going to rekindle the magic of 2017.
Chris Collins isn't just on a hot seat. He's sitting on a 5-alarm fire. And given the look of Northwestern's roster next season, he'll be attempting to put it out with a squirt gun.