BIG TEN
Saturday Football: 2020 contingency plans, the red-hot Vols and the NCAA's NIL decision
The Saturday Football newsletter goes out to subscribers up to 3 days a week and discusses the major events going on around the nation in college football. You can subscribe by clicking here.
Good morning and happy Monday! We hope you aren't too exhausted from hearing "May the Fourth be with you" yet today. Don't worry, we aren't going to say it. As we enter the month of May, though, we may need to use some Jedi mind tricks to figure out what those in charge of college football are thinking with regards to the 2020 season.
For now, we'll continue to wait. Could we have a more concrete picture by the end of the month? It's possible. Today, we'll discuss a team that is red-hot on the recruiting trails, the NCAA's historic names, images and likenesses decision and more. Let's get started!
CONTINGENCY PLANS
No one knows what will happen with the 2020 season yet. Could some conferences do their own thing?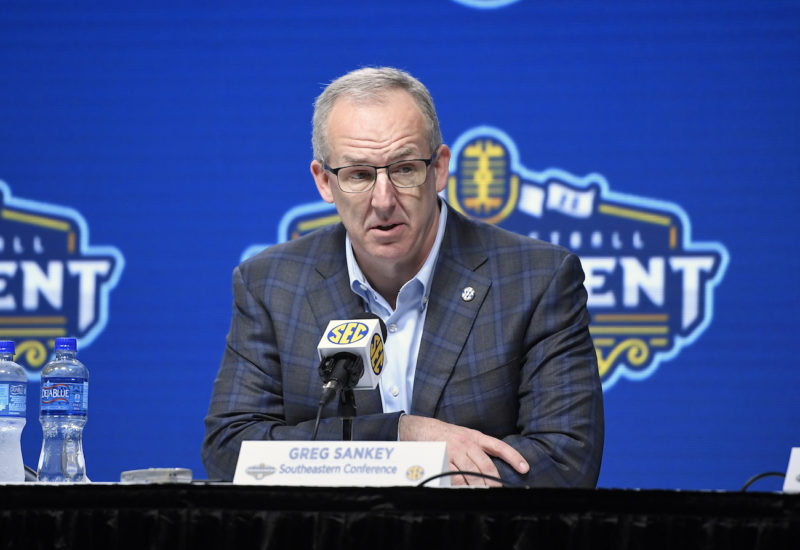 As we continue to battle our way through the COVID-19 pandemic that is still dominating headlines around the globe, the sports world is still mostly at a standstill. No one knows for sure when the MLB, NBA, NFL or college football will be able to return. That has led to a number of contingency plans being discussed by commissioners and those in power of every sports league here in America.
This past week, there has been some interesting chatter in the college football world. What if some states reopen and others don't? Could we have some conferences that play the 2020 season while other conferences are forced to sit it out? Let's take a look at this storyline:
As certain states reopen and others don't, plans are still forming. What happens if the southeastern states are back to as close to normal as possible this fall and others aren't? SEC commissioner Greg Sankey discussed the possibility of the SEC going forward with a season even if other conferences aren't able to do so. Sports Illustrated's Greg Arias writes that if the SEC does go it alone, it could cause tension with the NCAA and other conferences.
What are other Power 5 conferences discussing, you ask? Well, on Friday, Kansas State AD Gene Taylor outlined seven contingency plans the Big 12 is considering. Meanwhile, Big 12 commissioner Bob Bowlsby is worried that COVID-19 could come roaring back this winter and disrupt postseason plans. "I worry more about the end of the season and the postseason than I do the beginning parts of the season," Bowlsby said. "If the virus comes roaring back in the traditional flu and virus season in November, December, through March, I wonder if we're going to get basketball seasons in, I wonder if we're going to get the [College Football Playoff] in, I wonder if we're going to get the NCAA tournament in."
Some schools are already announcing plans to reopen campuses. In the SEC, Mizzou was the first school to announce it was planning to hold fall classes as normal. In the Big Ten, Iowa hopes to have its campus back to normal even earlier, citing June 1 as a target date. Other schools have followed suit and announced plans to reopen. We'll see what happens over the next few weeks and if these decision are able to be put into action or not.
Football won't return until health experts, governors, university presidents and others in charge deem it safe. That likely means faster and more available testing, a treatment for COVID-19 and potentially even a vaccine. When will that start to happen? It's unclear at this point, so even though there is positive momentum toward playing a season this year, what that season will look like and who will participate is still very much up in the air.
TOP 2021 RECRUITING CLASSES
Now that we've turned the calendars to May, it's a good opportunity to check up on the 2021 recruiting cycle and which teams are doing the best. Yes, recruiting is a lot different at the moment thanks to the COVID-19 pandemic, but some schools are still doing some good work.
So, who has the top 2021 classes? As of Sunday afternoon, here are the top-10 recruiting classes for the 2021 cycle (via 247Sports):
Ohio State — 17 players, 3 5-stars, 11 4-stars
North Carolina — 14 players, 0 5-stars, 10 4-stars
Tennessee — 17 players, 2 5-stars, 4 5-stars
Florida — 12 players, 0 5-stars, 7 4-stars
Clemson — 9 players, 0 5-stars, 9 4-stars
Iowa — 14 players, 0 5-stars, 3 4-stars
USC — 10 players, 0 5-stars, 7 4-stars
Minnesota — 14 players, 0 5-stars, 4 4-stars
Miami — 13 players, 0 5-stars, 4 4-stars
Michigan — 10 players, 1 5-star, 4 4-stars
You'll notice the absence of some usual heavy hitters like Alabama, Georgia, Oklahoma and others in the current top 10. It's still early, and these are strange recruiting times, but we'll see what happens over the next couple of months.
GOOD READS
TENNESSEE RECRUITING
Tennessee is the hottest team on the recruiting trails right now. Why is that upsetting other schools?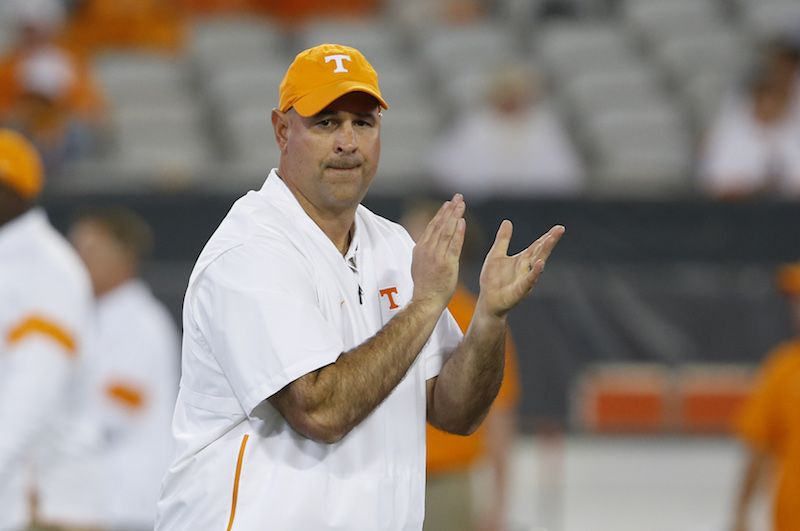 The Tennessee Volunteers have had a week for the ages on the recruiting trails. Coach Jeremy Pruitt and his staff have done in one week what most teams don't even do over the course of an entire recruiting cycle. Since April 26, the Vols have landed an incredible seven commitments, including two 5-star players.
Let's just say other teams are noticing the success the Vols are having. Let's take a look at what is being said about Pruitt and the Vols nationally:
First, let's take a look at the quality of players committing to the Vols. Here are all the commitments the Tennessee program has received since April 26:
That's quite the haul for the Vols in only one busy week of recruiting. When asked what he credits Tennessee's success to, Pruitt talked about his staff and players, saying the players know who they want to play with. "They know who they want to play beside, and the better players you have on the team, the better opportunity you have as a team and as an individual," he said. "So these guys are bought into that, and they're working hard to help recruit the best student-athletes to Tennessee."
Other schools and coaches are commenting on the Vols' success. We'll start with Tennessee's SEC East rival, Georgia. The Bulldogs posted a highlight video of last year's win over the Vols with a caption that made it seem like it was in response to Tennessee's recruiting success. Then, there was a Florida assistant, who seemed to subtweet Wilcoxson. The 4-star Tennessee commit was originally committed to Florida, and the timing of this tweet from Florida staffer John Herron was suspect, to say the least. Finally, Oklahoma graduate assistant Will Johnson's Twitter account seemed to indicate he was aware of the success the Vols were having. He posted a picture from Oklahoma's win at Neyland Stadium in 2015 along with the caption "Don't fall for the hype … it's not real." That should make Tennessee's Week 2 trip to Norman even more exciting.
The Vols now have 17 players in their 2021 recruiting class, which means there are only a few spots left before the class is full. That won't stop Pruitt and his staff from going after top players across the country, so we'll see who else commits to Tennessee before this cycle is over. How many more feathers will Pruitt and the Vols ruffle?
JUST FOR FUN
Today, let's test your knowledge of NFL Draft No. 1 overall picks. Recently, LSU QB Joe Burrow was the No. 1 overall pick in the 2020 NFL Draft. He became the ninth SEC quarterback to be taken with the first pick. Can you name the other eight SEC quarterbacks who have gone No. 1 overall?
Scroll down to see the answers to today's quiz.
NEW NCAA RULE
The NCAA took a big step toward allowing athletes to make money off names and likenesses. What does it mean?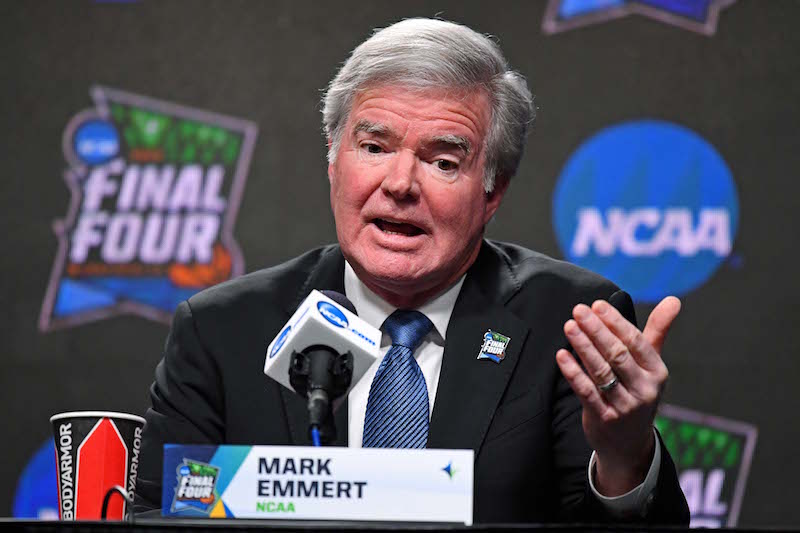 For years now, there has been a debate about whether NCAA student-athletes should be able to profit off their names, images and likenesses or not. Well, last week, there was a major development on the NIL front. The NCAA is expected to put new NIL rules into place in time for the 2021-22 season, allowing players to profit. This isn't schools paying players. Rather, third parties will be able to give players money for endorsements.
This is a big step, but what does it mean for the sport and for players? Let's take a look into last week's huge decision from the NCAA Board of Governors:
There are a lot of details that still need to be ironed out before this rule officially goes into effect. But, there's still time for the NCAA to come up with ways to make sure everything is above board. Overall, this seems like a decision that is going to be a popular one with star players across the country.
ANSWERS
Here are the nine SEC quarterbacks who have been taken No. 1 overall in the NFL Draft (including Joe Burrow this past draft):
2020: Joe Burrow, LSU
2011: Cam Newton, Auburn
2009: Matthew Stafford, Georgia
2007: JaMarcus Russell, LSU
2004: Eli Manning, Ole Miss
1999: Tim Couch, Kentucky
1998: Peyton Manning, Tennessee
1952: Bill Wade, Vanderbilt
1948: Harry Gilmer, Alabama
QUOTE OF THE WEEK
"From an officiating perspective, you have to honor the injury. We don't know if they are feigning or not. Sometimes, we can suspect, but if a player goes down, we're going to stop the clock. We're going to make sure the player gets attention for the injury. You can't just make that judgement on the field on the fly.
"What we're going to do is put this in the coaches' lap for the 2020 season. We expect this thing to get cleaned up. If it doesn't, then we're probably going to change a rule to limit time to a player who gets injured. It is their last shot to clean it up before the rules committee takes action."
– NCAA director of officials Steve Shaw weighed in on players faking injuries to slow down offenses. He said coaches will be expected to control that aspect of the game or the NCAA rules committee will have to step in and make some changes.
TWEET OF THE WEEK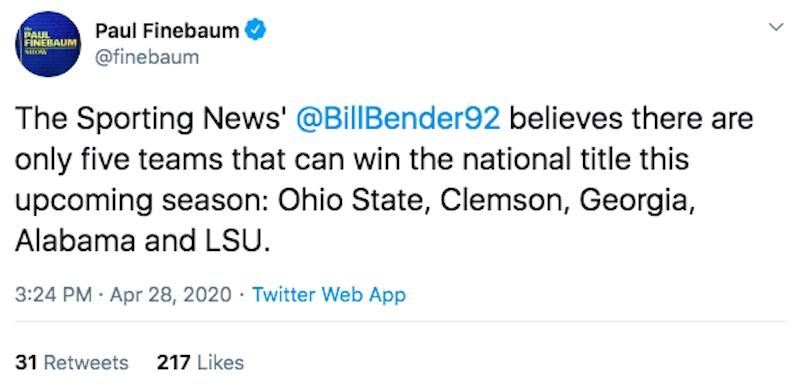 One national analyst thinks only five big-name teams have a chance to win a national title in 2020. Bill Bender also named three teams that are right on the doorstep of contending. Will one of those teams win it all in 2020?