BIG TEN
Saturday Football: COVID-19 concerns, Iowa turmoil and a Cole Cubelic Q&A
The Saturday Football newsletter goes out to subscribers up to 3 days a week and discusses the major events going on around the nation in college football. You can subscribe by clicking here.
Good morning and happy Monday! Players are returning to voluntary football activities all across the country. Unfortunately, there are also some areas where COVID-19 cases are once again on the rise. A couple of schools have already had to pause workouts. We'll discuss that in today's newsletter.
Additionally, we'll dive into some other top stories from around the college football world. Then, we had a chat with SEC Network analyst Cole Cubelic. Let's get started with the newsletter!
COVID-19 CONCERNS CONTINUE
As players return to football, positive COVID-19 cases are popping up. Is the season in jeopardy again?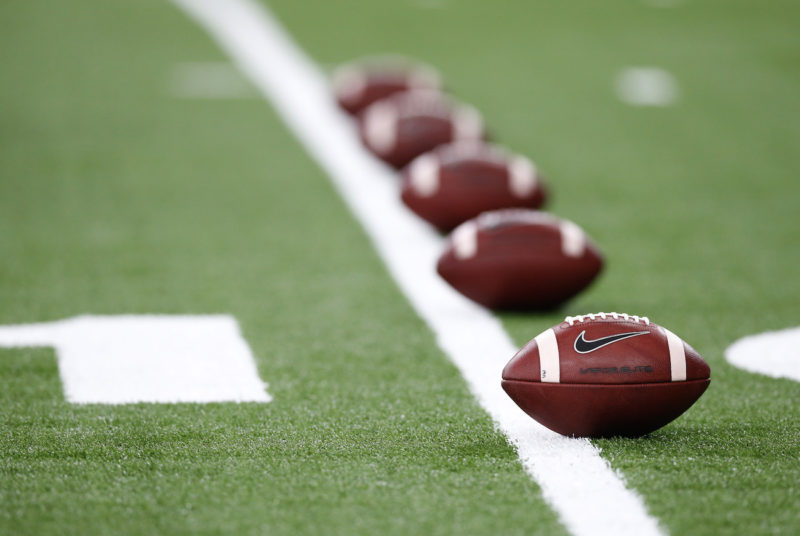 As we continue to make our way toward the 2020 college football pandemic, the COVID-19 pandemic still provides a clear and present danger to the sport. On Sunday, the latest map of confirmed cases of COVID-19 showed that numbers are on the rise in many parts of the country (especially in the SEC's footprint). As players return to campus, we're already seeing that the first wave of tests isn't catching all the cases. Schools like Alabama and Ole Miss have had more positive results after a second round of testing.
So, what does this mean for the 2020 college football season and whether it will start on time or not? Let's take a look at the latest developments:
Last week saw some concerning news for Houston's program. Most positive tests from college football squads thus far have been from asymptomatic carriers. However, Houston had to suspend voluntary workouts after six players tested positive and were showing symptoms of the illness.
Even with positive tests popping up, players still want to play. ESPN recently surveyed 73 anonymous college football athletes, and 64 of them said they wanted to play, even if no vaccine is available. Eight said they didn't and one said he would only somewhat want to play. SEC commissioner Greg Sankey said his biggest concern for the season is making sure there's even more testing than there is now, with even quicker results.
Things at Ohio State are taking an interesting turn moving forward. The Buckeyes already announced over the weekend that they wouldn't be sharing the numbers of positive results like many other schools are doing. On Sunday, it was reported that the Buckeyes players had to sign a waiver acknowledging the risk of COVID-19 before they could participate in workouts. That caused a bit of a stir on social media.
Will these developments force changes to the summer schedule or potentially delay the start of the 2020 season? That remains to be seen. It also is unknown at this point how schools would handle positive tests during the season. Saturday Down South's Connor O'Gara shared his concerns on that topic last week. There's a lot that still needs to be figured out before football returns, it seems.
GOOD READS
IOWA TURMOIL
The Iowa program is mired in controversy amid racial protests in the U.S. What's going on with the Hawkeyes?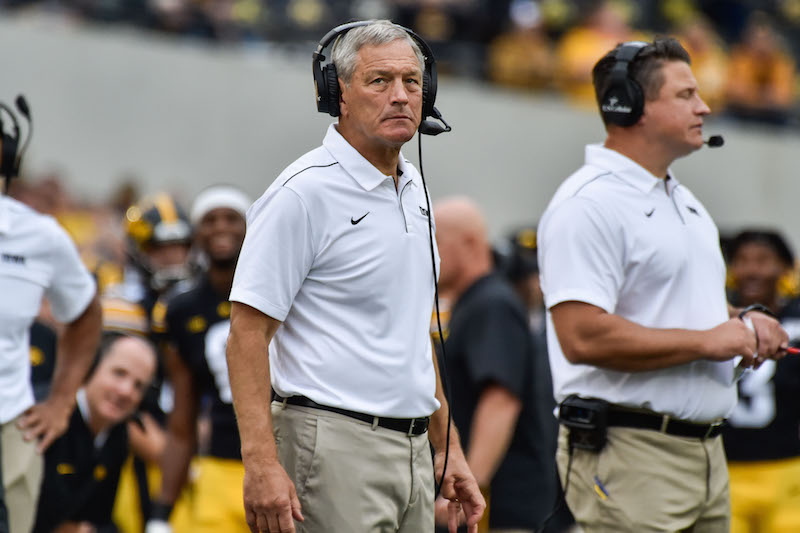 As protests calling for the end of police brutality and racial equality continue to take place across the country, the Iowa Hawkeyes program has found itself in the middle of some controversy. Former players took to social media last week to call out coach Kirk Ferentz's program for racial disparities.
So, what's the story in Iowa City? Let's take a look at what the former players are alleging and what is being done by Ferentz and others in the aftermath:
Many of the complaints focused on strength coach Chris Doyle. The Hawkeyes placed Doyle on administrative leave as an independent review of the allegations is being done. Doyle issued a statement saying he is not perfect, but he has never crossed any racial lines with players. Amid this controversy, Doyle's son, LB Dillon Doyle, announced he was entering the NCAA transfer portal.
Ferentz hasn't escaped backlash from this controversy, either. In a strong allegation from former Iowa WR Derrell Johnson-Koulianos, the ex-Hawkeye claimed that Ferentz orchestrated a police raid on his house 10 years ago. Amid the concerns from former and current players, Ferentz and a couple of players spoke at a press conference on Friday. The Iowa coach admitted that the coaching style has been "at times demeaning and has created unnecessary anxiety and frustration."
Is Ferentz the guy to lead the program as changes are made? Sports Illustrated's Pat Forde wrote about the consistency among the Iowa staff, where a number of Ferentz's assistants have been with the program for 15 years or more (Ferentz was hired in 1999). Forde says it's time for the Iowa culture to change moving into the 2020s. Meanwhile, Saturday Tradition's Connor O'Gara wrote that this situation at Iowa shows once again that we only know what major programs want us to know, and that's a problem.
Will the Iowa culture change? Is Ferentz the man to continue leading the Hawkeyes into 2020 and beyond? Those are questions we don't know the answer to yet. But, as protests continue around the country, it's becoming very clear that the time for change is now. (P.S. Keep an eye on the Hawkeyes today. The Iowa AD announced a press conference for 2 p.m. Eastern time on Monday.)
Sports Betting in Big Ten Country
There is big news coming to the upcoming 2022-23 Big Ten football season (and NFL season). Ohio online sports betting and Maryland sports betting are on the way.
21+ and present in OH. Gambling Problem? Call 1-800-GAMBLER.
JUST FOR FUN
A number of talented quarterbacks left the college ranks to head to the NFL this past offseason. From Heisman Trophy winner Joe Burrow to Tua Tagovailoa to Jake Fromm to Justin Herbert to Jordan Love and others, there will be plenty of holes to fill at the position across the college football landscape this fall.
For today's quiz, let's see if you can name the quarterbacks returning in 2020 who led each Power 5 conference (ACC, Big 12, Big Ten, Pac-12 and SEC) in touchdowns in 2019. Bonus points if you can guess how many touchdowns they threw.
Scroll down to see the answers to today's quiz.
Q&A WITH COLE CUBELIC
SEC Network analyst Cole Cubelic joined us for a Q&A session. Here's what he had to say.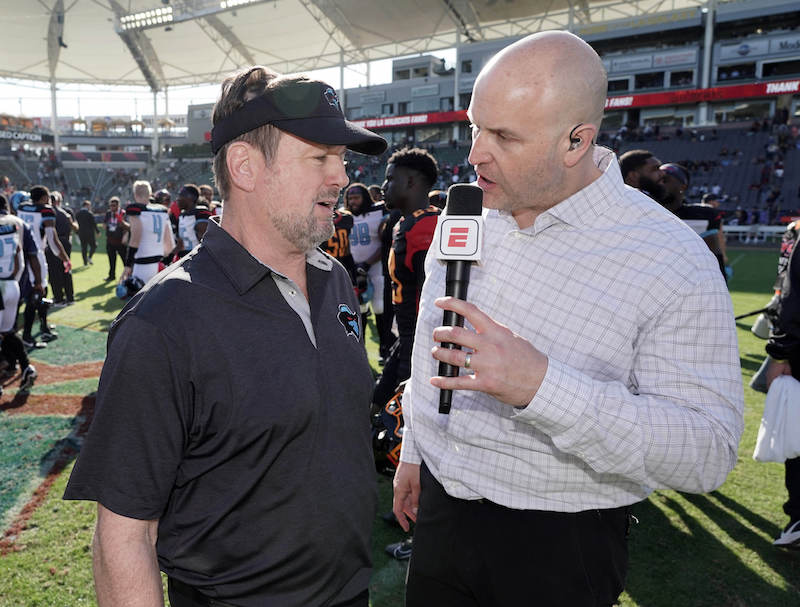 As we (hopefully) approach the start of college football season, we'll bring you weekly Q&A sessions with the voices and personalities you'll hear on the air broadcasting your favorite games. Stay tuned for the next installment of our media Q&A series (which will be with Illinois radio broadcaster Brian Barnhart).
Cole Cubelic has been with the SEC Network for several years now. For the last few seasons, he's been the sideline analyst for the network's late game on Saturday nights. He spent some time talking with Saturday Football's Adam Spencer recently, discussing a number of topics.
Here's a summary of what he had to say (interview edited for length and clarity):
Saturday Football: Thanks for taking the time to do this. To start, you were a player at Auburn. When did you start to develop an interest in the media side of things and what spurred you to get into this side of the business?
Cole Cubelic: I listened to sports talk radio when I was in high school, going to school and coming home from school. I actually listened to the station I do a radio show on now, in Birmingham, WJOX.
I also used to call games when I'd play Nintendo — Tecmo Bowl, NBA Jam, RBI Baseball. I would announce the games. Sometimes my friends would even ask me to announce the games even if we were taking turns and I was in between games. So, I've always wanted to do it.
I knew when I got out of school that I wanted to do it. I wanted to either be a professional wrestler or go into sports media. My body was too beat up to be a professional wrestler. I'd already had, I think, 9 surgeries by the time I finished playing college football, so that would have been a bad idea.
SF: You talked about that long journey you took. When you talk about football, there are some rookies who have their 'Welcome to the NFL' moment. Have you had a moment where you've looked around and said, 'Hey, I'm doing this big-time now'?
CC: I don't know about the 'I'm doing it big-time' thing, but 2 things, well 3, stick out. One was bumping into the referee at the Arkansas-Florida A&M game a couple of years ago. That was actually the first game that Tom and Jordan and I did together. That ended up being a bit of a s—show after the fact.
The other would be the Tom Herman interview in Memphis — his last game at Houston before he took the Texas job. That thing went for like 48 hours, nonstop. That was one of my first instances really witnessing the power of the media.
Then, the other one would be going on with Scott Van Pelt during the Playoff games this year, after both semifinal games and then after the championship game. That was just a very different experience. You don't understand how many people see one thing or are fans of one thing until after you're a part of it. After those 2 semifinal games, my phone didn't stop until 10 or 11 a.m. the next morning, maybe even past that — maybe even 2 or 3 the next afternoon. It was like 'Saw you on SVP!' or 'Good stuff on SVP!' or 'Man, that was funny last night,' or 'You 2 had great chemistry' — whatever it was. Again, you don't understand how many eyeballs are on a certain thing until you're actually a part of it.
Those were probably the 3 eye-opening instances for me being a part of sports media.
SF: Who is one person you've never worked a game with that you'd love to be part of a broadcast crew with?
CC: If I can pick anybody, any time, it's Keith Jackson. To be able to sit next to him in the booth and call a game, I don't know how you wouldn't be excited and how you wouldn't feel like you were the most important game that was happening that weekend. He's unbelievable.
You hear Al Michaels call a game and you feel almost the same way. You hear Joe Buck call a game and you kind of feel the same way. All those guys would be in the mix, but I think Keith Jackson would have to be the guy. Summerall would be in there as well and I brought up Enberg before. He's called football. Keith Jackson is still at the top of that list, probably.
To read our full interview with Cubelic, click here.
ANSWERS
Here are the answers to today's quiz involving returning quarterbacks with the most touchdown passes in 2019:
ACC: Sam Howell, North Carolina (38 TD passes)
Big 12: Sam Ehlinger, Texas (32 TD passes)
Big Ten: Justin Fields, Ohio State (41 TD passes)
Pac-12: Kedon Slovis, USC (30 TD passes)
SEC: Kyle Trask, Florida (25 TD passes)
QUOTE OF THE WEEK
"I don't want this to sound blasphemous, but time is running out on a national championship. It's been two years since (Alabama coach Nick Saban) won a national championship. That's a long time. He hasn't gone that long at Alabama since the early part of his career there. I think this is his best team. The season is unknown at this point. … You can no longer make a blanket statement that Nick Saban is going to win a bunch of national championships. I think he needs to win one this year or that hourglass is going to become very dangerous for him."
– SEC Network host Paul Finebaum explains why he thinks time may be running out for Nick Saban to win more titles at Alabama. He further explained those comments later in the week.
TWEET OF THE WEEK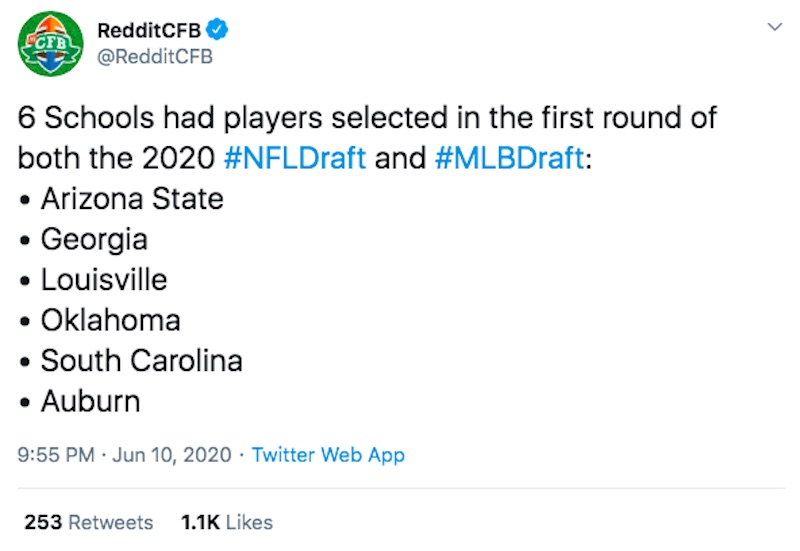 Now that the 2020 NFL Draft and 2020 MLB Draft have been completed, six schools have had Round 1 picks in both events. And, when the 2020 NBA Draft is held in October, Georgia (Anthony Edwards) and Auburn (Isaac Okoro) are likely to go 3-for-3 when it comes to first-round picks in the major sports.