BIG TEN
Saturday Football: JT Daniels transfer, Michigan title talk and a Tom Hart interview
The Saturday Football newsletter goes out to subscribers up to 3 days a week and discusses the major events going on around the nation in college football. You can subscribe by clicking here.
Good morning. Today is the day that football players (and other athletes) around the country can return to campus to start taking part in voluntary workouts. Momentum is still moving toward the 2020 season starting on time this fall, and hopefully there are no major speed bumps in that road as players get back to football-related activities this month.
Obviously, college football has taken a backseat amid the COVID-19 pandemic and protests in the United States and abroad, but when the time comes, sports will have their place as a unifier. Until then, perhaps they can provide a bit of an escape.
In today's Saturday Football newsletter, we talk about the JT Daniels transfer, recruiting rankings and more. We also have a Q&A with SEC Network broadcaster Tom Hart. Please stay safe and we hope you enjoy this week's newsletter.
JT DANIELS TRANSFER
Former USC QB JT Daniels is transferring to Georgia. What impact will he have in Athens?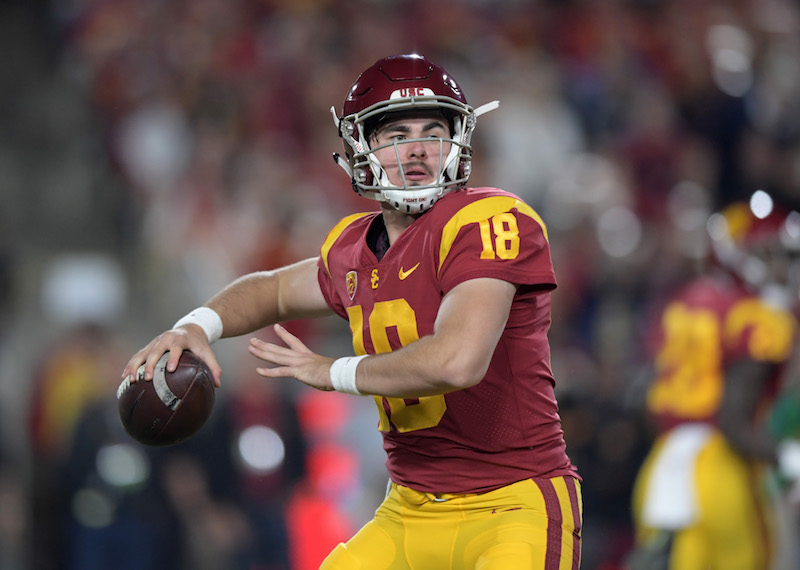 The biggest news from the world of college football this past week came when former 5-star recruit JT Daniels announced he was transferring from USC to Georgia. The California native was the No. 3 overall quarterback in the 2018 recruiting class (according to the 247Sports composite rankings) behind a couple of guys you may have heard of — Trevor Lawrence and Justin Fields.
So, what is Georgia getting in this talented quarterback? Let's take a look at some of the storylines surrounding Daniels' decision to head to Athens:
Daniels started the opener for USC in 2019 before suffering a knee injury. Then, freshman Kedon Slovis took over and performed really well as a true freshman. Entering the 2020 season, Slovis is a dark-horse Heisman contender, so Daniels was out of a job. However, as Saturday Down South's Michael Bratton writes, Daniels' talent as a quarterback is clearly evident when you watch his game film. Daniels appeared in 11 games as a true freshman in 2018 for USC. He threw for 2,672 yards, 14 touchdowns and 10 interceptions while completing 59.5% of his passes. Former Georgia QB Hutson Mason is also impressed with what he's seen from Daniels.
Speaking of Slovis's Heisman chances, Georgia also has a Heisman contender. That contender is Wake Forest graduate transfer Jamie Newman, who also plays the quarterback position. So, why did Kirby Smart recruit another quarterback to Georgia, then? Saturday Down South's Connor O'Gara looked into some of the possible reasons. He also notes that Daniels might not be immediately eligible in 2020, due to NCAA transfer rules, which would keep Newman in line to be the starter.
Now, the Bulldogs have an absolutely loaded quarterback room. Newman and Daniels are the big names, but there is plenty of depth. Redshirt freshman D'Wan Mathis was cleared to return recently after missing last season following an emergency brain surgery. The Bulldogs will also have 4-star 2020 QB Carson Beck on the roster when football activities resume. Then there's Brock Vandagriff, a 5-star 2021 quarterback (and the No. 2 dual-threat QB in the class) who is also committed to Georgia. Vandagriff's father recently weighed in on the Bulldogs landing Daniels, saying Brock has no plans to decommit. "It wasn't like we were trying to go to Southeast Missouri or UTEP," Greg Vandagriff said. "We were choosing among the best programs in the country and you are going to play against the best. That's just part of it."
We'll have to wait to see what the NCAA decides regarding Daniels' eligibility in 2020, but one thing is for sure — Georgia got a very talented former 5-star quarterback. What the future holds for him in Athens remains to be seen, but Kirby Smart continues to stockpile quarterback talent.
TOP 2021 RECRUITING CLASSES
The 2021 recruiting cycle is now in full swing, and many top teams are putting together some impressive classes. Whether it was Tennessee's unbelievable May or Ohio State's continued dominance on the trails, there are some great classes atop the leaderboards.
So, as we enter June, which schools have the best 2021 classes? Here are the top-10 schools according to the 247Sports composite rankings (as of Sunday evening):
Ohio State — 18 players, 4 5-stars, 11 4-stars
Tennessee — 24 players, 1 5-star, 9 4-stars
Clemson — 13 players, 1 5-star, 11 4-stars
North Carolina — 15 players, 0 5-stars, 10 4-stars
Michigan — 16 players, 1 5-star, 7 4-stars
USC — 13 players, 0 5-stars, 9 4-stars
Florida — 17 players, 0 5-stars, 9 4-stars
LSU — 12 players, 0 5-stars, 9 4-stars
Minnesota — 18 players, 0 5-stars, 5 4-stars
Oregon — 11 players, 0 5-stars, 8 4-stars
How will these rankings change over the course of the next month? Check back in July to see which teams rocket up the leaderboards over the next 30 days.
GOOD READS
MICHIGAN TITLE TALK
Can Michigan win a title in 2020? Jim Harbaugh thinks the Wolverines are close.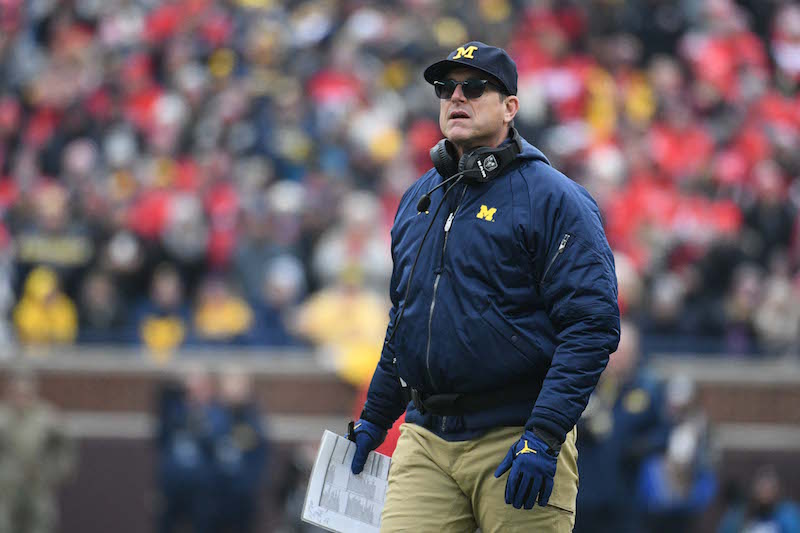 The Michigan Wolverines are preparing to enter their sixth season under coach Jim Harbaugh, and while the overall record of 47-18 is solid, Harbaugh's five seasons in Ann Arbor have produced zero trips to the Big Ten Championship Game and zero wins over rival Ohio State.
Still, Harbaugh made news last week when he said Michigan has come very close to winning some titles. Let's take a look at what he said and whether or not the Wolverines are College Football Playoff threats this fall:
First, let's take a look at the comments Harbaugh made last week. During an appearance on 247Sports' Social Distance series, Harbaugh said the Wolverines have been in the title hunt. "I mean, just look back over the last years that we've been here, last five years," Harbaugh said. "About as close as you can possibly be."
The major problem is the 0-5 record against the rival Buckeyes. Ohio State has won the past three Big Ten titles, so that's a major hurdle Harbaugh and the Wolverines have to clear in the Big Ten East. But, Harbaugh knows that is the big challenge and he accepts it. "We got to beat Ohio State," Harbaugh said. "Nothing makes us angrier than that, or me, but that's what we're working toward every day. We've beaten everybody else, but we haven't beat them. That's what we have to do, beat them, win a championship, get ourselves in the Playoff, win a national championship."
So, does the Michigan roster have the talent for a Playoff run? One analyst thinks QBs Dylan McCaffrey and Joe Milton are dark-horse Heisman Trophy contenders this fall. "All we know is Shea Patterson is gone, and Dylan McCaffrey and Joe Milton are competing to take his place," CBS Sports analyst Tom Fornelli wrote. "… I'm approaching this from the standpoint of the dark horse being Michigan QB, whether that's McCaffrey or Milton." Then, there's WR Nico Collins. Michigan OC Josh Gattis called Collins "one of the best receivers in all of college football."
Will this year be the year Harbaugh and the Wolverines get over the hump and beat Ohio State? Can they make a B1G title run? ESPN's FPI has the Wolverines as underdogs in four games in 2020 (at Washington in Week 1, vs. Wisconsin in Week 4, vs. Penn State in Week 5 and at Ohio State in Week 13), so we'll see this fall if Michigan can overcome the odds and finally make it to the Playoff.
JUST FOR FUN
The past two weeks, we've asked about the top passers and top rushers in each Power 5 conference's history. Today, let's move right along and see how much you know about the top receivers in each Power 5 conference's history. Can you name the all-time leader in receiving yards for each of those conferences (ACC, Big 12, Big Ten, Pac-12 and SEC)? Bonus points if you can name what school they attended, too.
Sports Betting in Big Ten Country
There is big news coming to the upcoming 2022-23 Big Ten football season (and NFL season). Ohio online sports betting and Maryland sports betting are on the way.
21+ and present in OH. Gambling Problem? Call 1-800-GAMBLER.
Scroll down to see the answers to today's quiz.
Q&A WITH TOM HART
SEC Network broadcaster Tom Hart joined us for a Q&A session. Here's what he had to say.
As we (hopefully) approach the start of college football season, we'll bring you weekly Q&A sessions with the voices and personalities you'll hear on the air broadcasting your favorite games. Stay tuned for the next installment of our media Q&A series (which will be with SEC Network host Peter Burns).
Tom Hart has been with the SEC Network since its inception in 2014, calling college football, basketball and baseball games. The Mizzou graduate has been a part of a number of great games over the years, and he spent some time last week answering some questions during an interview with Saturday Football.
Here's a summary of what he had to say (interview edited for length and clarity):
Saturday Football: When you went to Mizzou, did you know you wanted to be a broadcaster? When did you know this was what you wanted to do?
Tom Hart: Well, yes and no. I had an idea coming out of high school that might be a route I'd want to take. I had no idea how to get there. I didn't know what the road map was. I didn't know who to lean on to try to show me the way. And I didn't realize the hard work that would be necessary to do it easier on the front end.
I had an idea, and Missouri, as we all know, is incredibly competitive on the journalism side. I was more in tune, at that age, with short-term goals instead of long-term goals, if that makes sense. I was more worried about the weekend as opposed to a career. As I moved through college, I wasn't sure. Like, 'OK, now how do I get there? What do I need to be doing to work toward those goals?'
The short answer is, yeah, that was what I wanted to do, but I didn't have any idea how to get there.
SF: Who did you look up to during that time? Who were your biggest inspirations and then who do you still sit down and listen to on a regular basis these days?
TH: Oh man, growing up in mid-Missouri, it was really easy to have access to great broadcasters. When I was starting to fall in love with broadcasting, Kevin Harlan was calling the Mizzou games on the radio. … I just remember he was calling games for some really good teams, and that was kind of when I fell in love with sports and became a fan in those formative years.
Then you had Jack Buck and Mike Shannon doing the Cardinals on one side of the state and you had Fred White and Denny Matthews as the Royals' guys on the other side of the state. Those games would be on in my dad's car or my mom's car when we were running errands on the weekend or you're at the grocery store on a summer night. I always thought the difference in the two (broadcast teams) was interesting.
The way I processed it was Jack Buck and Mike Shannon were having this party in the Cardinals' booth every day and they would allow you to peek behind the curtain and see how cool that party was. But it was always that they were there to entertain you. It was their party and they were telling you how cool it was to be part of it.
Whereas, the Royals' guys were so much more down home to me. Instead of speaking at you, they were having a conversation with you. They were so much more home-spun and welcoming you into the booth and you were there watching a game with them.
SF: You mentioned Jack Buck and Mike Shannon having a party atmosphere during Cardinals' broadcasts earlier. You called basketball games this past season with Andy Kennedy. That seemed like a party atmosphere, too, what with the Ron Burgundy-Ron Jeremy mixup. Then, earlier that year, you got to call that 17-inning game between LSU and Mississippi State (in the SEC Tournament).
Are either of those your funniest moment in the booth or is it something else that didn't happen in 2019, which seems like it was a crazy year for you?
TH: Yeah, it was a crazy year for a lot of different reasons. I'm lucky that, because I get to work so many different sports, I get to interact with a lot of different people.
One of my favorite moments was when I worked a Cubs-Pirates game on I think the Fourth of July. Yeah, it had to have been the Fourth of July, with Tim Kurkjian and Eduardo Perez. I went in saying that nobody knows more about baseball than Tim Kurkjian, but based on my research, I'm going to come up with a nugget that's going to make Tim go 'Wow!'
We started talking about North Carolina baseball for some reason. I dropped a couple of nuggets on some of the famous UNC alums that had played pro ball. The one that really stood out to me was a guy that was better known by his nickname. His name was Archibald Graham, but he was better known as 'Moonlight' Graham.
Tim's head snaps to the left and he looks at me and he gives me the high-pitched, 'Really?! I didn't know Moonlight Graham went to North Carolina!' And this wave of euphoria swept over me because I just beat Kurkjian at his own game.
I like to try to keep my guys off-balance. I don't like scripted, so I like to get them to respond in a natural way. Sometimes the best way to do that is to go off-script or surprise them.
We had a game a couple of years ago at Arkansas. I was with Kyle Peterson and Eduardo Perez and Kyle misspoke in the open. He was trying to say they were fighting for a division title, but 'fighting' came out instead as a word you would use in conjunction with flatulence. I just couldn't help it and I just started dying laughing.
The three of us were back at Arkansas, as a matter of fact, this past spring, and my entire open consisted of bullet points where they needed to keep their feet on the 'gas' and they were full of 'hot air.' All these little references that I threw in there just so they would hear it and it would take them off their game because I wanted to see how they'd react to it.
That's why the AK (Andy Kennedy) stuff with Ron Jeremy vs. Ron Burgundy was so funny, because it totally took both of us off of our game for the next 30 minutes. I think fans can relate to that. They want to see that you're human and that, while I don't think anybody has the same thought process as Andy Kennedy, the sophomoric phrases that they hear while sitting on their couch might be something that we're thinking too. It might be immature, but I think anything that helps you relate to the audience is good.
SF: Is there one person, alive or dead, who you would love to call a game with?
TH: I think the easy answer there is Kirk Herbstreit. Number one, he's great at what he does. I ran into him at the SEC Championship Game and we were just talking about the foundation of a great broadcast. A line that he got from Lee Corso was that you have to remind yourself that we're in the entertainment business.
People who get that, who understand that, are generally more enjoyable to work with because they get the big picture and they get that's the direction that the broadcast needs to go. … I'd go with Herbie. It also helps that he has the best games every week.
To read our full interview with Hart, click here.
ANSWERS
Here are the answers to today's career receiving yards leaders quiz:
ACC: Rashad Greene, Florida State (3,830 yards)
Big 12: Ryan Broyles, Oklahoma (4,586 yards)
Big Ten: John Standeford, Purdue (3,788 yards)
Pac-12: Troy Walters, Stanford (3,986 yards)
SEC: Jordan Matthews, Vanderbilt (3,759 yards)
QUOTE OF THE WEEK
"I expect we will have some outbreaks during the course of the school year on campuses and within athletics departments. We've been told to expect a bumpy road, so that's what we're preparing. I don't think much of hope as a strategy, but we hope things will go smoothly and prepare as if they won't be.
"We aren't going to have the benefit of making lots of plans well in advance. We're trying to get back to campus and workouts and some semblance of normalcy. Beyond that, we have a 12-game schedule. We start on Labor Day weekend and we'll have to play it by ear. We don't want to put anybody at risk from a health standpoint. We need to go through this and recognize that we're dealing with mostly young, healthy athletes, but that doesn't mean they can't be transmitting the disease.
"We're going to have some difficulties during the course of the year, and I fully expect we'll have some disruptions. We are going to do everything we can to minimize the likelihood of those things happening and to optimize the disinfectant process that we have in our weight rooms, locker rooms and training rooms. And we'll practice good social distancing. It will be somewhat unique to individual institutions. This has always been managed by governors and public health officials and, to some extent, mayors. Soon it will be in the hands of university presidents and chancellors and then athletic directors."
– Big 12 commissioner Bob Bowlsby doesn't expect the return of football to be a smooth process, but he said it will be important to quickly react to any potential speed bumps.
TWEET OF THE WEEK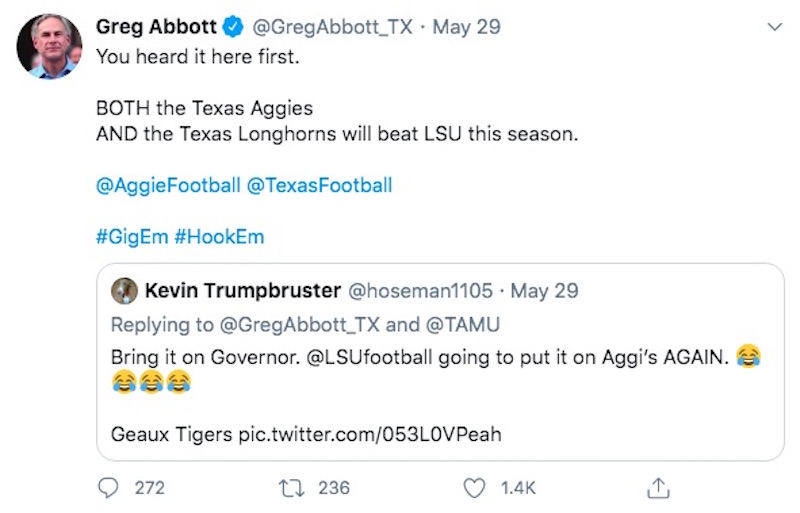 Texas governor Greg Abbott thinks the Lone Star State will get some revenge on LSU this season after the Longhorns and Aggies went 0-2 against the Tigers in 2019.