BIG TEN
Saturday Football: Kevin Steele rumors, recruiting update and upset alert
The Saturday Football newsletter goes out to subscribers up to 3 days a week and discusses the major events going on around the nation in college football. You can subscribe by clicking here.
Good morning and happy Friday! We're one week away from Christmas, but before we get there, we have some important college football business to take care of. Yes, that's right, it's championship weekend around the FBS world! Starting tonight with the Conference USA, MAC and Pac-12 title games, it will be a busy weekend in college football.
For today's newsletter, we'll take a look at some of the biggest stories from the Early Signing Period thus far. We'll also discuss interim coach Kevin Steele gaining momentum for the full-time gig at Auburn. And, finally, we'll put some teams on upset alert for championship weekend. Let's get started!
...
ESPN BET is now live in 17 states
Use promo code SATURDAY to get your $250 bonus
...
KEVIN STEELE RUMORS
Interim Kevin Steele is gaining momentum for the full-time job at Auburn. Is he the right choice for the Tigers?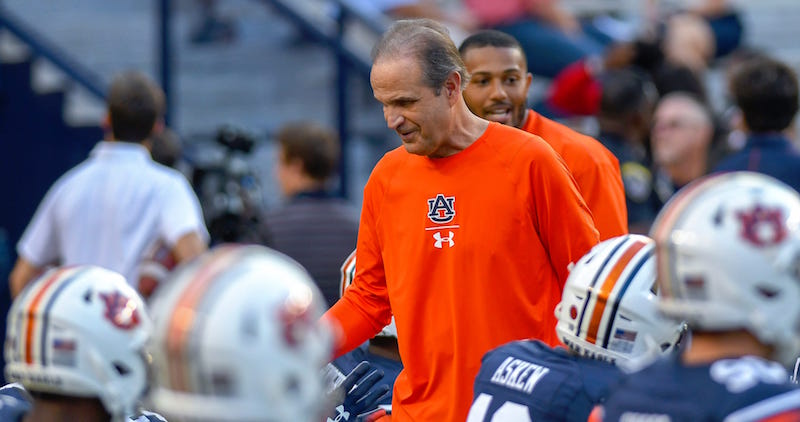 The Auburn coaching search still has a ways to go before it reaches the level of insanity Tennessee's search reached after the 2017 season. But, it is starting to have a similar feel, with fan revolts, rumors swirling and boosters meddling. There's a lot going on in Auburn, so we need to dive into this story once again.
It seems interim coach Kevin Steele is the favorite to land the job as things stand on Thursday night, but at this point, anything can happen. Let's see what the latest rumblings out of Auburn are:
The Tigers can't afford to let the search drag on at this point. Will they ultimately settle on Steele, or will they open up the search more than they originally did? We'll see what happens in the coming days, but Auburn officials will be scrambling to avoid more negative publicity.
CHAMPIONSHIP GAME LINES
We've officially made it to championship weekend, the final weekend of the college football regular season! Next up, teams will find out their bowl opponents and start gearing up for postseason play. For now, though, conference titles are on the line in the 10 FBS conferences.
So, who are the teams favored to win this weekend? Let's take a look at the current lines for each of the conference championship games:
Friday, Dec. 18
Conference USA: UAB vs. Marshall (-4.5)
MAC: Ball State vs. Buffalo (-13.5)
Pac-12: Oregon vs. USC (-3.5)
Saturday, Dec. 19
Big Ten: Northwestern vs. Ohio State (-20.5)
Big 12: Iowa State vs. Oklahoma (-5.5)
Sun Belt: Louisiana vs. Coastal Carolina (-3)
ACC: Notre Dame vs. Clemson (-10.5)
Mountain West: San Jose State vs. Boise State (-7)
SEC: Florida vs. Alabama (-17)
AAC: Tulsa vs. Cincinnati (-14)
Will we see any crazy finishes or unexpected upsets this weekend? These aren't the only games going on this week, but they're the most important. It should be a fun couple of days of football ahead of the College Football Playoff field being announced on Sunday!
GOOD READS
EARLY SIGNING PERIOD STORYLINES
The rumors are circulating in Ann Arbor about Jim Harbaugh. Will he be the head coach at Michigan in 2021?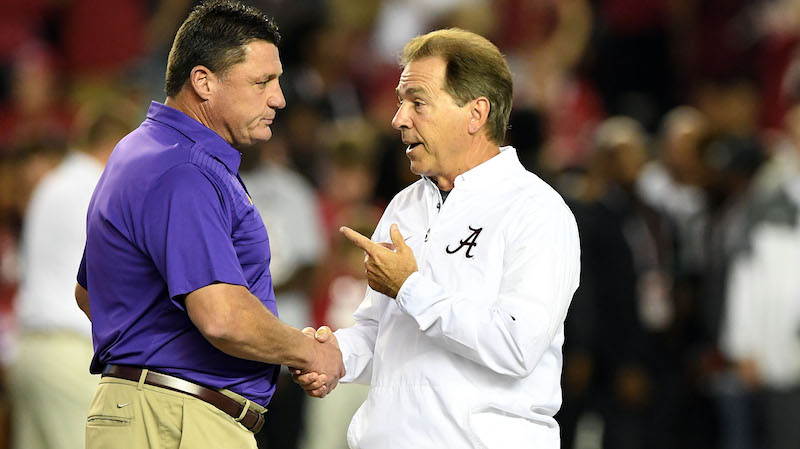 Wednesday was the first day of the 2021 recruiting cycle's Early Signing Period. Today is the last day. Then, commits can still sign on the regular National Signing Day in February. Let's just say this year was the craziest one yet for coaches trying to balance games this weekend with the all-important recruiting cycle.
With this incredibly busy week for coaches, what were some of the biggest storylines? Let's take a look into the Early Signing Period thus far:
Alabama once again put together the nation's top recruiting class. And, to make matters better for Nick Saban, he was able to flip a pair of 4-star commits away from SEC West rival LSU. Saturday Down South's David Wasson broke down five of his takeaways from the Crimson Tide class. Ohio State is right on Alabama's heels, though. Saturday Tradition's Kristian Dyer wrote about the Buckeyes' drama-free day.
So, how stressful was this time for coaches around the country? Saturday Down South's Matt Hayes spoke with a few coaches in this enlightening, must-read article. "A train wreck trapped inside a hurricane," a Power 5 coach told Hayes. "And that's underselling it." Another FBS coach was quoted as saying the real impact will be on the 2022 class, as players haven't been able to be properly evaluated this year. We'll see what impact this crazy week has moving forward and what changes may be made to the recruiting rules in the NCAA.
Elsewhere across the country, there were plenty of intriguing stories. One Georgia signee got a car from his mom after signing. Deion Sanders did some notable work, flipping a top Georgia commit to Jackson State. Lane Kiffin did Lane Kiffin things, trolling Mississippi State on Twitter. Florida State used the popular "Backyard Football" game to announce its signings. Meanwhile, Oklahoma State announced signees using the legendary "Tecmo Bowl" game.
What a week it has been! And, there's still recruiting to be done in the 2021 cycle ahead of February's National Signing Day. For now, though, we're able to turn our attention back to the field and prepare for conference championship games, and then, bowl games!
JUST FOR FUN
We've got a tough quiz for you today! As things stand entering Friday, Arizona, Auburn and Illinois are the only Power 5 schools with openings at the head coach position. So, can you name the winningest head coach (by overall wins) in each of those three schools' histories? We'll be seriously impressed if you can guess the all-time wins leader for the Illini!
Scroll down for the answers to today's quiz.
UPSET ALERT
It's championship week in college football. How many favorites are in danger of going down?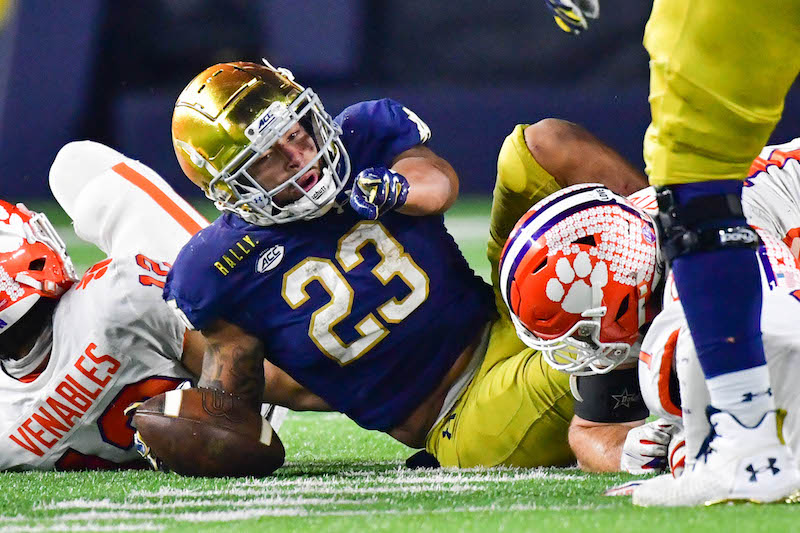 There are 10 FBS championship games on the schedule for this weekend, with three on Friday and seven on Saturday. The Power 5 games will have a huge impact on the College Football Playoff picture, but there's plenty to play for in the Group of 5 games, as well.
So, which teams playing in their league's championship games are at the biggest risk of being upset? Let's take a look at four teams on upset alert this weekend:
There's sure to be some madness over the next couple of days. And, there are sure to be some hurt feelings on Sunday when the Playoff field is announced. So, which teams will suffer heartbreak this weekend? We'll find out soon enough!
ANSWERS
The all-time winningest coaches in Arizona, Auburn and Illinois history are:
Arizona: Dick Tomey (95 wins)
Auburn: Ralph Jordan (176 wins)
Illinois: Robert Zuppke (131 wins)
QUOTE OF THE DAY
"Our postseason is as bad as there is. And we have got to figure out a system that opens up opportunities. The season ends Jan. 12, I can already tell you 2021 Ohio State's coming out of the Big Ten, Clemson's coming out of the ACC, Alabama's coming out of the SEC. I can say in 2023, Ohio State is coming out of the Big Ten, Clemson's coming out of the ACC and Alabama.
"If that's where we are, is that right, is that healthy for the sport when 98 or 99 percent of the participants realize they don't have a chance before the season starts? We've got to look at this 2020 year and realize that we have to tweak the system for the betterment of the sport. We're at a fork in the road right now on a lot of levels and we've got to look at some potential changes."
– ESPN analyst Kirk Herbstreit thinks the College Football Playoff needs some major reform. What will it take for schools to think they have a fair shot at a Playoff berth? An eight-team Playoff? Sixteen? We'll see if expansion talks are revisited this offseason.
TWEET OF THE DAY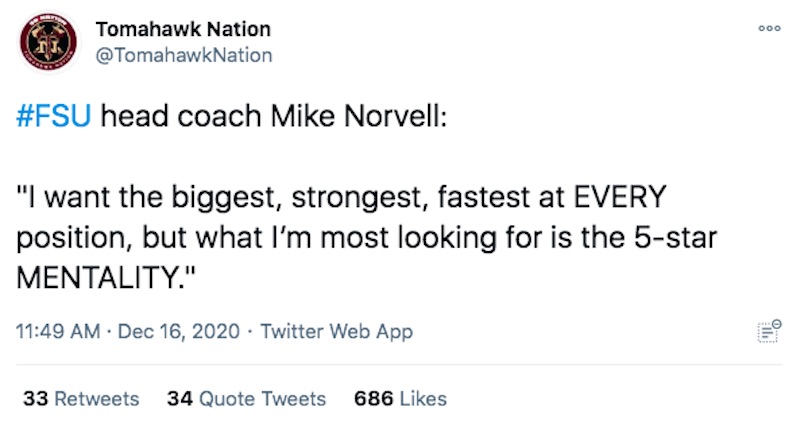 Florida State coach Mike Norvell was the punchline for more than a few jokes on Twitter after uttering the above "5-star mentality" phrase. Seems it reminded a few folks of former Tennessee (and current Arkansas State) coach Butch Jones's "5-star heart" comments during his time with the Vols.
This edition of the Saturday Football newsletter was written by Adam Spencer.