BIG TEN
Saturday Football: Lane Kiffin vs. USC, football players return to campus and Heisman talk
The Saturday Football newsletter goes out to subscribers up to 3 days a week and discusses the major events going on around the nation in college football. You can subscribe by clicking here.
Good morning and happy Monday! As far as college football is concerned, it is a happier Monday than most over the past few months. It seems many programs will get players back on campus for voluntary workouts early next month, which is a great sign for the 2020 season starting on time.
We'll discuss that in today's newsletter, along with some interesting scheduling news and some other top stories from around the world of college football. Let's get started!
BACK TO FOOTBALL
Football players can start returning to campuses in June. How are the major conferences handling it?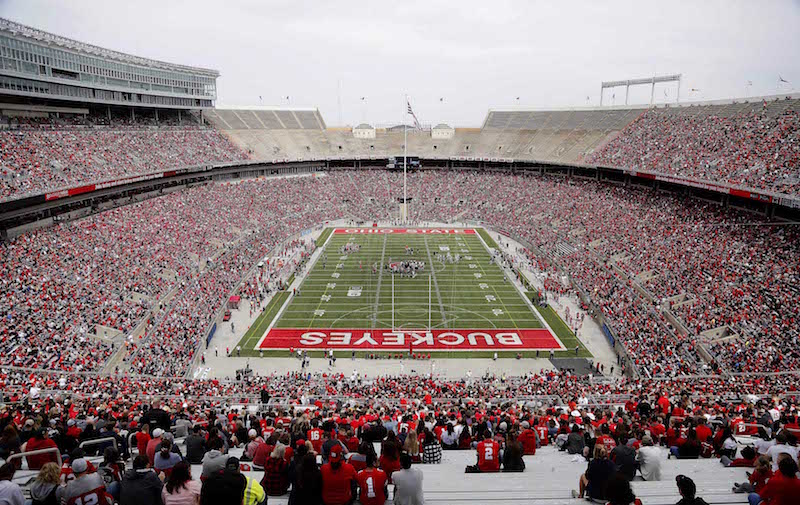 The global COVID-19 pandemic continues to keep a majority of the sports world idle, but in recent weeks, things have been trending positively, it seems. Some pro sports leagues across the globe are returning, and some events in the U.S. are starting to return, too.
This week, there was some major news regarding college sports and when players can return to campus to begin preparations for the upcoming season. Let's take a look at that storyline and the major headlines:
The big news came in the middle of last week with an NCAA vote. The organization announced that, after a vote by the Division I Council, voluntary activities in football, men's basketball and women's basketball could begin on June 1. After that news, Wyoming wasted no time announcing that student-athletes could come back on that date. The SEC, meanwhile, voted on Friday to allow athletes to return on June 8. Then, the Big 12 announced a June 15 return date as part of a three-phase plan. 247Sports writer Brandon Marcello put together a list of each Power 5 school and where it stands on athletes returning to campus.
After these decisions were made last week, reaction was swift. Saturday Down South's Connor O'Gara says the decision to return is huge, but there are still some major hurdles to clear. One of those hurdles? What if a player tests positive during the season? SEC commissioner Greg Sankey addressed that hypothetical situation last week. SEC Network host Paul Finebaum marveled at how quickly things have changed from pessimism about the 2020 season to positivity.
Not everyone is rushing to get players back on campus, though. Perhaps the strongest opposition to the NCAA's announcement was Michigan President Mark Schlissel. He said this over the weekend: "If there is no on-campus instruction then there won't be intercollegiate athletics, at least for Michigan." In the SEC, Kentucky and Vanderbilt are the two schools that haven't announced that they'll allow athletes back on campus on June 8. A statement by Kentucky AD Mitch Barnhart didn't rule out a June 8 return, but it did suggest that the Wildcats might take more time than other SEC schools.
These next couple of months are likely going to be messy as schools figure out on the fly how to manage the COVID-19 related challenges they're sure to face. However, for now, things are trending in a positive direction. If these schools can manage to keep players safe, there's a better chance with each passing week that the 2020 season can start on time this fall.
GOOD READS
LANE KIFFIN REVENGE TOUR?
Ole Miss scheduled a home-and-home with USC. Will Lane Kiffin still be around for those games?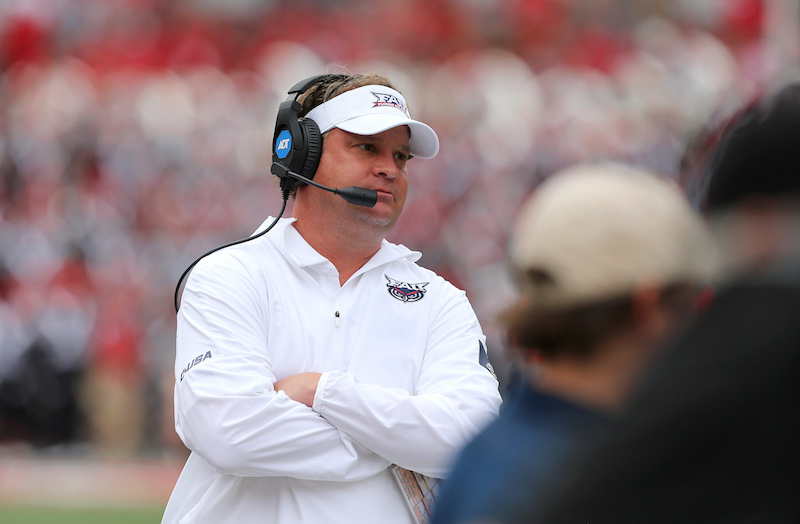 The Ole Miss Rebels and USC Trojans announced some interesting news this week. Both schools tweeted out news of a home-and-home series that will be held between the teams in the future. That, obviously, is more interesting than most nonconference games that get scheduled, as new Ole Miss coach Lane Kiffin used to be the head coach at USC.
So, what should we make of this home-and-home series between the Trojans and Rebels? Let's take a look at what has happened since this series has been announced:
First, let's take a look at the details of this series. Fans of both teams will have to wait a bit for the games to take place. The first game of the series will take place in Los Angeles in 2025. The return trip to Oxford will take place in 2026. The immediate reaction from many fans was that Kiffin will not be at Ole Miss in 2025, but we will certainly see.
This is definitely going to be a personal game for Kiffin. When he was fired by the Trojans, he learned the bad news at the airport after a loss at Arizona State. He even went as far as to call his firing near the tarmac the lowest point of his professional career. If that doesn't provide some extra motivation for this series, nothing will.
In fact, there have already been some fireworks with this series. After the series was announced, the USC Twitter account sent a message to Kiffin, and, as he is so good at, he responded. Clearly there is still some intrigue with this rivalry, even though Kiffin has had a number of jobs since getting fired by USC.
New USC AD Mike Bohn said that this series makes a lot of sense for USC. During an interview on "The Paul Finebaum Show" last week, Bohn said he's excited to play the Rebels. "These are the kinds of series the Trojans want to have. we're thrilled we're playing a home-and-home with Ole Miss," he said. "We have had not had an SEC opponent in the Coliseum since 2005. And we recognize that, you know, the upcoming matchup with Alabama and the ability to play on that stage, that's what our recruits, that's what our alumni like Keyshawn [Johnson] and Matt Leinart and so many others that I talked to, expect us to be able to do and want us to do, and that's that spirit of competition that exists here."
Will Lane Kiffin still be at Ole Miss in 2025? It's not a certainty, of course, but it is a possibility. The Rebels are a major SEC program. Nick Saban is (theoretically) not going to coach forever, so there could soon be a void in the SEC West. Could Kiffin lead the Rebels to national prominence by 2025? We'll find out over the next few years.
JUST FOR FUN
Last week, we asked about the top passers in each Power 5 conference's history. Today, let's see how much you know about the top rushers in each Power 5 conference's history. Can you name the all-time leader in rushing yards for each of those conferences (ACC, Big 12, Big Ten, Pac-12 and SEC)? Bonus points if you can name what school they attended, too.
Scroll down to see the answers to today's quiz.
HEISMAN TROPHY
Who will win the Heisman Trophy this fall? The predictions and hype are already heating up.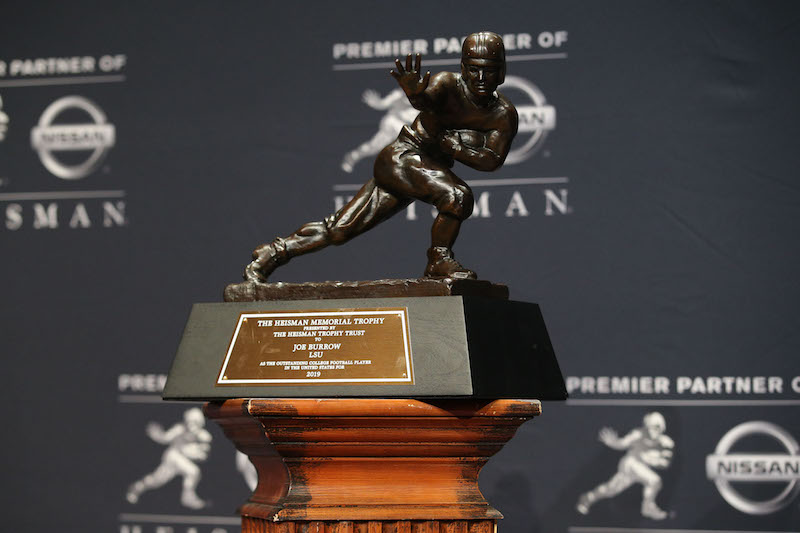 Heading into the 2019 season, almost no one could have predicted that LSU QB Joe Burrow would eventually break multiple Division I records and win the Heisman Trophy. Heading into the 2020 season, it's worth wondering if someone else will come from nowhere to win the sport's most prestigious honor.
There are two clear favorites to take home the trophy, but being a favorite isn't always a great sign for a player's candidacy. So, who could win the trophy? Let's take a look at some of the latest Heisman chatter:
There are two favorites for the award — Justin Fields and Trevor Lawrence. Indeed, SEC Network host Paul Finebaum thinks the Clemson QB (Lawrence) will win the prestigious trophy this fall. "He struggled," Finebaum said. "He tries too hard to be Tom Brady and Peyton Manning and Russell Wilson all wrapped into one. When he finally calmed down, he got into a rhythm. He got stymied in the championship game, but I think he'll come back better than ever and his team is looking very good, has a chance to make a run to the playoffs."
However, fellow SEC Network analyst Laura Rutledge disagrees. In an appearance on ESPN last week, Rutledge instead picked Fields to win college football's top honor. "I would go ahead and say that Justin Fields wins the Heisman," Rutledge said. "I think that is going to do more with the type of competition that Ohio State is going to have."
It is really hard for preseason Heisman favorites to win the award. That's why Saturday Down South's Connor O'Gara recently wrote about five unheralded Heisman candidates who deserve some love. Fellow SDS writer Adam Spencer also named some dark-horse Heisman contenders who could win the trophy, including a guy he loves from the Pac-12.
Again, Burrow came from nowhere last year to win the award, so anyone can win it in 2020. Justin Fields and Trevor Lawrence have their work cut out for them, but they also both have the talent to win the trophy if they have huge seasons. Who will win it all? Well, we'll have to keep a close eye on the Heisman race when the 2020 season starts this fall (presumably).
ANSWERS
Here are the answers to today's career rushing yards leaders quiz:
ACC: Ted Brown, NC State (4,602 yards)
Big 12: Cedric Benson, Texas (5,540 yards)*
Big Ten: Ron Dayne, Wisconsin (7,125 yards)
Pac-12: Charles White, USC (6,245 yards)
SEC: Herschel Walker, Georgia (5,259 yards)
* Ricky Williams had 6,279 yards during his time at Texas, but the Longhorns didn't switch to the Big 12 until 1996, after Williams' freshman season.
QUOTE OF THE WEEK
"I'm going with a team that, the last time we saw them play, should have beaten Clemson. Ohio State had them on the ropes. Justin Fields was limping around. J.K. Dobbins was limping around. I think Justin Fields with another year to mature in the system, he's going to be neck-and-neck with Trevor Lawrence to see who's drafted first.
"Who replaces Nick Bosa? Well, Chase Young comes onto the scene. They've found cornerbacks and defensive linemen that are a notch above everybody else in that league. I think Ohio State will continue their reign, continue to run through the Big Ten. And at the end of the season have a good chance to be holding that trophy."
– ESPN analyst David Pollack thinks the Ohio State Buckeyes have what it takes to win the title in 2020.
TWEET OF THE WEEK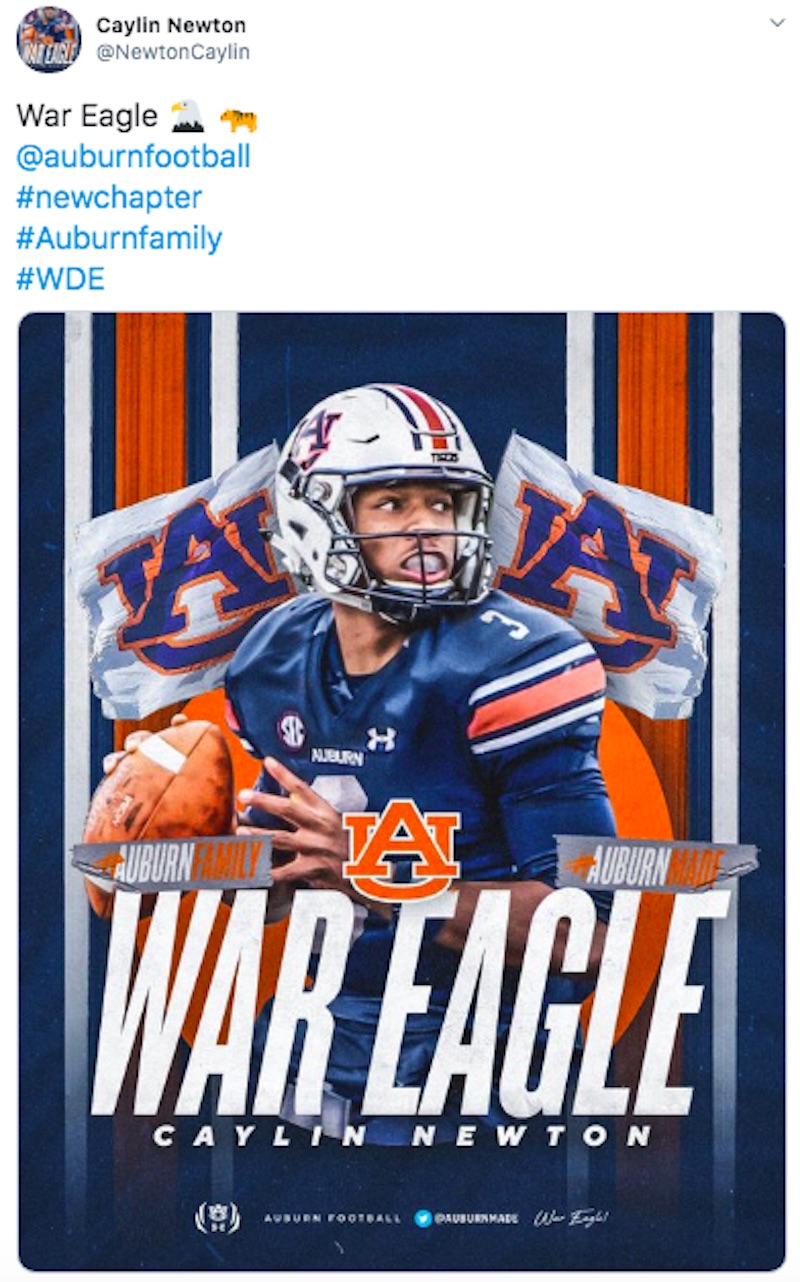 Former Howard QB Caylin Newton, the younger brother of Cam Newton, announced he was heading to Auburn as a graduate transfer. Cam led the Tigers to a national title in 2010. How will his younger brother fare on The Plains? Cam posted his reaction to his brother's decision on Instagram.