BIG TEN
Saturday Football: Retiring ref tells all, Michigan State coaching search and Clemson's bounce back
The Saturday Football newsletter goes out to subscribers three days a week and discusses the major events going on around the nation in college football. You can subscribe by clicking here.
Good morning and happy Monday! The offseason may be here, but the college football news cycle continues to provide plenty of topics for discussion. From a retiring Big Ten referee speaking his mind to Michigan State's coaching search, there's plenty going on.
So, with that said, let's take a look at some of the top stories from around the college football world as we enter the second full week of February.
RETIRING REF TELLS ALL
Longtime Big Ten ref Dan Capron is retiring. He had plenty to say about some big-name coaches.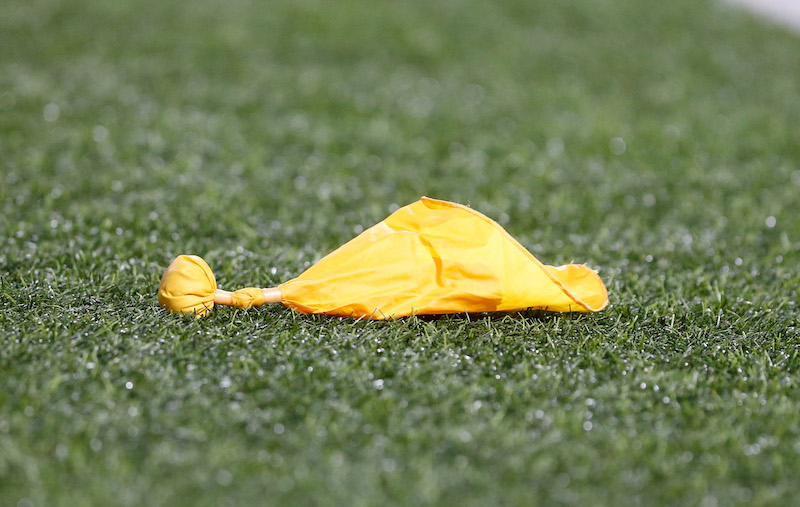 Longtime Big Ten referee Dan Capron hung up his whistle following the 2019 season, which was his 20th season as a college football official. Over the weekend, he gave an interview to the Chicago Tribune and wow, was it ever full of some interesting stories and quotes.
Capron's interview touched on a number of interesting topics, from coaches to significant plays to a title-game mishap. Let's take a look at what came out of this enlightening interview:
It's not often you get someone to open up and be that honest. It was a great interview Capron gave, and it's always interesting to see what referees think about coaches.
TOP RECRUITING CLASSES
Now that National Signing Day has come and gone, we can pretty much put a bow on the 2020 recruiting cycle and start planning ahead for which freshmen are going where this fall. The usual suspects were atop the recruiting class rankings, putting together some incredible groups of incoming players.
So, who finished with the top classes in the country as we quickly enter the spring session? Here's a look at the top 10 classes for the 2020 cycle (via 247Sports):
Georgia — 25 players, 4 5-stars, 15 4-stars
Alabama — 25 players, 4 5-stars, 17 4-stars
Clemson — 23 players, 5 5-stars, 12 4-stars
LSU — 24 players, 3 5-stars, 14 4-stars
Ohio State — 25 players, 3 5-stars, 14 4-stars
Texas A&M — 26 players, 2 5-stars, 13 4-stars
Auburn — 26 players, 0 5-stars, 16 4-stars
Florida — 25 players, 1 5-star, 17 4-stars
Texas — 19 players, 1 5-star, 14 4-stars
Tennessee — 23 players, 0 5-stars, 13 4-stars
Now, we'll see which players emerge as immediate impact players for their new schools. Also, coaches and teams will now turn their focus to the 2021 cycle, as recruiting never ends!
MICHIGAN STATE UPDATE
Michigan State's search for Mark Dantonio's replacement continues. Will it end this week?
The Michigan State Spartans are still searching for a replacement for former coach Mark Dantonio, who retired abruptly last week. As the search wears on, a top candidate has emerged, but as of Sunday night, nothing official has been announced.
So, what's the latest out of East Lansing? Let's take a look at the latest news to come out of the search and where things seem to be trending:
The top candidate seems to be Cincinnati coach Luke Fickell. Fickell has Big Ten experience from his time as an assistant under Urban Meyer at Ohio State. It seems the ball is currently in Fickell's court, as reports say he is weighing his options. A decision could come by the end of today.
It's a good thing for the Spartans that Fickell is at least interested. Several other candidates have seemingly taken their names out of consideration. Over the past few days, Colorado's Mel Tucker, Pitt's Pat Narduzzi and Iowa State's Matt Campbell have all shot down rumors linking them to the job.
A few other names are in the mix if Fickell decides to pass. FootballScoop.com says current interim coach Mike Tressel could land the full-time job. But, if the administration doesn't want to turn things over to Tressel, things may get even crazier.
If Fickell wants the job, the search should be wrapping up today. If not, well, it'll be back to the drawing board for the Spartans. Stay tuned, because this could get interesting! And, if Fickell does take the job, that'll put Cincinnati in need of a new head coach.
 GOOD READS
ILLINOIS RECRUITING
Illinois' 2020 recruiting class was absolutely awful. Why couldn't Lovie Smith capitalize on 2019's momentum?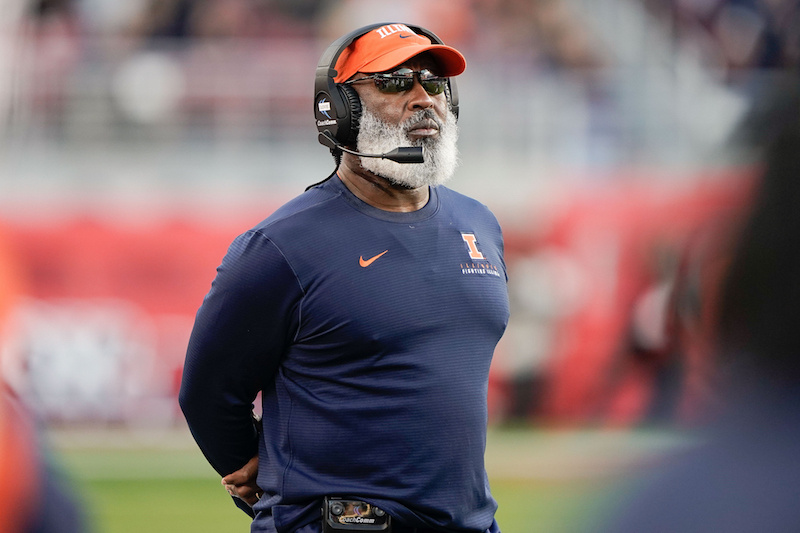 Do you know which Power 5 team had the worst 2020 recruiting class, according to the 247Sports rankings? Well, based on the title of this section and the picture above, you've probably surmised that the distinction belongs to the Illinois Fighting Illini.
The Illini made it to a bowl game in 2019 for the first time in five years, but couldn't translate that success to the recruiting trails. What went wrong in Champaign? Let's take a look:
The list of teams with better classes than the Illini is embarrassing. Group of 5 teams like Western Michigan, Bowling Green, Troy, Western Kentucky, UNLV and Florida International all checked in with classes better than the Illini's group, which was the 87th-best class in the country.
When you don't bring in top recruits, your depth takes a hit. Illinois' 13-player 2020 class was small out of necessity due to how many scholarships are already committed to upperclassmen, but Fansided's Jalen Wilson wrote that the class also didn't really address many positions of need for the Illini.
Coach Lovie Smith was calm about Illinois' bad recruiting this year. He wasn't concerned about not signing a single player last week on National Signing Day. He also wasn't concerned about not signing a single 2020 player from the state of Illinois (seriously, that happened). But, while Smith might be playing it cool, Sports Illustrated's Matthew Stevens isn't buying it. He wrote that the Illini's recruiting woes stem from a failed plan.
It'll be hard for the Illini to maintain the momentum they built in 2019 with this year's paltry recruiting class. However, there are still plenty of upperclassmen on the roster for now, so we'll see how Smith's crew fares in 2020 and beyond.
JUST FOR FUN
A number of current FBS schools have live mascots. In the SEC, they're particularly popular, with LSU's Mike the Tiger and Georgia's Uga, among others. For today's quiz, we'll give you five different FBS schools. Can you name each school's live mascot? Here we go:
Washington
Colorado
North Carolina
Texas
Texas A&M
Scroll down to see the answers to today's quiz.
CLEMSON BOUNCING BACK
Clemson suffered a tough loss in the national title game. Can the Tigers bounce back in 2020?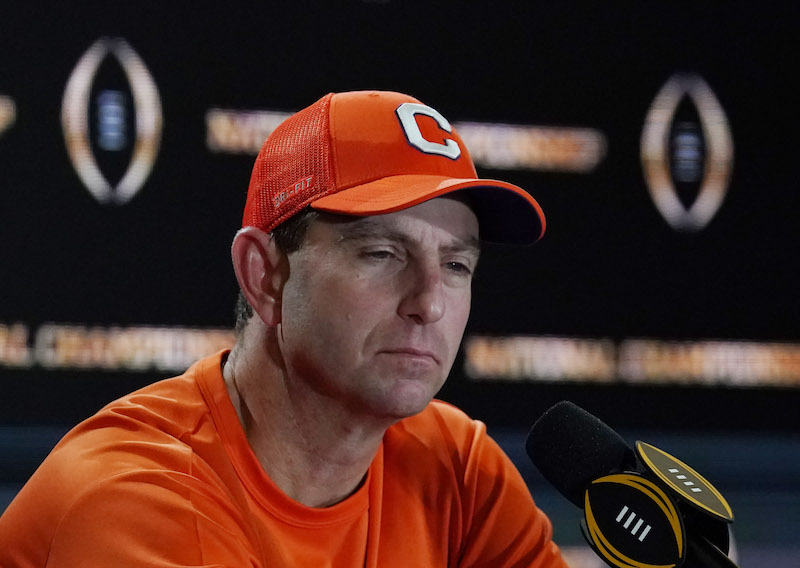 The Clemson Tigers were on the opposing sideline while LSU celebrated a College Football Playoff title game victory last month, cementing LSU's 15-0 season. Of course, Clemson went 15-0 and won the title in 2018, so it's not like Clemson has been experiencing any sort of title drought.
Still, it can be difficult to bounce back from such a disappointing end to the season. So, how can coach Dabo Swinney and the Tigers work their way back to the top of the sport? Here are some stories coming out of Clemson from the past week:
Sometimes, we forget that these athletes are only college-aged kids. Swinney said he let his players be down about the loss for a couple of days, but was impressed with how the team's leaders got things back on track. "It was a gut punch, for sure. Down for a couple of days," Swinney said. "But it's a decision in how you respond to the win, respond to the loss and our team has been amazing, our leadership, it's been good for me to be able to see that."
In addition to junior QB Trevor Lawrence, Clemson has lots of talent returning. Top RB Travis Etienne surprised many by opting to return to school. Swinney said he knew the star runner was leaning toward coming back in 2020, but was still a bit surprised when the news broke. Then, there's the incoming freshman class, which ranks No. 3 in the country and features No. 1 overall 2020 player Bryan Bresee. One recruiting analyst thinks Bresee is talented enough that he could have started along the Tiger's defensive line in 2019.
A big reason for Clemson's success has been staff continuity. Yes, the Tigers lost co-OC Jeff Scott to the USF job, but most of the rest of the staff remains the same, including DC Brent Venables and co-OC Tony Elliott. Both of those talented coordinators received pay raises this offseason, which will only increase their loyalty to Clemson.
Based on Clemson's returning talent and another weak ACC schedule, it wouldn't be a surprise to see the Tigers back in the title game this upcoming season. Plus, having Lawrence at quarterback doesn't hurt. Swinney's crew will almost certainly be a force to be reckoned with again in 2020.
ANSWERS
Here are the live mascot names for each school:
Washington — Dubs
Colorado — Ralphie
North Carolina — Rameses
Texas — Bevo
Texas A&M — Reveille
QUOTE OF THE DAY
"Look, there's obviously a generational gap between the two of us. The way I grew up, communicating was talking. When I pumped gas at my dad's service station, I went to the window and said, 'May I help you, please?' I didn't text them and ask them. To me, I kinda feel sorry for people I see walking around looking at their phone, running into the wall, not even knowing somebody's getting shot across the street and not even knowing it because they can't take their eyes off their phone."
– Alabama coach Nick Saban responded to Ole Miss coach Lane Kiffin's comments on Saban not using social media or texting. Naturally, Kiffin responded via social media.
TWEET OF THE DAY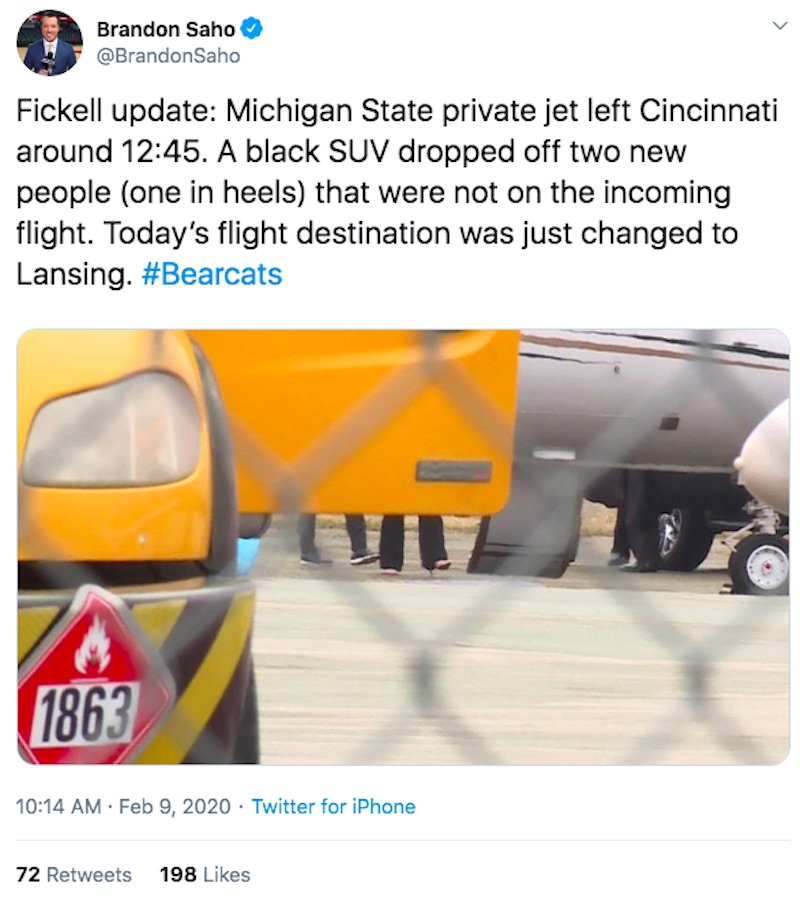 As Michigan State zeroes in on a new coach, flight tracking season continues. The detective work taking place in the replies of this tweet is fairly impressive, too.