OHIO STATE
Urban Meyer placed on administrative leave, new acting coach named
Ohio State has taken action on the scandal surrounding head coach Urban Meyer.
The school announced Wednesday that Meyer has been placed on administrative leave and OC Ryan Davis will take over as new acting coach.
Meyer and OSU both released statements on the matter.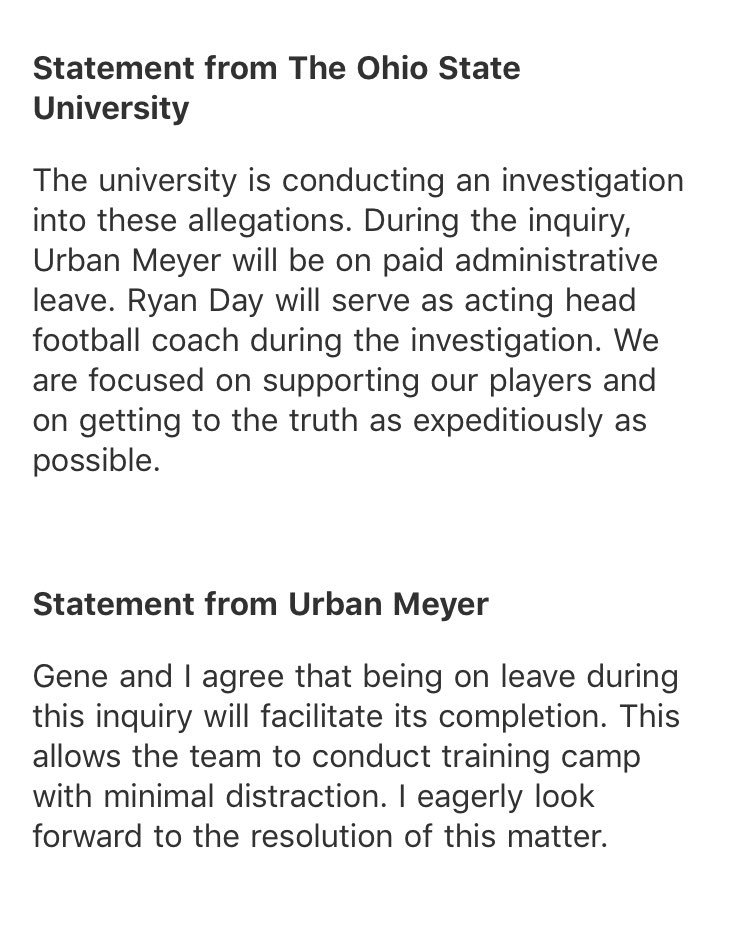 Calls for Meyer's job came Wednesday after allegations were made that Meyer knew about former assistant coach Zach Smith's history of domestic violence. A bombshell report by Brett McMurphy revealed text messages and images sent by Smith's ex-wife to Meyer's wife, Shelley. Courtney Smith, the ex-wife of Zach Smith, also detailed the allegations in an interview with Stadium. Courtney Smith also explicitly stated she believed Urban Meyer knew of the abuse.
Meyer appeared to have put himself and OSU in a difficult position when he strongly denied McMurphy's earlier report that he had been notified of a domestic incident involving Smith in 2015. The messages uncovered in McMurphy's Wednesday and Courtney Smith's interview contradicted what Meyer said at Big Ten Media Days.
Smith was recently in the headlines after police were called when he dropped off his kids at Courtney Smith's home, which led to police being called. Smith was fired July 24, a day before Big Ten Media Days.